It's hard to enjoy the outdoors when there its pouring, we know it first hand given we hike a lot in Asia and Europe. as and it can get messy and inconvenient when the rain pours unendingly. Also, sometimes having a bulky rain jacket makes it more inconvenient. In these situations, we've found that the best option may be a simple and functional rain poncho, because they are lightweight, fashionable, and comfortable to wear while keeping you dry on your hikes and walks. In this article, we'll list some of the best rain ponchos you can find before your next outdoor adventure.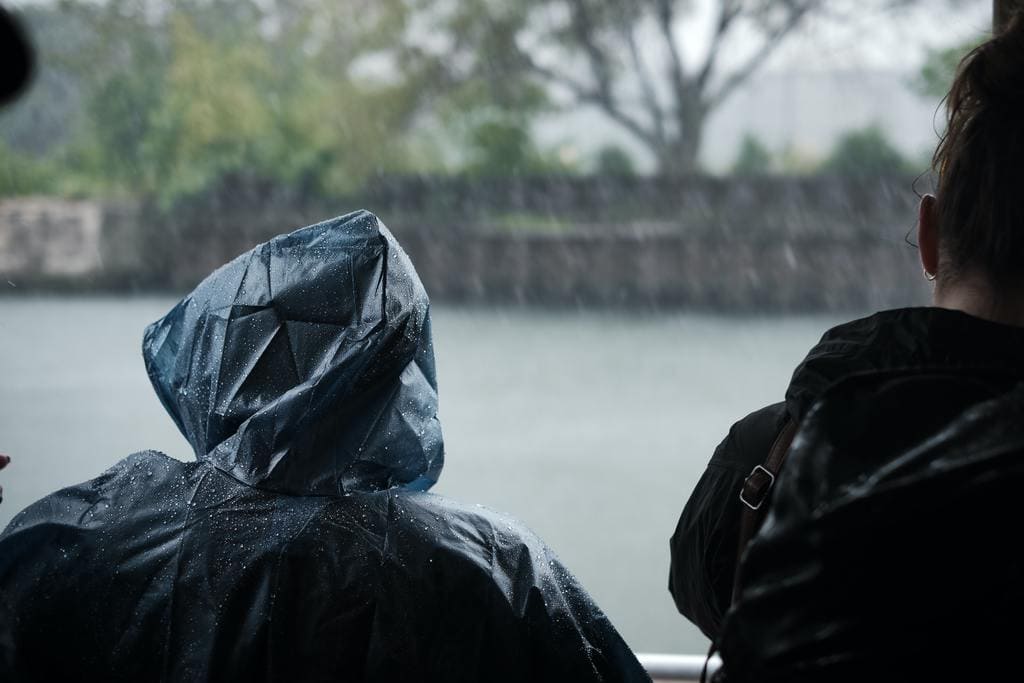 What is the Best Rain Poncho?
We have compiled for you the top 5 Best Rain Poncho in 2023. In this article we go through the products that we have used ourselves, checked what other users thought about them and we ranked them accordingly.
With years of experience with waterproof ponchos and having used several rain ponchos you can trust our review.
Moreover, you can scroll to the end of this review to see our mini buying guide as well as the answers to some of the frequently asked questions about rain ponchos.
Anyoo Waterproof Rain Poncho features ripstop 210T nylon construction that keeps you dry and is durable to last more than a few wears. It has a PVC coating to make it completely waterproof and quick drying. This lightweight Poncho weighs only 9oz and is big enough to wear over a backpack. However, it is not elastic, so covering the pack will reduce its length at the back. It features a large hood with adjustable cords to keep it in place in strong wind and with a long brim to keep the water from your face. Unlike most ponchos that have only a front zipper closure, this one has a zipper with two buttons on the neck area to cover your chest completely. However, the material around the zipper tears easily, and the buttons come off quickly. It is multifunctional, which makes it an excellent choice for camping and hiking. It has heavy-duty grommets on the edge to help you stretch it out as a tent groundsheet or shelter, and you can also use its hook and loop fasteners as a sleeping bag cover. The Anyoo Waterproof Rain Poncho is the top choice on this list.
Pros
Multifunction as a poncho, ground sheet, or sleeping bag cover,
Loose arm holes for air circulation,
The plastic visor keeps rain from your face,
Lightweight and durable,
Drawstring hood
Cons
Buttons come out easily,
No pockets for personal items
The RainCaper rain poncho for women is our premium pick for quality rain gear. It is made of soft polyester fabric that offers you a luxurious feel and features a stylish design for everyday wear. The poncho is waterproof and wind resistant so you don't get cold. The RainCaper's sleeves are formed with hidden magnets that prevent billowing. However, the magnets come undone easily which makes them unreliable. The sleeves are also short which exposes your forearms and it only covers up to the waist. Therefore, I would not recommend it if you have a backpack to cover as well.
This rain poncho for women features a large hood to protect your hair and face from winds and rain. However, lack of tightening cords on the hood means it will be hard to keep in place when it is windy. The RainCaper rain poncho comes in a variety of attractive color matches and it is reversible to give you two different looks. It has a lightweight construction that is ideal to wear all year round.
Pros
Reversible for two different looks,
Two shell buttons front closure for a custom fit,
It includes a matching zip pouch for storage,
Waterproof and windproof design,
Convenient magnetic sleeves
Cons
Magnetic closures come undone easily, The sleeves leave your wrists exposed to rain
The Luckyiren reusable rain poncho for kids is our budget pick for this list. It is made with EVA material, which is lightweight and is available in yellow, pink, and blue colors. It is ideal for kids to use as a layer over other clothes and has a free design to allow for free movement when playing or running. Although it is labeled as reusable, this kids rain poncho wears out after a few uses because it has a thinner EVA material construction compared to the HLKZONE rain poncho reviewed below. On the upside, the kids' rain poncho is suitable for multiple activities such as water rides, playing in school, and outdoor adventures. It is an ideal fit for kids between ages 6-12.
Pros
The hood comes with drawstrings,
Snap buttons are easy for kids to use,
It is packable and light for kids to carry to school,
Thick EVA material for durability
Cons
Sleeves are a bit long for small children,
The thin material tears easily
The Froggs Toggs Ultra-Lite2 Rain Poncho is made of lightweight non-woven polypropylene material that is breathable and waterproof. Water beads up and falls off the surface to leave you completely dry. Another feature is the soft inner layer that makes the poncho comfortable and allows ventilation and range of motion.
The rain poncho features an adjustable hood and side snaps to ensure no water leaks through. It packs down small and is lightweight at nine ounces. The Froggs Toggs Ultra-Lite2 Rain Poncho comes in one-size-fits-most which should reach below the knees. However, tall people might find this rain poncho a bit short. It is available in four colors for both men and women.
Pros
Features hood with adjustable cord locks,
This Poncho comes with a stuff bag, The welded seams make it waterproof,
High quality polypropylene construction,
Ultra lightweight
Cons
Not rip-resistant,
There are no pockets on the poncho
The HLKZONE 2 pack reusable rain poncho with hood is made of high-grade EVA material that is lightweight and is 0.15mm thick for durability. The material is also 100% waterproof to make sure you stay completely dry, and it is breathable.
The rain poncho has a front press-on button closure that is easy to put on and take off. However, the button closure may allow water to seep through. Its large hoodie has a drawstring to cover your hair and face, and elastic cuff sleeves give you a secure fit. The HLKZONE 2 pack reusable raincoat is wrinkle-resistant, tear-resistant, and dries quickly. It is foldable and small enough to fit in your purse or car for any rain emergencies and is available in bright, attractive colors.
Pros
It is versatile can be used as a raincoat, tent, or picnic blanket
Fabric is translucent and thick,
Cleaning is needed only 2-3 times a year,
Attractive design,
Tear-resistant
Cons
No pockets to store small items,
Button closure allows rainwater to leak
Verdict
To summarize, we have gone through dozens of rain ponchos and decided that 5 are worth your consideration. Out of these, the absolute Best Rain Poncho is Anyoo Waterproof Rain Poncho which we highly recommend as our overall best.
If money is not an issue, you can consider RainCaper Rain Poncho for Women as this is our Premium Pick.
Otherwise, there's no shame in spending prudently, Luckyiren Reusable Rain Poncho for Kids is the Budget Option.
Our other reviews you may find useful in your research:
What You Should Know Before Buying rain ponchos
Rain Poncho Material
The rain poncho material largely determines How well it performs in the rain. Some ponchos feature PVC material, which is cheap and easy to repair with duct tape. Unfortunately, they are not as durable and only last a few months. Cuben fiber, also known as Dyneema, is a high-performance, waterproof, and lightweight material mostly found in premium quality ponchos. It dries faster than other materials and is durable. Nylon is one of the more popular materials due to its affordability. Although it is thin and not very breathable, it is also durable, waterproof, and the best for kid ponchos. The polyester material is stretch and tear-resistant, which is ideal for adult ponchos. It is also lightweight for hiking and camping excursions.
Ventilations
If your rain poncho lacks ventilation at the back or armpits, you will sweat when hiking. Ponchos will feature ventilation zippers found near the armpits to reduce sweating and they are known as pit zips. Be sure to check for zips in the rain ponchos for better ventilation.
Layers
Quality rain ponchos often feature more than one outer layer to make them waterproof, warmer, or durable. Rain ponchos made of Gore-Tex pro fabric feature three layers made to be waterproof, breathable, and sturdy. The two-layered ones are waterproof and breathable, while a single-layered cape is often just water-resistant and ideal for light rains. If you want more protection from rain, consider rain ponchos with more than one layer.
Shell
The outer shell of a rain poncho determines whether it will protect you from the rain while keeping you warm at the same time. Outdoor rain ponchos feature hard materials that are stiff to protect you from heavy rain and harsh wind. This quality fabric is tear-resistant to last longer. Softshell capes are made with soft fabric like nylon and polyester that are good for water-resistance. They also have an inner fleece lining to keep you warm. However, for heavy downpours and extreme outdoor activities, consider getting a hardshell rain poncho.
Waterproofing
Waterproof rain ponchos are the best when it comes to protection from heavy rains. Materials such as Paratex Dry fabric are waterproof because they have a hydrophilic polyurethane coating on the outer layer. Also, make sure your poncho has taped seams to prevent water from leaking to your clothes. Although nylon rain ponchos are labeled waterproof, they are often water-resistant. However, adding a polyurethane coating onto a nylon shell makes the poncho waterproof.
Breathability
Breathable fabrics are made from a blend of other materials. Nylon and polyester are fabrics that allow ventilation while you are hiking. Also, check for ponchos with mesh liners that create natural air pockets for better air circulation. Hardshell rain ponchos are made of stiff, tightly woven fabric like PVC, which is less breathable.
Durability
A quality poncho should be durable enough to go against harsh weather and last you a long time. Most durable rain ponchos come with features like taped seams to prevent tearing. Rain ponchos made of nylon and polyester are known for being tear-resistant and long-lasting. However, avoid disposable ponchos that are made of PVC since they wear out quickly.
Weight
When buying a rain poncho, lightweight is better for easy packability and portability. Heavy rain ponchos can make hiking or walks outdoors tiresome, while lighter ones are easy and comfortable to move around in. However, some water-resistant ponchos soak up a lot of water and become heavy. You may want to consider ponchos that weigh about 11 ounces for a light load.
Size
Ensure the rain poncho you purchase is big enough to cover all your clothes and body when wearing it. A large-sized poncho is ideal if you have a lightweight backpack that needs protection. The best rain poncho should also reach down to your knees or even further, depending on where you will use it. If you are tall, measure your body and arm length to get the right size that will completely cover you.
Features
The ideal rain poncho should have a well-fitting hoodie with a drawstring to tighten it in place. Also, consider ventilation zips, which make them more comfortable and breathable. If the rain poncho has pockets, you can store small items such as phones and keys, while elastic cuffs will give a secure fitting.
Questions and Answers About rain ponchos
How do I wash my rain poncho?
You can use a washing machine under a delicate or hand wash setting. Add a mild detergent and make sure it is completely rinsed out. To recover the DWR treatment, use the drier at the warm setting for 20 minutes.
Which is better poncho or raincoat?
Rain ponchos offer complete body coverage and are loose enough to cover your hiking backpack. They are also versatile and can be used as a tent or tarp when camping. On the other hand, raincoats are not as versatile, and they are heavy compared to ponchos. They also have a tight fit which will leave you pack or bag exposed. However, their weight and warmth may provide better insulation from the cold. If you are going for a hike or running, a rain poncho would be a more flexible and suitable rain gear.
Are rain ponchos waterproof?
Most rain ponchos are waterproof because of the use of materials such as Gore-Tex and Paratex Dry. PVC coating on layers like nylon makes them water-repellent while other rain ponchos are water-resistant for light rains.
How heavy are ponchos?
Generally, rain ponchos are made of lightweight material that is easy to pack and carry. Disposable ponchos are made of 0.035mm thick PE plastic and only weigh 2.9 oz, while 3-layered rain ponchos that feature a waterproof membrane between the inner and outer fabric layer will weigh a maximum of 14 oz. However, they are still light enough to use while running. A rain poncho and stuffing bag together will weigh close to 11 ounces.