#1 About Wroclaw
Wroclaw is the largest city in western Poland, located at the banks of Odra River in Lower Silesia. It is not only one of the most hospitable places in this part of the country, but also very cheap travel destination with a lot to offer. Not without a reason it is often being called the "Venice of Poland" (stunning scenery of Odra) and it has been selected as an European Capital of Culture for 2016.
Wroclaw is rapidly catching the attention of budget travelers. It is a student friendly place full of cozy bars, affordable restaurants, clubs, charming historical spots and various festivals. If you are in Poland and you need a place to chill out on a budget, full of history and traditions, head to Wroclaw and you will not regret it!
The lively square with the Town Hall, Leopoldina – one of the fewest of the kind well-preserved Baroque complexes, or Cathedral Island with outstanding medieval religious architecture – Delhi will simply take your breath away! Moreover, Wroclaw is one of the major cultural and intellectual centers in Poland with 16 museums, 14 theaters, 32 galleries and 7 cinemas so there is no way you will get bored here.
#2 Things to See
There are plenty of areas of Wroclaw you should get familiar with depending on what your travel preferences are. If you are keen on exploring museums and cathedrals you can't miss Ostrow Tumski featured with various different chapels, churches and monasteries. You will be taken to baroque era to experience Polish culture and traditions expressed with architecture. Most of thosesights are free of charge and museums don't cost more than 5 – 10 zloty ($1,5 – $3).
If you get bored with cultural spots, go to Botanical Garden. It was founded between 1811-1816 and it consists of more than 8,000 species of plants and 5,000,000 crafted animal specimens ( the place is open to the public from April 1 to November 30, opening hours: 8.00-18.00, 10.00-18.00 greenhouses). The ticket costs 10 zloty ($3).
Find Wroclaw's dwarfs – it can be a lot of fun for families with kids. There are plenty of small figurines placed in different areas of the city and their numbers have been continually growing. Finding them all is a challenge taken by many tourists. If you buy a local guide there is a map with all dwarfs tagged.
For those who are more romantic or need to chill out I would suggest to explore Odra area full of water plants, Franciscan monasteries, picturesque parks and market halls with cheap fresh fruits and vegetables.
Are you a shopaholic? Treat yourself at one of the most modern shopping malls in Wroclaw called Sky Tower. There are plenty of shops there with glamorous clothes, restaurants and bowling alley (if you wish to go bowling choose Sunday as the prices are the lowest, only 50 zloty, $15, Fridays and Saturdays are more expensive 90 zloty, $27).
Being in Wroclaw you can't miss the Town Hall. It is one of Poland's largest and most awe‑inspiring town halls originally built in the late 13th century. However it has been added to and renovated time and again over the centuries.
After exploring the Hall Town, it is time to see the Old Town! It is not only a historical center of the city but also today's social and cultural center as well. With many restaurant, milk bars and student pubs where you can experience locals' hospitality and a great sense of humor!
# 3 Where to Eat
As I mentioned before, Wroclaw is a cheap city. You don't need to walk too long to find cozy and affordable pubs or restaurants. However, there are two places I would highly recommend to everyone.
No. 1 – FcNalesniki ("nalesnik" = a "pancake") where, as you can guess, are served mainly pancakes (hot dogs, pizzas and hamburgers are also served). A huge pancake (the one I ordered) filled with chicken, onions, peppers and topped with cheese in garlic sauce costed me only 13 zloty ($4).
If you don't feel very hungry it's better to share one with someone. I barely managed to eat 3/4 of mine. There are also fruit pancakes available, pancakes stuffed with pork or lamb meat and of course vegetarian :), very yummy! The place is located at Kuznicza street 63/64 m. 1A.
No. 2 – Hanoi Restaurant – for those who, like me, felt bored with Polish cuisine and wanted to taste some oriental food. This restaurant might not be the cheapest one (Chinese takeaways are cheaper), but the food is simply delicious. Every single meal is cooked by Vietnamese chef and tastes like authentic Vietnamese cuisine (I was in Vietnam so I know :)). The place is very cozy as well and the staff were nice.
We (me and my best friend) ordered a beef and chicken soup for a starter (6,50 zloty – $2) and then Quang Cuong mild chicken with mushrooms, rice and salad for our main course (16,50 zloty – $5).
#4 Transport
As anywhere in the world, taxis are the most expensive transportation. Luckily, Wroclaw has excellent streetcar connections so you can easily get from point A to B for less than 2,50 zloty ($1). If you plan to catch streetcars more often, buy a 24h ticket for 11 zloty ($3).
Wroclaw is not that huge so it took me few minutes to get to any location I wanted. You can use your credit/debit card to purchase a ticket either at a streetcar stop or inside the vehicle. Easy and convenient!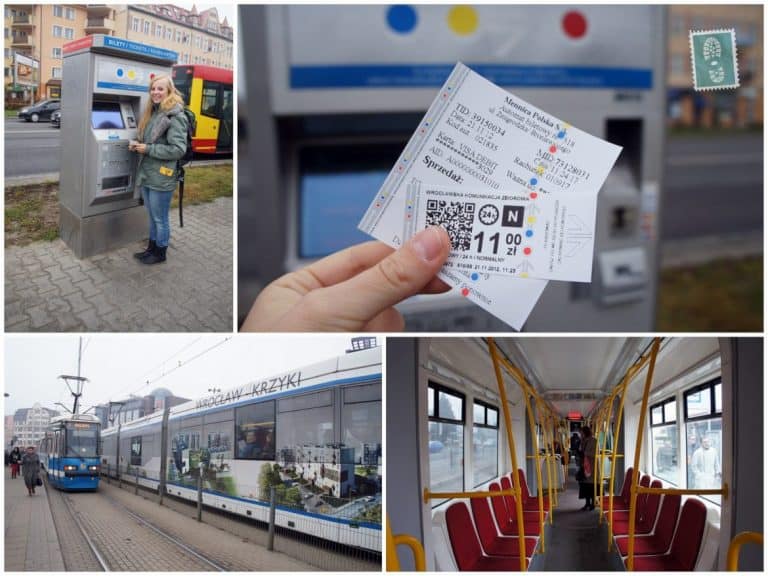 #5 Where to Sleep
I never had a problem with finding accommodation in Wroclaw as I am always being hosted by my friends. However, if you don't fancy couchsurfing there are plenty of sleeping options available, from youth hostels to posh hotels depending on your budget. My personal recommendation would be to stay at Hotelik pod Debami where prices start from 30 zloty per single room, $9. You can always contact me and I can find someone who will be more than happy to host you and show you around the city :).
Wroclaw has always had a special place in my heart. It is not only the closest biggest city nearby my hometown, but also the place where all my best friends live, work and study. I always come back there when I visit Poland to hang out with my best mates and catch up on our stuff. My latest visit I paid was last December (2012) where I took a few days to go sightseeing and explore the city in a different way, not as a tourist but as a local. I can't say I know Wroclaw by heart. I got lost a few times as it's been years since I was there last time but I could definitely notice how this city was constantly changing – new shopping malls, new office building, everything was getting more flashy and modern.
Does Wroclaw sound like a plan to you?