In today's post, Brian Levine, along with Paz Romano, Kate Reder and Danielle Lussier are going to share their travel tips on how to survive in La Paz, Bolivia for only $25 a day per person. They are authors of the travel, wellness and yoga blog, Lucid Practice. Lucid Practice's goal is to inspire people to feel happy and more alive through lucid engagement in enriching activities such as international travel, yoga, helping others, and eating enlivening foods. Check them out on Facebook and follow them on Twitter.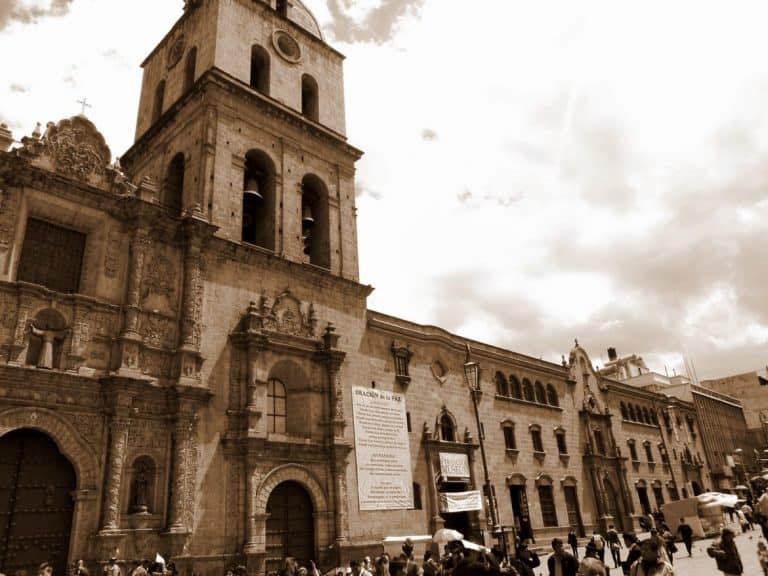 If you are looking for a destination that is full of diverse attractions and activities, Bolivia is a perfect choice for your next adventure.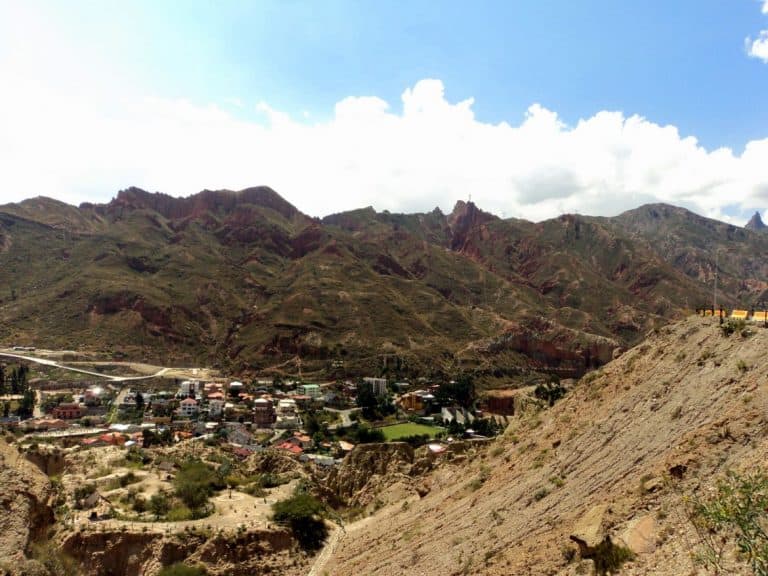 In Bolivia, you can easily spend less than $25 USD per day, eat extremely well and enjoy landscapes that photographs can't do justice. The Bolivian destination cities that we suggest are: La Paz (a major city nestled in the snowcapped Andes Mountains), Copacabana (set on Lake Titicaca, the World's highest accessible lake), Potosi (home of the most famous mine in the world), Sucre (Bolivia's white-washed historical capital), and Uyuni (one of the BEST sites in the World, previously being a dinosaur stomping ground and now offering the unlike-anything-you'll-ever-see Salt Flats).
Today, we're discussing "A day in La Paz" – a place where $25 USD goes a long, long way. If you have the opportunity – especially if you are already traveling in South America – get to La Paz!!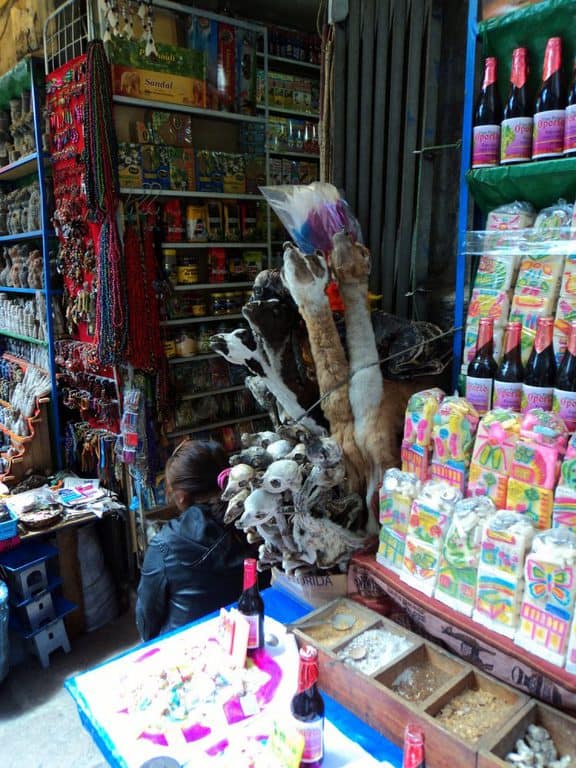 We arrived in the "other Bolivian capital" on a bus from Copacabana, Bolivia. On the ride in, the scenery was fantastic. We passed between snowcapped mountains, lakes, and never-ending green pastures. The road into the city has been recently reconstructed, and if it wasn't already there you would feel like you were the first person to catch a glimpse this land. It really is that bare in terms of development.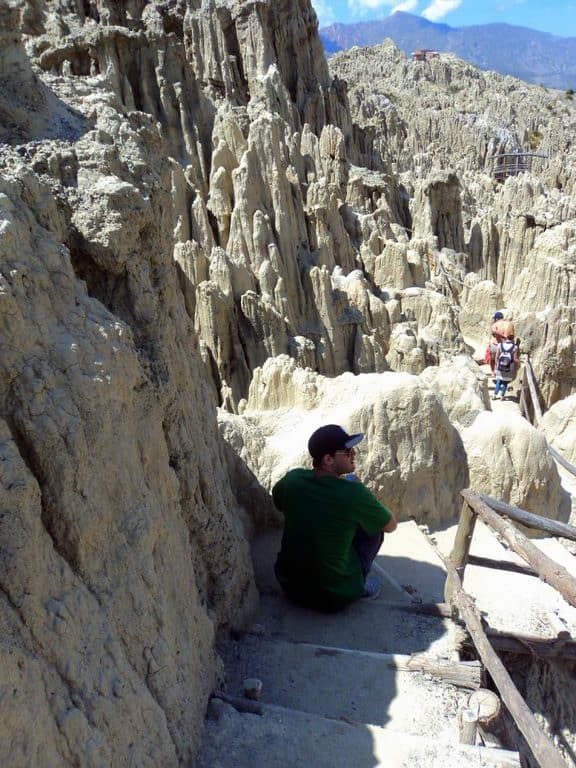 1 Day La Paz Itinerary
Free Walking Tour
Start your day by catching the free walking tour with Red Cap Tours. The tour begins outside the San Pedro Prison, a prison where inmates (along with their wives and children!) infamously rent "cells" equivalent to hotel suites.
From there, Red Cap walks you all over the city providing great bits of information that you won't find in your Lonely Planet book. The tour incorporates the always interesting "Witch's Market" and ends by taking an elevator up to observation tower of La Paz's five-star hotel.
This incredible view of the snowcapped Andes looming over the World's Highest National Capital is all yours, free. The guides are great and gladly accept tips. The tour lasts around two to three hours.
Lunch at Namas Te
After the tour (you can bail out at any time), we highly recommend grabbing lunch at the number one ranked restaurant in La Paz, the vegetarian and vegan-friendly Namas Te. Healthy food and great fruit juices make this place a staple for locals and travelers alike. A delicious and hearty meal will set you back about $5 USD.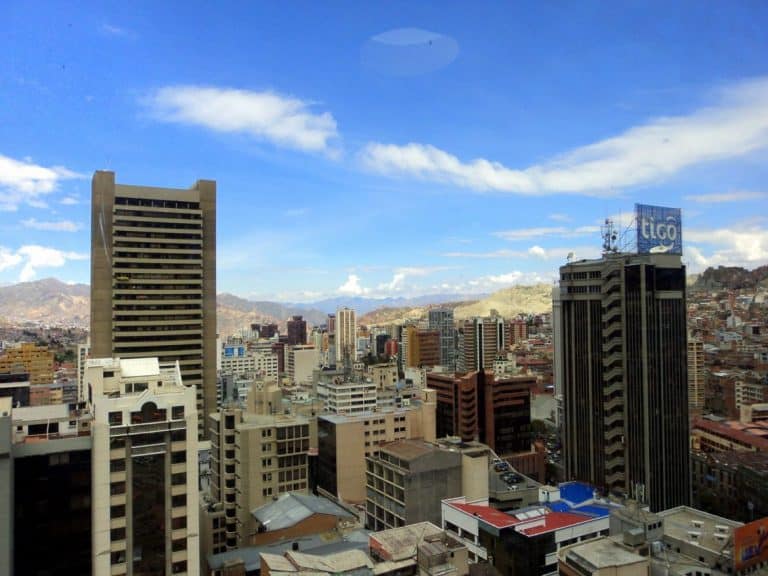 Valle de la Luna
If you have time for another great activity, take a local "colectivo", a big white shared passenger van, to the Valle de la Luna (Moon Valley) on the outskirts of the city.
Nature-lovers and photographers will especially appreciate this daytrip.
It is rumored that the Moon Valley got its name when Neil Armstrong visited and stated that the unearthly landscapes here looked just like those he'd seen on the moon.
Admission into the park costs less than $3 USD and, with set prices clearly marked on the colectivo shared taxis, transportation costs less than $1 USD each way.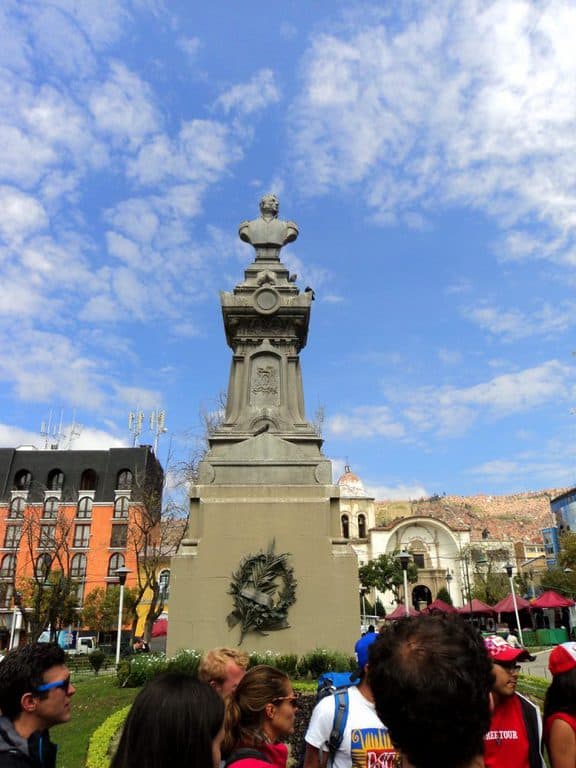 Dinner at Bolivian Restaurant
To end your night, choose one of many typical Bolivian restaurants offering a "menu del dia", which will set you back $2-4 USD.
Most serve a great homemade soup (usually chicken, quinoa, or vegetable), and a main course of fish, meat, or chicken.
If you have any energy left, the shopping stalls near the Plaza de Armas are incredible for a budget traveler. You will literally find anything and everything at extra cheap prices.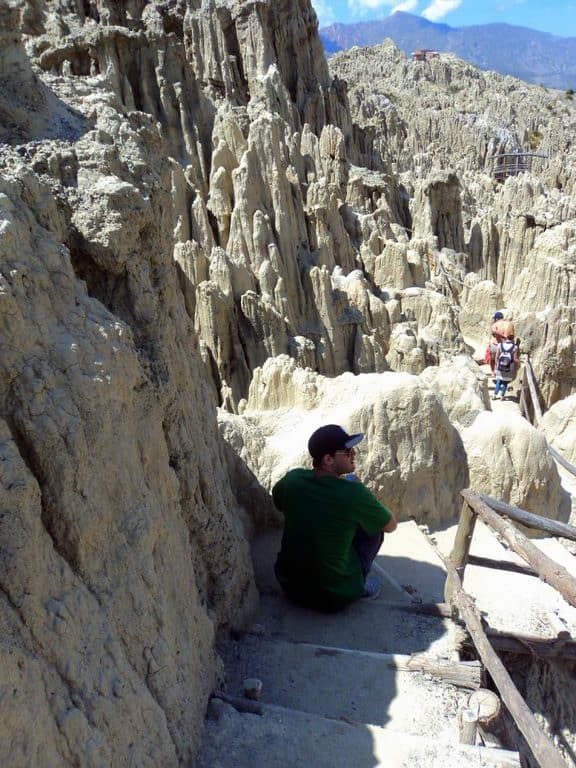 La Paz has so much more to offer. More markets, more nature, and more good food than you can possibly discover in just a couple of days.
Follow this guide for a first day scraping the surface of this affordable metropolis. We had a ball walking around the city, exploring the markets, and just gazing up at the Andes. The snowcaps never get old!
Do you still think that Bolivia is expensive?