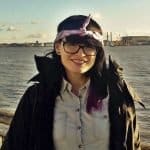 Today, Vanessa of Nordic Wanders is sharing with us top budget travel tips on how to survive the capital of Scandinavia for less than $25 a day. Vanessa is a 22 year old German with a love for the North. She plans on moving to the Arctic at the end of the year and travels through more southern parts of Scandinavia at the moment. Her love for photography and filming inspired her to create the blog On the Road again. She goes back in time and shares past travels in her Photo of the Week series and tells you everything you need to know about the capital of Scandinavia in her Stockholm Series. If you're interested in journeys and her upcoming life as an expat in the High North, go check out her blog.
I know – Scandinavia is not a common destination for budget travelers. A lot of people tell me they would love to go there but are afraid they cannot afford it. I recently spent a whole month in Stockholm, Sweden, and I discovered a few tricks along the way with which you can save a lot of money. So let me give you a few tips today on how you can survive Stockholm with a tight budget!
How to get there to Stockholm
Obviously there are always cheap flights with Ryanair or Germanwings from a few destinations in Europe, most of them for roundabout $50 (return ticket). But remember that Ryanair airports are quite often in the middle of nowhere so you keep in mind the transportation costs. And then you have to pay an extra fee for your seat reservation or additional luggage and there are no meals or drinks included. Therefore I prefer to book flights to Stockholm with Lufthansa or SAS. If you book a few months in advance, you can get really cheap tickets which include 23kg luggage, meals, drinks and a seat reservation. SAS furthermore offers you a 50% discount if you are younger than 26 – how awesome is that?!
You can of course also go by bus or ferry although I would only recommend this if you live in the Netherlands, (northern) Germany, the Baltics or Poland. If you live further south or in the UK, flights are probably cheaper. But if not you can get ferry tickets for about 25$ (single ticket) and, if you come from Germany, then you only have to take the train from Trelleborg or Malmö to Stockholm which costs around 25$ (single ticket) if you book 2 or more months in advance. Bus tickets from Germany to Stockholm cost $55 (single ticket in advance) with Eurolines. Keep in mind though, that off-season tickets are always cheaper!
Where to sleep in Stockholm
You cannot compare hostel prices in Scandinavia with other European ones. Hostels in Stockholm range from about $30 per night for a bed in a dorm room to $55-$80 per night for a single or double room. Therefore I prefer to stay with Swedish hosts. During my 4-week stay in Stockholm, I lived with a Swedish family and paid as much rent as I would have to at home. I booked through Airbnb, a platform like VRBO, where people can let their rooms or apartments and where you can simply book them. I can totally recommend you to do the same.
Airbnb provides an emergency number in case something goes wrong and removes hosts who do not answer to your booking request. Furthermore you have to rate your host officially and then a second time anonymously for Airbnb purposes only. You have to state whether or not you felt safe during your stay and whether you had any serious problems with your host in the second rating round. Airbnb is then able to remove hosts if they get any serious complaints. I like their system and always felt safe booking through their site. You have the choice between your own apartment, your own room or just a couch in someone's living room.
The latter is of course free if you use Couchsurfing. Although it is great to not pay anything for your accommodation, you should keep in mind that Couchsurfing does not provide you any service or emergency contact and the chance to fall for fraud is much higher. So please read the host's description and references carefully and do some research on the area.
Stockholm is by no means a dangerous city but there are neighborhoods with high crime rates that you should avoid, especially if you are traveling solo. If you use Airbnb, keep in mind that the cheaper the accommodation is, the farther away is it from the city centre and you then have to pay for the metro card, which is quite expensive ($15 for 24 hours and $25 for 72 hours). I recommend you to look out for rooms in Södermalm, which is a young and hip neighborhood south from the city centre. Room rates are comparatively cheap there and you can easily walk to get to Stockholm's Old Town and the major tourist attractions.
And you can even camp in Stockholm! There is a camping site in Bromma which is quite far from the city centre (10km) but which is also where Drottningholm Castle, the home of the King and Queen of Sweden, is situated.
Where to eat in Stockholm
You can save a lot of money for drinks in Stockholm as you can simply drink tap water. It is not only free but also healthy and even Stockholmers themselves bring a water bottle to re-fill everyday they go to work or school. You can also get free tap water in restaurants and night clubs which is just amazing! Food is of course expensive in Stockholm so it is best to prepare food on your own rather than eating out.
You should avoid Swedish supermarkets and kiosks like ICA and 7-Eleven but instead search for a LIDL. It is by far the cheapest supermarket and there are quite a few in the city centre, for example on Sveavägen in Vasastan or Folkungagatan in Södermalm. You can get rolls, cheese rolls, croissants and donuts there for less than a dollar and bread, butter and cheese are also much cheaper than elsewhere.
If you want a warm meal and have no cooking facilities at your accommodation, go for lunch. You can find special lunch offers – soup of the day or "Dagens Rätt", the meal of the day – in every restaurant around Stockholm. And although I would not recommend to eat out in touristy neighborhoods like Gamla Stan in general, I have to admit that I had the biggest and most delicious pizza just there for $11. It was enough two persons as it was so big that it did not even fitted on the plate! It was a little diner in an alleyway of Gamla Stan and I was the only tourist in there. So look out for places that do not advertise in English because you can be sure that those are non-touristy restaurants and it is cheap and good where the locals eat, remember that! Another tip for non-vegetarians are hot dogs. There are dozens of hot dog stands around every corner in Stockholm and you should make use of them!
They come as classic hot-dog or full meal with mashed potatoes, salad or whatever you want. Just look out for them and I promise, you will make a find very quickly.
What to do and see in Stockholm
This is of course the most important and most expensive thing of any journey. Stockholm however is a city where you do not need to spend much on entrance fees. Taking a stroll around the Old Town and the Royal Palace, watching the changing of the guard, sitting at the waterfront at either Lake Mälaren or the Baltic Sea or taking a promenade on the shopping mile or even better, in the woods: All free and easily accessible on foot.
If you however want to visit a museum, go on Wednesday evening. Many museums, like the Nordiska Museet (Nordic Museum), offer free entrance every Wednesday from 5pm to 8pm (not in the summer though). If you want to visit the Stockholm Archipelago go by ferry, as the locals do, instead of taking a tourist tour. You can save up to $10 this way and you can disembark on a little island where you can pick-nick and lay in the sun in peace rather than being stuck on a crowded tourist boat where you are not able to disembark at all.
And if you want to have a look on the city from above, take the elevator at Slussen in Södermalm rather than paying an entrance fee at the Stadshus, Kaknästornet or even worse Globen Skyview. Taking the Katarinahissen, which the elevator is called in Swedish, is free and offers you a brilliant view on the Old Town.
Another possibility is climbing the hill Skinnarviksberget which is even more beautiful, free and surrounded by footpaths but yet close to the city centre.
Things to keep in mind
Stockholm is of course not the cheapest destination for budget travels but with a few tips and tricks you can save a lot of money. Here is a little summary of the most important things to keep in mind when planning a journey to Stockholm:
#1 Do not allow yourself to be deceived by cheap Ryanair tickets / always remember the costs for transportation, luggage, seat reservations, meals and drinks.
#2 Book your flight with SAS in advance and save up to 50% if your are under 26.
#3 Hostels in Stockholm are more expensive than elsewhere so make use of platforms like Airbnb, VRBO or Couchsurfing.
#4 Södermalm is a relatively cheap area in close proximity to the city centre.
#5 Save money by drinking tap water and doing grocery shopping at LIDL.
#6 Eat where the locals eat and always at lunchtime.
#7 You do not need expensive sightseeing tours. Stockholm can be easily explored for free and on foot.
#8 If you visit a museum, do so on Wednesday evening and always ask for a youth or student fare.
#9 Visit the Stockholm Archipelago by ferry rather than by tourist boat.
#10 Explore the green areas of the city like Djurgarden and enjoy a view over Stockholm at Slussen or Skinnarviksberget.
And most of all: forget your city map! Stockholm is beautiful everywhere and you do not need guided tours, fees or maps to have a wonderful time there!
So what do you think? Would you consider Stockholm as a destination for your next trip?