Macau prices
The bad news is that Macau is not necessarily a budget friendly place. Some statistics even show that Macau is nearly twice more expensive than Las Vegas (one of many things we were surprised by in Macau). There are plenty of pricey casino hotels and posh restaurants around, however budget accommodation does exists as well. The problem is that even a single tiny room remotely located from the city center costs a minimum of MOP200 ($25)! It is still cheap in comparison to casino hotels, believe me.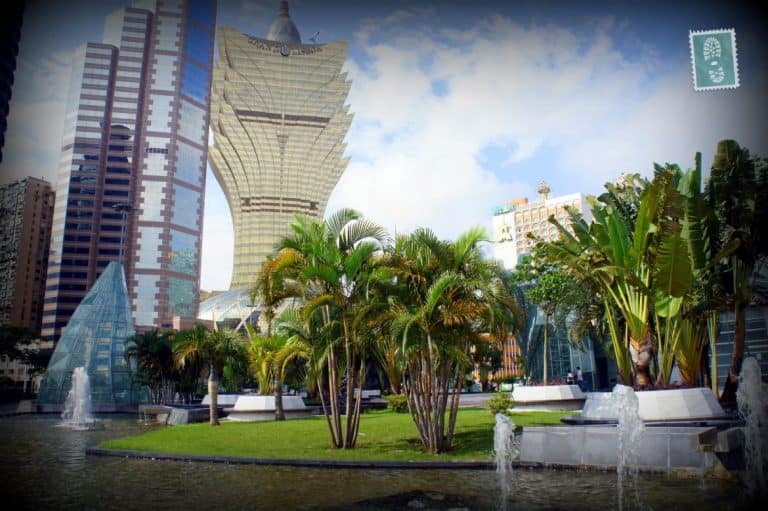 In terms of food, the prices are not that high. You can eat like the locals (mostly street food) and you will be filled up for cheap. Cheap is around $3-$5 for lunch and $5-$10 for budget dinner. If you cut down on alcohol (a bottle of beet costs around $2-$3) and parties, Macau does not have to be super expensive.
Macau has its own currency called Macau Pataca (MOP), MOP1 = $0,13, but you can also us Hong Kong dollars here since they are essentially the same value.
Cost of food and transportation in Macau
Meal in an inexpensive restaurant – 60 HK$ ($8)
A basic McDonald's meal – 30 HK$ ($4)
A bottle of imported beer – 30 HK$ ($4)
Small bottled water – 11 HK$ ($1.50)
Pack of cigarettes (Marlboro) – 29 HK$ ($4)
One-way ticket (local transport) – 3 HK$ ($0.40)
Taxi (1km) – 15 HK$ ($2)
We try to "survive" in Macau as cheap as possible. Here are the budget food and accommodation options we went for:
Best budget accommodation options
1. Vila Universal.
Price: Around MOP360 ($46) per double room (weekend price).
Location: Rua da Felicidade, n.0 73, r/c e Kuoc-chai, Macau, China.
Pros/cons: The location is perfect, nearby the Senado Square. Although the staff were not very friendly, the rooms were very clean. Wi-Fi was available only at the reception.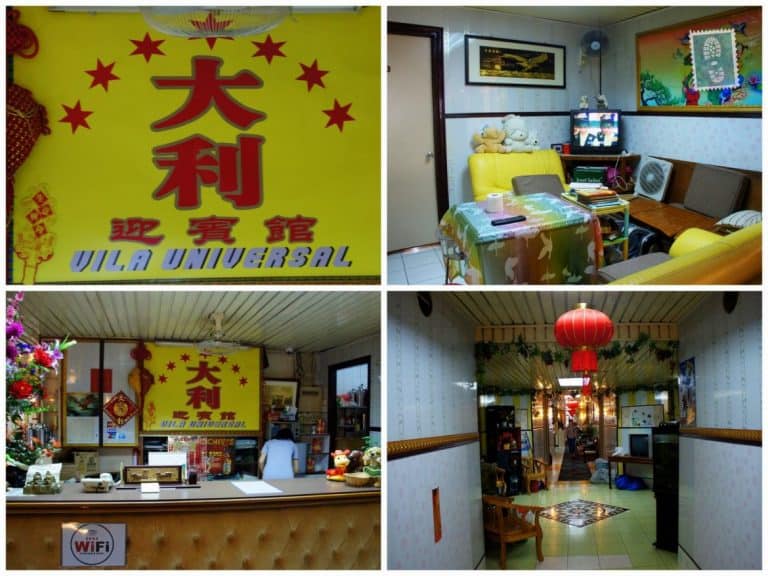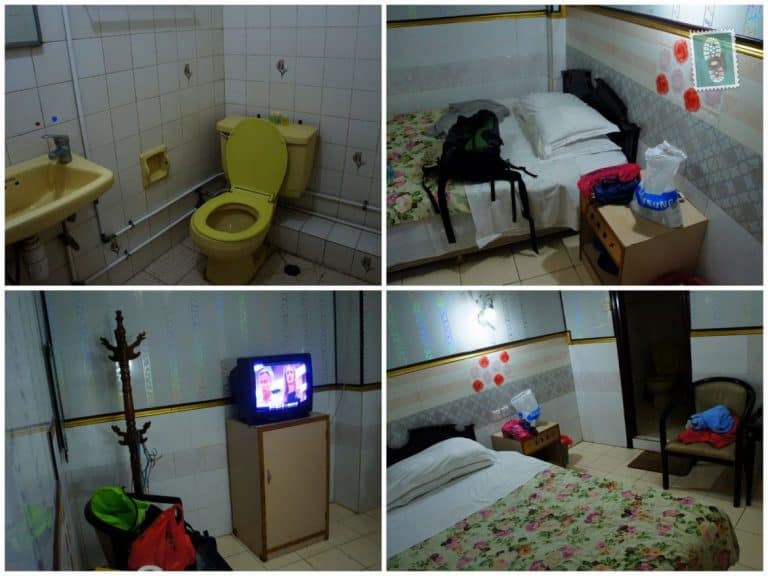 2. Vila Hou Va.
Price: Sunday-Thursday at MOP380 ($48), Friday at MOP430 ($55), and Saturday at MOP480 ($61 ), double room.
Location: Rua da Ribeira do Patane, no.86D, 1o andar , Macau.
Pros/cons: This is the place where we stayed the longest. It was located in a very cozy area, about 2-3 km from the city center. There was Wi-Fi available in our room and there was a local supermarket and bakery nearby. It is owned by Chinese lady, extremely friendly. She didn't speak much English, but Filipino cleaning lady did so there was never a problem with communication.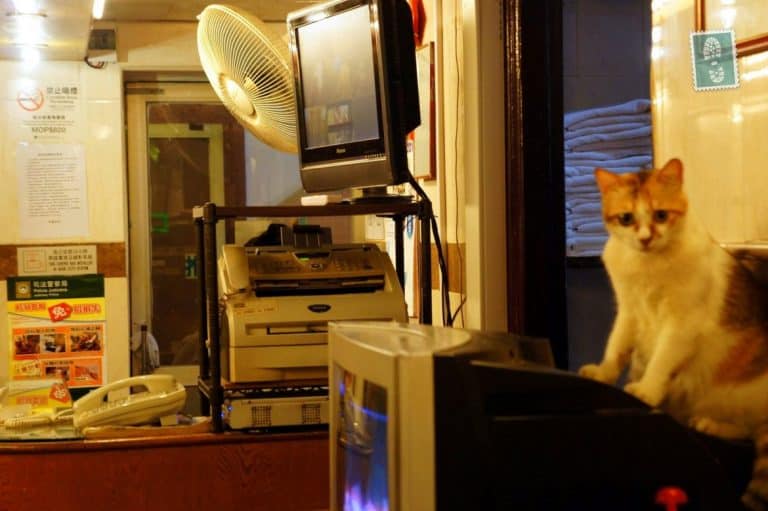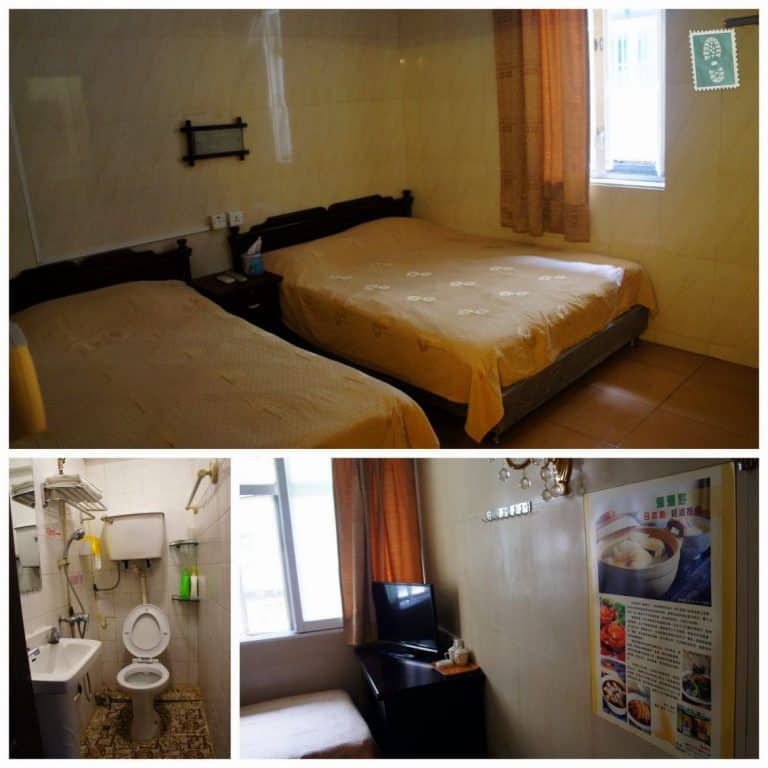 3. Ko Wah Hotel.
Price: Fridays for 350 HK$ ($45), Saturday 400 HK$ ($51) and weekdays 280 HK$ ($36) for single room.
Location: 3F, No.71 Rua da Felicidade, Macau, China.
Pros/cons: The hotel location is good, very close to Senado Square and other famous attractions. Note: Hotel only accept cash in HKD, no MOP money accepted. There is also Wi-Fi available at the reception, bad quality though.
Best budget food options
1. Kebab – MOP25 ($3).
Nearby the Vila Universal Hotel (Rua da Felicidade, n.0 73, r/c e Kuoc-chai) there is a kebab stand where you can fill yourself up with a kebab meat wrapped in a pita bread topped with garlic sauce and served with veggies. It's cheap and delicious!
2. Street seafood – MOP20 ($.250).
A small bowl of seafood costs only MOP20 ($2.50) and you can get it anywhere. I would recommend to try some veggies if you are a vegetarian. If you find it tasteless, you can have them with some sauces (there is a great variety of them – from garlic, tomato to meat and mushroom sauce).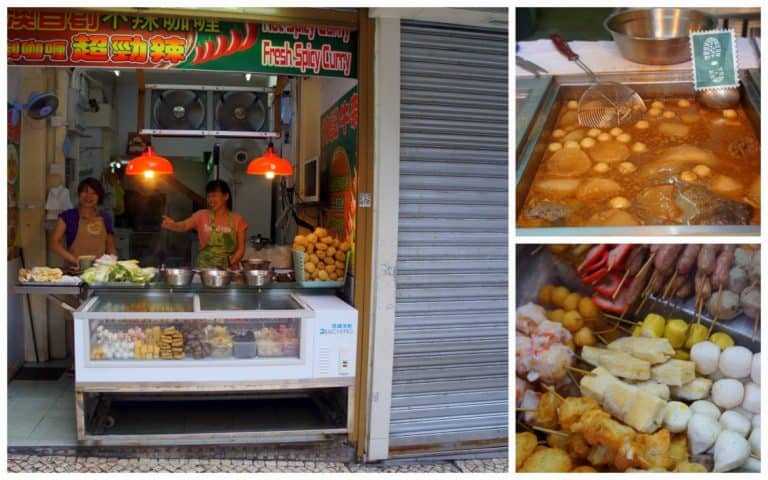 The seafood stands are available all over Macau, in every street corner. You can't miss it.
The food is ready in 2-3 minutes and there are no queues.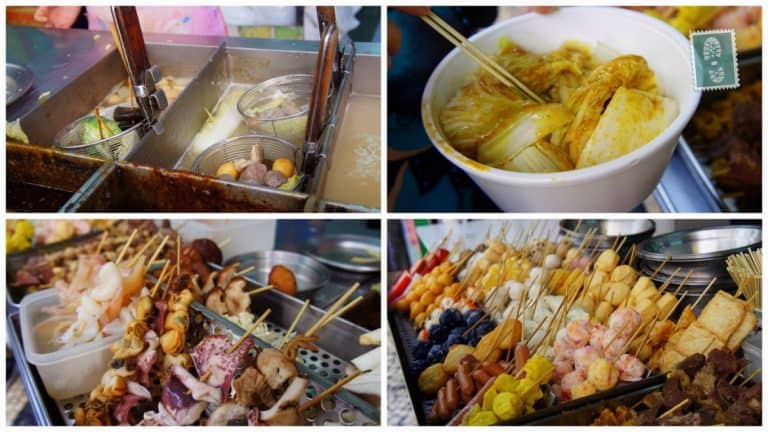 3. Cafe Ou Mun – Portuguese Cafe, Restaurant and Bakery.
Location: Travessa de Sao Domingos, No 12 R/C. Business hours: Tuesday to Sunday 08.00 – 23:00. Closed on Monday.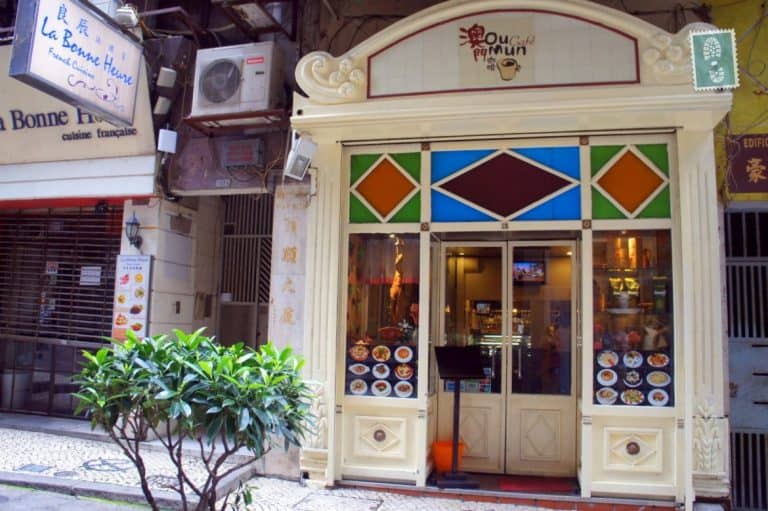 We had our first traditional Portuguese breakfast here: a glass of Galao (Portuguese coffee with milk), a cup of green tea, Sandes de Ovo com Queijo, Fiambre, Tomate e Afece (egg, cheese, ham, tomato and lettuce sandwich) followed by Serradura (Portuguese sawdust pudding). Heaven in our mouth. This Portuguese c@fe is called Cafe Ou Mun and it's just right in the corner of Travessa de Sao Domingos. We paid MOP117.00 ($14).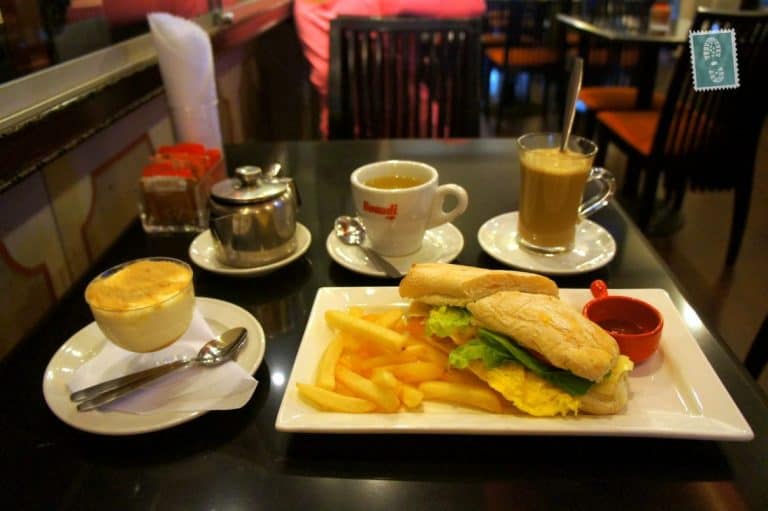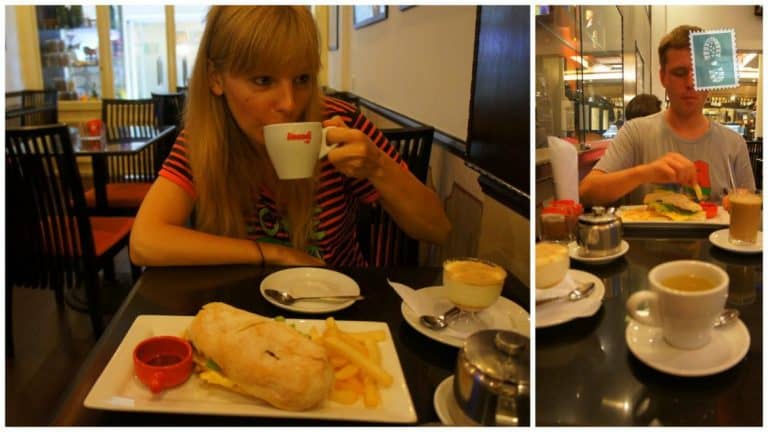 We would like to highly recommend this place to anyone who is seeking a decent Portuguese breakfast option. The food is fresh and extremely delicious. We enjoyed every bite of it. The prices might be higher, but it's worth it. There are also plenty of Portuguese cakes and pastries sold there. You can go for an egg tart, chocolate cake, croissant or cheesy bun.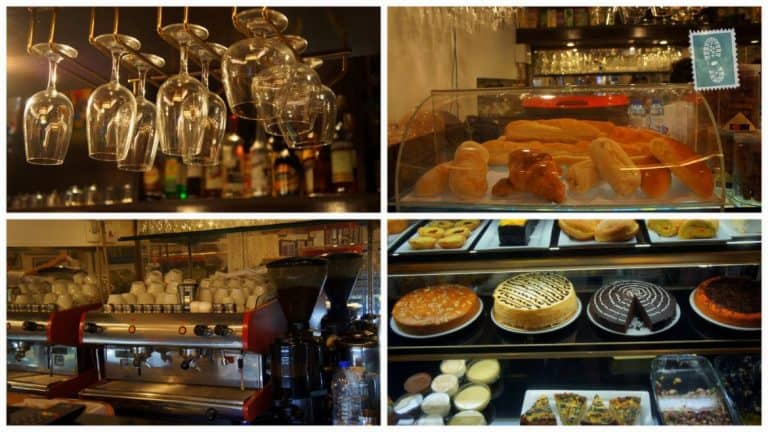 The place itself looks very cozy. We liked its design and the typical Portuguese atmosphere.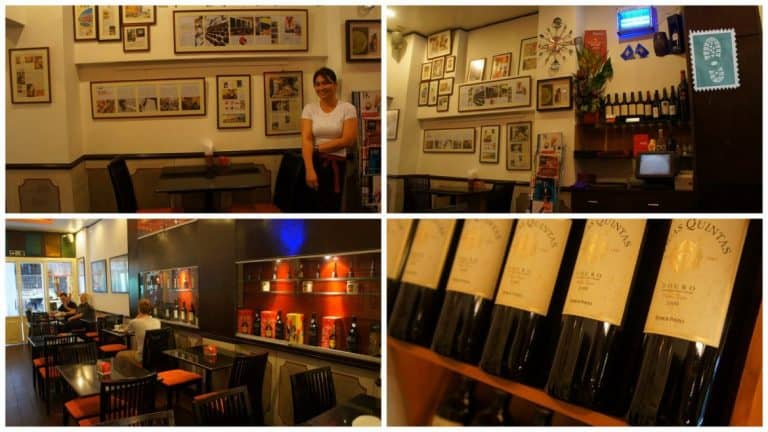 4. Cafe Free.
Cafe Free was our favorite bakery in Macau where we picked up some delicious cakes and fresh croissants every morning from.
Location: 南灣大馬路 (We could find only Chinese location on the Internet).
Example of prices: Denmark Miscya Bread (MOP13, $1.60), Japanese bread filled with bananas (MOP10, $1.25) and a cheese bun with garlic and basil (MOP6, $0.75). You can also grab a large cup of coffee for MOP20, $2.50.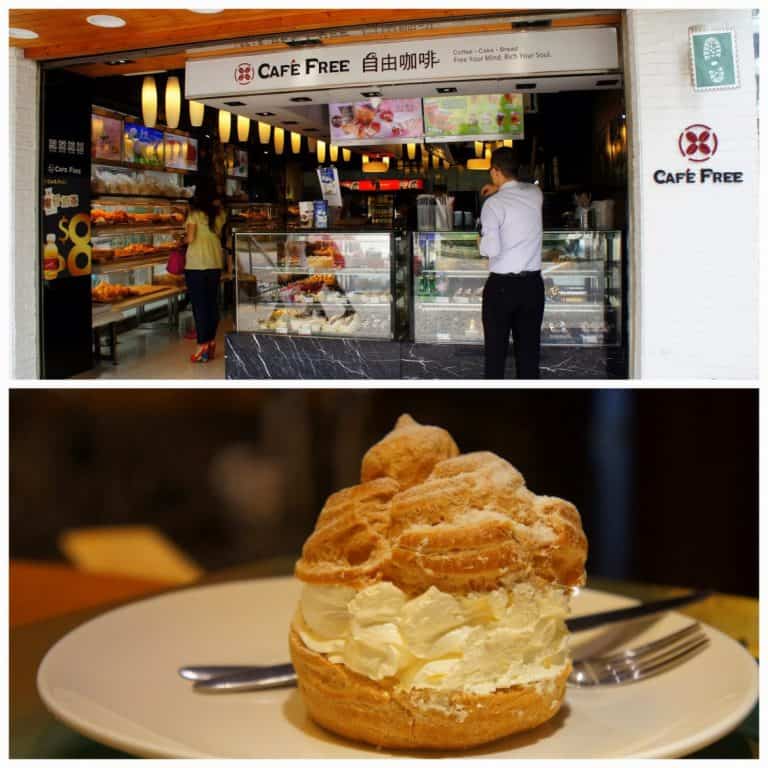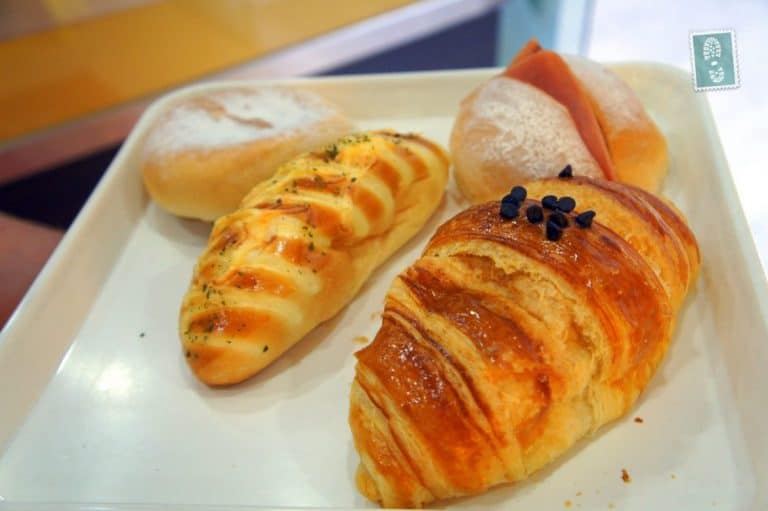 5. Cafe E.S.Kimo.
Cafe E.S. Kimo is a Macao-invested western food restaurant. It is a good place for afternoon tea or a dinner at reasonable price.
Location: Rua do Regedor, no.175 R/C, Vila de Taipa, Macau, China.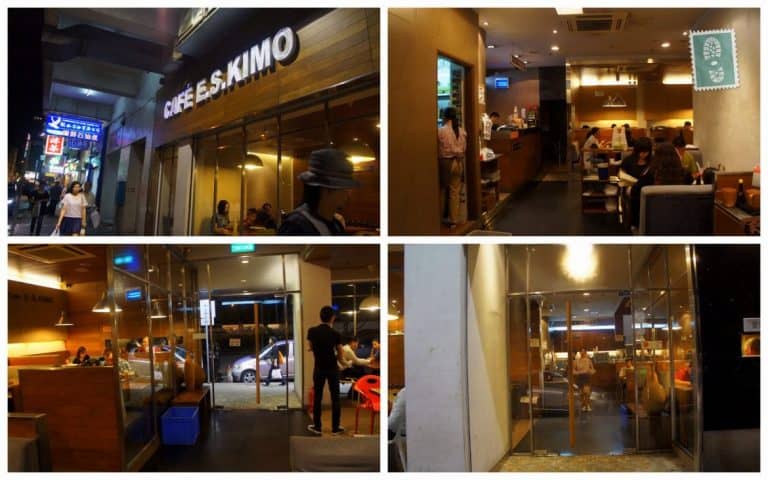 Most of dishes are Chinese (Sichuan style) and Taiwanese. The typical menu includes such dishes as Spicy Beef Rice (32 HK$/ $4) or Spicy Pork Rice (30 HK$/ $4). We went for Diced Chicken with Hemp Pepper Rice for 32 HK$/ $4. We shared the plate together as we were not super hungry. The food was spicy, yet so delicious.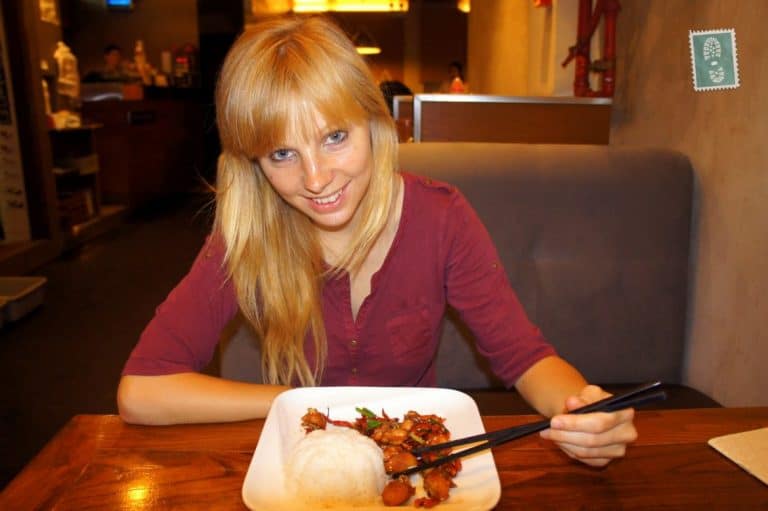 This cafe also offers plenty of hot and cold drinks. You can order a cup of green tea (20 HK$/$2.50), yogurt soda, green mango smoothie or blueberry shake (each for 28 HK$/ $3.60). We enjoyed a glass of strawberry yogurt shake.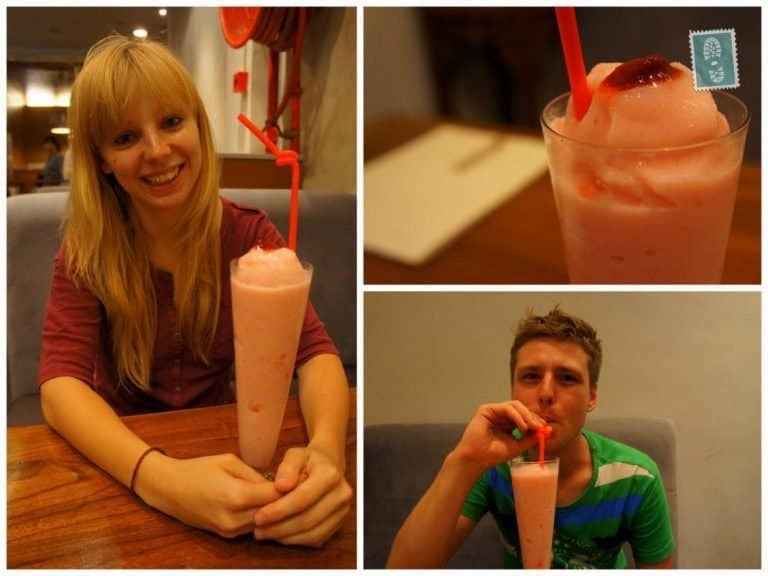 6. Chinese local restaurants.
We don't know the exact name of this restaurant, but it was a typical Chinese local place where you can have a nice breakfast for a really low price. It was located a few steps from the Vila Hou Va Hotel (Rua da Ribeira do Patane, no.86D, 1o andar, turn right after leaving the building). The food was nice and fresh, the menu was in English with local prices attached, one waitress spoke great English and we didn't have to wait for the food long.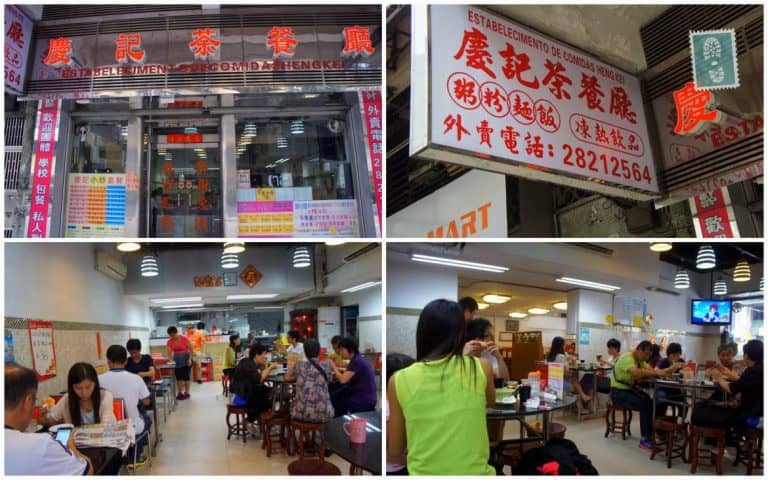 This time we ordered Macanese iced coconut juice with red beans and agar-agar jelly (15 HK$/ $2), a mug of hot chocolate ( 9 HK$/ $1), fish toast (11 HK$/ $1.40) and ham, fried egg and cheese sandwiches (20 HK$/ $2.50). Cheap, isn't?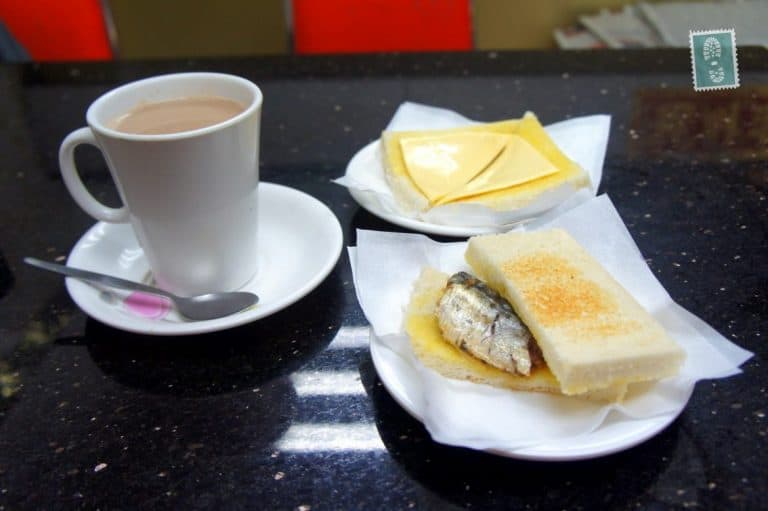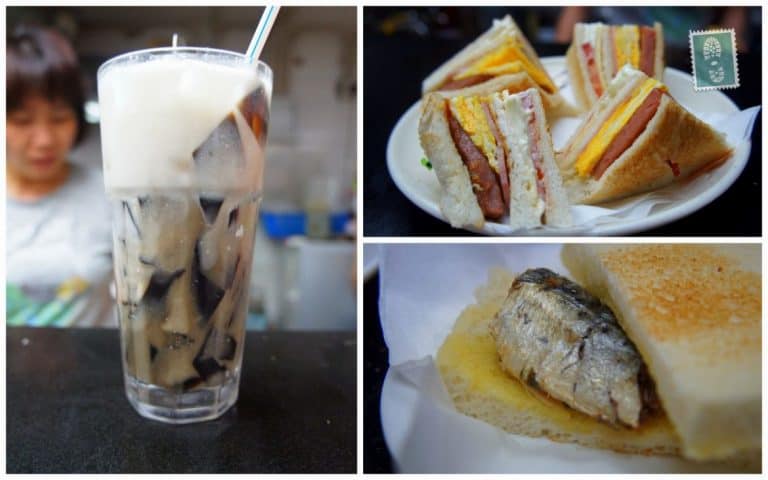 7. Supermarkets.
If you can't afford the street food, you can always go to local supermarket and buy some stuff there. The sweets, fizzy drinks and raw veggies and fruits are cheap. I visited supermarkets every day to buy some water and snacks. You can find them anywhere. Here are our two favourite ones: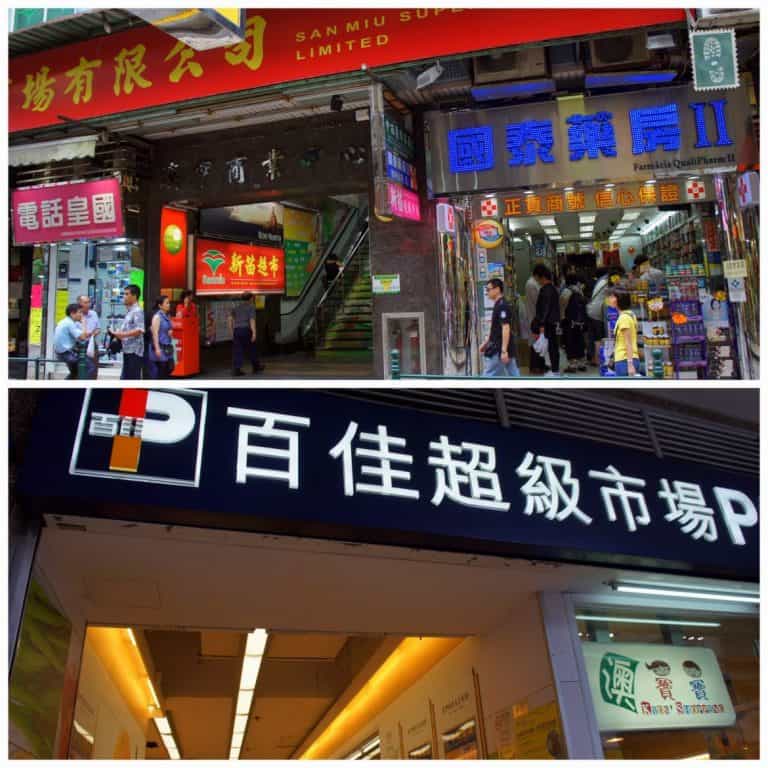 Summary
Macau is an expensive place,we must admit it. This time we were extremely lucky as the school paid for our stay here. Otherwise, you would never spend there more than 2 days in this place. We were waiting for our visas for 7 days and spent around MOP6000 ($751) during this time. We still strongly believe you can make it for $25 per day as long as you stay at your friends and cook your all meals :).
Is Macau an affordable place to travel for you?
You can now download this article as an app and get an offline map so you can go and see these places yourself.