Unexpected Visa Run To Macau
Chinese do everything at last minute. Therefore, we were not surprised to be told to pack our bags and leave for Macau just a few hours before our bus was leaving. First thought? Yeah, it's gonna be awesome! Second thought? We are absolutely unprepared!
The reason of our visit in Macau are our Chinese visas. The school promised to convert our tourist visas into working visas so we had to head either to Hong Kong or Macau and the school staff decided it was Macau. Although we had nothing to say, we didn't mind it at all. Together, with one of the teachers from the kindergarten, we firstly took a bus to Jiangmen (over 3-hour ride) and then we were taken directly to Macau by a private car (1-hour journey). At the end of the afternoon, we jumped on the ferry to get on the other side of the river (cost of the ferry – RMB 25 per person, one way ticket) and we could finally start enjoying Macau!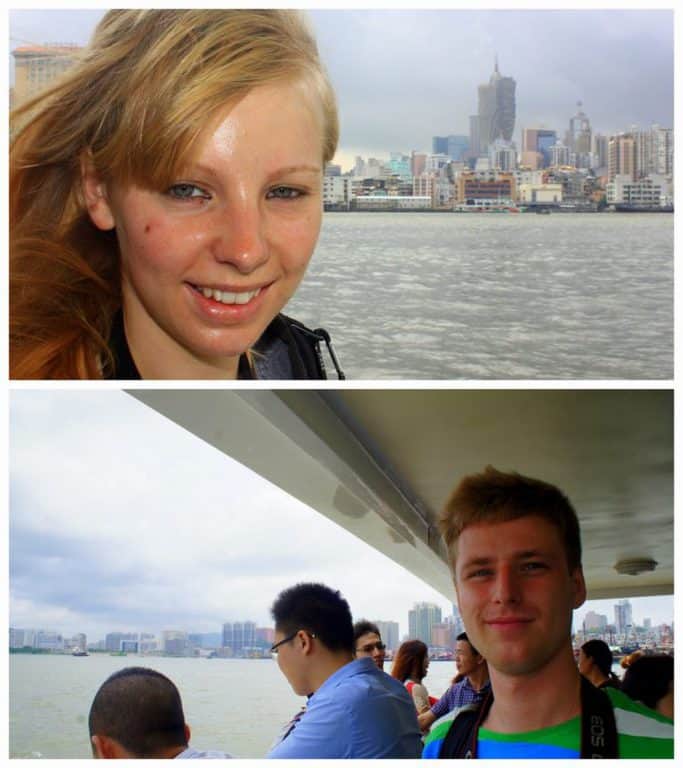 First Glimpse of Macau From the Ferry
We absolutely loved the first view from the ferry. The sky was crystal clear and we could see some buildings and sky scrapers almost floating above the ground.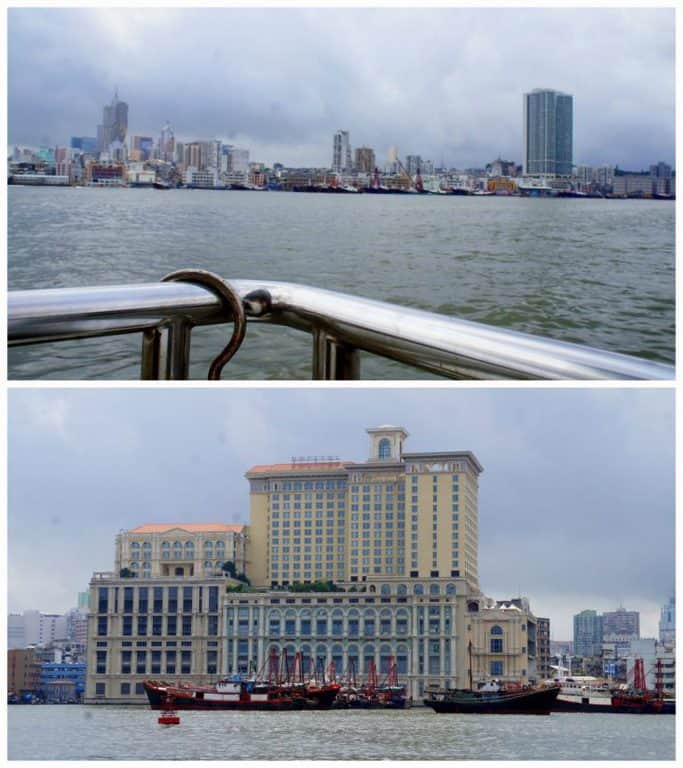 There is nothing better than chilling out on the ferry and admiring the stunning scenery!
More Surprises
It was supposed to be a one or two day adventure in Macau, but we found out at the Chinese Embassy that we need to stay in Macau for 7 days until we receive our visas. That means no school for a week, just travels around Macau and blogging. It sounds like a plan to us, but wait a minute… we don't have much cash left! This problem has been quickly resolved by our supervisor, who provided us with all we needed and here we are living and traveling in Macau for a week (15.05-22.05)!
15 Things Macau Has Surprised Us With on the First Days
Macau is called the "Far East Monte Carlo" and it is widely known for its addictive industry. Although we visited Macau once last year (one day stay when visiting Hong Kong), this time it surprised us with absolutely new things we didn't experience the first time round.
#1 Enormous Skyscrapers With Fancy Design.
This is incredible how high Macau buildings are and how fancy they look. You have a feeling like they never end and disappear somewhere in the sky. The highest building is called Grand Lisboa, it has 52 floors and it is 261m/ 856 feet high. Almost all skyscrapers look flashy at night and you can admire their modern construction (long lifts sticking outside with some colorful windows). Can you imagine having a dinner on the top? We are actually so tempted to do so… :)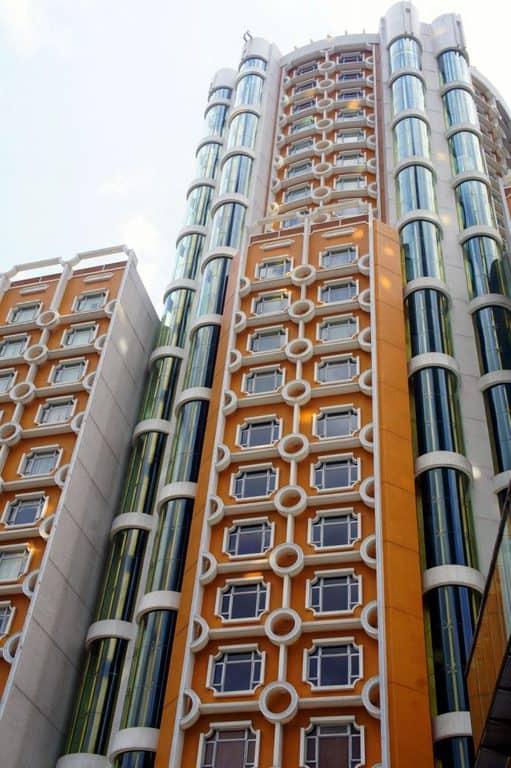 #2 Poor Areas Just Opposite the Expensive Hotels.
You are surrounded by glamorous hotels and shopping malls everywhere you go, but there are also a lot of poor areas around. We have already seen some dirty and shabby blocks of flats where poorer locals live. It is such a sad view!
#3 Motorbikes, Scooters, Bikes And More Motorbikes.
We have noticed that at least 2/3 of locals travel around the city by either a motorbike, shooter or a bike. Although the traffic is crazy and you can easily get hit by any moving vehicle, most of the road users drive carefully and let you cross the street first. Everywhere you go, there are hundreds of motorbikes parked in the corners of the streets making this place so cool.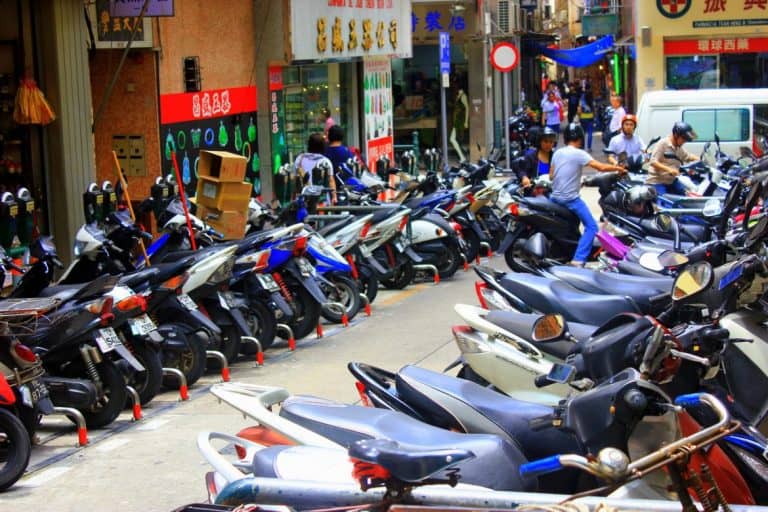 #4 The Prices Of Accommodation Rise On Fridays, Saturdays And Sometimes on Sundays.
This is something that surprised us the most. We paid MOP500 ($62) for a double room per night (from Wednesday to Friday and from Monday to Tuesday) and we were charged an extra MOP150 ($18) to stay overnight on Friday and an extra MOP250 ($31) for our Saturday and Sunday night. There are more people coming to gamble at the weekends so all accommodation prices go up! This was one of the cheapest hotels around the city centre we could find. Let's face it – weekend stays in Macau are so expensive!
Fortunately, today we ventured off to a more remote area with much poorer neighbourhood, where we found a cheaper stay, nicer staff and better room quality. Also, the old hotel staff agreed to refund the money for the nights we're not going to stay there. The new prices are as follows: Sunday-Thursday at MOP380, Friday at MOP430, and Saturday at MOP480.
[box type="info" style="rounded" border="full"]Note: Macau people are not willing to bargain. We found it so difficult to haggle. In some hotels you can find "No Bargaining" note on the wall right at the reception.
#5 Healthy Food Is Available Everywhere.
We got used to eating greasy and stodgy food in China on a regular basis. The majority of Chinese meals served in local restaurants are deep fried. Here, in Macau, we see plenty of food stands filled with veggies and seafood which can be either boiled or grilled without adding much salt. This is what I love having for my snacks! I already had some boiled broccoli, lettuce, sea plants and crabs. So yummy and light!
My stomach is so grateful for that. I don't feel bloated any more and I have definitely more energy. A small bowl of seafood costs only MOP20 ($2.50) and you can get it anywhere. I would recommend to try some veggies if you are a vegetarian. If you find it tasteless, you can have them with some sauces (there is a great variety of them – from garlic, tomato to meat and mushroom sauce).
#6 More Bakeries And Coffee Shops Than Restaurants.
It is much easier to find a bakery stuffed with delicious cakes, donuts and pastries or a local cafe than finding a Portuguese restaurant. Seriously. Macau is full of take away cake shops and Starbucks, but we find it pretty difficult to find a local restaurant serving traditional Portuguese food.
It is actually so hard to resist the temptation when you keep staring at the cake and pastry displays.
We have already treated ourselves with some fresh croissants and pastries. There is nothing like this in China so we are catching up on desserts in Macau.
#7 Plenty Of Fruit Markets, But None Of Veggie Markets.
Fruits are everywhere. Veggies are nowhere (apart from supermarkets). You can enjoy a box of fresh blueberries, strawberries or grab one banana on the run, but getting a piece of carrot or a few tomatoes is a mission impossible. We luckily found some big supermarkets called Supermercados where we can get some veggies from.
#8 Demonstrations Taking Place At Senado Square.
On our first day in Macau we witnessed a demonstration held at Senado Square (one of the top tourist attractions) by a group of retired locals. They were shouting and screaming something in Chinese which we didn't understand a lot. There were some TV stations filming the whole strike and having interviews with the leader.
The main streets were closed for an hour and the square was surrounded by police officers. We stopped for a while to have a look at what was going on. There were no fights whatsoever and the chaos ended after an hour.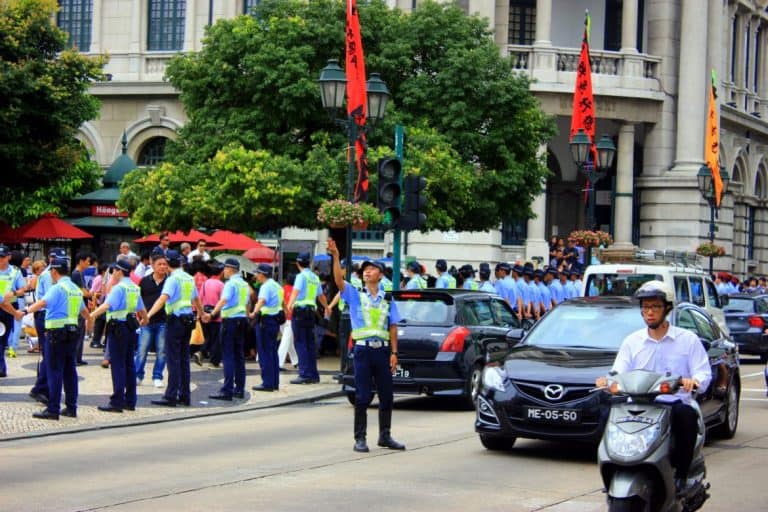 #9 Empty Churches.
Although the churches seem to be one of the most interesting architectural attractions in Macau, we found them empty in the middle of the day. There were few people praying and a handful of tourists taking some photos. We thought we had to queue for hours to get inside, but it was just the opposite.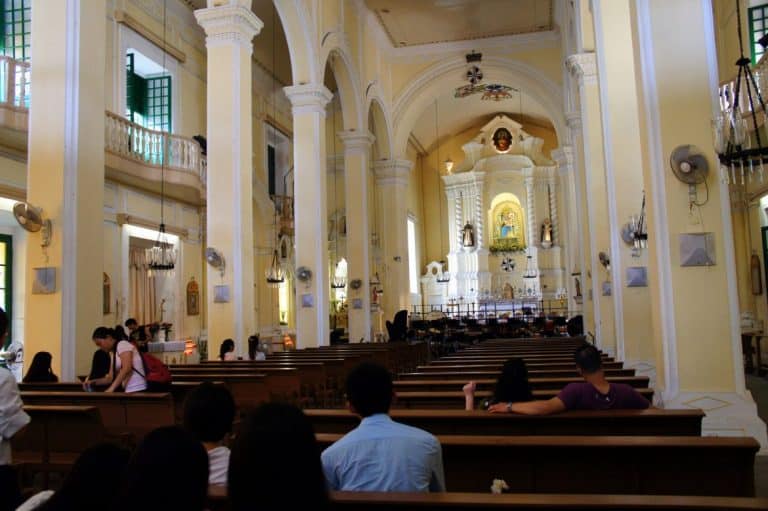 #10 Smell Of Smoked Fish And Meat.
Walking down the streets of Macau you can smell some smoked fish or meat. The reason being, there are plenty of shops selling them and locals as well as Chinese tourists seem to like it. They queue to get a bag of super expensive fish or a few pieces of pork.
Meat is very pricey for some reason. It is smoked and covered with spicy herbs.
#11 Different Socket Plugs.
There are two types of electrical sockets (outlets) used in Macau:
The "Type G " British BS-1363
The "Type D" Indian (old British BS-546 5 amp "small") sockets.
Unfortunately our Chinese plugs didn't match the shape of these sockets so we had to borrow an adapter in order to plug in.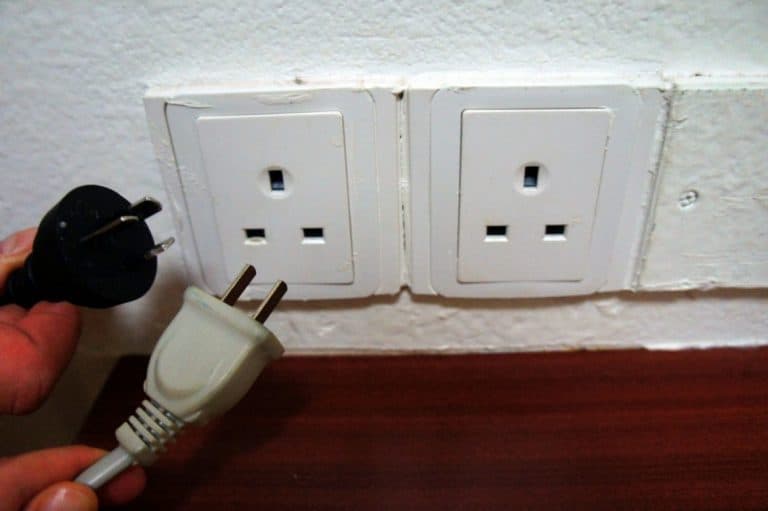 Note: Bring the right adapter with you when coming from China.
#12 Locals Speak Good English.
Like in Hong Kong, the majority of locals (including small restaurant staff) can speak at least some English. They don't speak only basic English, but actually can have a proper conversations with us. Our life is much easier here than in China, that's for sure.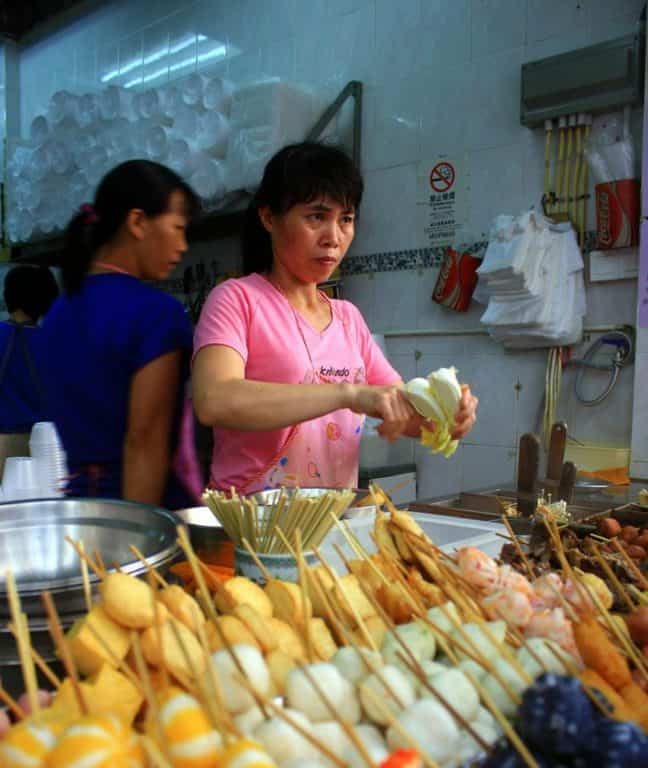 #13 No VPN Needed.
Best news ever. Unlike China, we can use Facebook, Twitter and Google freely in Macau. That makes our work and blogging a lot easier as you can imagine.
#14 The Whole City Is Dead Till 11 AM.
Most of restaurants, cafes, shopping malls and local shops open at 11 am. We left our hotel at 9.30 and struggled to find an open place where we could eat. The streets of Macau were nearly empty.
#15 Narrow Streets.
Numerous narrow streets and alleys are so typical for Portugal and Spain. We sometimes feel like strolling down the streets of Lisboa. It is a great mix of Cantonese and Portuguese cultures, which can be felt in so many ways, sets Macau apart from anywhere else. It is simply a Macanese experience we are so in love with!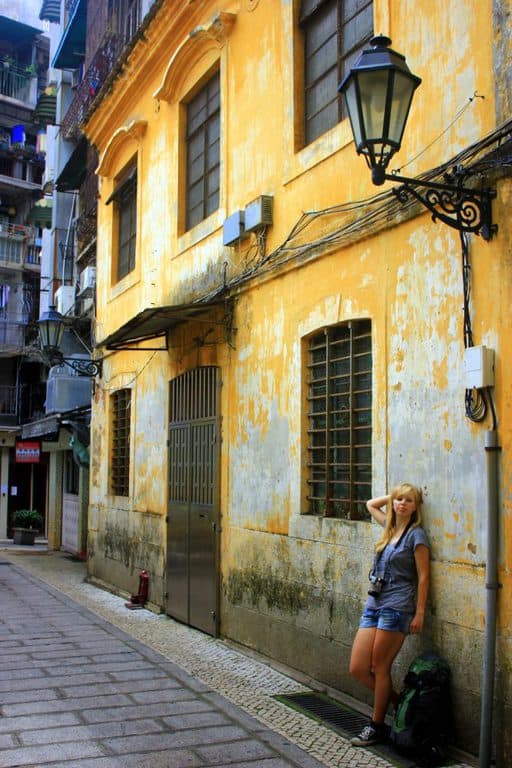 Although, there have been many surprises waiting for us in Macau, we could not be happier. Everything is going well and we love it. I wake up every day and enjoy a nice cup of Portuguese coffee, then grab my camera and slowly but surely start exploring every corner of it…
How did / would Macau surprise you?