Buenos Aires is a great place to start your backpacking trip on a budget. As most of the main attractions of the city are free, the money you spend will be almost only on food, accommodation and possibly on public transport.
Sightseeing in Buenos Aires is a lot about walking through neighborhoods, observing and enjoying the atmosphere and the different styles of architecture. In the first part of the post, I'll give you a suggestion on what to do in one day in Buenos Aires. After that, I will shortly recommend some more places in the area you should visit when you have more time.
Morning: Recoleta & Microcentro
A typical Argentine breakfast contains coffee and some pastries like medialunas (very sweet croissants). If you want to stay in a hostel, book one where your breakfast is included so you don't have to spend extra money on that. After filling yourself up with breakfast, hop on the Subway – called subte – and get off at Pueyrredón on Line D to visit Recoleta cemetery. It is one of the most popular cemeteries on earth accommodating famous people like Evita, former presidents and wealthy people from Buenos Aires. Don't forget to visit the church "Nuestra Señora del Pilar" as well which can be found directly next to Recoleta cemetery.
Then make your way back to the city centre by passing a lot of Parisian style buildings and enormous rubber trees. During the walk, you should also stop at Plaza Lavalle with the famous Teatro Colón and at Plaza de la República. The Plaza de la República accommodates the Obelisco monument in the centre of the widest street on earth. You won't be able to cross the street all at once.
While enjoying all these landmarks, have some empanadas (filled pastries) for lunch. You can buy them in one of the multiple kiosks along the way.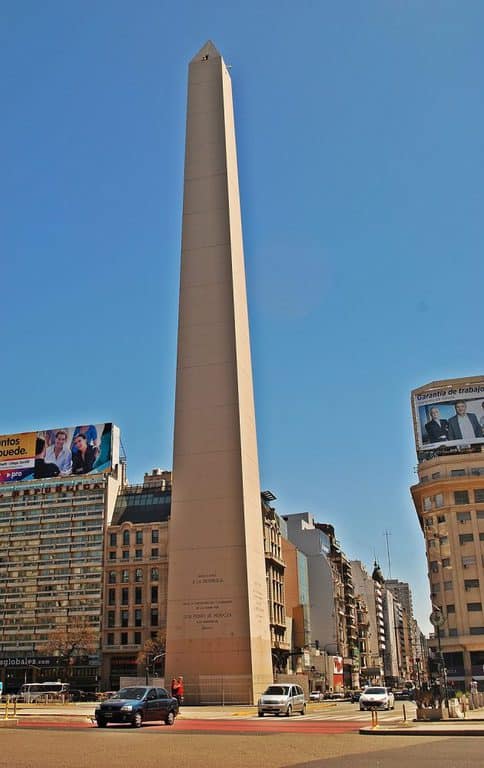 After arriving at the Obelisco, head down the Street Diagonal which leads directly to Plaza de Mayo – the main square of Buenos Aires. On the square you find the main Cathedral, the council (Cabildo) and the seat of the president (Casa Rosada). When you head down to Casa Rosada, also take some time to walk around the house to the other side. The side of the house which is not situated at Plaza de Mayo is the actual front. Many people do not know that, simply take a photo from Plaza de Mayo and leave without seeing the front.
When you are at the front side of the house, Puerto Madero is just around the corner. Go down to the port and stroll a bit along the docks. Have a coffee and breathe a bit of sea air.
Evening: San Telmo
Puerto Madero it only a stone's trow away from San Telmo neighbourhood. Walk around the oldest neighbourhood of Buenos Aires and enjoy this unique atmosphere. Watch tango dancers on the street and window shop the antique boutiques. In case you are in Buenos Aires on a Sunday, there will be a famous craft market which is absolutely worth seeing.
Walk the street Defensa down from Plaza Dorrego back to Plaza de Mayo and don't forget to have a look in the side-streets.
It's already time for dinner. Finish your day with a typical Argentine dish. Again depending on your type of accomodation and budget, you could for example either eat a Choripan or a Milanesa Napolitana. A choripan is a pork sausage in a bread roll and a typical cheap meal in Argentina. If you couchsurf in Buenos Aires, you might have some money left. Use it to try a Milanesa Napolitana. It is a breaded fried steak topped with ham, tomato sauce, and cheese and it is totally tasty! A must try in my opinion.
Accommodation
The cheapest option to stay in Buenos Aires is of course Couchsurfing. You are able to stay with a local and will get to know the Argentine culture in the best way possible. If you don't want to do Couchsurfing, hostel prices start from $8 for a dorm room.
Estimated costs
Option 1 (Hostel): 0.6 US$ Subte + 2.50 US$ Empanadas (Lunch) + 3.50 US$ Coffee & Medialunas + 6 US$ Choripan & Drink (Dinner) + 8-12 US$ Hostel = 20.6-24.6 US$
Option 2 (Couchsurfing): 3.5 US$ Coffee & Medialunas (Breakfast) + 0.6 US$ Subte + 2.5 US$ Empanadas (Lunch) + 3 US$ Coffee + 14 US$ Milanesa Napolitana & Drink(Dinner) = 23.6 US$
These costs are estimations according to my experiences in Buenos Aires (from 2013) and subject to change.
More time left in Buenos Aires?
There is plenty to do and see in Buenos Aires and even if you stay a month you probably won't get bored. If you have more than one day, you should consider visiting La Boca which is the neighbourhood in which Maradona learned to play soccer. It is a very colorful and touristy area. But be careful, stay on the tourist trails as the streets around them should be a centre of crime.
The green part of the city is definitely Palermo. Palermo accommodates heaps of parks including the Japanese Garden and the Zoo. As well in Palermo, but west of Plaza Italia, you can find a lot of alternative shops, street art and heaps of bars and restaurants. Spend at least one evening there but remember that the subte only goes until 10 – 10.30 pm.
If you want to escape the metropolis, catch a train to Tigre. A return ticket only costs 7.50 Argentine Pesos (about 1.20 US$) and gets you to a small city one hour away from Buenos Aires. It is the ideal spot for canoeing, taking a boat trip or simply to enjoy a fresh breeze after days in a big city.
I wish you a great stay in Buenos Aires, enjoy it to the fullest!
Have you ever been to Buenos Aires? If so, share some budget travel tips with us!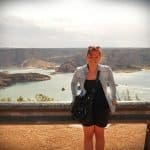 About the author: Stef is a passionate globetrotter. She has a normal 9-5 job but travels the world during all her days off. On her blog she shares practical travel tips, photos and food ideas from around the world.