A Wonderful day in Vang Vieng for under $25
Vang Vieng is a little backpacker paradise in central Laos. There is so much more to Vang Vieng than just the infamous tubing experience, and although this experience is definitely once in a lifetime, it falls out of the $25 range for the day. This little backpacker haven is nestled between these gorgeous karsts, unexplored greenery, and an abundance of rice paddies, caves, lagoons and the Nam Song River. So why not explore more of its natural beauty?! You can easily have the perfect day in Vang Vieng for less than $25 and have the most fun! This was definitely a top experience for us in South East Asia.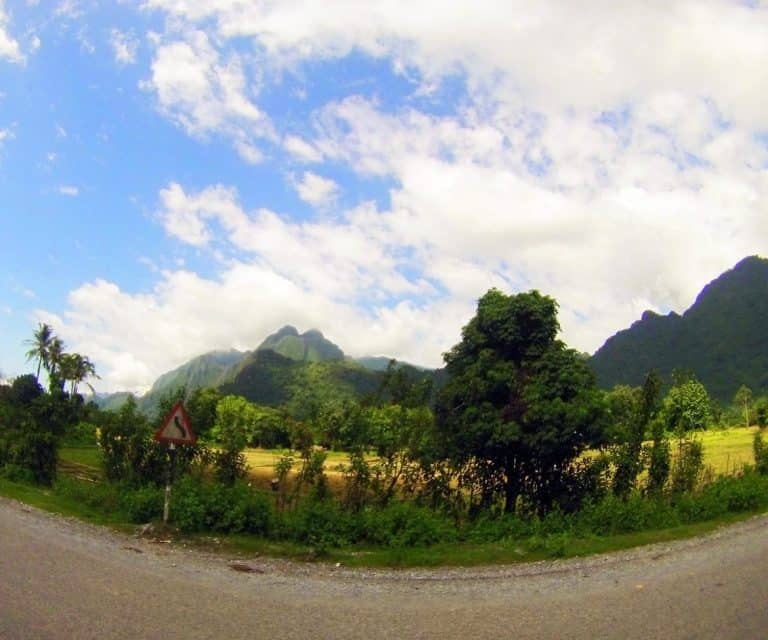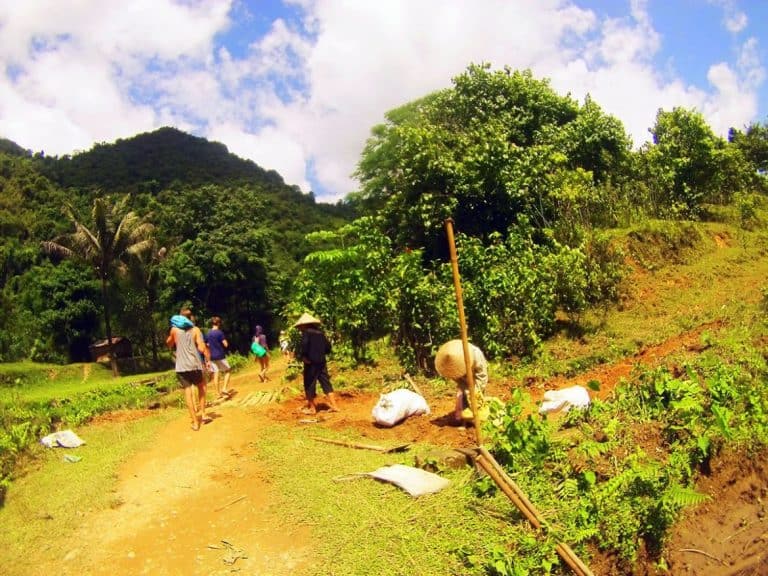 Accommodation in Vang Vieng
When you walk around Vang Vieng, there are way more choices for accommodation than Hostelbookers provides. There are super cheap hostels and hotels all around the same area. Easy Go is a popular hostel amongst backpackers. With only having to pay $3 for a bed per night, this seems like the most fun and cheapest option. If you are looking for a private room, we were able to bargain for a private fan room at Johnny's Guesthouse for $5 a night or you can try your luck at Nana's Guesthouse, which is $6 a night. Also, please be aware that prices change from high season to low season (making low season the cheapest). It is also really easy to bargain for a lower price for a room!
Things to do in Vang Vieng
We normally do not do tours while traveling in fear of being scammed or for it to not live up to the expectation. However, we found this tour company right next to the Tubing distribution stall that offered an unbelievable tour for its price. It was a full day kayaking and cave tubing tour. Awesome, right? We paid 85,000 Kip, or $10.50 USD for a tour that included transportation there and back, all rentals and equipment, lunch, and the chance to get to meet super cool people and have an amazing experience.
We started our day at 9 am by heading out to visit the rice paddies in the Hmong Village, one of Laos local villages. We gained wonderful insight on the Laos locals as our guide taught us about the culture, daily rituals and traditions. We also got to see the Tham Xang, The Elephant Cave, which contained a Buddha and Buddhist relics. The reason it is called the Elephant Cave is because some of the rock formations looked like an elephant!
We were then brought to the Tham Nam water cave, where we hopped into our tubes and pulled ourselves by rope along the cave wall (only with a dim torch on our heads!). We followed the faint voice of our tour guide into the abyss of darkness, following small dots of light, the rope along the wall, and the laughter and screams of the group. It was really good fun, and probably one of the more impressive caving experiences we had in Southeast Asia!
After an excellent hour of caving, we ate a delicious Laos lunch of fired rice, chicken skewers, pineapple and bananas! Mmm… And the kayaking adventure began. We kayaked for 3 hours down the Nam Song River, which had a few tiny rapids. However, the scenery is gorgeous. Seriously, unreal. You see all these mountains, and lush greens, and the beautiful river-it was seriously the best part of the tour! You are in Laos, in this unexplored wilderness, kayaking (more like calmly drifting) down the river—it is amazing! We kayaked to one of the bars where the Tubers go, but didn't buy any drinks. It was still nice to see the environment where the tubers go though!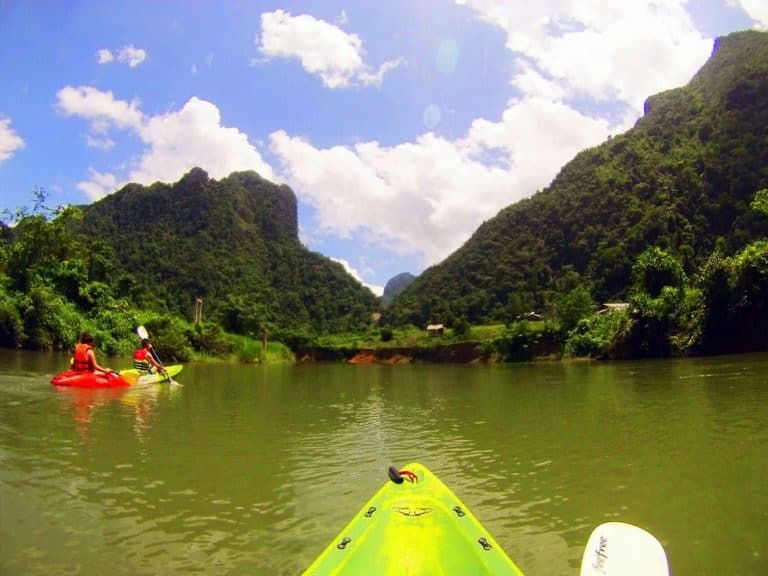 We returned at 4 pm so it was pretty much a whole days worth of activities for only $10. Definitely worth it!
Food in Vang Vieng
For dinner, we are a big fan of eating local street food from street vendors. Why? Because it is the cheapest and surprisingly the tastiest! You are better off going with local food than western food because you at least know that they can prepare Asian food correctly (with hopefully no chances of getting sick!). In Vang Vieng there are tons of little street carts with food like baguette sandwiches, fried pancakes with nutella, pad thai noodles, and even burgers all ranging from $1.25 (for the pancake) up to $2.50 (for a burger).
Drinks
In Vang Vieng, there are heaps of bars that offer drink specials. Most large beerlao cost 8,000 to 10,000 Kip (around $1.20), but our favorites were free drink specials! Sakura bar has free drink specials from 9-10pm and Kangaroo Sunset Bar has free drinks (and free games of pool) from 10-11pm!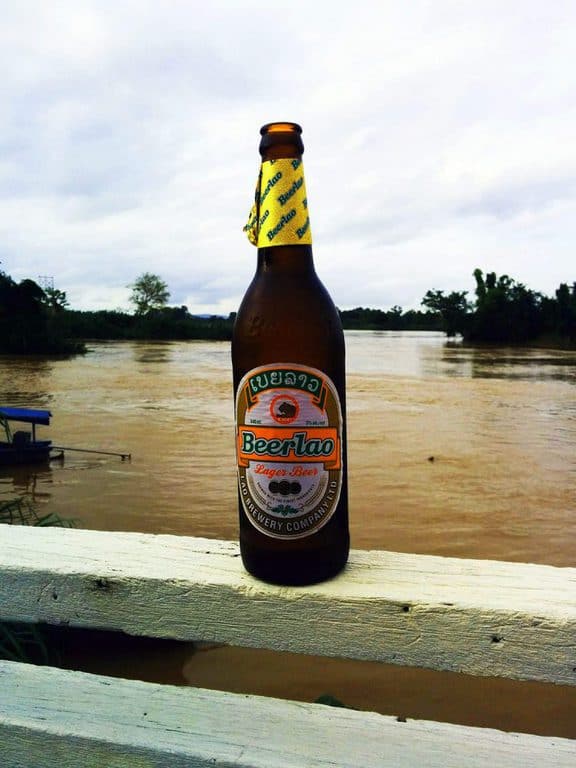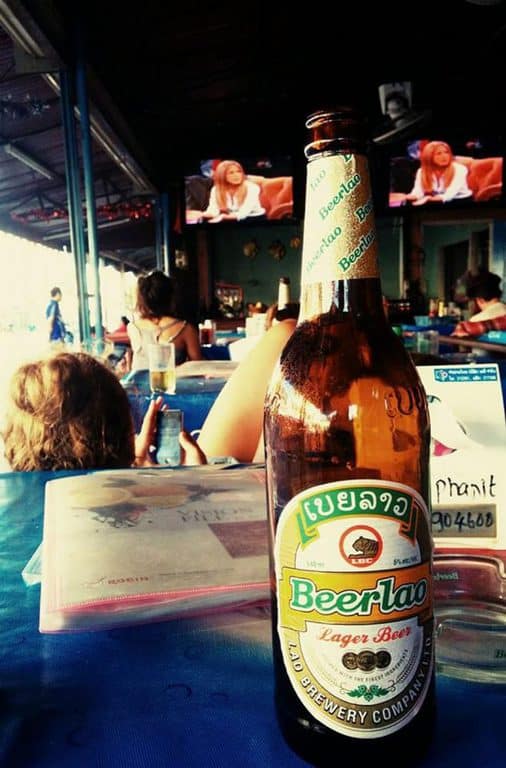 So enjoy the free drinks before having to pay for any. Everyone usually hangs out at Gary's Irish Bar, which is where we went to watch one of the world cup games! People are playing darts, pool, there is live music, everyone is chatting, and drinking some cheap drinks, so it is definitely some good fun. For a quite night, you can head to any bar or restaurant and watch Friends with a couple beers. It is always nice to grab a beer with some friends while watching Friends.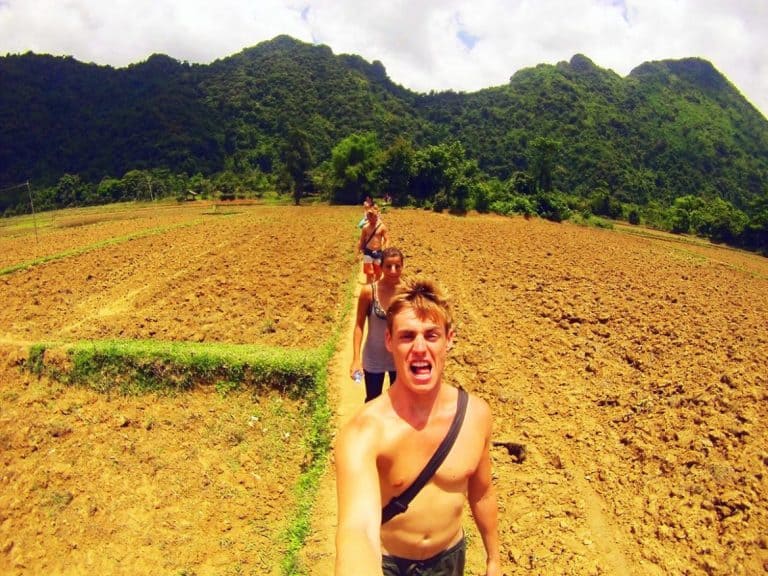 Daily Spending/Budget in Vang Vieng
Accommodation -$5

Tour- $10.50

Dinner- $3.00

Dessert- $1.25

Free Drinks -$0

Total= $19.25

Left over money (for beers maybe?)-

$5.25
We had the best time on this excursion and would eagerly recommend it to anyone else traveling to Vang Vieng. We met some great people, admired the fantastic scenery, adventured in caves, got our workout when kayaking, and had an unbelievable experience—all under $25!
Who Needs Maps Bio
We are Jack and Jenn from Who Needs Maps. We are a long distance couple, from America and Australia, so why not meet in the middle and use travel as an excuse! We are thrill seekers, food lovers, world travelers, adventure finders, and a fun loving couple who just wants to explore the world. We hope to inspire, inform and entertain people through our experiences and stories! Embrace the fun, enjoy the crazy, and take on the world.