Are you looking for somewhere full of take-your-breath-away beauty? The kind of place that you can have a luxurious holiday, while being in a constant state of culture shock? Goa, India is the place. The state lies along the western coast, and the village of Anjuna is one of the top destinations in the north of the state. It isn't a "sightseeing" town. Luckily, in India, just being there gives you all the sights you could EVER want: cows laying out at the beach, monkeys jumping from tree to tree, and locals dressed in bold colored saris and draped in gold jewels.
India is chaotic, magical, and full of wonder and awe. Whether you travel solo or with a friend, you'll enjoy this tropical land! The entire country of India is a budget destination, but Goa is the most expensive place you'll stop on your Indian Adventure. If you can make it in Goa on less than 25 dollars a day (and you can!), then you can make it anywhere in India.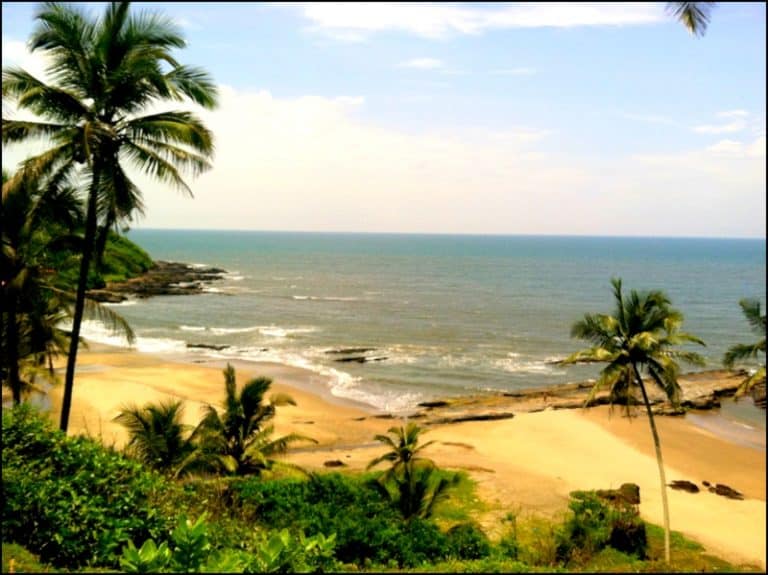 As in Expat in Goa, here are my tips to help you get the ultimate experience during the high tourist season. It doesn't get more expensive than this. This is my perfect day in North Goa.
Anjuna, Goa for less than 25 Dollars/Day
Don't book online, don't use lonely planet, and don't stay in a hotel! I know it's scary for some, but just SHOW UP (except the 2 weeks surrounding Christmas). Adorable, private, beach huts line the Arabian Sea. They might not have A/C or hot showers, but you don't need them. The temperature is comfortable at night, and you can plan to shower while the well water is still hot. You can look for find a hut for about 400-500 rupees (8 dollars) a night. Some are up to 1,000 but other than maybe a softer bed, they will be all the same: simple, basic beach huts. Wouldn't you rather stay in a cute place like this for 10 dollars with a hammock out front, than a boring hotel room for ten times the price?
Rent a scooter! You don't want to stay in Anjuna the whole time. Other villages are just minutes away by bike. Bikes go for about 150-200 rupees a day (under 3 dollars) and petrol might cost you about 1-2 dollars a day. Drive to Vagator beach for lunch!
Eat at Sri, it's an Indian Intercontinental Restaurant that serves anything and everything, like most Indian restaurants, but has a very interesting laid-back vibe. Even Bollywood stars stop in while in Goa. Another awesome option is a beach shack. Many are scattered along Little Vagator beach (as well as all the beaches) and you can eat lunch for under 2 dollars.
Now, indulge! Lay out on a lawn chair outside the beach shack. No need to get up to do shopping. They will come to you! Grab a

tropical print sarong

for under 150 rupees (less than 3 dollars), get your

eyebrows threaded

for 50 rupees. Go ahead and add on an

Ayurveda lower leg and foot massage

. A thirty-minute massage that is just as good, if not better than a professional one, will cost you about 2 dollars. All you had to do was plop down with a book and wait for the salesmen to walk by. Enjoy the crashing waves and reggae music until your skin just can't take any more sun
Jump on your scooter and head to Ganesh Juice shack in Chapora, just 5 minutes away. Sip on some fresh pineapple juice (50 cents) and meet the huge group of travelers and locals that gather here. It's probably about 4 o clock and so far today, you've spent 21 dollars. You might think you're cutting it too close with all that frivolous spending… but you haven't.
Once you've gone to your hut, showered, and put on your brand new sarong as a dress, you're ready to catch the end of the Wednesday Anjuna Market. Stalls will be getting ready to close, but the sun will be on its way down and the breeze is well worth the wait. The market is massive. Everywhere you look you'll see bright colors, jewelry, spices, and teas. Inexpensive body piercings, hair wraps and dreading, and tourists getting their hands and feet painted with henna. Here you will see artifacts from all over India and Tibet. With your last 4 dollars, you can grab street food here for 1 or 2 bucks, a beer for 1, and spend your last little dollar on a cute bracelet to give as a gift to someone back home! (There is also a market on Saturday that goes on much later).
The live music will die down, and the market will clear, but you don't have to leave until you're ready. I've led you down a path that leave no more money in your pocket, so once you've enjoyed the beach bars of the Wednesday Market enough, you can go home and relax in your hut.
This is not your typical backpacking day in Europe or North America, but in India, or SE Asia you can live like this, a princess, for under 25 dollars a day. If you are traveling with a friend and can split the price of your beach hut, then you've got an extra four dollars you can spend on shopping, food, yoga/cooking classes, or booze.
This is a day that I would like in Anjuna, but you may hate the beach and shopping. I'd have to say if you hate the beach, you might want to skip Goa altogether! Other things to do in Goa are: hang out in a bar. Ok, just kidding, that's not all you can do, but you get the gist. This is a party place! This is the place to relax, but here is one other option that I enjoyed:
Wake up and head to the Spice Plantation so you can help bathe some elephants. This will take your daily budget, but if you haven't seen an elephant before, it might be well worth it for you. They will serve you lunch, and you'll have just enough money to get a local dinner.
Have you ever been to Goa? If so, how did you like it?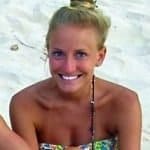 Rachel is a travel blogger living in Goa, learning what being an expat is all about as well as continuing her travels to England, Mexico, Thailand and beyond. She is sharing her stories to inspire other girls (and boys) that you can quit your job, travel, and look cute doing it. You don't have to be rich, you don't have to be with your friends, and we are only getting older… so what are you waiting for? Check out her blog and follow her adventures on Facebook, Twitter and Instagram.