Why should anyone do the Everest Base Camp trek?
The late, great British climber George Mallory was once asked: "Why do you want to climb Mount Everest?" His response became legendary.
Because it's there.
And with that, the three greatest words in mountaineering were spoken.
Yet for many of us, actually summiting the highest mountain in the world will always remain nothing more than a pipe dream. Accomplishing the Everest Base Camp trek, however, is still a popular bucket list feat and well within many would-be trekker's physical and economical means.
Following our successful visit last month, here we break down the Everest Base Camp trek cost. You just might find that it is much more affordable than you think. Check out our full EBC trek itinerary for more information.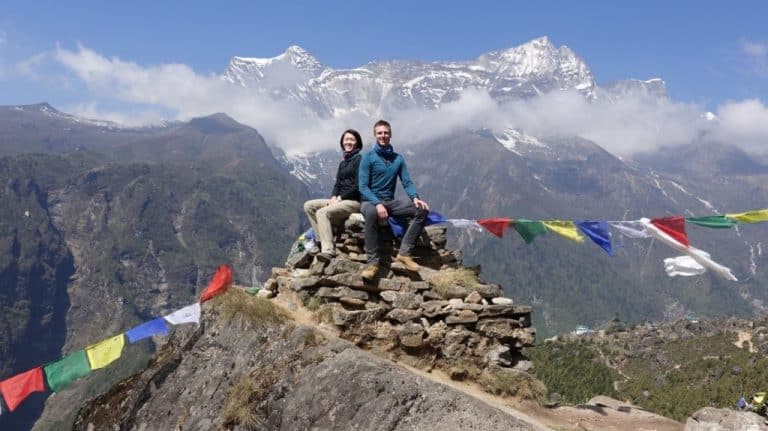 The Everest Base Camp Trek – How Much Does it Cost?
Trekking Company/Guides/Porters
Let's get down to the nitty-gritty. How much does the Everest Base Camp trek cost? This will depend entirely on which company you decide to go with (or if you decide to attempt it alone). Much like the Machu Picchu trek in Peru or Mount Kilimanjaro in Tanzania (or any trek where you'd benefit from a guide), you get what you pay for. While trying to save some money is always a great idea, cutting corners isn't and you should never shirk when it comes to safety. Expect to pay anywhere between $700-$2,000 if going this route.
We went with Magical Nepal, and the full cost of the 14-day Everest Base Camp trek will set you back $1,340 per person. This includes your guides, porters, accommodation, meals, transfers, Sagarmatha National Park entry, Kathmandu to Lukla return flights, farewell dinner, staff insurance, and any further overheads involving resources and support staff.
However, it doesn't include your international flights and visa for Nepal, your own, personal travel insurance (which is essential for such a trip as this) meals in Kathmandu and all your personal gear and equipment. Read on for a more thorough break-down of these costs – or if you're looking to attempt to reach Everest Base Camp on your own steam.
Visas for the Everest Base Camp Trek
With or without a guide, organizing a Nepalese visa will be up to you. Costs and entry allowances can vary, so it's best to check the Department of Immigration for up-to-date information. At the time of writing, you can obtain a visa on arrival, or apply online in advance. The current costs are as follows:
15 Days – $30
30 Days – $50
90 Days – $125
For the Everest Base Camp trek, we would recommend selecting the 30-day visa option. The vast majority of EBC treks are 14/15 days long, but having that extra breathing space is ideal in case you run into any unexpected problems or delays – or you want to spend some extra time in the country.
Vaccinations
It's a cost that can often be overlooked when planning a visit to a country like Nepal, but it's important to check in with your doctor up to six months before you're due to travel. You need to make sure you have all the necessary vaccinations required for your destination country. We will never profess ourselves to be medical experts, so check out the Nepal page on the CDC website. Prices will vary.
Permits for the Everest Base Camp Trek
Before you even set foot on the EBC trek, you're going to need to obtain two permits for the privilege. The first is the Sagarmatha National Park Entry Permit (Sagarmatha is the local name for Mount Everest). This will set you back just under $30 and all the information can be found with the official Nepalese Tourist Board. However, if you opt for a guided tour, like we did, this cost is included within the package.
The other permit you will need to chase down is called a TIMS card (Trekkers Information Management System). This is effectively to register you on a database for safety purposes. It'll cost you $10 if you're trekking as part of a group and $20 if you're trekking as an individual.
If you're doing the trek independently, both these permits need to be obtained in Kathmandu in advance. Guided treks will have this cost covered.
Flights and Transfers
Obviously, international flight prices will depend on where you're flying in from and change as regularly as the weather. As a ball-park guide, a recent search discovered that a return flight from London to Kathmandu with one change in Istanbul cost $535. Check online screen scrapers – but don't forget to use an incognito window so the prices aren't jacked up with each new search.
Check our guide on finding the absolute cheapest flight!
On arrival in Kathmandu, you'll need to board a 45-minute flight to Lukla Airport (Tenzing–Hillary Airport) which serves the Everest region. The cost of this is usually pretty stable at around $180 regardless of the season. It is possible to get a $10 bus ticket to Jiri, but you're adding a lengthy road journey and up to four days onto you trek to replace a flight that's under an hour.
Food and Drink
It's very important to remember that the higher you climb on your Everest Base Camp trek – the more expensive things will get. This is particularly noticeable when it comes to ordering food. Something that cost you $1-5 in Kathmandu might now be costing you $7-10 at four thousand feet. Also, the choice becomes significantly more limited. The reason for these changes makes perfect sense – it takes a lot of effort to get stuff up there!
A good guestimate would be to budget about $20-25 per day for your food, drink, and snacks. Breakfast is likely to be between $3-6 and lunch/dinner around $5-10. Bottled water ranges from $1-5, but bring some water purification tablets or water bottle with a filter to save money and plastic waste. A well-deserved beer after a long hike will set you back $5-10. It's best to keep the booze to a minimum for more reasons than one when trekking to the Mount Everest Base Camp.
Accommodation
There are some fine lodgings to be had throughout your Everest trek, from quaint teahouses to mountain lodges and higher-end hotels. Once again, prices will vary depending on their quality and altitude. As a general rule of thumb, expect to be paying anywhere in the region of $1-$40 per day for a place to hang your hat – depending on what you're looking for and where it's located.
Budgeting about $20-30 per day to cover places to stay is the recommended going rate – just to be on the safe side. It is possible to find places that are going for a song and sometimes even for free – but in order to take advantage of such deals, you have to make sure you pay for eats in their adjoining restaurant.
Make sure you book in advance during peak season (September/October). If accommodations run out of rooms there's a high chance you'll be sharing with fellow trekkers. Conditions can be hit or miss – you will often get what you pay for – but most places are clean and comfortable enough. Our advice? Do an EBC trek tour and take the hassle out of booking your own digs.
Equipment
How much or how little you spend on your Everest trek gear will depend on what you already own and how much you're willing to spend. Check out Lydia's thoughts when it comes to more EBC trekking preparation. Essential gear includes a winter sleeping bag, backpack, good-quality hiking boots, a weatherproof jacket and trekking pants, trekking underwear, gloves, hiking hat, and sunglasses. Trekking poles are optional but strongly advised.
If you don't possess any of that it's likely to cost you between $200-$2000 depending on the quality of the goods. Buy the best you can afford, and don't be afraid of going second-hand – you can get some amazing deals if you're willing to shop around. Remember that your hiking boots should be well worn in before you even think about setting foot on the trail – so make sure you've got a good pair well in advance of departure.
Finally, if you've left something behind or you're prepared to take a chance on local prices, you can hire/buy equipment in Kathmandu and Namche Bazarr. The quality and pricing can be all over the place, however, and I wouldn't advise purchasing a used sleeping bag. While it's always good to travel as light as possible, in this case, arriving well-prepared is the best option.
Insurance for the Everest Base Camp Trek
The one thing you mustn't ever cut corners on is your travel insurance. If ever there was a trip for which you needed cover, it would be the Everest Base Camp trek. Make sure you're fully insured before embarking on this challenging but incredibly rewarding excursion. Read the EBC trek itinerary to find out exactly what you'll be experiencing beforehand.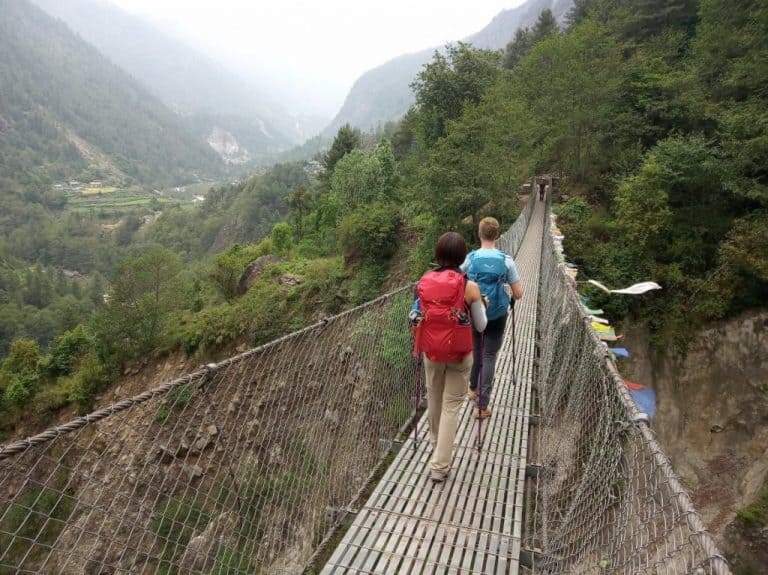 Your insurance company will need to know that you're trekking at high altitude. A great many people have needed to be evacuated by helicopter after succumbing to altitude sickness on a trek to Everest, and you seriously don't want to have to foot that bill if it happens to you. A World Nomad's policy for a 15-day trek shouldn't cost you any more than $150.
Other Everest Trek Costs
Of course, we opted to do the Everest trek with a reputable company for ease and peace of mind. However, it is possible to do an independent base camp trek which will save you money in the long run. The downside is that you will have to arrange all your meals and accommodation, permits, transfers, domestic and international flights, and any other hidden costs. Additionally, you will be without close support while on the route itself. Besides, going with a guided tour will guarantee you meet like-minded adventurers and potential friends for life.
There are other costs that you need to consider whether you're doing the Mount Everest trek solo or with a group. These can include:
Smartphone/Electronic Device Charging Costs
A little bit of electricity use here and there isn't a problem is it? Unfortunately, it is when you're climbing to these heights – and especially in high season when more people want to do exactly that. Typically, charging your electronic devices might cost you anywhere between $1-6 per battery per hour. Solar backpack and power banks are worth considering.
Hot Showers/Toilet Paper
Take nothing for granted on the EBC trek! Hot showers will become scarce the higher up you go, and many teahouses and lodges will charge between $3-5 for the privilege. Expect to pay a few coins for bog roll, too.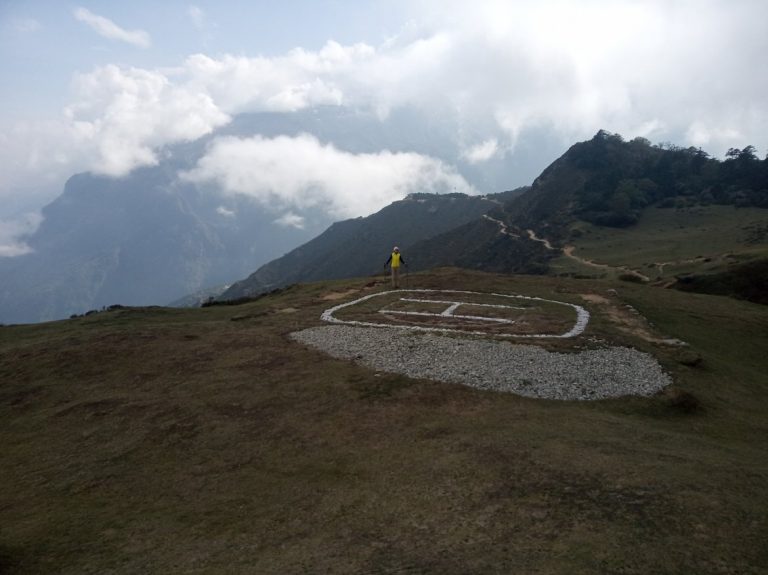 Tips for Guides/Porters/Staff
While it isn't mandatory, tipping is customary in Nepal and it is most certainly the right thing to do – especially if you receive good service. How much you decide to offer is entirely up to you and will depend on who you're tipping. We'd suggest $10-15 per day for a guide – as a…guide.
Souvenirs
It's only natural that you'll want to treat yourself to a little souvenir to commemorate your experiences on the Everest Base Camp adventure. There are plenty of local craft shops and stalls around for you to choose a nice memento. Prices vary from $1-$50+.
Extra Money Tips for the Everest Base Camp Trek
For extra pocket-money, many travel and tour operators will suggest you bring somewhere between $500-$700 for the duration of the trek. It's up to you how much or how little you spend – but make sure you have enough to cover any eventuality. It's always better to have it and not need it, than need it and not have it.
After Kathmandu, ATMs are few and far between. Make sure you carry enough hard cash with you from this point onwards. Carry Nepalese rupee and some extra USD just in case. Needless to say, they don't take American Express at the Everest Base Camp.
Make sure you keep any large amounts of money or valuables securely hidden. Nepal is generally a safe place, but it's not unknown for things to go walkabout with increased numbers of visitors.
Bring as many snacks as you can comfortably carry – such as chocolate or cereal bars, dried fruit, and nuts. Remember – prices increase with every step you take up that mountain.
Make sure you pack any medication you might need before you depart. Even if you have the money – it's highly unlikely your prescription will be available anywhere once you set off.
Final Thoughts
A guided trek to the Everest base camp will cost you anywhere between $1,200-$6,000 depending on the company you choose and your comfort requirements. But realistically, all-in, you shouldn't be paying much more than $2000 for the whole EBC trek package. That's not at all bad – especially when you consider it costs about $45,000 to climb the thing. We'll be back if we win the lottery.
Doing the Everest Base Camp trek on a shoestring may cost you as little as $400 for the unforgettable 2 week adventure.
Have you experienced the Everest Base Camp trek? How much did you spend to reach 5364 meters?!