Want to sightsee Brussels properly, but you don't have enough time to do so? The good news is you can do it in just 24 hours without missing anything important.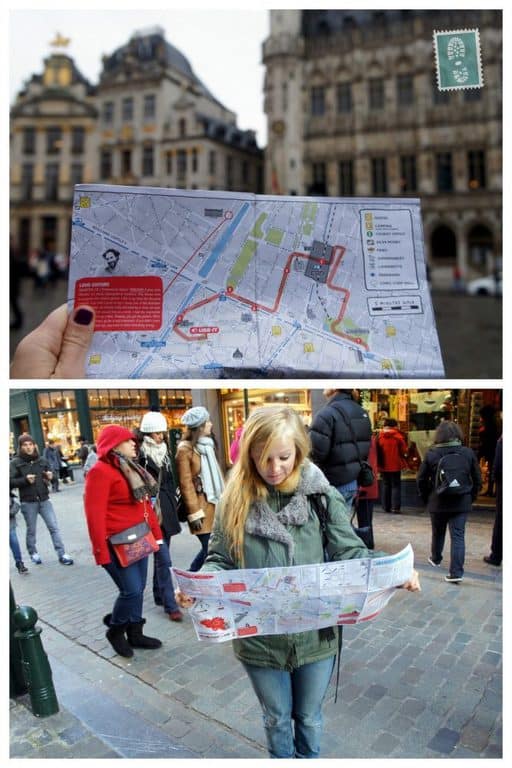 How to explore Brussels in 24h?
Here is the answer:
#1 Grab a local map at Steenkoolkaai 9B office (metro Ste-Catherine) open from Monday (10:00 – 13:00) to Saturday (14:00 – 18:00).
#2 Decide the order in which you want to explore Brussels:
North Walk (you can visit Temporary castle, Green Labyrinth and Brussels Countryside)
European Walk (you can explore European skyscrapers, visit Museum Park, European Parliament and Poorest Village, see Art. Nouveau Area and experience the Heart of Europe)
South Walk (you can go for snobby shopping, see Palace of Justice, sightsee Old-fashioned Brussels and feel Little Africa)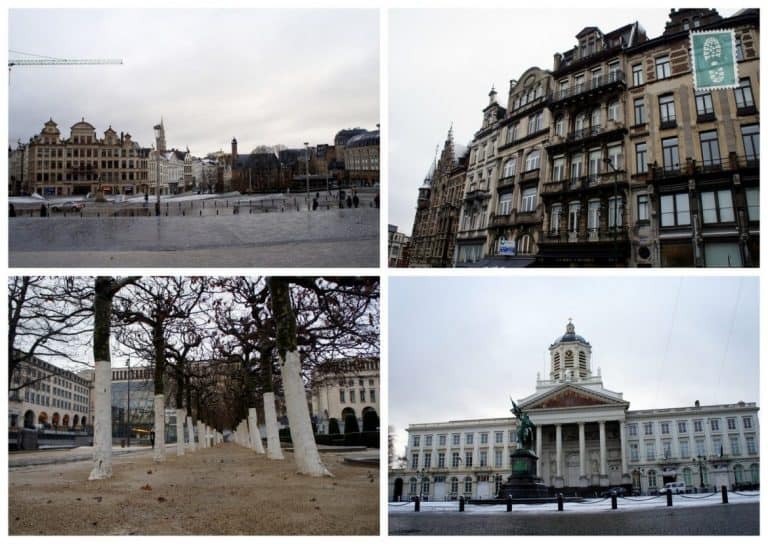 NORTH WALK
Total walking time: 50 minutes – 60 minutes
Where to go:
#1 Temporary Castle – The castle used to be an army post in 19th century, it looks out on the town of St-Jans-Molenbeek, which used to be an industrial zone with lots of poor working people.
#2 Brussels Countryside – A place with lots of cars, lots of concrete, some sheep with children's farm run by volunteers (free entry from Monday to Saturday). You can take a look at the stunning Citroen Building across the street.
#3 Culinary Caravan – Here you will spot many stalls where the best Brussels food is served. Feeling hungry? Grab a huge portion of Belgian fries served with a pint of beer. Sounds good to you? It does to me!
#4 Green Labyrinth The Botanique is a beautiful little green labyrinth between heavy traffic and buildings of shiny glass. From whatever angle you take a romantic photos, you will always have cars or skyscrapers in the background.
Additional info:
On weekdays, between 8am-9am and 4pm-5pm you can spot over 40.000 office workers running to and from their work, so the streets get very busy.
When you arrive in Brussels North, take "Centre" exit so end up in Brussels's largest skyscraper district.
EUROPEAN WALK
Total walking time: 80 minutes- 100 minutes
Where to go:
# 1 European skyscraper – If you spot a shiny steel-and-glass skyscraper it surely must be the European Commission's Directorate- Central for Education and Culture.
#2 Poorest Village – Sint- Joost is the poorest town of Belgium and it has the highest percentage of people without a job. It is also a place where people from 150 different countries live. You can spot here colorful shops, bars and restaurants.
#3 Art of Nouveau Area – This is the area of the beautiful Squares where you can see the little lake with all the birds and relax. Keep an eye open for some of Brussels' most beautiful Art. Nouveau houses, especially at the Avenue Palmerston.
#4 The heart of Europe – Around here, all the important decisions are taken that affect your life, whether you live in Poland, UK or Spain. The Schuman Square is to the European Union what the National Mall is to the USA or the Red Square in Moscow to Russia.
#5 Museum Park – If there is one park in Brussels where you could come back every day and not get bored, it is this one. There is Autoworld with its egg-shaped BMW Isetta, the Army Museum and the Royal Museum of Art. And History.
Additional info: Autoworld is open every day, 6 EURO with a student card, 9 EURO without, Army museum is open from Tuesday to Sunday and it's free, RMAH is open from Tuesday to Sunday, 4 EURO with student card, 5 EURO without.
#6 Dinos, Basketball and Fries – You can treat yourself with a pack of fries from Antoine on Place Jourdan and pick a bench in the Leopold Park. There is also the Royal Belgian Institute Of Natural Science to explore.
#7 European Parliament – Exit the Leopold Park on the Rue Wiertz, and listen to the sound of the wind rattling the flags of all member countries of the EU. Follow the signs outside towards the Parlamentarium open every day, free entrance.
SOUTH WALK
Total walking time: 55 minutes- 70 minutes
Where to go:
#1 Little Africa – If you want to experience Africa without going there, go to Montonge named after the commercial district of Kinshasa (in Congo, Belgium's former colony). To really get the vibe, have lunch in a restaurant on the streets nearby. Taste the sweet potatoes, manioc paste and baked bananas from Congo, Cameroon and Senegal.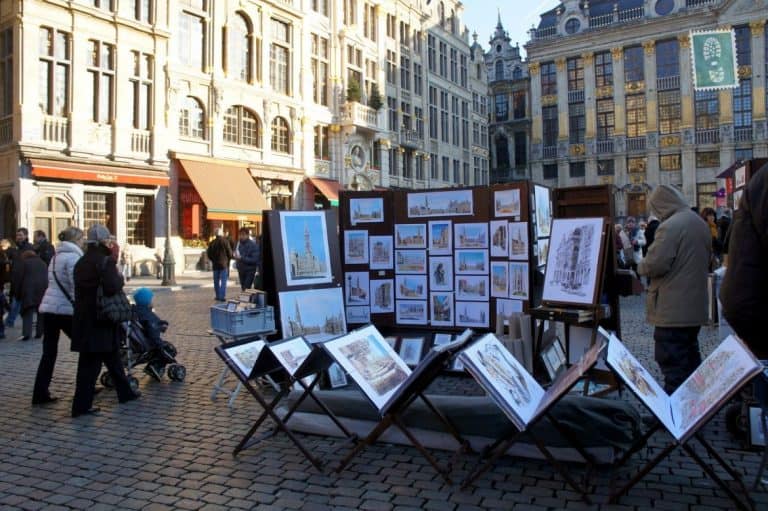 #2 Snobby shopping – If you are a big fan of shopping, you must head to Stefania Square where you can smell money, expensive perfumes, gentlemen in a freshly pressed suit.
#3 Palace of Justice – In 1883, when the Palace of Justice was finished, it was the largest building in Europe. Most people you see going in and out of it are lawyers and criminals, but you can go and have a look for yourself – it's free.
#4 Old- fashioned Brussels – In the middle ages, the "Marolles" neighborhood was a leprosy –colony, where sick people were sent to die outside of the city walls. Later, it became part of Brussels, but it was still the poor man's area with a bad reputation. Today, everybody just loves the Marolles because it's the most old-fashioned part of town with a wonderful flea market.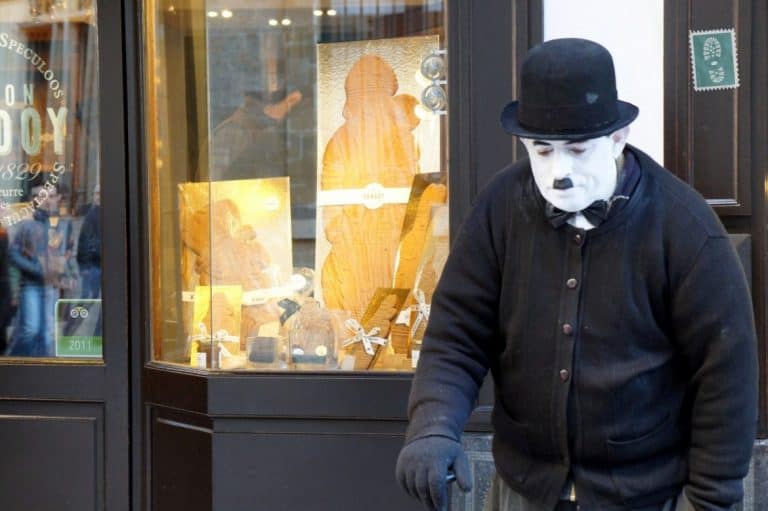 #5 Village Feeling – Have a drink on one of the pubs' street terraces that surround this little square. Every day there is a market where you can buy everything from Romanian snacks to farmer products or cheap clothes. Walk up to the street to discover the richer area with its beautiful houses, and the Hotel de Ville. This town hall looks impressive from outside and going inside is a must-do and free.
In order to save your time, you can take metro and go from one station to another. As you can see, you can enjoy Brussels and explore it within 24 hours. Get up early, don't waste your time, grab a map of the city with a small subway map and get yourself into a real experience of Brussels.
If you have anything to add, please share your Brussels experience in comments.