Where the Asian and European continents meet across the Bosphorous River…
I guess everyone can find at least one excuse to visit Istanbul. It is, above all, a stunning city of wonder and phenomenal beauty with Muslim lifestyle, deep religion, extremely delicious food and breathtaking landmarks. Audrey of Thatbackpacker, a fellow budget blogger who has recently visited Istanbul, sumps it up as "A great place to linger" and a land of cats.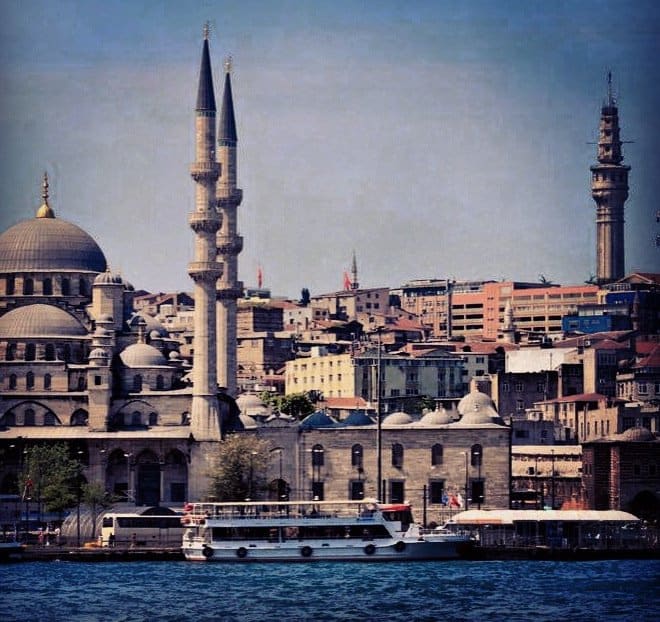 Istanbul, apart from being a cultural mecca that offers a dizzying array of stunning landmarks throughout the city, is also a budget friendly place so If you have $25 (more precisely $20) in your pocket, we will take you for a day trip around Istanbul and show you how to have fun without spending much! You could go with a travel agent and have a packaged holiday in Turkey, but why would you spend so much.
1) Accommodation
There are two cheap accommodation options – very common nowadays couchsurfing or budget hostel. As for the couchsurfing, it's free of charge and you should not have any problems with finding a host when in Istanbul. CS is also a great way of exploring places on a budget, you can meet amazing people who can look after you and show you around. If you are a solo traveler afraid of getting lost in a big city, you should definitely set up your account and join the Istanbul city couchsurfing community.
If you feel like couchsurfing is not for you for some reasons,Istanbul a great variety of cheap hostels where you can get a bed in 8 bed dorm between $7-$9.
Here are top 3 Istanbul hostels on a budget:
Taz-Mania (Türkali Mah, Şehit Asım Cad. No: 60, Beşiktaş – Istanbul, Turkey). Price: $7 for 6 bed dorm.
Soho Hostel Istanbul (Şehit Muhtar Mah. Süslü Saksı Sok. No:5 Kat:1,2 Beyoğlu/İstanbul – Istanbul, Turkey). Price: $7 for 8 bed dorm.
Sultan Hostel (Akbıyık Caddesi No:21 – Istanbul, Turkey). Price: $8 for 6 bed dorm.
Max. Accommodation Price: $9. 
2) Transport
Walking – best way to get around the city for free and burn off some extra calories. Set off in the morning and come back to your hostel at night. Have a nice walk, stroll down the streets and don't bother with haggling with taxi drivers!
Taxi – Istanbul is just overcrowded with local taxis. The good news is that most of taxis have digital meters and must run them, but do keep your eyes open on those drivers who pretend the meter doesn't work so they can gouge you at the end of the run. The best way to counter this is to tell them no meter, no ride! You should not pay more than $3 per single ride, but keep in mind that from midnight to 6am the fee is 50% higher.
Local buses – the bus system in İstanbul is extremely efficient and you can get nearly everywhere by taking a local bus from Taksim Square, Beşiktaş, Aksaray, Rüstempaşa (Eminönü), Kadıköy and Üsküdar. The majority of buses run between 6.30am and 11.30pm. The single ticket costs YTL1.30 ($0.65), but make sure you buy enough to last you throughout your stay in the city.
Local tram – the fare is YTL1.30 ($0.65) and the service runs from Zeytinburnu to Sultanahmet and Eminönü, and then across the Galata Bridge to Karaköy and Kabataş. Trams run every five minutes from 6am to midnight.
Max Transport Fee: Less than $1 if you travel by local buses and metro, free if you walk around! 
3) Sightseeing
Believe me or not, but most of best landmarks and sightseeing spots in Istanbul are free of charge! We have picked up 3 of them to prove it.
Blue Mosque – so called because of the 20,000 blue tiles that adorn its domed ceilings, commissioned in the 17th century by Sultan Ahmet I. Admiring the mosque's impressive main entrance is a must when visiting Istanbul. It is open daily from 9.30 till 17.30 (please note that is is closed to non-Muslims during prayer times).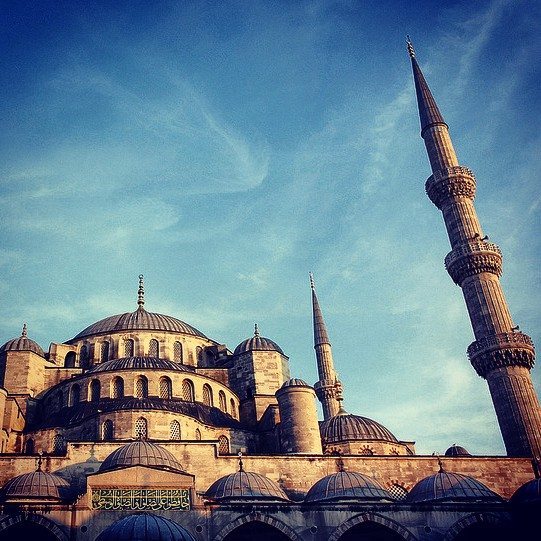 Istanbul's bazaars – Did you know that Istanbul is one of the most impressive shopping capitals in the world? it is an amazing place to explore local markets where you can find absolutely everything – from the most authentic locally made traditional handcrafts to rugs, cloth, jewelry and exotic home wares. The most interesting spots are Spice Markets where you can look for unique local herbs and spices, sweet flavored marshmallows and heavenly Turkish delight sweets!
Gülhane Park – one of Istanbul's largest public parks. If you are visiting Istanbul with kids in summer, it's a wonderful place to relax, have a picnic and interact with locals. It seems to be quiet and peaceful, perfect for yoga and meditation.
Total money spent on attractions: $0.
4) Eating in Istanbul 
The best part of your stay in Istanbul will be surely the food experience. Turkish cuisine is slightly spicy, filled with vegetables, based on lamb and mutton with a massive amount of bread served with every meal. Every meal is rich and savory, yet fresh and perfectly spiced. The most common preparation is roasting and grilling which is how the world's famous donner kebap is made. What we love the most about Turkish food is a great composition of carefully chosen herbs and spiced, their originality and creativity.
When in Istanbul, you must start your day with a cup of traditional Turkish tea or coffee. Traditional Turkish tea is black, strong and aromatic. As for the coffee it is mostly served black but you can put some condensed milk into it so it's sweet and creamy. Both drinks will not cost you more than $1,50 when ordered in a local restaurant. There are plenty of local spots where you can get the best Turkish coffee in Istanbul, so check out Top 10 Coffee Shops and pick one for yourself.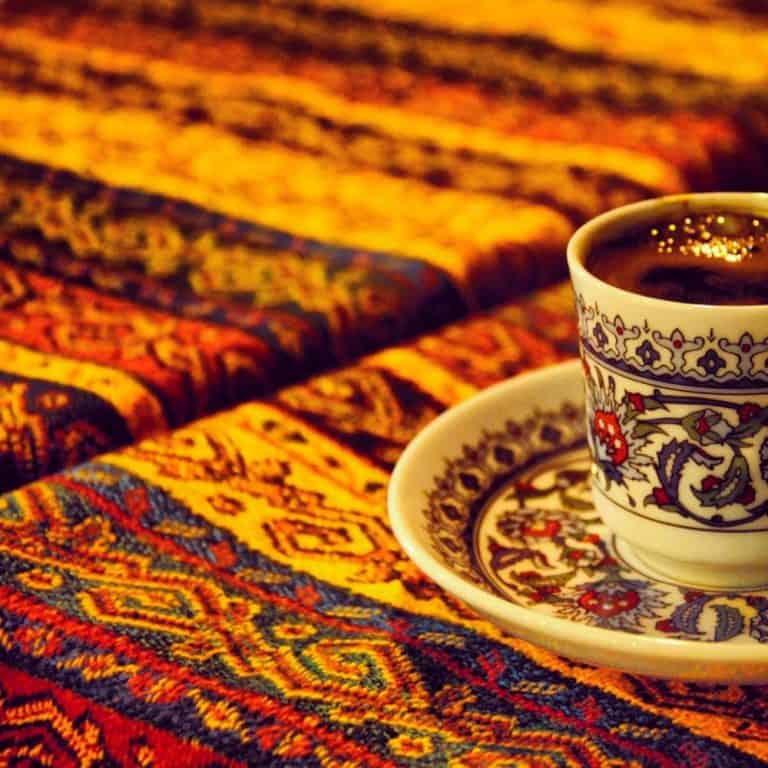 When you dine out in Istanbul on a budget, make sure you eat a lot of street food which is the most authentic and affordable. It it much cheaper and convenient to grab a bagel, donner kebap or a piece of grilled meat from a food vendor every 2-3 hours to keep yourself going when sightseeing, rather than ordering a massive dinner in a restaurant and have all of the food at one sitting (unless you share the bill with more than 3 people).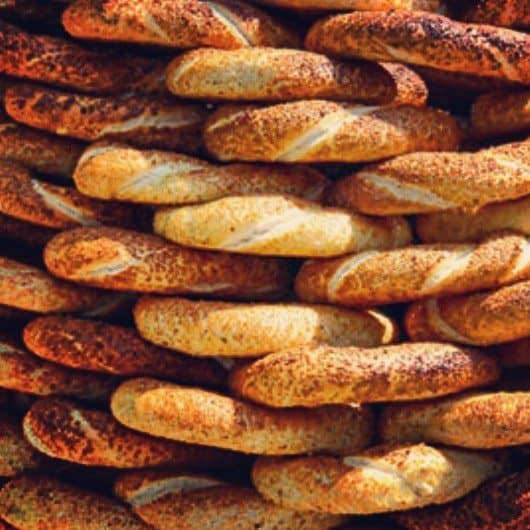 One of the local treats is Simit – local ring-shaped bread topped with toasted sesame seeds, similar to bagel, but much cruncher. You can have one for $0.30 and it's a great breakfast option as it's filling.
Another delicious Turkish meal is Hunkar begendi (Sultan's Delight) – lamb stew served on a bed of creamy roasted eggplant puree. You will simply love this dish. Locals restaurant sell it for $2,50 a plate.
As for your Istanbul food budget, you can easily treat yourself with a great variety of sweets and local dishes for around $10 a day. This amount of money will be surely sufficient to cover your breakfast, lunch, dinner and snacks expenses throughout the day (as long as you eat in local places, away from busy touristic spots).
Max. food expenses: $10.
A day in Istanbul for $20?
As you can see, $20 would be enough to enjoy 24 hours of Istanbul (it's even much less if you do couchsurfing)! Our advice would be to stick to local places, walk a lot and avoid dining out around touristy spots.
Have you ever been to Istanbul? If so, how cheap/expensive did you find it?