You are in for a treat today because Billie and Steve of Santafetravelers will be sharing with us free things to see and explore in their hometown Santa Fe. They have been on the road together, one way or another, for over thirty-seven years. They are passionate about food, travel and blogging. Now let them transport you over to North America.
So you're traveling on a tight budget. While Santa Fe can be pricey, you can do it on a budget. And great news for you, Santa Fe has a lot of free stuff to keep you busy. Here are a few suggestions; the good news is; there are even more.
A bit about Santa Fe (aka The City Different)
Santa Fe is unlike any other place in the United States. The architecture and feel of the over 400 year old city owes much to the Native Americans who were here when the Spanish arrived in 1598. The Spanish, greatly influenced by the Moors, and the Anglos who came in the mid-19th century all put their stamp in the city. It feels a bit old world in many ways. With strict zoning requirements overseen by a rigorous historic board, the downtown area reflects the city's rich cultural heritage. It's a great walking town with lots of things to see and do that are free of charge.
#1 Take in the history
The City of Santa Fe was founded by the Spanish as "Villa Real de la Santa Fé de San Francisco de Asís" (The Royal City of the Holy Faith of St. Francis of Assisi). The Catholic Church remains strong even today. San Miguel Mission, the oldest church in the US (dating to 1610) and the Cathedral Basilica de Saint Francis de Asis (1858) are both close to the Plaza offer history and beauty. Also worth visiting, El Sanctuario del Guadalupe, built in 1781, and the contemporary (built in 1949) Cristo Ray, designed by architect John Gaw Meem, considered the father of the Pueblo Revival movement that defined Santa Fe Style.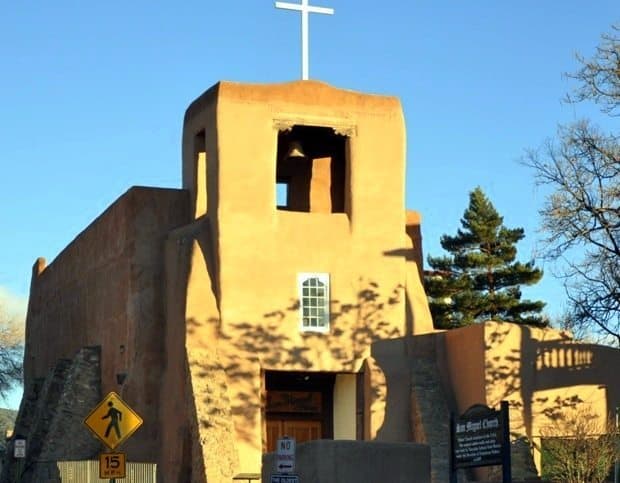 The Oldest House in the US stands across DeVargas Street from San Miguel Chapel. Parts of it have been dated to around 1200 AD. The current house has been carbon-dated to circa 1648. The Palace of the Governors n the north side of the Plaza is the oldest government building in the US in continuous use. (Admission is free Fridays from 5 to 7pm).
#2 Art and culture
The city has over 200 galleries and they are all FREE. Our little city (about 70,000 inhabitants) is the THIRD largest art market in the country (behind two giants; NYC and LA). On Friday nights, especially during holidays and in warm weather, there are gallery openings on Friday evenings around town often with free food and music. While you won't fill up, every bite counts. Less you have to eat later.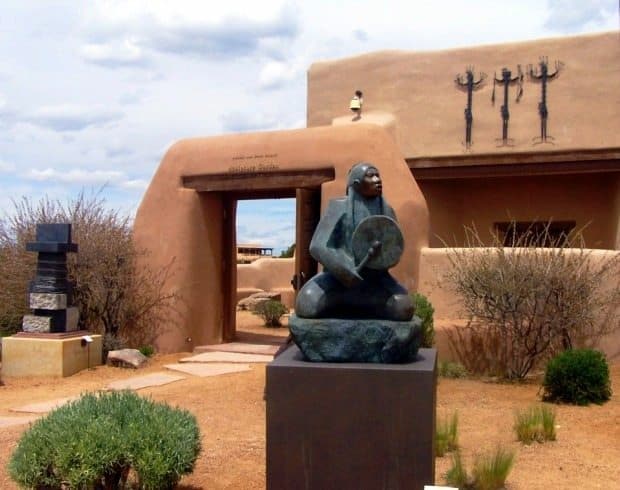 Admission to the New Mexico History Museum and the New Mexico Museum of Art is free on Friday evenings between 5 and 7pm. Memorial Day through Labor Day, Museum of Indian Arts and Culture and the International Folk Art Museum, both on Museum Hill, are also free on Friday evenings.
#3 Amble around town
Santa Fe is a great walling town, especially the downtown and historic east side. There are wonderful old buildings to discover, colorful shops (looking is free), art and sculpture in unexpected places. It looks and feels like an Old World city in many ways. We love peeking over adobe walls and coyote fences catching glimpses of the wonderful old Pueblo Revival and Territorial style homes and gardens hidden behind them. Take a camera and capture great shots of colorfully painted gates, doors and windows and other architectural details that make Santa Fe unique.
#4 Take a hike
Santa Fe is in the mountains and with great hiking close by. If you have a car, there are lots of trials in the Santa Fe National Forest accessed from Hyde Park Road. If you don't; take the M bus ($1 each way) to the Atalaya Trail, accessed at the St. John's College parking lot. Or ride the bus a bit farther to the Dale Ball Trails (a system of trails east of downtown), offering accessible hiking through the high desert with great views. And if you aren't worn out, you can walk back to town and save the dollar.
#5 Listen to summer music
Free music is a Santa Fe summer staple. The Santa Fe Bandstand concerts, in the historic downtown Plaza, showcase music from a variety of genres from the Summer Solstice through the end of August. Four to five nights a week (and two afternoons) you can hear a variety of musical genres and do some serious people-watching. June and July bring Music on the Hill, a series of free Wednesday evening jazz concerts at St. John's College. Parking is at a premium; either arrive early with a picnic dinner in hand or take the free shuttle buses from Museum Hill (you can get up there on the M Bus). Check Pasatiempo, the Friday magazine insert In the Santa Fe New Mexican for more free concerts and other free events.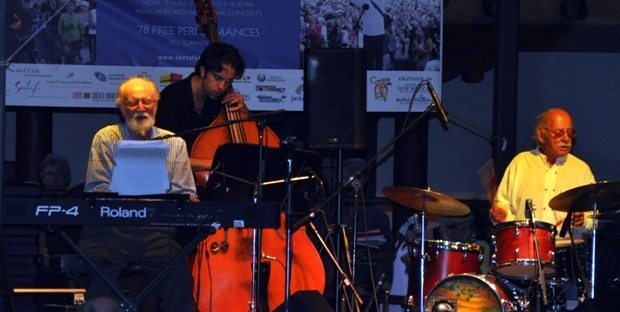 This list just scratches the surface. There are way more free activities and a range of things that are almost free. Enjoy the bounty that historic Santa Fe has to offer without putting a dent in your budget.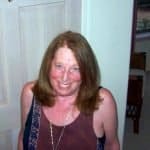 Billie Frank is a freelance travel, food and features writer based in Santa Fe New Mexico. A former print journalist, she now writes for digital magazines and blogs. Her blog, Santa Fe Travelers is a treasure trove of information, including a host of free things to do, in both Santa Fe and Northern New Mexico. Billie is also co-owner of The Santa Fe Traveler, a trip-planning and tour business. You can find Billie on Facebook, Twitter and Pinterest.