Leuven is a real university city. Last academic year more than 40.000 students roamed the streets of my hometown. A great plus about that is that a lot of 'recreational' businesses keep their prices decent to be affordable for those students.
You can easily have a great day visiting Leuven without spending more than €25 per person. Here's how.
A morning walk through town
Let's presume you've taken an early train and arrive in Leuven in the morning. Start your day with a walk through town.
Start at the Bondgenotenlaan. This street is located right in front of the station's entrance. You can't miss it.
Don't walk all the way through it, though. The Bondgenotenlaan is a shopping street and although you'll definitely find some things for less than €25, you do want your money to stretch a bit further, don't you?
So just follow the Bondgenotenlaan until you reach the small Justus Lipsius square to your left. There you'll see a street that goes upward to the right, the Koning Leopold I-straat, and takes you to the Laudeuze Square. At the Ladeuzeu Square you can see the beautiful University Library and a famous art work by the Belgian artist Jan Fabre. Yes, I'm talking about that huge bug stuck on the giant needle in the middle of the square.
From there you can cross the street to the Hoover Square and the entrance of the Saint Donatius Park, often referred to as the 'city park'. The park is especially nice in summer when people go there to picnic, play music or play games.
Exit the park on the other side and head towards the Grand Beguinage. It's so peaceful and quiet there at this Unesco World Heritage site. From there follow the Schapenstraat onto the Parijsstraat and turn left in the Minderbroerstraat. At the end of the street you'll find the Botanical Garden, which free to enter.
Morning walk: €0
A delicious lunch
I'm sure that all of this walking has gotten you pretty hungry, so let's grab some lunch. We'll cross the 'Oude Markt' or Old Market, famous as it's considered to be the longest bar in Europe. Except for one all the buildings on this square are bars, restaurants or snack houses.
We won't stop here for lunch, though. We'll walk on until we reach the Hogeschoolplein, where you can find De Werf. De Werf serves amazing food and drinks for very reasonable prices. I recommend getting one of their wraps (I always go for the one with chicken and curry) and a cola or one of their teas. Their wraps are huge and will definitely keep you filled for the rest of the afternoon.
Wrap: €5,5
Cola: about €1,8
Total: €7,30
A cultural afternoon
After lunch, continue your walk down the Naamsestraat in the direction of the Grote Markt (Grand Place). There you'll find the beautiful gothic city hall and the Saint Peter's Church.
Form the Grand Place you can get onto the Pieter De Somer Square. This square has recently been completely rebuilt and renamed to make room for an underground bike parking.
After lunch walk: €0
Now walk onto the Bondgenotenlaan again and take the first street on your right. This is where you'll find the M Museum. The normal entrance fee is €12, but if you're younger than 26 you only pay €5.
If you still have some time left after that, you can head back to the Naamsestraat to art center STUK. They offer movies, theater, dance performances… but also expositions which are usually free.
Art and culture: €0 – €12
Belgian fries for dinner
Time for dinner! There are lots of dinner options in Leuven, but I think you can never go wrong with real Belgian fries. You can find 'frietkoten' ('fry cabins') all over Leuven and a bag of fries with sauce and a drink will set you back about €5.
Dinner: €5
Leuven's nightlife… on the cheap
You've crossed the Old Market earlier this day and now it's time to go back. If you really want to experience Leuven's nightlife, this is the place to be. At night all the bars turn into dancing bars and the entrance is always free. Of course you can get as many drinks as you like, but if you decide to have none or just one, that's fine as well. What you can always do when you get thirsty – and it isn't unusual to do this over here – is go to a night shop for a cheap can and then head back to the dance floor.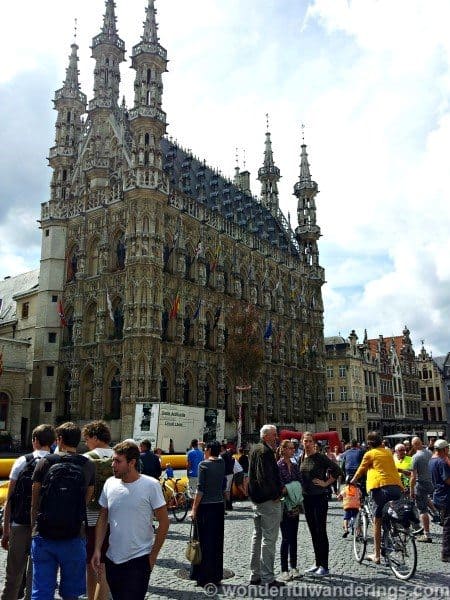 For those of you who want to keep it calm there are the Open Mic nights at music center Het Depot, across the street from the station. These Open Mic nights feature new musical talent and are free.
Night out: €0 – €5 (depending on what you what to drink and where) 
And there you have it: a full day in Leuven for under €25! Looking at the numbers you could even grab a coffee and a breakfast pastry when you arrive in the morning. Those won't cost you more than €3 in total.
Would you add Leuven to your bucket list?
Sofie is a Belgian language lover and travel aficionada who combines a full-time job with a freelance writing career and a never-ending wanderlust. She uses her weekends, vacation days and public holidays to travel the world and share her experiences with you on wonderfulwanderings.com. Be sure to follow her on Twitter and Facebook.