Have you ever woken up to a heavy downpour and found out your tent is leaking? If so, this post will help you find the best tent for heavy rain. When it rains hard outside, many tents can leak through their seams because of improper sealing. The last thing anyone wants is to be drenched in wet clothes while trying to sleep at night! You're probably here because you have experienced this and don't want that to happen again. You're in the right place!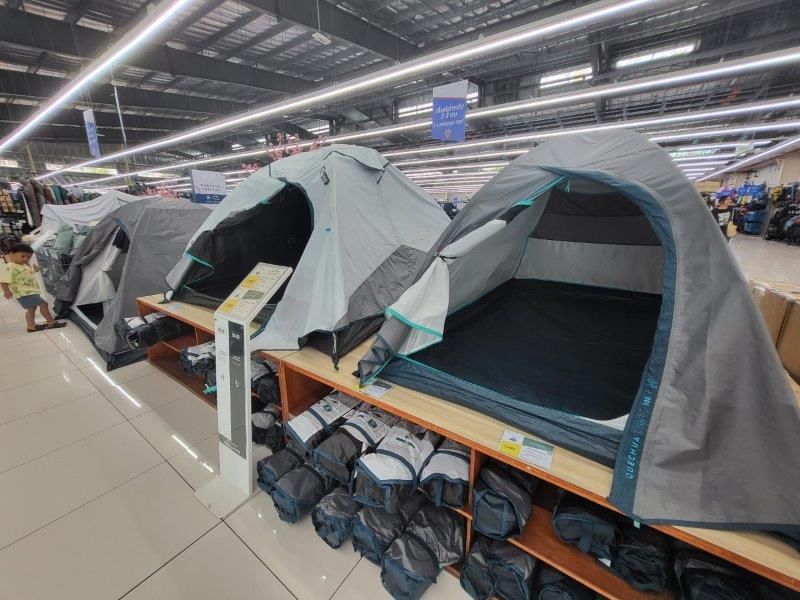 What is the Best Tent for Heavy Rain?
We have compiled for you the top 6 Best Tent for Heavy Rain in 2023. In this article we go through the products that we have used ourselves, checked what other users thought about them and we ranked them accordingly.
With years of experience with heavy rain waterproof tents and having used several tents for heavy rain you can trust our review.
Moreover, you can scroll to the end of this review to see our mini buying guide as well as the answers to some of the frequently asked questions about tents for heavy rain.
Verdict
To summarize, we have gone through dozens of tents for heavy rain and decided that 6 are worth your consideration. Out of these, the absolute Best Tent for Heavy Rain is BISINNA Lightweight Backpacking Tent which we highly recommend as our overall best.
If money is not an issue, you can consider Coleman Montana 6-Person Tent as this is our Premium Pick.
Otherwise, there's no shame in spending prudently, Pacific Pass Family Dome Tent is the Budget Option.
Our other reviews you may find useful in your research:
What You Should Know Before Buying tents for heavy rain
Water, Wind and Snow Resistance
Finding a tent that's both comfortable and durable in diverse conditions is important. Dome-style designs prevent snow from settling on top, and rainflies that stretch to the ground act as excellent safeguards against rainfall. Trustworthy poles and stakes contribute to wind resistance, and water-resistant materials give the tent some great all-weather capabilities.
Ventilation & Heat Resistance
We find that the amount of mesh within a tent's structure often indicates its ability to ventilate properly. On hot days, tents with generous mesh windows are the answer to maintaining a consistent, cool airflow. While seeking shade for your tent and managing the rainfly aids in temperature control, we've found that the waterproof properties of many rainflies can somewhat hinder optimal ventilation, triggering condensation inside. One practical workaround is using a tent that features vents on the inner ceiling. When you have a rainfly in place, the spacing between the two layers ensures that your tent stays both airy and rain-resistant.
Durability
The fabric and floor quality play central roles in your tent's endurance. Choosing tents made of sturdy materials promises longer life and better resistance to wear. Meanwhile, the floor's material acts as a barrier against moisture. If you're setting up camp amidst rough terrains, consider getting an added ground liner; it's a lifesaver for your tent's foundation.
Tent materials
Material matters when you're in the market for a new tent, and we've tested them all. PVC offers good waterproofing but is not breathable, making it a poor choice for hot or humid climates. Nylon can be made water-repellent but tends to trap heat and moisture inside. Polyester is similar to nylon but offers better moisture and temperature resistance, though it's heavier and less durable. Canvas, the traditional tent material, allows for good airflow but requires extra effort to waterproof. Gore-tex is the premium option, offering excellent breathability and water resistance but at a higher cost. Silnylon, while breathable and water-resistant, isn't durable enough for an entire tent structure.
Tent seasonality rating
A tent seasonality rating is a rating that is used for determining how well or best to use a tent in various climates. This rating takes into account the humidity, windiness, and sun beating down on the tent. It also determines if there are any precipitation events. The higher the number of the seasonality rating, the better the tent will be suited for that climate.
1-2 season tent rating
A tent with a 1 or 2 seasonality rating is great for camping in areas that are arid. This typically means dry climates. A tent with a 1-2 seasonality rating will also work well in hotter climates. It will keep you cool because it's made of lightweight materials, but not so much that you'll be hot while you're inside the tent.
3 season tent rating
A tent with a 3 seasonality rating is good for camping in areas that are temperate. This typically means areas that experience dry and wet seasons. A 3 season tent will work well in both climates, but it won't be the best option if you're only planning on using your tent during one of these seasons.
4 season tent rating
A tent with a 4 seasonality rating is meant for camping year-round. A 4 season tent will work well in cold and wet scenarios, but it won't be the best option if you're only planning on using your tent when it's hot.
5 season tent rating
A 5 seasonality rating means that this tent can be used in extreme weather and it is often referred to as expedition rating. These tents are typically found in adventure travel companies. There are very few people who will ever need a tent with an extreme weather rating.
Questions and Answers About tents for heavy rain