If you plan to travel around Europe, do not miss out on Lisbon, the capital of my beloved homeland Portugal. Lisbon is a happening place, offering a great deal of variety for any type of traveler.
Not only does Lisbon sit by a massive river and really close to the ocean (with awesome surfing opportunities!), it's also surrounded by forests and country-side, while being rather cosmopolitan too. Lisbon is all about mixing the traditional Portuguese culture with forward-thinking and doing.
Budget travelers will find it quite easy to get by in Lisbon, as the city is affordable, at least when compared to other capital cities in Western and Central Europe.
Here are some tips on how to enjoy your travels around Lisbon, with $25 a day:
Sleep Tight
There is no shortage of accommodation in Lisbon. Backpackers' hostels are not only abundant, but also some of the best ones in the world (as rated by real travelers) are right here in this city!
Check out HostelWorld's Hoscar Awards and you'll see what I mean:
It's true that some of these awesome hostels can set you back $20/night for a dorm bed, but it's also true that there are a lot of other options available: you can score a dorm bed for $11 in hostels with a decent rating. Breakfast and WIFI tend to be included, which is a plus!
If you're a couple, you might be better off looking around for small budget hotels, instead of backpackers' hostels. If you're "shopping around" for accommodation on the spot, keep an eye open for "residenciais", which is the Portuguese word for guesthouse. In Lisbon, $30 will get you a basic (yet generally clean) room in the city centre, in some cases with a small breakfast. Do not expect English breakfast or a great spread of goodies in this kind of place in the AM: Portuguese breakfast typically consists of coffee, milk, some bread with butter/jam or cheese/ham and, if you get lucky, you might get to try some pastries in the morning too!
Accommodation + breakfast, minimum budget per person = $11
Get Around LX
LX is short for Lisbon, by the way. You can use this when you text your local friends, for example!
If you spend $11 a night, that means you still have $14 to cover transportation, food and things to see/do.
When you initially come to town, you'll do so either by flight, train or bus. The cheapest way to get from the airport or any main bus or train station into the city centre would be to use the metro, that would always cost less than $2.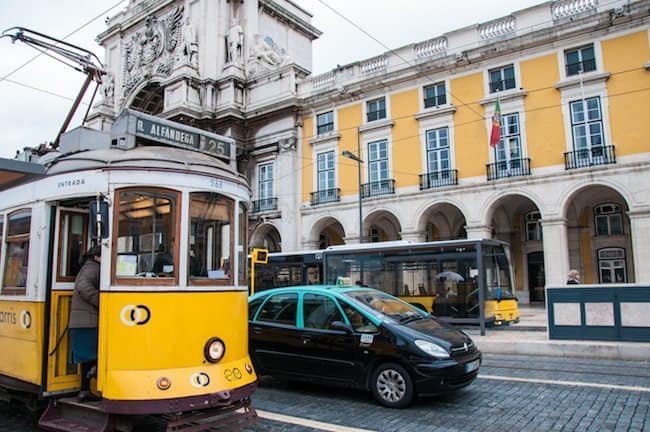 Public transportation in the area of Great Lisbon consists of metro, buses, trams, funiculars, trains and even boats that cross between Lisbon and the suburban areas on the other side of the Tagus river (the south bank is locally known as "Margem Sul"). To visit the most popular touristic sites you would mainly use buses, metro, tram and funiculars, so it's recommended you get a rechargeable card, called 7 Colinas, that will bill you by trip. Not to be mistaken with a monthly card, this is a top-up-as-you-go system, but individual trips cost less than if you purchase single tickets each time. ($1.7 vs $2.4). Further more, one trip validation guarantees the usage of metro and/or bus and/or tram for one and a half hours, no matter how many connections you make.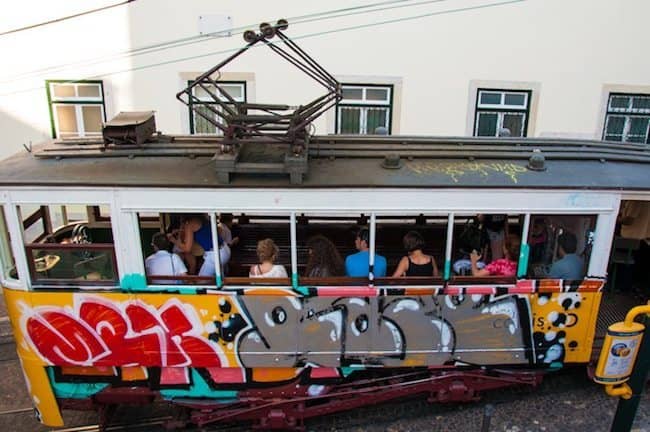 Transportation on a regular day (at least 2 urban trips) = $3.40
Eat Lisbon
You still have a little over $10 to spend on feeding your body and soul while in Lisbon. Let's be real: this is NOT A LOT to go around carefree, but it is definitely doable!
When you stay at a hostel, you an always use the kitchen to prepare your own meals. Supermarkets are fairly priced in Lisbon and even if you don't want to bring out the chef in you, you can go to the ready-made section of chains such as Pingo Doce (you'll see these all over the city) and grab something on the go.
You can have sandwiches and salads for as little as $3 or $4. When the weather allows, get some goodies and park yourself in a funky sunny spot, such as by the river at Expo (take the red metro to Vasco da Gama) or Gulbenkian's Gardens (take the blue metro to Praca de Espana or Sao Sebastiao) and do a picnic.
No budget shortage will stop you from doing this and you'll have a great opportunity to relax, people-watch and do what a lot of locals do too, now that the country has adopted certain austerity measures and people don't want to spend a lot eating out!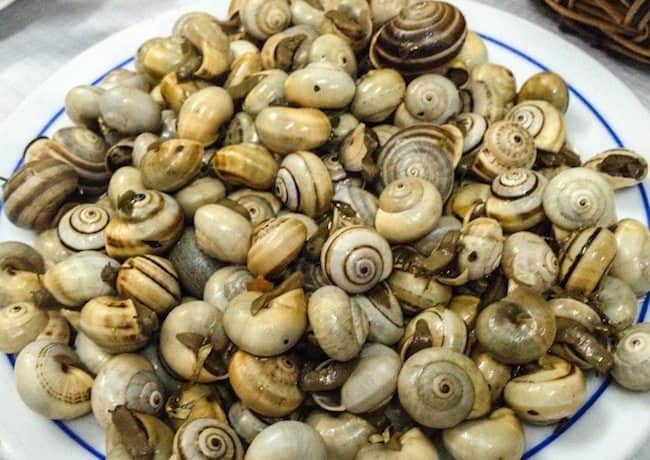 Hot meals will cost you a little more, but there are budget options available even in small restaurants. Forget "a la carte" menus if you're on a budget, go instead for "prato do dia", which are the daily specials readily available.
If you're not one to eat the whole of Lisbon in one go, you can ask if they have "mini pratos" (normally they'd advertise this at the restaurant's door, but not necessarily) which are smaller portions of the daily specials. Learn more about typical food in Lisbon reading our Lisbon Food experience.
Forget about the regular concept of restaurant you might have when you think of Europe. Some of Lisbon's best meals on a budget are served in "pastelarias" (literally pastry shops) which also serve set meals to working people during lunch break. In some of them, you'll save about 50 cents of Euro (a little less than $0,70) when you eat standing at the counter, instead of seated at a table – but this is not always the case. Notice when the menus outside the door mention a lower price under "ao balcao" which means "at the counter". And do keep in mind that in touristic areas (like Baixa-Chiado and around), prices are also spiked up if you eat al fresco.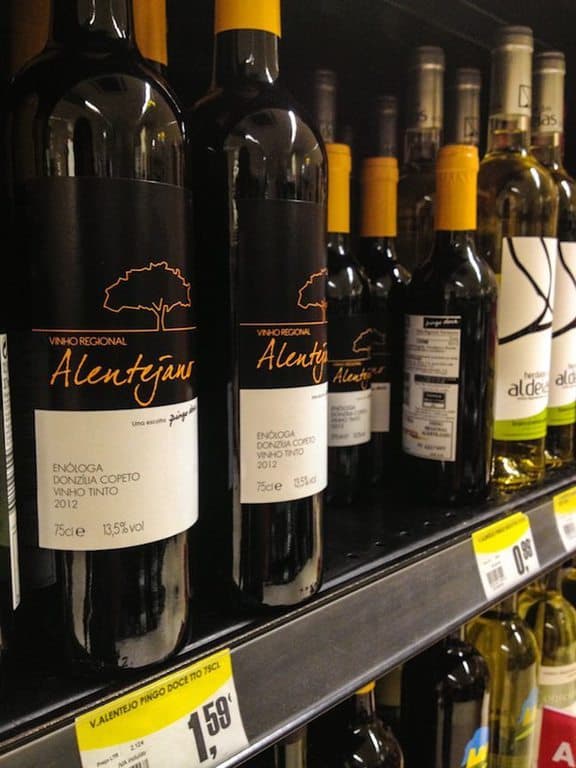 Portugal is a great food destination so, even if you're on a budget, I'd recommend you let yourself go during some of the days you're in Lisbon. By this, I don't mean splurge like crazy, but allow yourself a few meals between $10 to $15 at least. You MUST NOT leave Portugal without trying some cod fish specialities, as well as dedicating some serious time to sampling all the pastries pastelarias will entice you with. If you don't know how to get started when it comes to Portuguese cuisine, check this list of suggested dishes that, more than food, are a Portuguese culture statement!

See. Do. Party.
As after eating your way around Lisbon you probably do not have a lot of Euros left in your pocket, I've put together a list of suggested things to see and do, for free or on the cheap. Fall in love with Lisbon… even if you're on a tight budget!
Lisbon is a city best explored by walking around. This is particularly true regarding the historic centre (Baixa Chiado) and typical neighborhoods (such as Graca and Alfama). You do not need to go to the Castle (Castelo de Sao Jorge) if you don't have 7 euros to spare for the entrance ticket. Instead, walk up to the multiple view points around districts such s Graca and enjoy breathtaking views over the city and across the river all the way to the South Bank. A lot of the viewpoints have small kiosks selling coffee and drinks. Try a "bica" (local name for expresso) for about $1 or a draft beer for a little more (below $2). Take the metro to Baixa-Chiado (blue line), come out of the station and allow yourself to get lost for a while!..
Roam around Belem neighborhood and appreciate some of Lisbon's most famous monuments, such as Belem Tower and Padrao dos Descobrimentos. This is where one comes to remember how the Portuguese once defied the oceans to explore the wider world. There's no metro going to Belem, but you can easily get there by bus or tram ("electrico").
Eat pastries like a local. I mean it – if you don't do this when you go to Portugal, you'll be missing out! In Belem, the famous "Pasteis the Belem" has the busiest cake shop you'll ever see in Portugal. I'd say, skip it! And indulge yourself in any otherpastelaria in town. Pastries are always on display so use your senses, point, get served, and enjoy a sugar high, Portuguese-style!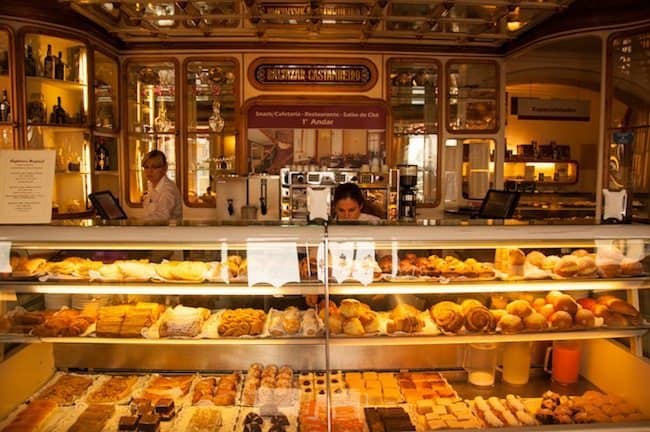 Take the famous Tram 28, but do so in the real one, not the new touristy version that costs 10 times more. This tram goes around one of the most typical neighborhoods in Lisbon. Go up hill on the tram and walk downwards, stopping in charming little corners to watch the locals go about their daily lives. (metro: Martim Moniz + tram 28)
Breathe in the multicultural vibes at Martin Moniz. This is not regularly listed as a "thing to do / see" in Lisbon, but I think this neighborhood is well worth a stroll around. This is Little India, Chinatown and Little Africa all packed into one! You'll notice the ethnical variety of people in this area, the shops with signs in different languages and you'll be able to buy just about anything: from mobile phone covers in Chinese stores, to Indian food, or even get a funky African inspired hair-do. (metro: Martim Moniz)
Free Museums: on Sunday mornings a bunch of museums are free in Lisbon. Depending on your interest, you can visit museums dedicated to art, archeology, music, theater or even something as typically Portuguese as tiles!
Go to the beach: take a 30 minute train ride form Cais do Sodre (green line on the metro) and head to Carvavelos or Cascais. Even if the weather is not good for stripping down in your swimsuit, a stroll to enjoy the sunset by the Atlantic (perhaps with some ice-cream) never hurt any one!
Jog along the the river: Alcantara is my favorite place to go for a run in Lisbon. You can do so along the river, under the iconic 25 de Abril bridge. It's a pretty sweet spot to exercise outdoors or, at least, walk around and enjoy the views. (metro: Cais do Sodre + a couple more stops by tram/bus)
When the night comes down, head to Bairro Alto! Bairro Alto, being an old neighborhood, kicks way more ass than any bar or disco in town! The streets become the venue, which translates into a sea of people from all over the place partying together (especially on weekends and when the weather allows), and doing so with cheap drinks. As the party happens on the streets, no one stops you from bringing your own store-bought booze if you'd like to. If not, finding beer for less than $2 won't be a problem either (spirits and mixed drinks will normally cost at least double the price of a beer). (metro: Baixa-Chiado)
Be naughty and go for drinks at Pensao Amor. This bar/club used to be a brothel receiving sailors who'd spend the night in Lisbon back in the day. A lot of the quirkiness from those days is still present around here: the theme is quite "red and velvet", yet the athmosphere is totally hip. Oh yes, and there's a sex shop inside too! (metro: Cais do Sodre)
If you plan to do shopping in Lisbon and you reside outside the European Union, do not forget to reclaim your VAT before your exit the country. This can save you around 20% on certain purchases and it's very easy to do.
Have you ever been to Lisbon? How expensive/inexpensive did you find this city?
Zara is a Portuguese girl who quit her job in Dubai 2 years ago to travel around the world with her Indian lover-boy Ashray. They're the team behind Backpack ME, a travel site that aims to share tips and ideas with people all over the place, inspiring them to go travel, no matter where they come from! A&Z are East meets West and Backpack ME is all about a multicultural perspective on travel bkpk.me!