This is the perfect 2 day Boston itinerary for solo travelers and backpackers. You'll not only experience Boston's rich history, but also its top-notch seafood, reputable universities, and amazing sports teams.
As a local to Boston, these are the activities that I would recommend to any first-time visitor. This is a very packed itinerary, so adjust the schedule if you want a slower pace. No matter what you choose to do, Boston can be a fun adventure for the whole family!
Things to Know Before Visiting Boston
Before you hop on a plane to Boston, there are a few things you should keep in mind so you're prepared for your trip.
First off, given its location in the Northeast United States, Boston has some pretty harsh winters. For those traveling between December to March, remember to pack a heavy-duty jacket. In January and February, temperatures can drop as low as -5 degrees Fahrenheit, so you'll need a heavy-duty coat to keep warm as you navigate the city.
Just like all other U.S. cities, the currency in Boston is USD. Most establishments accept credit and debit cards, but some of the local shops take cash only. You can withdraw cash at ATMs found at banks, stores, gas stations, and some restaurants if you need to. 
Another thing to note is that tipping is important in Boston. You're expected to leave a tip of 15-20% of the total bill at the end of your meal. Tipping with cash is preferred, but you can add a tip with your card if you don't have cash on you. 
The best way to get around Boston for a 2-day trip is to walk! The city is very compact, with many landmarks within a 5-15 minute walking distance of one another. Alternatively, you can use the MBTA (Boston's transportation system) or a ride-share app to get around. 
For accommodations, my number one recommended neighborhood to stay in is Back Bay. This neighborhood is very safe for solo travelers and is in close proximity to Boston's main shopping and dining hub. If you prefer to be closer to the city's historical landmarks, you can stay right in Boston's Downtown.
Finally, remember that Boston is the perfect city for seafood lovers. Don't leave the city without trying New England clam chowder and a lobster roll at a minimum!
Now that you have some travel tips to help you enjoy the city better, here's the ultimate 2-day Boston itinerary for solo travelers!
Day 1 in Boston
Freedom Trail
First on the itinerary is one of Boston's most iconic historical landmarks, the Freedom Trail. It's a 2.5-mile walk that begins at the Boston Common and ends at the Bunker Hill monument in Charlestown.
There are 16 iconic historical sites along the path that include museums, churches, meeting houses, and burial grounds. To follow along, look for the red brick line along the sidewalks of Boston. You can walk the path solo, but I recommend taking a group tour since they provide a deep dive into the history of each landmark.
My favorite stop along the Freedom Trail is Faneuil Hall. This historic market is famous for hosting America's first town meeting in 1764. Nowadays, it's an outdoor mall with over 100 shops, pushcarts, and restaurants. There are plenty of local, Boston-themed shops here, making it the perfect place to buy your souvenirs.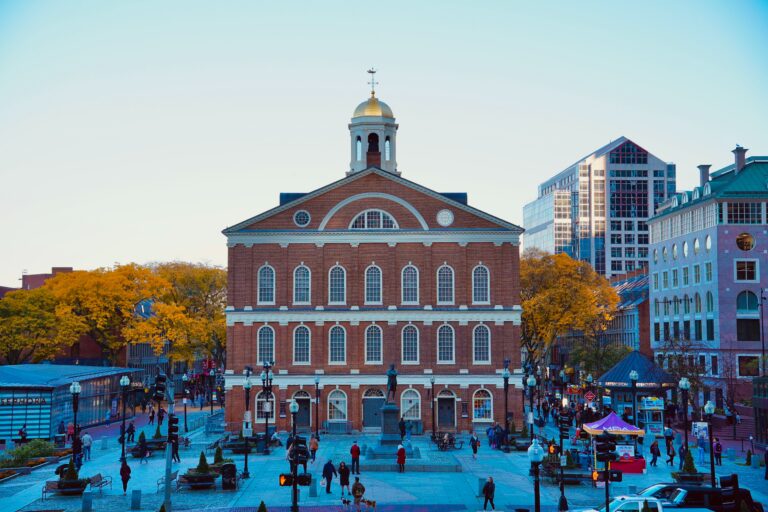 North End (Little Italy)
You'll likely build up an appetite from all the walking. Step into Boston's North End neighborhood, also known as Little Italy, for the best Italian food. With over 88 restaurants and bakeries to choose from, there's something for everyone.
Eat some of Boston's best seafood at Neptune Oyster. Must-tries on the menu include the Maine lobster roll, Wellfleet clam chowder, and North End cioppino. There will likely be a line, but it's worth the wait!
A quick, budget-friendly lunch option is Galleria Umberto. The independent pizza shop sells Sicilian street food including pizza slices, panzerotti, and arancini. Their pizza has a doughy, thick crust and a generous coating of mozzarella cheese and tomato sauce. Note: It's cash only.
After lunch, head to Mike's Pastry on Hanover Street for a cannoli. Cannolis are Italian pastries that are made of crispy pastry dough and filled with ricotta-based cream. There are over 15 flavors to choose from including pistachio, cappuccino, and Oreo. For a first-time visitor, I recommend the chocolate chip cannoli. Note: Mike's is also cash only.
Boston Common & Boston Public Garden
Burn off lunch by strolling through the Boston Common, the oldest public park in the United States. It dates back all the way to 1634!
Just one block away from the Boston Common is the Boston Public Garden. It's very picturesque with its wide variety of plants, historical statues, and a pond in the center. In the warmer weather, take a swan boat ride. It's a relaxing 15-minute boat ride that takes you around the pond.
Back Bay & Copley Square
Make sure to allot 1-2 hours of your day to one of Boston's most bustling neighborhoods, the Back Bay. The neighborhood is characterized by its elegant brownstone buildings and abundant shopping options.
First, check out Copley Square. At the center is the Trinity Church, a Christian church that was founded in 1733.
Right across the street is the historic Boston Public Library. There are two sections of the library – the original and the newly renovated section. The original division of the library is stunning! Upon entrance, you'll see a grand marble stairway with lion statues and giant mural paintings.
The main attraction of the library is Bates Hall on the second floor. It's a silent reading room with high ceilings, oak bookshelves along the walls, and green lamps at each table.
Newbury Street & Prudential Center
Just one street over from Copley Square is Boston's most iconic shopping street. Newbury Street extends 8 blocks and is lined with boutiques, cafes, restaurants, and art galleries. You can easily spend hours here.
A few blocks away from Newbury Street are the Prudential Center and Copley Place. They're connected indoor shopping malls with chain stores and restaurants. For anyone who loves luxury shopping, Copley Place is the ideal mall with over 15 luxury stores.
Eat some more seafood at Atlantic Fish Company for dinner. The upscale restaurant is known for its New England Clam Chowder, raw oyster bar, and lobster rolls. Their seafood is sourced straight from the harbor to give you the freshest seafood possible.
A budget-friendly dinner option for solo travelers is Gre.Co on Newbury Street. They serve gyros, which are Greek sandwiches that are traditionally filled with juicy pork off-the-spit, tzatziki sauce, and veggies. Other protein options include chicken, lamb, and veggie meatballs.
Rooftop Bars
End your night at a rooftop bar in the Seaport District. Lookout Rooftop & Bar at the Envoy is one of the best options. You'll get panoramic views of the Boston harbor and Downtown skyline. In the cold weather, there are fire pits and heated "igloos" for groups. The menu includes beers, specialty cocktails, and small plates. Lookout is an extremely popular rooftop bar, so make sure to book a reservation online.
Other popular rooftops include Six West in the Cambria hotel and the Rooftop at Revere.
Bonus: Chinatown
For those who don't drink or just want to forgo the rooftop bar, Boston's Chinatown is another cool neighborhood to check out. It's only a 20-minute walk from the Back Bay, or 10 minutes by train.
I recommend Sweet Waffles & Boba for dessert. Their Belgian waffle pops are perfectly crispy on the outside and doughy on the inside. You can choose from a pre-set waffle topping combo, or customize your own. My favorite waffle flavor is strawberry cheesecake!
Paired with a brown sugar boba or lemonade, it's the perfect sweet treat to end the night.
Day 2 in Boston
Beacon Hill
Start off day 2 of your Boston Itinerary in one of the city's most beautiful neighborhoods, Beacon Hill. The residential neighborhood's brownstone buildings and gaslit street lamps will take you back to the colonial era.
Make sure to visit Acorn Street. It's a small, cobblestone street that's famous for its aesthetically-pleasing New England charm.
The other main street of Beacon Hill is Charles Street. It's lined with restaurants, coffee shops, and boutiques.
While on Charles Street, visit Tatte Bakery & Cafe for a light breakfast. The Boston-based cafe chain is popular among both locals and tourists. They have a wide selection of fresh pastries, coffee, and lunch items.
My go-to at Tatte is their croque monsieur. It's essentially a French grilled cheese that's filled with ham and cheese and topped with a Mornay sauce. I typically accompany my meal with a creamy pistachio croissant and a hot latte. The cafe's bustling atmosphere makes it the perfect spot to people-watch.
Harvard Square
Established in 1636, Harvard is America's oldest University and is worth a visit on any 2-day Boston solo travel itinerary. Located in Cambridge, it's a short subway ride from Beacon Hill.
While you're able to explore the Harvard University campus on your own, I recommend taking a free guided Harvard tour. It's an hour-long, student-led tour that shows you around the campus while telling you the history of Harvard. Harvard requires you to reserve your tour in advance, so make sure to visit the Harvard University website for more details.
If you do decide to explore Harvard solo, you can download the Visit Harvard mobile app for a self-guided campus tour.
Porter Square
One of my favorite Boston-area hidden gems is the Porter Square Japanese food court. It's located only one train stop away from Harvard Square and is the perfect lunch option.
Located inside a Lesley University building, the food court has authentic Japanese food stalls. Options include Cafe Mami for a comforting bowl of Japanese curry and rice, Yume Ga Arukara for udon noodles, and Tampopo for budget-friendly Japanese comfort food.
My go-to is Yume Ga Arukara. I always order the spicy cold niku udon. It comes with sliced beef, scallions, crispy tempura batter, and dried shrimp on a bed of handmade udon noodles. The cold broth has a subtle kick from its homemade chili paste and oil. As someone who's eaten at nearly 500 Boston-area restaurants, Yume is one of my all-time favorites.
There's limited space at the food stall, so keep in mind that there may be a line on weekends.
Isabella Stewart Gardner Museum
One of Boston's most beautiful and unique museums is the Isabella Stewart Gardner Museum. The courtyard is the main focal point for pictures. It has a variety of plants and Roman-style statues that change throughout the year.
The gallery is Isabella Stewart Gardner's personal collection of paintings, sculptures, furniture, ceramics, etc. The artwork comes from ancient Rome, medieval Europe, Renaissance Italy, the Islamic world, and more.
The museum is most famous for an art theft in 1990. 13 paintings were stolen during the heist that still haven't been found to this day. There's currently a 10 million dollar reward for any information that could lead to the recovery of the artwork.
Fun Fact: you get free admission to the museum if your name is Isabella!
Fenway Park
During baseball season, I recommend catching a baseball game at Fenway Park. Fenway Park is the oldest stadium in Major League Baseball, as well as the 3rd smallest stadium that's still in use.
At the game, make sure to try a Fenway Frank. It's a hot dog that's boiled and grilled, giving it a crispy outer layer and a juicy inside.
During the off-season, you can still visit Fenway Park through a guided tour. They're not nearly as exciting as a real game, but you'll learn a lot about the stadium's history.
Charles River Esplanade
Next, get into nature at the Charles River Esplanade. It's a green space along the Charles River that extends for 3 miles. You'll see joggers, rollerbladers, and bikers all along the path. There are plenty of recreational activities including an outdoor calisthenics gym, a playground, and a concert area.
I recommend renting a Blue Bike to bike through the Esplanade. It's a relaxing way to see the skyline and take a break from your busy itinerary. In the summer, you can also rent a kayak and cruise the Charles River.
Downtown Boston
End your 2 day Boston itinerary back in Boston's downtown. One of my favorite activities is seeing a Broadway show in the Theater District. The Citizens Bank Opera House hosts a lot of big-name musicals including Hamilton, Mamma Mia, and Wicked.
For dinner, try Boston Chowda inside the Quincy Market. They serve bread bowls of New England Clam Chowder and lobster rolls.
For dessert, try the original Boston Cream Pie at the Parker Restaurant inside the Omni Parker House hotel. It's a sponge cake that's filled with pastry cream and chocolate.
Final Thoughts
Boston is a great city with a lot of fun activities for you to enjoy. Between fresh seafood and educational museums, you'll return home at the end of your trip with a full belly and a ton of new knowledge. Have fun exploring!