Ho! Ho! Ho! Christmas is just around the corner, and here at etramping we've been getting into the festive spirit as early as we can. Not quite as early as those shopping malls that put up decorations in September, but you get the idea. We're lucky enough be enjoying a trip to Belarus over the holidays, spending those magical days in the capital Minsk – so watch this space for our experiences there.
The holiday season is always a strange time to be traveling as most people go home to their friends and family and have Christmassy get-togethers, argue over board games, burn the brussels sprouts and fall asleep after the turkey or Carp (Polish tradition). When you're on the road it's different, but it doesn't have to be lonely and depressing– quite the opposite! So, banish those bah-humbugs, put on a Santa hat, and come with us on a sleigh ride through some awesome ideas for staying festive while traveling at Christmas.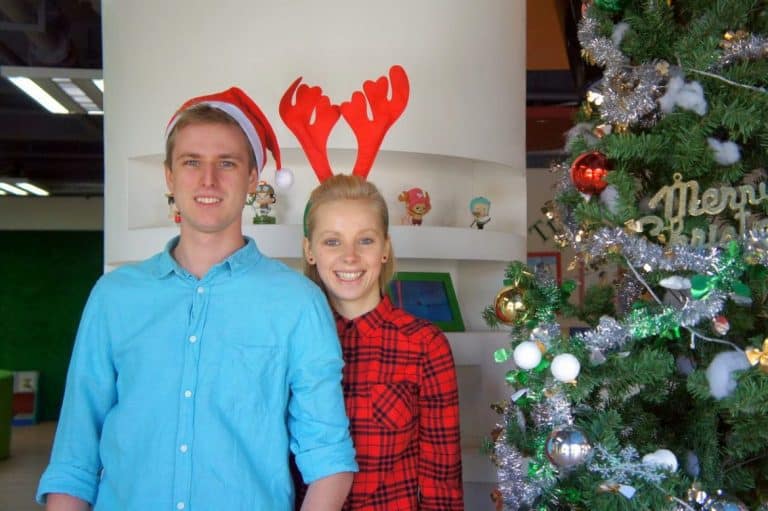 Be of Good Cheer!
It might be hard to stay positive when you're away from home over Christmas, especially if you're missing friends and family. But be of good cheer and think about all of the things that you don't have to deal with during the craziness. There's no need to worry about the shopping stampede, organizing everything is totally out of your hands – as is the cleanup operation – and you can sit back, relax and let other people wait on you hand and foot. You'll be booking Christmas travel every year from here on. And while you're at it – we're serious about the Santa hat. Even if you're 50 years of age – go out wearing one of those things and banish the inner Scrooge!
Go Christmas (window) Shopping!
A great way to feel festive is to get out into the town or city you're in and go Christmas shopping. Even if you're on a travel budget, you can still enjoy the Christmas decorations, lights, and Santa's grottos! It's even better if you're lucky enough to be traveling to a city with an amazing Christmas market – as it seems every city in Europe is in the competition each year to produce the best ones. So, wrap up warm and enjoy the fairytale stalls and atmosphere and don't forget the mulled wine.
If you're in a country that doesn't celebrate Christmas – just pretend instead and go out and treat yourself – you deserve it!
Find Christmassy Events!
It's much easier to find local events that cater to the Christian/Christmas community when traveling a country that celebrates the holiday. Tourist information offices will be able to advise you about concerts, events, film showings, Christmas markets and more – or go online to research some local, festive happenings in your area.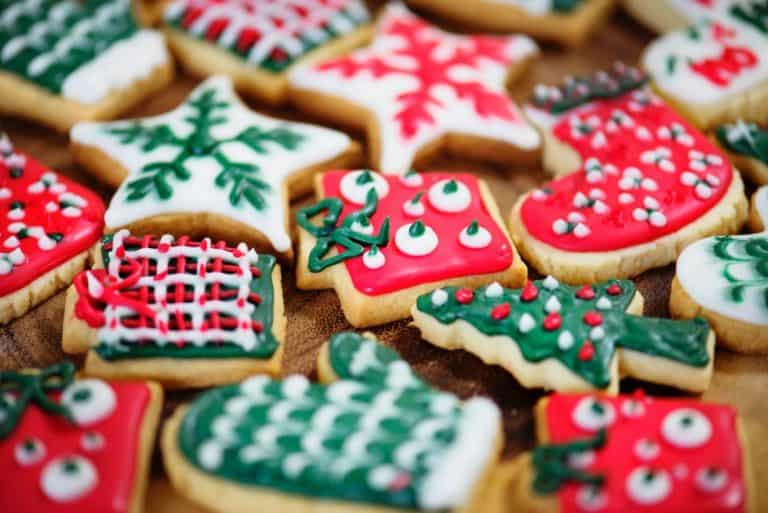 Even if you're not particularly religious – Christmas wouldn't be Christmas without carols – and attending a choir concert is a great way to enjoy those warm and snuggly festive feels – even when far from home. Countries that don't participate might still have a program of Christmas events to cater for expats – so don't be afraid to ask around and join in.
Watch Christmas Films!
You know Santa's on his way when the Christmas movies start coming thick and fast – so don't switch off! For many of us, growing up watching Christmassy films was one of the highlights of the festive season, so why not curl up wherever you are and re-visit some of the classics – The Snowman, Miracle on 34st Street, Home Alone, It's a Wonderful Life, The Muppet's Christmas Carol and Die Hard.
You'll be feeling festive in no time. If you're in a hostel – why not ask them if they can have a screening and make it a social event? It's a great idea to get everyone in the mood!
Do a Secret Santa!
While we're on the subject of hostels if you happen to be staying in one over the festive period – why not suggest doing a secret Santa with fellow guests? Maybe the hostel has something organized already? Or, if you're away with work colleagues – maybe get them to join in the fun? Everyone puts their name into a hat and draws one at random – and you have to buy a small, inexpensive gift for that person.
Then everyone has something to open on Christmas day! This is an awesome tip to really get into the Christmas spirit and have some fun with whoever you happen to be sharing it with – and a great way of breaking the ice and getting to know fellow travelers too!
Don't miss Christmas Dinner!
Just as fun as participating in a secret Santa is getting involved with a Christmas dinner. You'll find most hotels or hostels around the world will have something organized – from a simple gathering with soup and bread to abundant feasts with all the trimmings. So, don't shy away in your room – get involved! If you happen to be in a country that doesn't celebrate – why not take yourself out and experience some local, exotic cuisine.
Go wild! Spend as much as you can afford on yourself and try something new – Christmas dinner doesn't have to be about a turkey (or a carp)!
Have a Second Christmas!
A great idea is to still have something Christmassy to look forward to when you return home – so, get your family and friends to organize a second Christmas! No, it's not greedy! That way you can all share in the delights of the big day and give them all the souvenirs from whatever country you've been traveling as alternative presents, and you may get a custom t-shirt with something funny written on it, like "Surprise! I bet you didn't expect to see me ever again".
There's also a way to gift travel as a Christmas present. Gift someone a Tinggly Experience, and they can use it anywhere in the world from the most relaxing to the most extreme of activities. Best thing is that you don't have to preselect what they have to do, where, or when.
They get a gift card valid for 2 years and can do with it as they please.
Do a Good Deed!
One of the nicest ways to feel Christmassy is to do a good deed over the Christmas period. Of course, we know everyone is doing good deeds all year round as you've all been good little boys and girls – but lending a helping hand at Christmas is especially welcome and rewarding. Give some money to charity, take a homeless person a meal, reach out to an old friend, help an old lady across a road.
There really is no limit to ways you can help someone at Christmastime – and you'll feel all fuzzy inside.
Enjoy Yourselves
Most of all – don't forget to have fun. Traveling at Christmas can be a unique and enjoyable experience, even if you find yourself wearing shorts and T-shirt sitting on a beach on Christmas day. Embrace the different celebrations around the world, get involved and it'll still be the most wonderful time of the year. And don't forget to wear a Christmas jumper – then it's Christmas every day!
Tell us your traveling at Christmas stories! How do you stay festive over the holidays? Let us know!