"Beer is proof that God loves us and wants us to be happy."

Benjamin Franklin
Let's face it – we all love beer when traveling. As Frank Zappa said: "You can't be a real country unless you have a beer and an airline – it helps if you have some kind of football team, or some nuclear weapons, but in the very least you need a beer." When you travel, you have this amazing opportunity to experience different texture and flavors of beer. We asked 15 travel bloggers to share their beer experiences with us. From Congo, Belgium, through Japan to Czech Republic and Myanmar – we are taking you for a beer journey around the World!
If you'd like to see even more good beer from around the world, there are two more parts to this beer roundup: part 2 and part 3.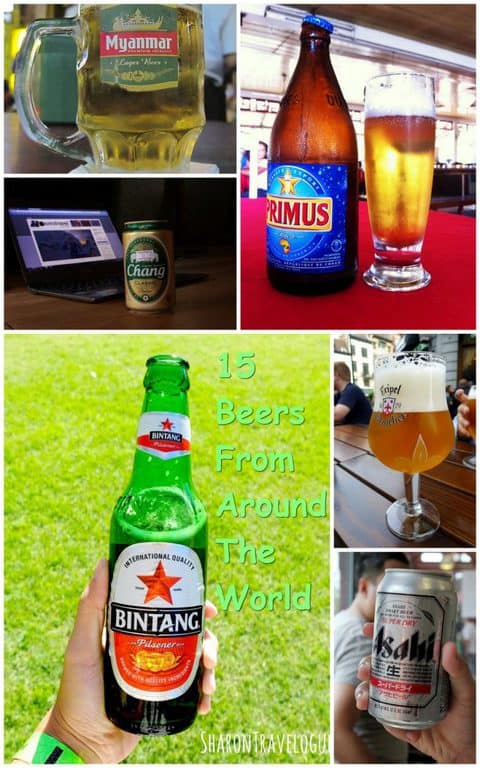 1. Belgian beer.
The best beer I've ever had was in- you guessed it- Belgium! While I've had lots of great beer on my travels from Chile to Germany, I particularly loved this ice-cold Tripel Karmeliet I tasted in Brussels. I asked the waitress to give me her favorite beer and she brought out this masterpiece. And for only a few euros what could be better?
Ashley Fleckenstein is a baguette-partial freelance writer and travel-writer. She's a self-proclaimed language nerd, ski bum and lover of long, pinot-fueled dinners. To read more about her adventures in France, Asia and beyond, check out her blog, or connect with her on Twitter.
2. Bolivian beer.
Allow me to introduce you to coca beer! I discovered it in the Coca Museum in Bolivia's capital city, La Paz. It takes a bit of getting used to; it leaves green stains around your mouth and the taste is not dissimilar from carbonated water, but what it lacks in flavour, it more than makes up for in originality. Based on the same leaf used to make cocaine, it has a mild stimulant effect, eases stomach pains and can help you overcome the effects of altitude sickness. What more could you want from a beverage? Coca beer will set you back roughly US$3, plus the very reasonable museum entry price of just over US$1, which means you can also learn about the history of cocaine while you build up your appetite.
Arianwen Morris is the owner of Beyond Blighty, a travel blog with a strong focus on adventure. Her initiation into long-term solo backpacking was a 7-month trip through South America in July 2012 and she's been on the road ever since. T: @BeyondBlighty. F: facebook.com.
3. Norwegian beer.
Jennifer from luxeadventuretraveler isn't a beer drinker, but with a super-cute donkey as a logo and the slogan Hip Hoppy Kick-Ass Ale, the Red Donkey at Santorini Brewing Company was a must-try. Red Donkey is a red beer made from a special collection of hops including Aurora and Styrian Golding from Slovenia, Citra from Oregon, and Nelson Sauvin from New Zealand. It has scents of tropical fruits and even a bit of a fruity taste. Want to give it a try? You'll have to travel to Greece for this hard-to-find beer produced only in limited quantities."
Jennifer Dombrowski is a location independent globe trotter and bases herself in Prata di Pordenone, Italy. She works as a social media and innovation strategist in higher education. Her website is the 2012 Destinology Travel Bloggy Best Newcomer award winner. Follow Jennifer's adventures on her blog and find her on Twitter, Facebook, and Instagram.
4. Czech beer.
I had this beer at a bar in Prague. Living in Germany, I've visited the city several times because it's so cheap to get to, and even though the beer is cheap in Germany, it's cheaper in the Czech Republic! Plus I always go for a Czech pils beer when I'm there. The standard is a Pilsner Urquell but I also love the taste of a proper Budvar (Budweiser) beer in Prague — it's very different from its American counterpart!
Adam traveled around the world for over a year and now resides in Berlin, Germany where he shares his food and travel tips online. While he'll drink just about anything, when in central Europe there's really no better option than a cold beer! He currently writes for the Prague travel blog, Eating Prague.
5. Greek beer.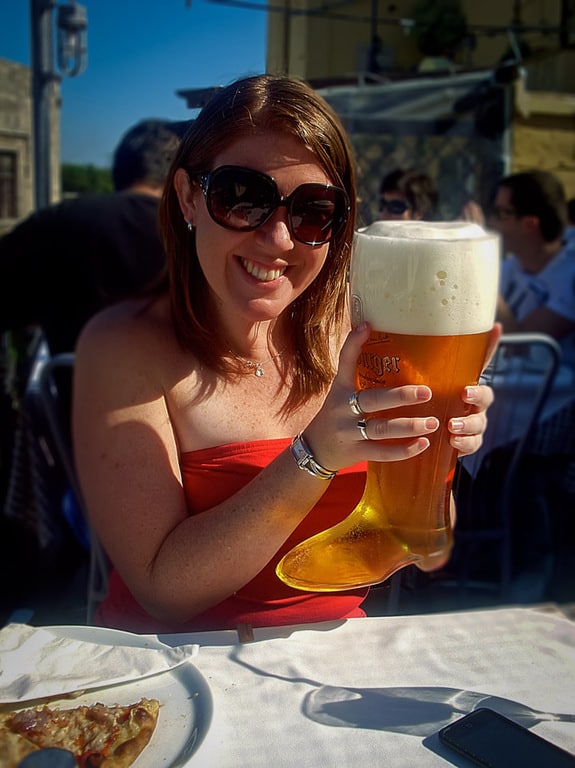 Rhodes, in Greece is more commonly known for its history rather than beer, but on a hot Mediterranean day it's hard to resist these giant amber beauties. The "Boot" as it's known, comes in two sizes of 1 litre and the impressive 2 litres (pictured) and often it's hard to resist a race with friends to finish. The fastest we've seen a 2 litre boot consumed was 8 min 45 seconds and this was by a hockey mum from Canada! Yep she even beat all the men! The boots are generally filled with the local Greek beer Mythos and tastes much like any other larger you'll find around the world, nothing fancy, just something cold and wet to enjoy.
Meagen Collins is chief editor of the Five Dollar Traveller website & author of Budget Burma: A comprehensive budget travel guide for Myanmar. While digesting her frequent food babies, Megsy blogs about tasty bites, booze, travel and whatever random topics pop into her head along the way!
6. Indonesian beer.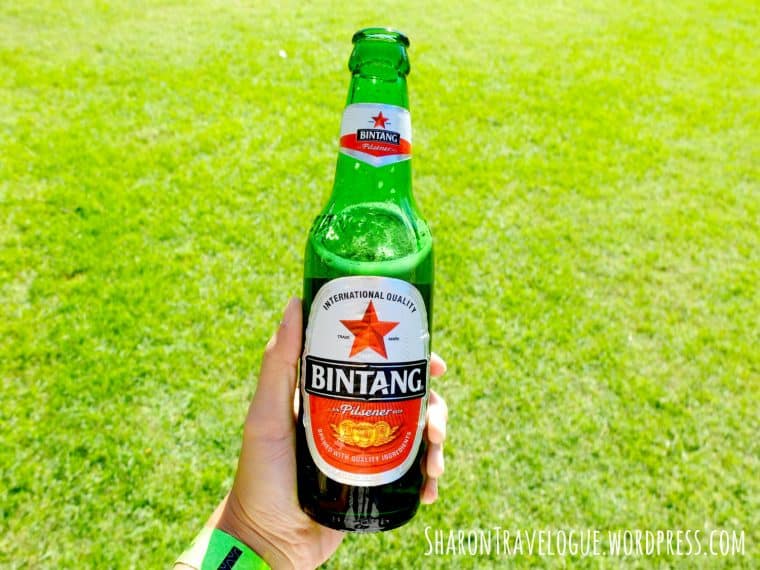 Summer is simply better with good beer. No one denies it! That's why, when I lived in Bali last summer, I made sure to grab a bottle or two in a hot humid day, just to chill my self up a little bit more. Yes, it's always summer in Bali, all year round.
A local decent beer that you can easily find in most places in the Island of the Gods is Bintang Beer. You will probably find some tourists grabbing a bottle of Bintang while walking down Kuta street, or even some tourists wearing Bintang t-shirt all day long. I'm not a beer lover, but for me, Bintang is always refreshing! It tasted slightly light and has a nice crisp taste with a hint of citrus and bitter taste at the end – which is perfect for summer! I find myself enjoy Bintang the most when I'm having grill pork ribs for dinner, or when I finish my surfing lesson. Beer and summer could never go wrong! And the good thing is, it will only costs you around $2!
Sharon Loh is an undergraduate student in Bandung, Indonesia. She has been slowly traveling and exploring more kind of foods since October 2012. And her obsession with travel and food grows even stronger ever since. Her blog, Sharon Travelogue, tells them all. Follow her on Instagram, Twitter, and Facebook!
7. Monteith's Pinot Gris Lager from Greymouth, New Zealand.
Before starting, I think I had better come clean: I am not the biggest fan of beer. With the rising popularity of craft beer in London however, I have found myself wanting to try new and different types of beers and have started to enjoy the taste of them more and more, especially as I now start to discern the various types and tastes of beer available and hone in on what I enjoy. My RTW travels have now taken me to New Zealand and more specifically a town called Nelson, famed for its craft beers. Setting myself a mission to try as many local brews as I could in 4 days (without keeling over), I tried a fair few types of beers from a range of breweries in the area.
There was one clear winner for me, which I knew I would love from first sight of the bottle, and one that would turn out to be from Greymouth by the west coast of New Zealand's South Island rather than Nelson – Monteith's Pinot Gris Lager. A blend of Munich helles lager and Marlborough Pinot Gris, this sparkling light beer has a unique taste of both grapes and grain, perfect for someone like me who hasn't yet acquired the taste for strong, full flavoured beers. With a base of Pinot Gris wine from the top wine-producing region in New Zealand giving it a vinous aroma and taste, layered with malt and lightly hopped, this winning combination is perfect for summer drinks in the sun, with a picnic by the beach. At NZ$9.99 for a 500mL bottle, this beer is best drunk at 8°C, straight out of the bottle (with friends!).
Formerly an investment banker in London, tired of watching her life go by in a series of powerpoint presentations and spreadsheets, Jules recently quit her corporate job to go for an extended period of solo travel in search of some adventure. Armed with a one way ticket to Melbourne, her plan is to explore Australia, New Zealand and South East Asia, collecting truly memorable experiences along the way. Jules blogs and photographs her journey on Solo Wayfarer, with a particular focus on cities and culture, outdoor pursuits and food, and can be found on Twitter, Instagram and Facebook in between posts.
8. Congo beer.
On my epic scooter trip from Mali to Cape Town I drank a lot of beer. There were few things better than sitting in a street side maquis with a giant beer watching the world walk by. I found this beer in the Congo and for the 8 seconds it was cold it was the most refreshing thing I ever had. The cost of this giant-sized beer was the equivalent of about a dollar.
Brendan van Son is a travel writer and photographer from Canada. He has been on the road for 4 years specializing in photography and adventure. Check out his travel blog Brendansadventures.
9. Bernard Beer from Prague, Czech Republic.
Although we've tried beer from all over the world, ironically one of our favorites is in the place where we used to live before we started this journey – Prague. Most people think of the big names like Pilsner Urquell or Budvar when they think of Czech beer, and this is what many of bars in Prague will serve. But for us, Bernard is the beer we always seek out when we visit Prague and it beats the big name beers in taste, crispness and overall drinking experience. If you look hard enough, you'll find a hospoda (Czech pub) serving Bernard on draft. And if you're really lucky, you may even find the unfiltered version on draft.
Where to get it:
1) Kavárna Mlýnská is a fun cafe and bar on the edge of Kampa park in Prague. Although many places in this area are touristy and expensive, this place is laid back and serves up great unfiltered Bernard beer on tap for around €1.50 for 0.5 liters. (Všehrdova 449/14, Mala Strana, Prague).
2) Pub Pastička: This place has more of a Czech pub feel and serves up light and dark Bernard beer for around €1.25 for 0.5 liters. This place also serves up good Czech pub fare. We recommend the steak tartare.
Daniel Noll and Audrey Scott are the husband-and-wife blogging, photography and speaking team at Uncornered Market. Originally from the United States, they lived and worked in Prague for five years before embarking on a journey around the world. After six years of travel and being fully nomadic, they now use Berlin as their base from which to explore the rest of the world. You can follow their adventures on Twitter, Facebook, Instagram.
10. Mandalay Strong Ale, Myanmar Beer in Myanmar.
Myanmar beer claims to be award winning and of this I have no doubt considering the competition in nearby countries- lets be honest Asia is not known for their beer. The best of Myanmar Beer is Mandalay Strong Ale, followed by Myanmar Double Strong, both strong enough (6.5-9% Alc) to get your night off to a great start and smooth enough to continue enjoying all night. The medium body ale has good carbonation and a nice clean finish. We discovered Myanmar beer in Yangon and enjoyed it in several cities across the country, but it is not available outside of Myanmar.
Don't let life pass you by as you're making plans for big things, get out and make things happen. We're a couple that quit our jobs and set off to travel the world, refusing to look back and wonder, "what if?" Living IF is about living life to know what is, rather than forever wonder what if. After nearly three years on the road and sleeping under the stars on all seven continents we still haven't relieved ourselves of the travel itch. To learn more about our adventures through 38 countries and over 300 cities check out our travel blog livingif, which offers plenty of tips for your own travel dreams.
11. Vienna beer.
The photo is taken from an authentic beer garden in Vienna called Salm Brau Klosterbrauerei, it was so go I went back twice for a meal and their wonderful beers. Here I'm tasting one of their draft lagers which is quite smooth, slightly sweet and refreshing especially with a heavy goulash dish that I ordered for my evening meal. Beer gardens in Vienna are a wonderful local dining experience to try when you visit the city. The Typical Austrian food served at the beer garden is tasty with oversized portions, if you like big meals.
Noel Morata is a travel writer, professional photographer, and food fanatic based in Hawaii and San Francisco. Noel loves to share his travel experiences, photography tips, and local food experiences and understanding local cultures and history on his site at Travel Photo Discovery. Connect with Noel on Facebook and Twitter to follow along with his fun adventures.
12. Chang Beer, Thailand.
Chang Beer for 30 baht (about 1 US dollar). This is my go to beer when I am in Thailand. My wife's aunt has a small store in our village next door to our house in Eastern Thailand. It is a 15 second walk to the store where she keeps plenty of this beer in stock especially for when we are here visiting. We have several hammocks hanging under our Thai style home (up on stilts) and this is the coolest place to hang out during the heat of the day. I'm set for work everyday with the WiFi (finally came to the village 2 years ago), my laptop and a cool Chang (means elephant in Thai) Classic beer! I don't like a heavy beer – this particular one is light and a little bit malty; it is very refreshing consumed cold on a hot day! We usually drink it with dried squid snacks.
Dave is an International travel writer who founded Dave's Travel Corner in 1996. Traveled to over 100 countries, he enjoys the outdoors, writing, photography, backpacking, mountain climbing, meeting people, the Internet and experiencing other cultures. What could possibly combine all these varied interests….why, travel of course! Dave is most at home in Bangkok, Los Angeles, the Napa Valley or California's Eastern or far Northern Sierra Nevada mountains. One day in 2006 he naively decided he would try to visit, taste with and write about every single winery in the Napa Valley, California. An intense endeavor, he has now completed more than 700 visits and reviews of Napa producers for his Napa Wine Project.
13. Serbian beer.
I was guiding two Mexicans from CouchSurfing at the time this photo was taken. This is a light lager beer and it's one of the most popular brands in Serbia. Clear yellow color, aroma is grainy and it's slightly bitter. Location: one of Belgrade's neighborhoods called Zemun. Price: Less than two euros.
Zorica is the founder of EuroTribe where you can find different travel and culture related subjects. She loves taking photos, drinking coffee, philosophizing and reading great books. Connect with her via Twitter for more info!
14. Colombian beer.
Earlier this year I visited Bogota, Colombia and was blown away by the city's beer scene. Ten years ago beer on tap was a novelty there. The Bogota Beer Company changed that. What started as a single brewpub has become the country's second largest brewer. Their Septimazo IPA was the best beer I tried during my 2013 travels. It's not as strong and bitter as the IPAs in the US, but it packed a great hoppy punch. The beer was about $5 USD at their restaurants.
Helen Anne Travis is a travel writer and beer snob. She shares her adventures on her blog, FromWayUpHigh.com, and writes for publications including AFAR and the Austin American-Statesman. Say hi on her Facebook, Twitter, Pinterest and Instagram.
15. Japanese beer.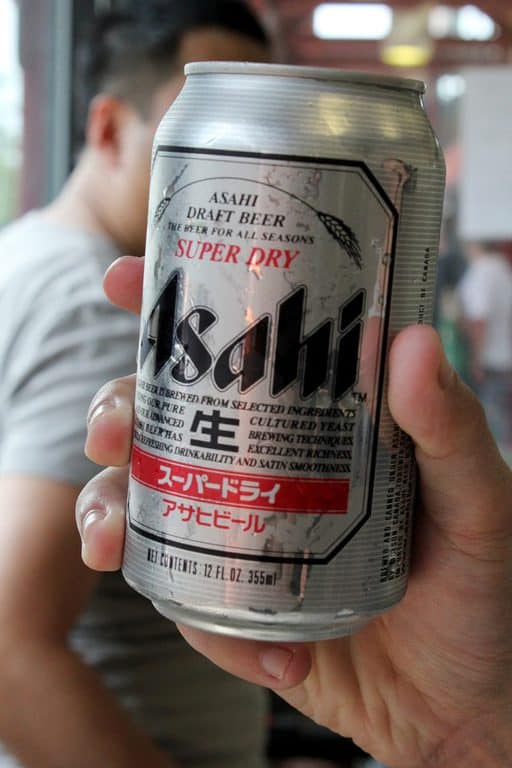 Japan has a huge drinking culture, and surprisingly beer, not sake, is the drink of choice by most Japanese. There are 4 big brewing companies in Japan, but Asahi is the most popular. Their famous beer, Asahi Super Dry, is the number one beer across Japan. Even though I personally hate beer and favor liquors instead, while living in Japan I knew I had to give one a try. Constantly seeing it sold everywhere from 7 Elevens to vending machines on the street, I finally picked one up for 200 yen, and to my surprise I really enjoyed it! It's a rather bubbly beer, but it has a very crisp, clean taste– perfect for eating Japanese food with!
Originally from Chicago, Beth got her first true taste of travel when she studied abroad in Japan during her final year of university. She ended up loving Asia so much, she found herself moving right back upon graduation and is currently living in Hong Kong. Armed with her camera and a passion for travel, she is on a mission to photograph the world– proving that you can work the normal "9-5" and still find time to travel. Read her travel stories at Besudesu Abroad.
Which of these pints would you enjoy drinking the most?