Thai food ain't about simplicity. It's about the juggling of disparate elements to create a harmonious finish. Like a complex musical chord it's got to have a smooth surface but it doesn't matter what's happening underneath. Simplicity isn't the dictum here, at all. Some westerners think it's a jumble of flavors, but to a Thai that's important, it's the complexity they delight in.

David Thompson
If you are a food lover, you will simply fall in love with Thai cuisine -its sweetness, spiciness and freshness. Whether you are a budget traveler or you just want to try different food on the cheap when in Bangkok, the good news is this city offers healthy and nutritious meals at very affordable prices.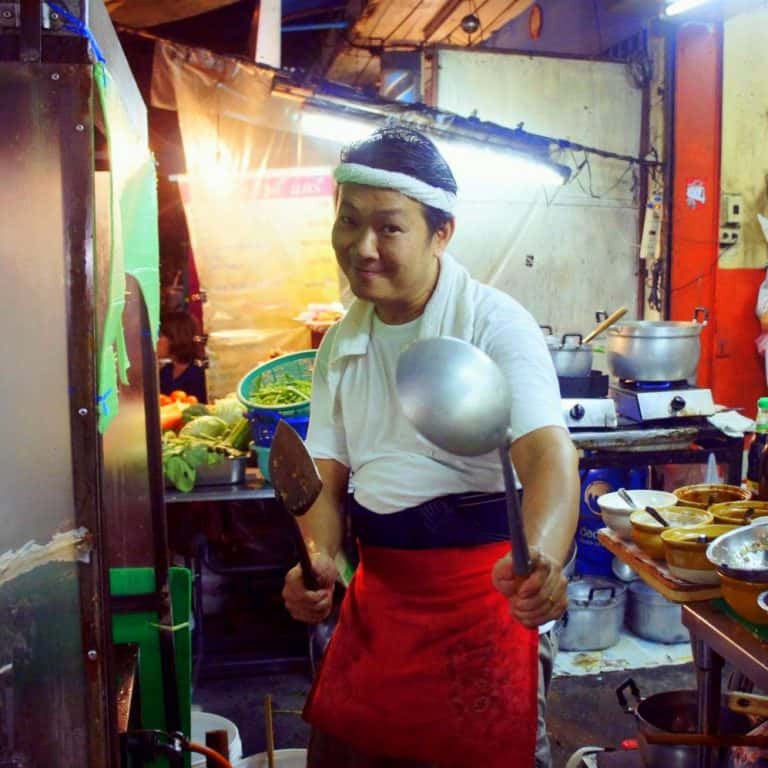 How much do you reckon you would pay for a plate of aromatic papaya salad sprinkled with nuts? Let me tell you – a dollar! How to do it? Where to find such cheap places to dine out? Here is the answer:
1. Stay away from touristic areas.
Going to touristy spots to dine out will not increase your chances of a cheap eat. Once you go a little bit further from Khao San Road area, you will find a lot of local places where the cheap food is served (the prices start from $0.50).
Visiting quiet local areas, unknown to ordinary travelers, will give you a great opportunity to try authentic Thai dishes on the cheap and interact with some locals who can show you how the food is prepared on a regular basis so you can try to cook it when you're back home.
You can either pick up a small local Thai restaurant or grab some take away meal with grilled chicken, rice and fried vegetables on the street. Take away food is cheaper than eating in, so do not be afraid of eating in a park or in your hotel room.
When you decide to dine out in a local restaurant, go only to one-dish places. You will pay for one meal only and avoid extra service charges.
2. Say YES to street food and NO to Western restaurants.
It's not a big surprise that street food in Thailand is sold everywhere and it's much cheaper than restaurants, even the local ones. There are fruit and vegetable markets in every corner, small local shops with Thai sweets if you feel like having some biscuits or cookies, food markets in the city centre and food stalls across every street. There is a variety of places where you can dine out on the cheap.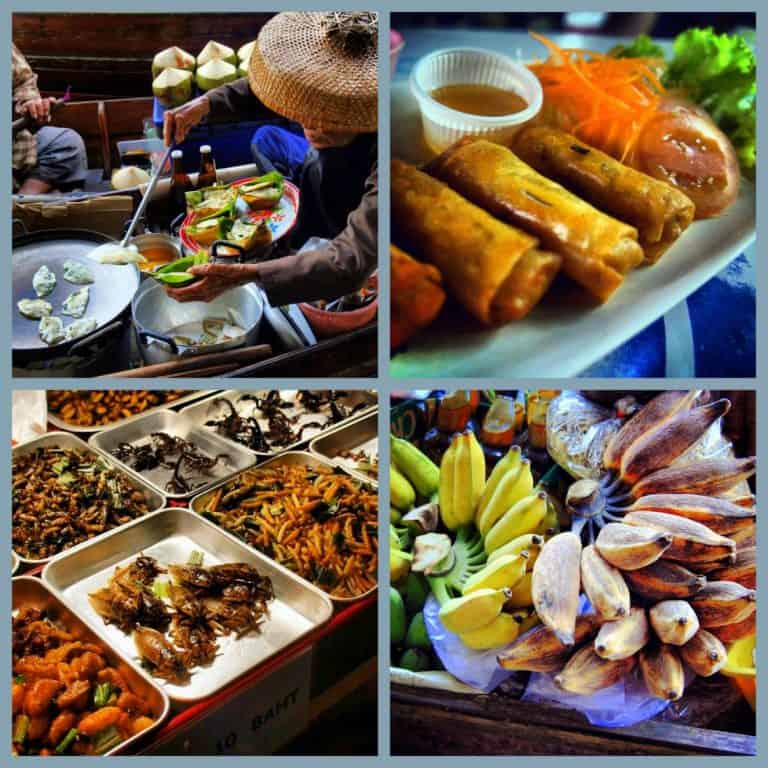 Dining out in restaurant is a good idea if you are going to share the bill with fellow travelers or locals. The portions served in restaurants might be too big for one person, so if there is more people with you than 2, then feel free to taste several things and feast well, whilst spending less!
3. Go for local dishes, forget the Western cuisine.
Go for local food, do not choose places where Indian, American or other Western food is served. Prices reflect the trouble they had to learn these recipes.
Did you know you can get a Thai soup with fried vegetables served with a big bowl of rice and a drink for less than BigMac in McDonald's? It is much healthier and more delicious, not mentioning the money you can save up for attractions or some souvenirs.
4. Haggle, haggle, haggle!
Locals in Bangkok don't speak much English so you might struggle a bit to understand each other when it comes to bargaining. However, you can take a small Thai dictionary with you and pick up some basic words such as "hi", "order", "food", "how much", "too expensive" and try to haggle in a nice way.
The more language you know, the more chances you have to bring the price down local level and locals just find it so adorable when they hear you speak their mother tongue.
5. Pay in local currency ($1= 30Baht).
Some locals will ask you to pay for the food in $. If it happens, just cancel your order and walk away. In most cases they will try to rip you off. Basically, people who quote prices in dollars base the prices on US standards and not Thai. You will often hear "it is still cheaper than you pay in your country" while at the same time you pay twice the local price. They think $1 for a bowl of rice is not much in your country, however in Thailand for $1 you can buy a whole meal!
Imagine spending less than $5 a day for your food in Bangkok. How does it sound?
Pin It For Later