Do you still remember one of my reflective posts Travellers vs. non-travelers- will we ever understand each other? where I complained about not being understood by members of my family, friends and people who never left their comfort zone to travel the world independently?
Back in 2012, I was feeling so upset and disappointed with the people I was surrounded by in Europe (mostly non-travelers) who often tried to bring me down and discourage me to travel.
As it turned out, most of them read this post and felt so bad about the way I was feeling. This time, when I visited Poland, I was blown away by their changed attitude towards my vagabond lifestyle.
Me, my family and my friends have finally spoken the same language, listed to each other's stories, laughed together with no lame comments on my nomadic life and nonsense questions about what I am going to do one day if I stop traveling, when I am going to finally go home and why I am not married yet.
During this summer many things have changed. I swapped my lousy tramp style into a girly one (just for a month, no worries!). I was wearing dresses, neat t-shirts, smart shits, I did my nails, put some make-up on and styled my hair. I was feeling young (some people said I looked 18!!) , pretty and not like myself :).
You have no idea how desperately I needed this break. My last visit at home in November 2012 was very disappointing, but after nearly 8 months of constant travels and living in China, I was missing my loved ones so badly I decided to give it another go this summer. As it turned out, I was warmly welcomed by everyone and finally felt like I couldn't be much happier.
This time, my summer holiday back home was all about my family and friends. I was not very active on social media channels (except my personal Facebook), stopped blogging for a couple of weeks and rarely checked my e-mails. Instead of that, I was playing with my dog, cooking and baking with my mom, telling my granny some awesome travel stories and going out with my peeps.
During this time I got so close to my mom. Although we always stayed in touch when I was away traveling the world, we still lacked this special mother-daughter relationship that makes you feel so secure.
I matured fast and became emotionally/ financially independent so quickly (at the age of 18) that sometimes she forgot I also had my own issues, struggled from time to time and needed to talk. This time was so different. We had plenty of time to talk, laugh, share our thoughts and feelings, do stuff daughters and mothers do daily together such as cleaning, ironing, cooking, baking, washing the dishes.
There were days we could spend hours sitting on the balcony and talking about my travels, how they have changed my personality and the way of thinking, how I love to explore the world and how happy I feel when I wander the unknown streets with a camera in my hands.
I cherished every second of it. I improved my baking and cooking skills, passed on some healthy eating habits to my mom and family and couldn't stop laughing. I felt loved and understood, secure and blissfully happy.
I also spent some time at the countryside where my aunt and granny live. Dzietrzychowice is small village where I partly grew up. It is a very picturesque place where you can breath some fresh air, have a nice and fresh bread with butter in the morning, drink some cow's milk before you go to sleep and relax in the garden.
Being back home also meant catching up with my top 10 favourite Polish food. My mom made sure I was fed properly with dishes I missed so much when living in China. My mom made us a nice breakfast every morning (Polish bread, milky butter, croissants, skinny latter, fruits, cottage cheese, homemade marmalade and jam, boiled or scrambled eggs), lunch and dinner (Polish pierogi filled with blueberries and raspberries, chicken soup, hunter's stew, herring in oil) and dessert (Polish croissant cookies, cheesecakes and apple pie).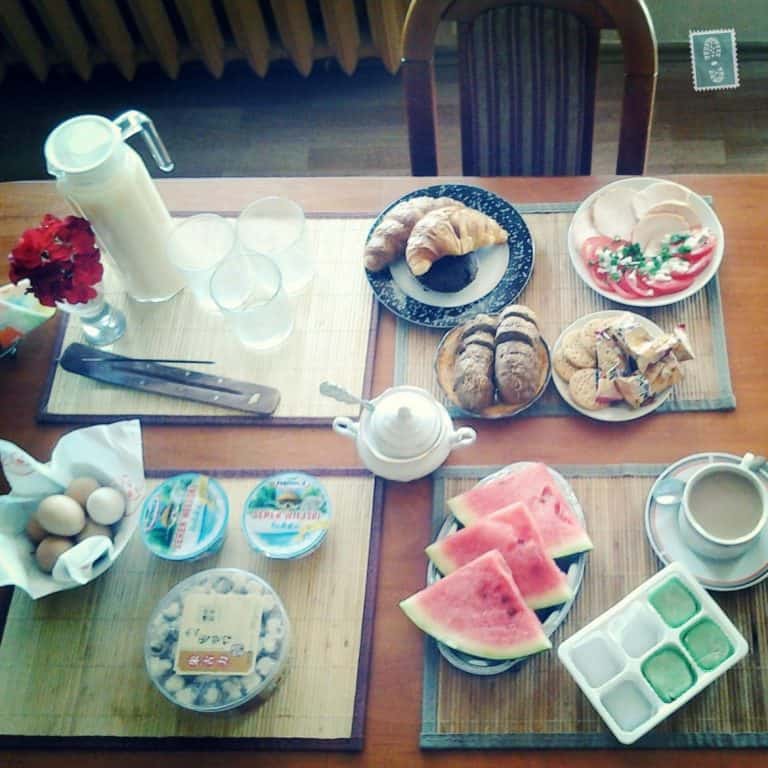 I simply loved it and I had a huge appetite that I was eating all day long which resulted in 3 kg weight gain :) (it's already gone after 6 days in China eating rice and veggies).
Now, when I am back in China, I can't stop missing everyone. This is incredible how few weeks at home can make you feel. I have definitely charged my batteries for the next 6 months, have much more confidence now and I am back with more love and devotion. Thanks to my friends and family's support, I am more open to new adventures and ready to explore undiscovered parts of Asia!
How do you feel when you get back home after a long-term travel?