You can now download this article as an app and get an offline map so you can go and see these places yourself.
Budapest. A youthful city, known for the incredible music which it creates and the incredibly unique and interesting atmosphere which lines each and every street; from the center to countryside. Budapest is known as the "Paris of the East" and it offers plenty of cool things to do there for every single visitor.
So, in yet another less-than-usual way to explore a city, we decided that it was time to hop back up on two wheels and explore Budapest by bike. We have done Berlin by Bike and Vienna on two wheels in the past, so if you followed either of those two guides, then you know that you're in for an adventure here.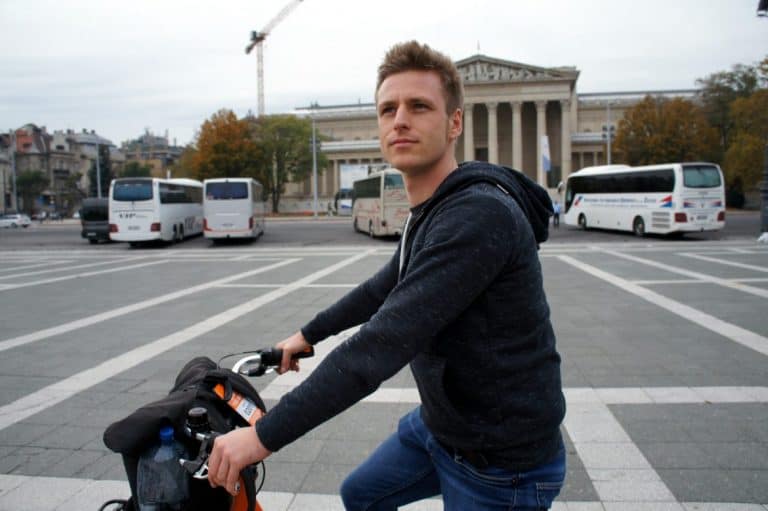 There's no slow walking or standing around twiddling our fingers. This is your Budapest guide to exploring Budapest on a Bike, and we're going to make sure we get the most done which we possibly can.
The Hungarian Parliament
Let's start at one of the city's most recognizable structure and its political centre. The National Parliament Building in Budapest is actually the largest in Europe and is similar to the one located in England. It features the same iconic tower (akin to Big Ben), and a similar architectural style. However, you will notice that it's a bit lighter than its UK counterpart.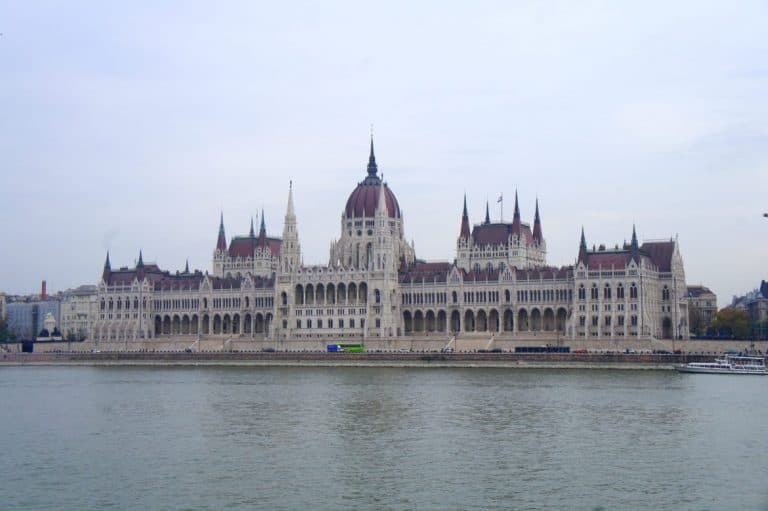 If you enter the structure, you'll be able to see the Hungarian Crown Jewels. They're an impressive set of shining stones and crafted metal and so you should find yourself impressed by what you see there (at least, that's what the Hungarian tourism commission is hoping for).
Buda Castle
Just a short bike over the Danube and you'll find yourself at another of the country's most iconic structures, it's Royal Palace. Now, when you're deciding to explore Budapest on a Bike, it can be awkward finding a place to set that bike down. Luckily, Budapest is pretty convenient with these things and, as long as you don't leave them loitering the sidewalk, you can actually put them down pretty much anywhere. So, if you want to explore the Royal Palace in detail (it is fascinating), lock up your bikes and get going!
Inside, you'll be able to take a look at the Lions Courtyard, known as such due to the four lions which guard the entrance to the palace. You'll also be able to see the Hunyadi Garden, which was once a marketplace in the past. The Busy Fountain is the most popular statue here – and it does get pretty busy. It's rumoured that by throwing a coin into the fountain, you'll one day be sure to return to the city – just like the Trevi Fountain in Rome.
Finally, you'll find yourself in the Savoyai Terrace, where you'll have awe-inspiring views of the city. Make sure to take a few pictures of the incredible views and share them. When it's time to leave, head back out on your bike and we're going to head north.
Fisherman's Bastion
From Buda Castle, head down Színház u. to the North, then right on to Hunyadi János út. Keep going until you see Hunyadi János lépcső on your left and turn in. Here you'll find the Fisherman's Bastion. Again, since you're exploring Budapest on a Bike, you're going to have to ditch them for a little while, but only to see some incredible terrace views. You'll be back soon enough.
The Fisherman's Bastion is another of the areas in the city which will afford incredible views of the Danube. From the neo-Romanesque terrace area, you'll have full sweeping, panoramic shots of the city, along with the Fisherman's Bastion structure itself. Having been built in 1905, the structure was designed to represent the seven magyar clans' leaders which came together. Seven towers stand in place.
The castle was actually built by a mix of different people from different trades and crafts. They all came together to put the whole structure together. The reason it's called the Fisherman's Bastion is that there was a fish market here – responsible for only part of the construction. The name started and it just stuck until the present day. We think it probably gets tourists off-guard, with them somewhat expect to see a small fish market and then finding a whole, incredible castle instead.
Chain Bridge
Head back to the Danube (just head east) and then towards the Chain Bridge. It's the only bridge in sight to cross the Danube, so it shouldn't be hard to spot.
Also known as the Széchenyi Lánchíd, this bridge is made from many different chains which act as suspension wires to keep the bridge up. The links in these chains are shaped like dog bones. The Bridge is beautiful at night, so if you can, make sure to stop by here again after you've finished everything else on this list. You'll end up near here if you follow this guide anyway.
State Opera House
From the Chain Bridge, head right onto Széchenyi István tér and then to József Attila u. and Andrássy út, until you arrive at the State Opera House on your left.
The Budapest State Opera House is known for being home to some of the incredible music which comes out of Budapest. This includes the Budapest Festival Orchestra, which has toured around the world and compose music on a huge range of themes.
The building itself was built between 1875-1884 and is one of the city's less well-visited attractions. We recommend a cycle by to see the structure and maybe take a few pictures.
St. Stephen Cathedral
Whilst you're near the Opera House, and seeing as how you're doing Budapest on a bike, you might as well head to the nearby St. Stephen Cathedral. Built between 1851-1905, this is the highest church in Budapest – just as tall as the parliament building. The inside isn't the best to look at, but you might as well take a peek whilst you're passing as it's on your way to the next destination.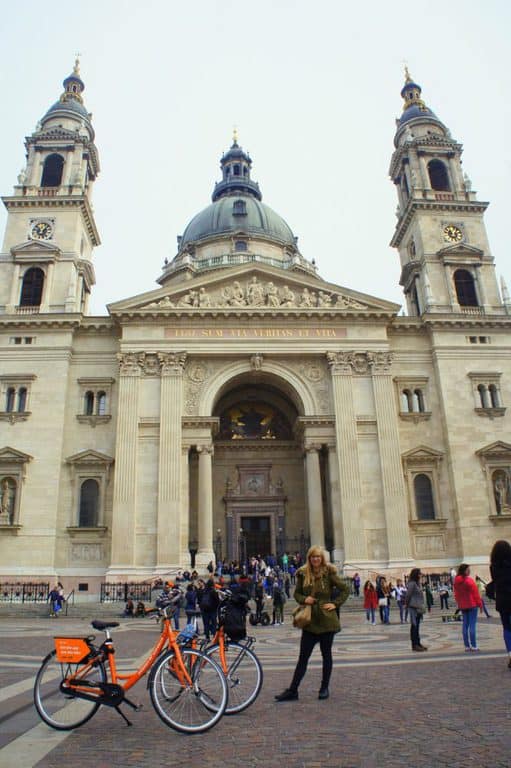 Budapest Városliget
Also known as the city park, this is one of the best places to go in Budapest on a bike. There's nothing quite like cycling through a city park – especially one as stooped in history and culture as this one is. Make sure to head to the monument to the 1956 uprising, found on the edge of the park, as well as the many other statues dotted throughout the park grounds.
Once you've finished at the city park, you can then head to another of the city's incredible structures – located just within the park – the Vajdahunyad Castle.
Vajdahunyad Castle
With its design based on a Transylvanian fortress, this imposing structure distances itself from the rest of the town only in location. With three distinct and individual wings, each of which represents a different style of architecture – from Gothic to Romanesque, to Baroque – this stands as one of the more iconic areas in the city and a must visit place for those exploring Budapest on a bike.
Due to the way in which the building was designed, if you're close enough, you can only see one area at a time, meaning that it seems to be uniform in style. The structure was actually originally just temporary, but after the locals loved it, it has since become a fixture in Budapest. It is surrounded by a moat and is one of the city's most visited attractions.
The Central Market Hall
The largest and oldest market in the city. This is the perfect place to finish up your day in Budapest. Here, you'll be able to find a huge range of different Hungarian foods and snacks. You can take some home as a souvenir, or just buy them for friends and family.
It will take a while to walk around the market hall, but you don't need to worry about the time anymore. Just stay relaxed and do some shopping – or browsing. At the very least, make sure to try some of the local delicacies – in case you haven't already.
Szimpla Kert
Finish up your day at the Szimpla Kert, a local and famous pub which is filled with tonnes of mismatched and strange items. The pub is a great place to sit down and relax for the evening and figure out what you're going to do the next day. You might even get lucky with the pub putting on occasional live music shows or opening a market.
How to Find Accommodation in Budapest
There is a great variety of accommodation options in Budapest. You can find a nice place nearby the bike rental shops. For that, you can check the map below using the icon on the bottom right.
How to Explore Budapest On a Bike
You might be wondering how we got a bike in Budapest. There's no point in having a cycling guide if you can't get a bike, right?
We used Donkey Bikes – the same company we went with for Berlin and Vienna. They work really well and are definitely reliable. If you're thinking of doing one of these trips yourself, then we've got a treat for you. Use our code AGNESSNCEZ and you'll get money off your bike rental, and be able to explore Budapest on a Bike for as long as you like. It's the best way to do it.