As a team that is deeply conscious of our environmental footprint, we're always on the lookout for sustainable outdoor and hiking gear. This is why bamboo socks have become a staple in our hiking kits and everyday wear. By choosing these, not only are you championing the environment, but you're also ensuring utmost comfort for your feet. In this review, we'll share the top bamboo socks available and dive into the features that make them stand out, making them the top pick for outdoor lovers like you and me.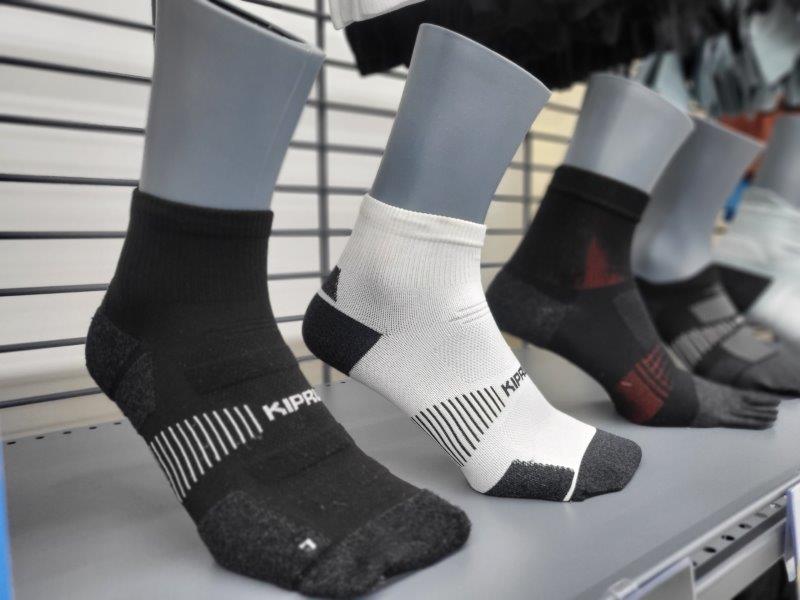 What are the Best Bamboo Socks?
We have compiled for you the top 5 Best Bamboo Socks in 2023. In this article we go through the products that we have used ourselves, checked what other users thought about them and we ranked them accordingly.
With years of experience with socks made from bamboo and having used several bamboo socks you can trust our review.
Moreover, you can scroll to the end of this review to see our mini buying guide as well as the answers to some of the frequently asked questions about bamboo socks.
Specs
Price: 💲💲 (fewer 💲 = cheaper)
Number of Pairs: 4
Material: 90% Bamboo, 5% Polyamide, 5% Elastane
Sizes (US): Men's 7-12
The Anatolia bamboo socks are 100% bamboo. They will never irritate your skin. They have a flat seamed toes and reinforced heals which makes them a very comfortable choice. They come in a big variety of colors, yet there is no problem to wash them in a machine. A quality product made from Europe.
All things considered the choice of Anatolia bamboo socks is an environmentally conscious one. Bamboo is naturally antimicrobial and carbon-neutral, so you know you aren't hurting the earth when buying them. When it comes to the sustainability of the earth and your own comfort the Anatolia bamboo socks perform at the top of their class.
Pros
Keep your feet dry with great breathability
100% organic bamboo
Hypoallergenic, antibacterial and antifungal
Machine washable
Cons
Tend to shrink after washing, but will stretch back to size
Chemicals used in the fabrication process are not sustainable
Not great for keeping your feet cool
More expensive than traditional cotton or wool
Specs
Price: 💲 (fewer 💲 = cheaper)
Number of Pairs: 5
Material: 90% Natural Fiber From Bamboo, Spandex
Sizes (US): S-L
When choosing the right fit for your feet, consider the nature of your activities. For passionate hikers, a robust and thicker sock takes precedence over design and color. However, if you're looking for something suited for daily office wear, then style coupled with comfort becomes essential.
SERISIMPLE bamboo socks are crafted for a broad range of situations. They offer a soft touch and resist odors, ensuring you remain comfortable throughout the day. Available in a spectrum of colors, they're versatile enough for both adventurous terrains and corporate environments.
While they're a commendable choice for many, it's worth noting that they might not be as eco-friendly as some other bamboo sock options.
Pros
Made from the world's best bamboo fibre
odor resistant
Anti-bacterial
Thin, really soft comfortable fit
Many different colors and designs to suit any occasion
Cons
Only 90% bamboo, 10% spandex
Material is quite thin which can affect wear
Not 100% no show
Longer socks might be too tight in the calf area for some
Higher price than conventional fabric socks
Durability not as good as wool or cotton brand socks
All things being equal like budget, practicality and accessibility, SERISIMPLE Premium Bamboo Crew Work Socks are a great choice, especially if you're planning long hikes. You might be somewhere that these bamboo socks are just not available. Some countries are unable to order from the online sellers and are still a ways off from availability in local markets.
Pros
Fit great and very comfortable
Absorb moisture so your feet stay dry in the heat
Keep your feet warm and dry in the cold
Perform great on long hikes
Cons
Not that durable, tend to wear out faster
More expensive
A mix of bamboo, polyester and spandex so not 100% bamboo
Tend to shrink then slide down your foot
Not available everywhere
Specs
Price: 💲 (fewer 💲 = cheaper)
Number of Pairs: 6
Material: 70% Bamboo, 30% Elastane material for the finest fit and comfort
Sizes (US): L
If you have a conditions like diabetes that affects your feet like swelling or low blood flow, bamboo socks can be an excellent choice for comfort.
Circulation is the most important factor in choosing a sock for a person with diabetes. The natural compression of bamboo will compensate for any swelling making your feet and ankles much more comfortable.
When it comes to budget the Yomandamor bamboo diabetic socks are a good value for money.
Pros
Good fit with lite compression
ideal for circulation
Cool in the summer, warm in the winter
Anti-microbial, prevents any sores from infections
Very soft and comfortable
Great for diabetics
Cons
Not 100% bamboo
Expensive
Not available everywhere
Tend to wear out quicker
Specs
Price: 💲💲💲 (fewer 💲 = cheaper)
Number of Pairs: 8
Material: 74% Rayon from Bamboo, 21% Polyester, 3% Rubber
Sizes (US): 9-11, 10-13
When deciding what's best for your feet it's all about the activity. If you are an avid hiker then a much thicker sturdier sock is more important, the color and style is secondary. If it's something for the office or everyday wear then comfort along with style is important. The bamboo unisex sock are designed for everyday use in as varied circumstances as this is possible. It's a universally good choice, but it comes at the cost of being less environmentally friendly than other bamboo socks.
Pros
Unique design prevents sliding
Extremely moisture absorbent
Cool in summer, warm in winter
More stretchable than normal socks
Cons
Only 16.5% bamboo, the rest a combination of rayon and polyester
Not as a sustainable choice as other brands
Limited styles and colors
More expensive than traditional materials like wool or cotton
Verdict
To summarize, we have gone through dozens of bamboo socks and decided that 5 are worth your consideration. Out of these, the absolute Best Bamboo Socks is Anatolian's Natural Bamboo Socks which we highly recommend as our overall best.
If money is not an issue, you can consider SERISIMPLE Premium Bamboo Crew Work Socks as this is our Premium Pick.
Otherwise, there's no shame in spending prudently, Yomandamor Men's Bamboo Diabetic Ankle Socks is the Budget Option.
Our other reviews you may find useful in your research:
What You Should Know Before Buying bamboo socks
Overview
Comfort, breathability and health are the three critical components when considering socks. You need to make sure your socks are healthy for your feet but also comfortable throughout the day, no matter what adventures you go on. Below are some top things to consider when buying a pair of bamboo socks.
Material
Bamboo socks are created from the inner core of the bamboo stem. This core is crushed then processed using natural chemicals. The process creates bamboo threads which are then spun into bamboo fiber.
For the very best quality trust the 100% bamboo fibre socks.
Breathability
The biggest factor with sweaty feet is breathability. Bamboo socks absorb 4 times the moisture of synthetic brands and repel bad odor. No more reason to be self conscious about removing your shoes.
Ventilation
Bamboo socks draw the moisture from your skin, keeping your feet dry and comfortable.
The organic hollow fibre of bamboo socks lets the airflow naturally.
Comfort & Fit
When you slip on a pair of bamboo socks you will think you are wearing silk but it's better, the elasticity of bamboo fibres provides you with snug comfort.
Height
Bamboo socks come in all different heights depending on your specific preferences and needs. The good news for those wanting high socks is that bamboo is very breathable, so they'll be more comfortable than high socks in other fabrics.
Weight
The shear nature of the organic bamboo fibre makes a very light alternative to the more traditional cotton or wool socks. Making bamboo socks an obvious choice for the adventure traveler.
Durability
The durability of bamboo socks might not be as strong as the more conventional fabrics. What it lacks in durability is more than made up for in comfort and health benefits.
Bamboo fibre has a naturally strong resistance to UV light, hence making it have a long lifespan despite multiple years of use for hiking.
Questions and Answers About bamboo socks
Are bamboo socks antifungal?
Organic bamboo material is both antifungal and anti-bacterial. If you're a hiker or prone to blisters, bamboo socks are the answer. Anti-fungal and anti-bacterial means much less chance of an infection from a sore or blister.
What is special about bamboo socks?
Bamboo is an amazing plant. You can build from it, eat it, use it as a medicine and wear it. This is truly nature answering our call for a more sustainable planet. The socks are softer, more comfortable, healthier and eco friendly.
Is bamboo warmer than cotton?
The very nature of bamboo's hollow fibre allows it a much higher level of moisture absorption and breathability or ventilation. These are the factors which ultimately control temperature, thus making bamboo a better choice than cotton for warmth.