The Great European Road Trip
As you may know already from our social media channels – Instagram and Facebook, we've recently set out on our great European road trip.
And … our first stop is Berlin. Also known as "The Grey City", in reality, it's anything but. As the capital city of Germany, Berlin has practically anything you could think of. From great food to incredible history, and fantastic sights.
Our journey to Berlin wasn't as packed with food though, as it was with exploring the city's history. And what's the best way to explore a city's history? Why by bike of course! At least, that's what Daniel thought, our travel companion and a fellow travel blogger! That's why we found ourselves a couple of rental bikes and then set out on our trip around Berlin by bike.
Here was our route, so you can trace our steps and make the most of your time in Berlin:
Alexanderplatz
Start your journey at the Alexanderplatz, a large public square in Berlin.
It's generally known for being a little busy, and it is, but it's a great place to start your cycling odyssey. It's also a great place to cycle around whilst you're there.
Make sure to take a good look at the Fernsehturm. You might notice that the architecture seems a bit dated (some even say tacky). That's because it is (maybe).
The Berlin Cathedral
Berlin Cathedral is an amazing place to head to by bike. Cycle over here after you've had a good look at the Alexanderplatz. The Architecture is certainly different than the somewhat ostentatious Fernsehturm. If you're up for spending €7, you can climb to the top and have a great view of the city. Not too much of a detour from your cycling trip.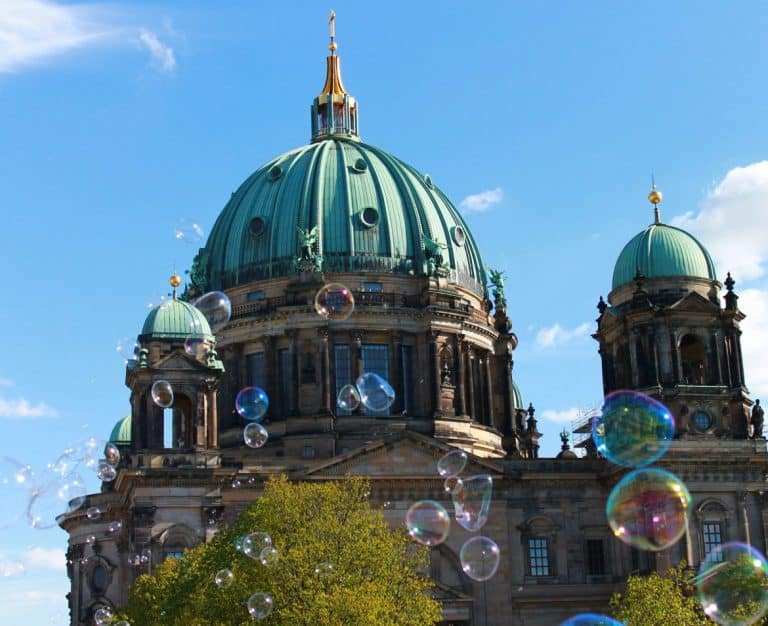 Alternatively, there's a nice park nearby which you can either cycle through or just sit down for a while and relax in.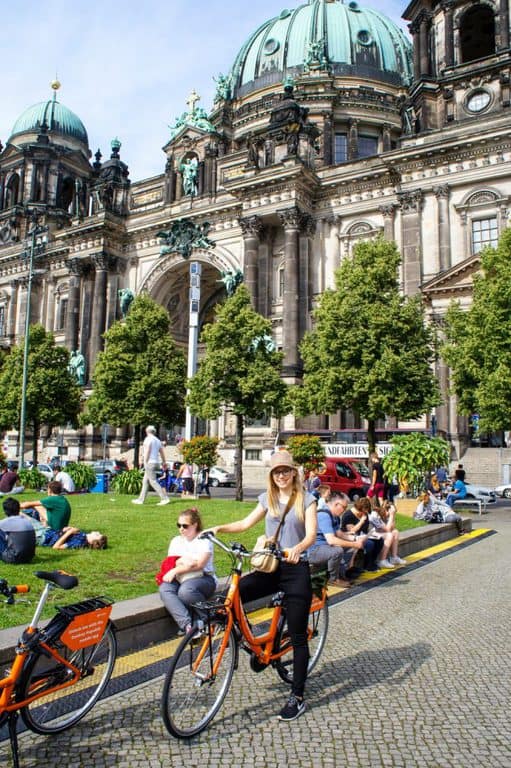 There's a lot of locals here, so it really makes you feel like you're more than just a tourist.
The French Cathedral
You've already checked out the Berlin Cathedral, now head over to the French Cathedral (or Französischer Dom). As a surviving representation of the Huguenots (a group which immigrated from France) influence on Germany, the site is often visited by diverse groups of people looking to explore Berlin's less mainstream histories. A great place to stop by in your trip around Berlin by bike. 
Just outside of the French cathedral, you'll find the Gendarmenmarkt city square. The Berlin Konzerthaus (concert hall), along with the Berlin Cathedral, is also located next to the Gendarmenmarkt. Step back a little and admire the square from a distance, the panoramic view of the three buildings is everything you think it can be; it's incredible. In the center of the square, a statue of the famous German poet Friedrich Schiller can be seen. Take a look before hopping on your bikes moving on to the next place.
Charlottenburg Palace and Park
Whilst you may have to pay to enter into the palace itself, the green park area is free. You can either cycle around or lock up your bikes and go for a nice stroll through the grounds. If you set off earlier, this should be right around the perfect time to eat lunch. Find a nice spot on the grass in the park and settle down for a while to eat a couple of sandwiches. yum!
Brandenburg Gate
More than just Berlin's only surviving historical city gate, Brandenberg Gate was often thought of as one of the main places which contributed to the division of Germany into its East and West sections.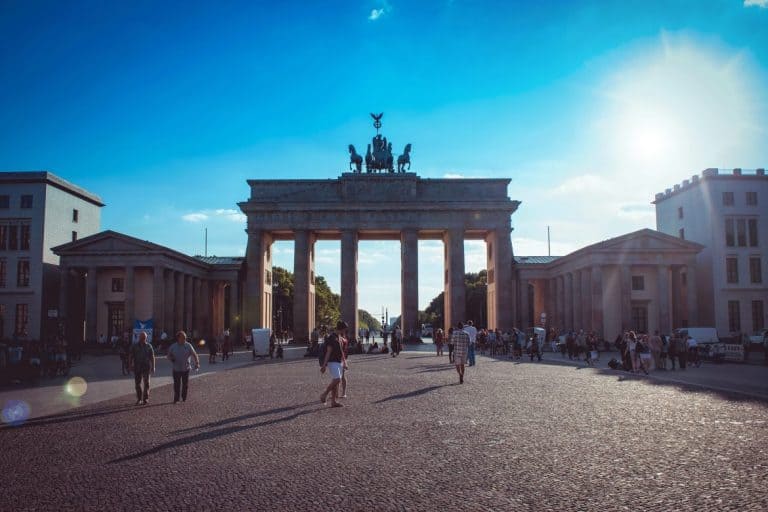 Just a quick tip though. Don't go between the hours of 11:00 and 16:00. It's far too crowded. Try to start your cycling trip earlier if possible so that you've gotten to Brandenburg Gate at around 10:30. Then it will be perfect!
After you've seen the Brandenburg Gate, lock up our bikes and head over to the nearby Memorial to the Murdered Jews of Europe. You'll see a giant abstract piece of art covering the entirety of a building. It's a strange and moving sight.
Berlin's Holocaust Memorial
One of Berlin's most poignant memorials to the tragedy which happened under a century ago. The Berlin Holocaust Memorial is a sight to behold; one which truly seems to put everything in perspective.
Cez was amazed by the collection of two thousand, seven hundred and eleven gray concrete slabs (also known as stelae). Just check out the picture of him amongst them. We were only there for 10 minutes, but it's possible to get lost amongst the columns for hours; especially if you're interested in the history.
Pit Stop: Coffee Fellows
Coffee Fellows is a great place to stop and have a quick break. It's a chain coffee shop, so there are branches located all around the city. It might be a good place to collect your thoughts after the Berlin Holocaust memorial, so we've placed it here, but you can actually stop here at any time.
Just check your map to see where the nearest one is located.
We started our journey here, planning the route we would take and also eating a cheeky slice of cake!
Grunewald Forest
A little bit further, but if you feel up to it, you can always cycle over to Grunewald Forest. It's a bit of a contrast with the rest of Berlin on this list, as it's really an area of nature. However, there's nothing quite like cycling under the conifers, is there?
Grosser Tiergarten and the Victory Column
As Berlin's most popular inner city park, Tiergarten is the perfect place to finish your trip and make the transition from nature back into the city.
Visit the 8.3 meters high Victory Column in the park and travel to the top to get a great view of the city you've just spent the day cycling around. Then find a nice spot to sit down and relax.
Getting Around Berlin by Bike
It's definitely worth getting around Berlin by bike. We had a great time cycling between the different attractions; especially Cez.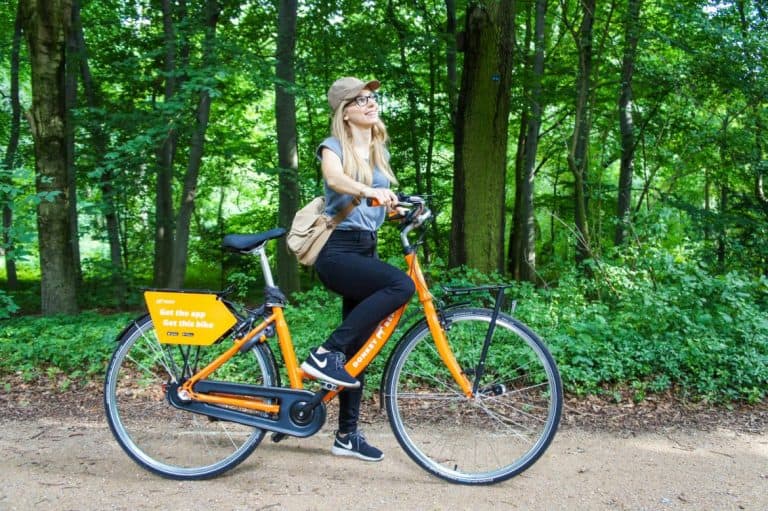 Whilst Agness has been to Berlin numerous times, Cez hasn't as much. What felt really great about cycling was that we managed to see more of the city than we would have if we had just gone by taxi or metro. Cycling might have been slower, but it gave us a lot more time to take in the sights and see things we didn't expect.