You can now download this article as an app and get an offline map so you can go and see these places yourself.
Vienna is the capital and largest city in Austria. Having once been the crown city of an empire, Vienna has come to be a UNESCO World Heritage site due to both its beauty and its historical significance.
Exploring the city, even if you only have one day in Vienna, will show you its many sides. It's not just a city made to honor the buildings of the past. It's not just a place littered with ancient art and traditional collections.
Vienna is also a city with an increasingly modern twist. It's a city where modernity and tradition come together in a way which creates a unique fusion of styles. It's also very easy to get to Vienna by minivan.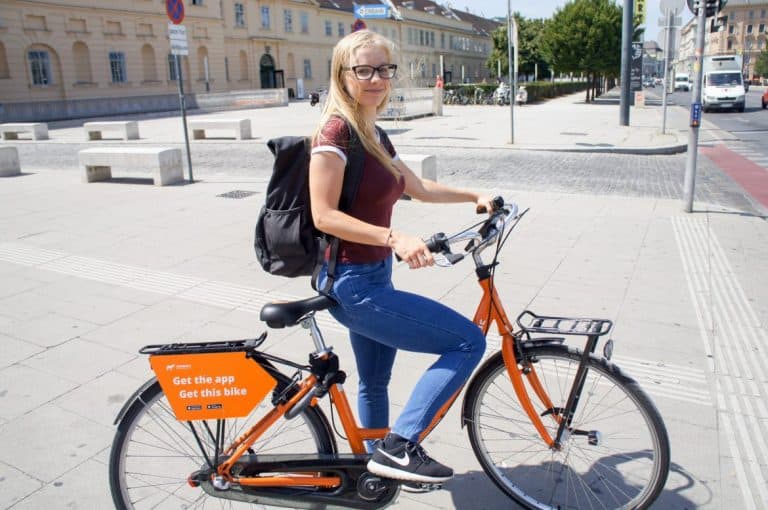 That's why we recommend anyone visiting the place to explore Vienna by bike.
Exploring by foot is too slow, and exploring by taxi means you miss all those little details you would otherwise notice.
Don't worry, we're not going to just tell you to explore Vienna by bike. To help you out, we've put together our bike tour so that you can see the city in the same light too.
Itinerary of Vienna by Bike
The Vienna State Opera
We started our tour of the city off at the Vienna State Opera. Of course, we didn't start by watching a show (although the morning might be the best time to buy a ticket if you're interested), but we did admire the building's beautiful architecture. As one of the world's best and most impressive opera houses, this is a place which anyone should at least take a look at before they move on. It's not the kind of place to just cycle by.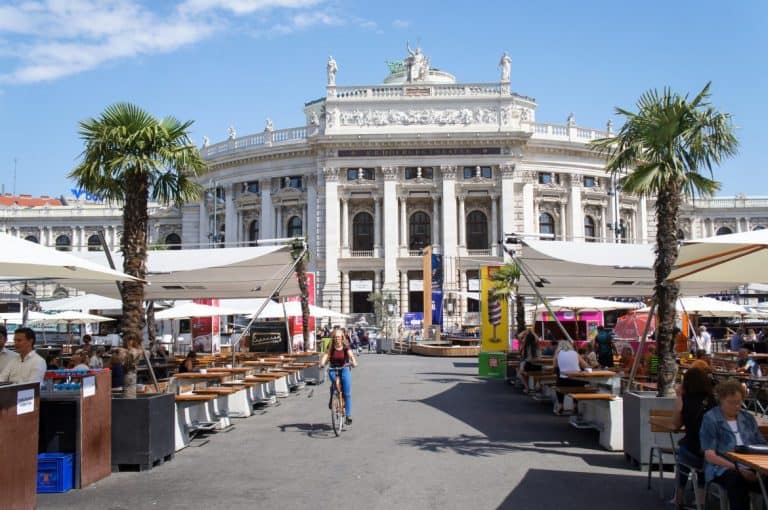 Anyway, if you want to go to see a performance here, you'll probably need to make sure you've gotten yourself up to scratch. The dress code here reads "impeccable" and "smart". Head here the morning of a performance and you might just get lucky and be able to bag some discounted tickets. Check it out if you have the time, what do you have to lose?
The Hofburg
We then made our way west. It wasn't long before we found ourselves catching a glimpse of the Hofburg, a beautiful structure located just along the road as you continue cycling. The imposing structure is one the area's grandest buildings and certainly makes any normal cyclist feel like a dwarf.
Avert your gaze to the top of the building to see the incredible dome and a statue which represents true imperial splendor.
As the work place of the Austrian President, you won't be able to navigate this building's interior, but we've got cycling to do anyway.
So, onwards and get pedaling to our third destination…
Museum of Fine Arts
The museum of fine arts (Kunsthistorisches Museum) is located along the Innere Stadt. Even if you're not the type of person who thinks they like museums, it's worth stopping by and having a quick look. The gallery is a beautiful look at some of Vienna's artistic flair and circumstance. There are all sorts of different exhibits inside, just explore for yourself.
If the Kunsthistorisches Museum really takes your breath away, there's also nothing to stop you from putting down the bike for a little bit and continuing your museum tour in the museum district. The museum district is located just behind the Kunsthistorisches Museum. Your bike will always be there when you come back.
Austrian Parliament
Once you've had your fill of museums and attractions, keep up your cycling to the West (kind of west). Along the path, you'll notice the Austrian Parliament. Yup, whilst the Hofburg may be home to the president and his work load, the parliament is where the real action in the country takes place.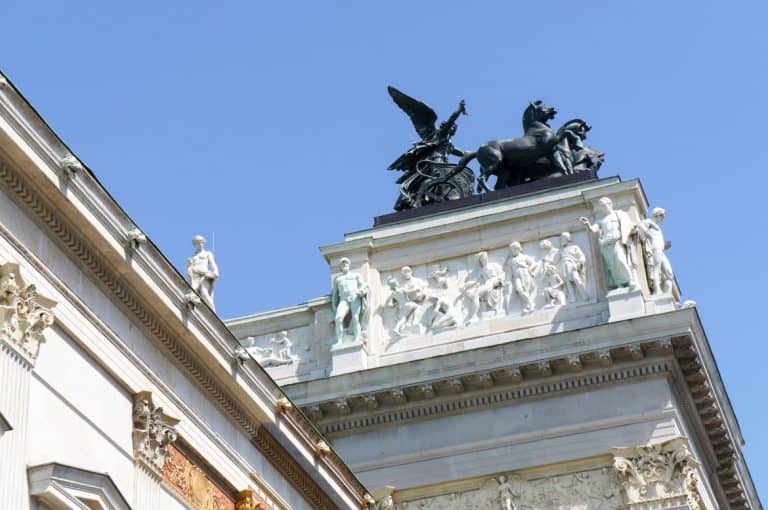 The structure itself dates back to the late 19th century. Its great stone pillars make it look as though it were out of time; a roman temple maybe, brought into the modern ages. There's a guided tour through this place if you're really interested in Austrian Politics (or you want to become an Austrian politician). We didn't take it, but we hear good things!
Rathaus
It might seem like this list has given a lot of attention to the political institutions of Vienna. That's because they all have the most beautiful buildings! We're not kidding. All of the best buildings (ok, apart from a few) are home to its political activities. That's why the next item on our bike tour is the Rathaus, another superb building; this time home to the local government.
Check out the statues on the building before you head onto your next and final destination.
Prater
Ok cyclists, time to get your cycling groove on! We're heading somewhere a little further than the other items on our bike tour, but don't worry, it's all downhill. Does that mean it's uphill to get back? Don't think about that…
Head down past the Danube canal and cross over the water, and you'll find yourself at the Prater. Here is the Wiener Riesenrad (a big, huge Ferris wheel and culturally significant part of the city of Vienna). It's a unique sight and one which almost anyone who wants to explore Vienna properly should see. If you're feeling like it's a bit far off your path, you could be forgiven for taking a taxi here (or taking many cycle breaks).
Prater itself isn't just the best place to catch the Wiener Riesenrad, it's also a good place to go cycling.
So, if you're looking to get away from the hustle and bustle of the city, and find some green space to leisurely cycle your way through, this is your spot. Honestly, check it out and see what you think.
How to Find Accommodation in Vienna
There is a great variety of accommodation options in Vienna for everyone. You can find a nice place nearby the bike rental shops. For that, you can check the map below using the icon on the bottom right.
A City of Incredible Architecture and Sizzling Temperatures
For us, the most incredible thing about Vienna had to be its architecture. It didn't matter what style or designs we thought of, the city had everything. From Romanesque to Baroque to Art Nouveau. Any architecture lovers would move to this city in an instant.
Moreover, we thought that exploring Vienna by bike was great. It was a little hot whilst we were there, but that didn't stop us from being able to really enjoy the city's natural aesthetic and surround ourselves with its beauty. Grab yourself a couple of bikes like we did, and explore to your heart's content. We'll come back to explore more of your incredible architecture one day!