Hanoi food- first impression
Tasting a new food is a part of my travel adventure. This time I am in Hanoi (Vietnam) where I had been trying various local foods and drinks.  I found a few nice dishes and cocktails so far but didn't stop trying out completely new food, like for example today I had some fried worms for breakfast (very nice by the way).
This it my typical Hanoi meal I eat daily- rice, some vegetables mixed with eggs, bugs and small pieces of chicken and fried beef.
The thing I like the most about Vietnamese food is that it's always fresh. Hanoi people love to eat freshly cooked food and they don't like frozen food. They go to markets to buy food on a daily basis and this is the reason why the markets are so overcrowded. Vietnamese women are often busy thinking about what to cook today and tomorrow for a lunch or dinner. However, people are not as crazy about food as Chinese and they are very flexible with eating times. They have much smaller meals than Chinese and not that many dishes at once. They eat slower and don't smack.
Food price
The food is more expensive in China- that's for sure. I've been only to Dong Dang, Lang Son and Hanoi so far but I can see the price difference already. In China you get a lot of cheap food everywhere, don't need to bargain unlike Vietnam (at least South part) where you have to fight for every dong and the food portions are not as big as Chinese. I've noticed that the prices in the Old Quarter area are 4 or even 7 times more expensive than anywhere else.
Moreover, local sellers in the Hanoi's Old Quarter are cold, never want to bargain, like they didn't care about the profit, always tell you off if you don't agree with their price and try to rip you off at every step, without any scruples. However, if you walk away a few miles from this area you can get great deals on food, the staff are much nicer and friendlier. This is what me and Cez did on our second day. We took our bikes and left the city centre. We found a nice street restaurant where we could taste different dishes for only VND30.000 and free rice (the prices for a basic meal start from VND60.000 in the Old Quarter). We were so full and the lady packed away the food we left over :).
My favourite Hanoi food
Noodle soup
Vietnamese people use many different names for noodles such as Miến and Phở, Bún depending on their colors, thickness and length and the region where they come from. You can get yellow, brown or even green noodles, long, short or thick. The noodle soup is usually served with some vegetables (pieces of carrots), mushrooms and eggs, herbs and some meat (beef, chicken, snail, sausage). My favourite noodle soup is Phở gà (noodles with chicken).
In the places where there are many tourists, the price of noodle soup is very high (about VND 30.000VN= $1.43) but outside the crowded places where locals hardly see tourists and they don't try to rip you off you can pay only VND10.000 for a big bowl.
Fried bugs
For some people it might be disguising but I'm a big fan of eating Hanoi bugs. They are crispy, well cooked, and a little bit salty and taste like beans to me :) :) :).
I really understand why some people might  shriek when it comes to eating bugs but I like them a lot. Vietnamese cuisine consists of water bugs, worms and other "creeping" insects mainly served with fish sauce or chili sauce.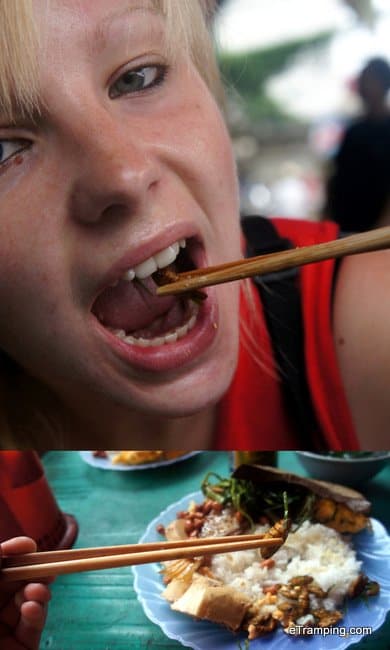 Fried eggs with rice
The way Vietnamese prepare egg with rice meal is different from Chinese. In China the eggs were sliced into tiny pieces then mixed and fried with small pieces of tomatoes and fried together with rice. In Hanoi the rice is served separately, there is no tomato added and you get proper big egg pieces on your place.
Fish/ fish sauce
Hanoi is also a city of fish. You can smell fish everywhere. Most of fish are deeply fried and served with rice and fish sauce.
Hanoi bread and rounded cakes
The natives sell fresh bread in every corner of the streets- long baguettes, buns, rolls or round loaves of bread. Hanoi bread is sometimes too dry to eat it straight, but you can fill it with meat, vegetables adding some tomato sauce. Vietnamese women have big baskets filled with bread rolls, which are mounted on their bicycles. You can also get warm sweet rolls with a sweet caramel butter sold separately.
I am also a big fan of sugary rounded little cakes sold on the street in big baskets by Vietnamese ladies, so yummy but very oily. These are my favourite ones.
 Small bananas
The small thick Vietnamese bananas (aka honey bananas) are very delicious. Taste like kiwi fruit and they are very creamy. I often put them into a bun or croissant and have it as a sandwich.
 My favourite Hanoi drinks
Vietnamese coffee
My number one Hanoi drink is a ….coffee. I have never drank coffee on a regular basis but this coffee is simply amazing! This coffee is very sweet as it contains a lot of sweet condensed milk and it has a very different flavour than the European coffee, slightly nutty with some caramel. Vietnamese coffee is always great both hot and with ice, and most importantly, it gives a boost for the day. Coffee in Vietnam is more popular than tea.
Jelly coffee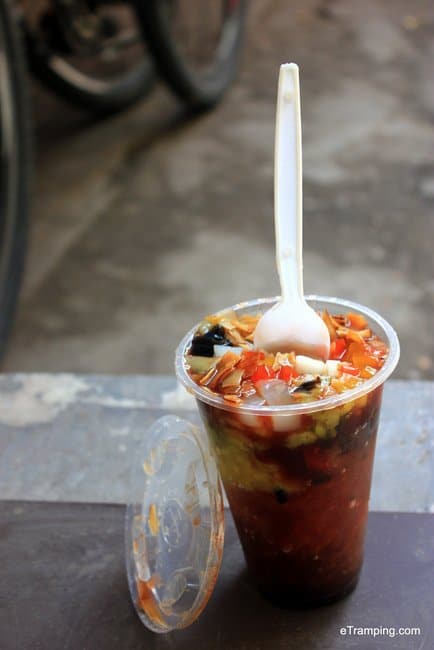 This coffee is a coffee of my lifetime- super fruity served with some marmalade, cereal and coconut sauce! Looks so sophisticated and colorful too!
To sum up, Hanoi food is amazing for me. I dine out every day saving some time on blogging and tweeting plus it's not expensive at all!
ENJOY YOUR FOOD guys no matter what side of the Planet you are on!