You can now download this article as an app and get an offline map so you can go and see these places yourself.
As the capital of Slovakia, Bratislava has evolved to become a reminder of the past. It's medieval cobbled streets, and small inner sanctum, make it one of Europe's most easy to navigate city destinations, whilst still managing to charm visitors with its authenticity.
For many tourists, the Old Town is the primary attraction, yet surrounding it you'll also find several other great places to visit. We covered everything we wanted to in Bratislava in 24 hours, here's how you can do the same.
Getting Around
Walk: Walking is definitely possible here due to the small size of the city – even if you want to cover Bratislava in 24 hours. The city center is actually designed just for pedestrians.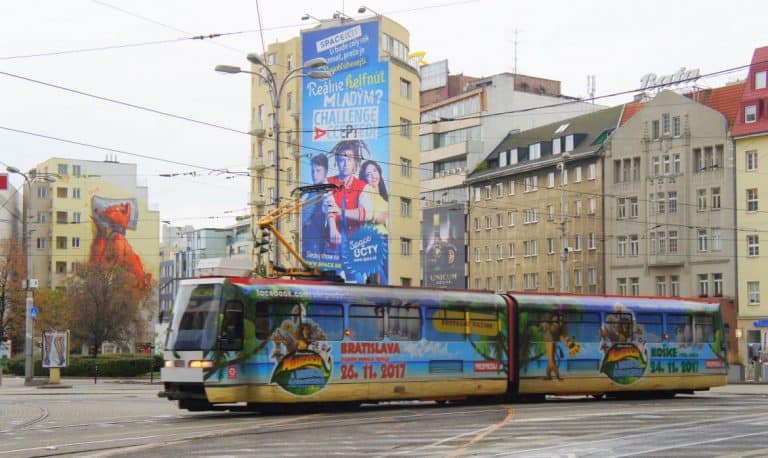 Bus: Moving out further afield can be achieved by taking one of the local buses. Simply find your route through something like Google maps and then take the buses. You do not have to request stops most of the time, the bus system will stop for you.
Bratislava Castle
The Bratislava Castle you see today isn't the original. Rather, it is a reconstruction built in the 1900s in order to replace the previously destroyed structure which stood there. Despite its relative newness, the castle is still one of the most visited tourist attractions in the city, and a cultural landmark nonetheless.
Due to its unique design, it has been referred to as an upside-down table. Yet from inside, this disrespectful moniker will fade from any joker's mind. There are over 3500 classical paintings and statues, all of which were made by Bratislava and Slovakian locals. You'll also find a replica of the Hungarian Crown Jewels, next to which you can ascend the Crown Tower an catch some amazing city views.
St. Martin's Cathedral
Often hailed as one of Europe's forgotten Gothic treasures, St. Martin's Cathedral is one of the largest churches in Bratislava and conveniently located in the heart of the city. Just a short walk from Bratislava Castle, this 13th-century Romanesque structure looms 85 meters above the city at its highest point. During the 14th century, a 3-nave Gothic Dome was added to the structure, giving it the appearance it had today.
This cathedral is also steeped in lots of cultural history, including being the location for where Beethoven's op. 123 premiered in the 18th century. Make sure to also visit the site's most famous work of art as well – the statue of St. Martin and the Beggar. This statue was created by a sculptor known as Raphael Donner, one of the most famous Baroque sculptors.
Walk Through Bratislava's Old Town
Bratislava's Old Town is your typical European town center, with cobbled streets and a range of different shops, bars, and restaurants. It's the perfect place to walk through during the middle of the day if you're looking for what to eat in Bratislava.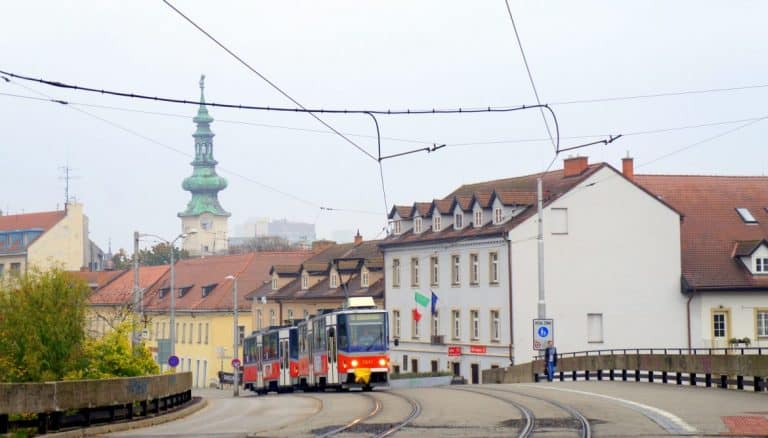 You'll have to keep an eye on the time though, as you're discovering Bratislava in 24 hours. It's easy to forget that and spend the whole day walking along the Old Town's cobbled streets. Make sure to visit St Michaels Gate and take a picture whilst standing under it.
Nearby you can head to the main square and sit down with a picnic – especially if you're doing Bratislava in 24 hours on a budget.
Mamut Pub
A great place for trying out Bratislava's traditional food. Conveniently located on the outskirts of the Old Town, it's within an easy walking distance of St. Elizabeth's Church and a great way of grabbing lunch when you're doing Bratislava in 24 hours. Moreover, if you're on a budget, the prices here are more than reasonable.
St. Elizabeth's Church
Before heading over to the Danube, make sure to stop by at St. Elizabeth's Church. This unique church is painted blue and doubles up as a high school. Built in 1907, the cylindrical style is reminiscent of fairy tales and the Hungarian Art Nouveau movement. It's only a few minutes' walk from the main square in Old Town, so don't skip it.
National Museum
If you're interested in digging up some Bratislavan history, then the city is packed with several museums which you can visit. The first of these is the National Museum. Here you'll find permanent archeological collections based on Bratislava's history and development as a nation. There is also usually at least one exhibit about Bratislava's role in the whole world.
Natural Science Museum
The National Science Museum is interesting to visit due to the way in which it manages to have the feeling of a communist time. The halls are relatively sparse and somber, whilst the exhibitions unique in this kind of style. Good for a quick visit if you feel you have the time.
Walk Along the Danube
Whilst you're down here exploring the different museums, you'll want to take a walk along the Danube.
If it's late enough, you'll be able to do so with the city lit up against the night sky backdrop. If you feel like cycling – we love doing it – you can always rent a bike and cycle along the Danube's cycle path. Or just stick to your own two legs.
Listen to Some Classical Music in the Reduta Building
If classical music is your thing, then the Reduta Building is the perfect place to get your itch scratched. Currently, the main home of the Slovak Philharmonic, if you time your journey just right, then you can pull up and listen to some truly classical pieces.
The building itself is also a cultural and iconic landmark. Having been built in 1773 as a Baroque granary, it was transformed into the neo-baroque center it is today in 1913. This makes this one of the most significant buildings in the old town center.
A Medieval City Come Alive
Walking through the streets of Bratislava in 24 hours is like walking through medieval Europe.
The quaint Old Town is the best place for this, with some really great places to stop and grab a bit to eat – even for those on a budget.