The taste of Czech cuisine
Things I have noticed and learnt about Czech food:
I found Czech cuisine to be rather heavy, but very tasty like most of Polish dishes.
The main course consists of meat, fish or poultry and potatoes or dumplings, Czech cuisine without which you can not imagine. Separately ordered salads and vegetable is usually served stewed red and white cabbage.
Czechs love the soup called polévky. I saw them eat it every lunchtime.
The culinary feast desserts are served in the elegant cafes (part kavárna) and pastry shops. One of them are dumplings made with sweet fruit. Other famous desserts are the national cake, both Czechs and Austrians, namely apple strudel (part jablkový strudel) and scones with jam (part cesky kolac).
There are restaurants , bars, taverns and breweries almost on every street in Prague.
In addition to elegant dishes offered in restaurants or cellars, equipped with the best Czech beer, try delicacies served at the snack bar at fairs and markets.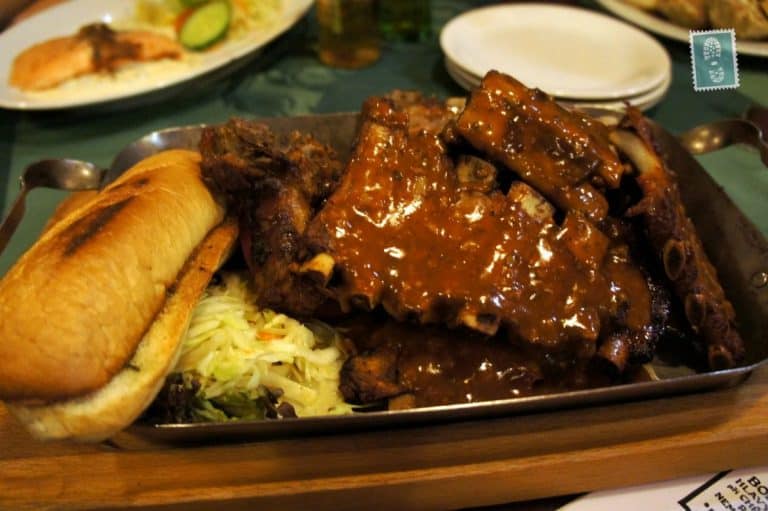 The are many stalls of the Prague delicious sausages (Part klobásy), which can be enjoyed hot with mustard or ketchup (unfortunately I didn't manage to have one).
When I was strolling down the Old Town Square I could smell the aromatic smoked sausage called Lovecký Salam and smoked Prague ham (part sunk band).
Best places to dine out on a budget
#1 Restaurant
Smíchovský Radniční Sklípek
Address: Preslova 4, Praha 5 – Smíchov, 150 00
The food is very delicious and the prices are very low.
The restaurant looks amazing like an old traditional place full of awesome gadgets such as radios, wine and beer glasses around the table, pictures on the wall and piano.
The staff are quick and friendly.
Many expats and locals dine out here so you can meet new people.
You need to book a table in advance on Fridays as the place's extremely busy.
The wine's very cheap- 15 Kč ($0.7) per glass.
More info at www.smichovsky.cz.
#2 Coffee shops
Platyz (cafe and bar)
Address: Narodni 37, Praha 1, more info at www.cafebarplatyz.com
This coffee shop reminded me of a place from 90's with some old black and white photos on the wall.
Great atmosphere, amazingly friendly staff.
Had the best hot chocolate ever, the real melted chocolate with whipped cream on the top- yummy.
Cheap prices. Hot chocolate costed me 30 Kč ($1.5).
#3 Eating like a local
Farmer's market "Farmářské trhy"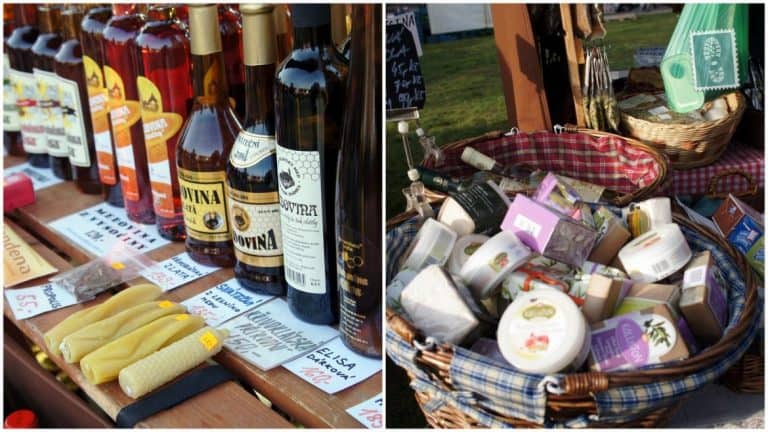 Location: It's right next to Dejvicka station
There is a great selection of natural products being sold on the market: any kind of wine, meat, cheese, vegetables, etc.
All products are fresh.
You can taste some of them before you buy them.
There are many locals and expats around so you can make friends with them.
The place looks and smells lovely.
It's a perfect place for both: grabbing something small (bread/bun/cookie) for your breakfast and doing a proper shopping for the whole week.
You can taste traditional Czech farmer's products for a very low price.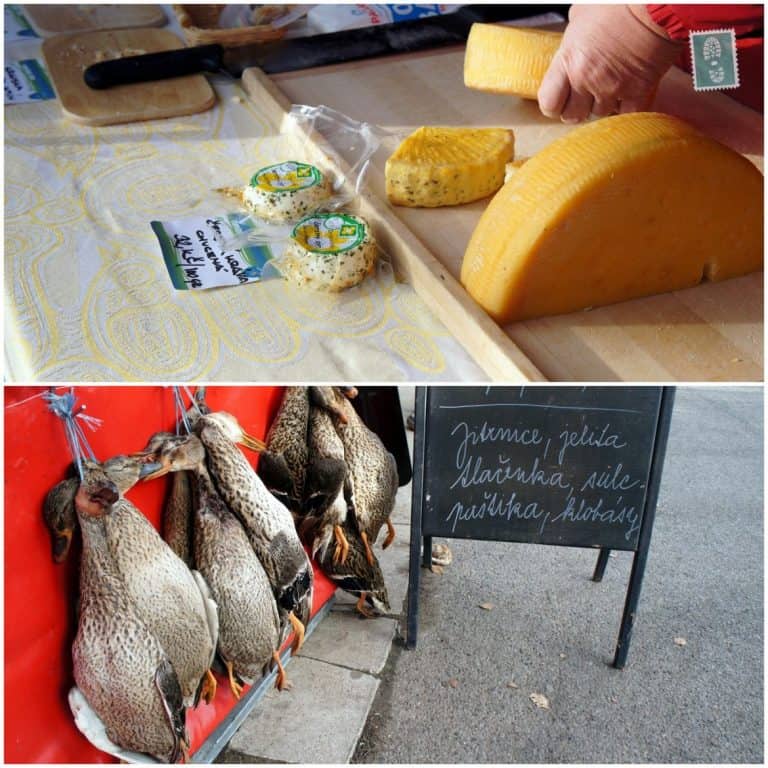 #4 Dessert places
Pancake stand at the Old Town Square
If you stroll down the Old Town Square streets and feel like having something sweet, go get one pancake! It's fresh, delicious and you can choose the feeling among many offered (any fruits, chocolate, nuts).
How to eat in Prague on a budget:
Dine out in local restaurants hidden in every corner of Prague alleys- go and search for a place where there are not many tourists there. The menu might not be translated, however it gives you an excellent, cheap excuse to be adventurous. The prices are much lower and the food tastes more like traditional.
Don't buy too much food. The Czech meals are served in huge portions. Before you order, make sure you know how big your meal is. You can also share the meal with your friends.
Avoid buying food at the Old Town Square as it's expensive.
Make sure you get the right change back. I was about to get a short change from one of the local shops.
If your budget is very tight, dine out in restaurants once a day and buy more snacks in local supermarkets.
Try to cook something at home with your host if you are Couchsurfing in Prague (as me).
Watch your bill- it happens that restaurant don't tell you the service fee is included in the price of a meal. Make sure you know the exact price of your food including the service fee.
Go easy on tips- not many Czech workers expect you to leave a tip. If service is horrid, don't feel bad about not tipping.
Prague offers a lot when it comes to the food. You can discover new dishes every day dining out every day on the cheap. The Czech food isn't that cheap, but it's not expensive either. Making sure you know where to go to eat can save you a couple of Kč.