Looking for the perfect Hong Kong itinerary for your trip? You have come to the right place.
Known as the "Pearl of the Orient", Hong Kong (HK) is a small city with a countless number of attractions. From exploring the vibrant streets of Mong Kok to hiking the iconic Lion Rock, there is an attraction in Hong Kong perfect for you. In fact, having spent over 10 years in Hong Kong, we believe there are too many things to do in Hong Kong
That is why we have written this 3 days in Hong Kong itinerary, so you can have a solid plan to tackle this dense city.
Enjoy!
Is 3 Days In Hong Kong Enough?
Before we jump into our HK itinerary, you must wonder how many days you should spend in Hong Kong. After all, we just mentioned how there are a plethora of activities in Hong Kong. Is 3 days in Hong Kong enough? The truth is … probably yes.
Three days in Hong Kong is just enough time to see all the best places in Hong Kong. Hong Kong's incredible system of public transportation allows visitors to go from one place to another easily, and forget that Hong Kong isn't a huge city. With that said, there won't be much time to spend dill-dallying.
If you want to explore Hong Kong at a more leisurely pace, then consider staying for more than 3 days in Hong Kong
What To Do In Hong Kong In 3 Days
Day 1 of Hong Kong Itinerary: Chi Lin Nunnery, Mong Kok & Victoria Peak
Chi Lin Nunnery
Rise and shine travelers of Hong Kong. Because we dive into the madness of Hong Kong, we are going to explore one of its quieter attractions – the Chi Lin Nunnery. Located in Diamond Hill of Kowloon, the large Buddhist Chi Lin Nunnery is one of the best temples in Hong Kong.
Chi Lin Nunnery was first found in 1934 as a retreat for Buddhist nuns. In 1988, the temple was rebuilt to resemble architecture from the Tang Dynasty. This reconstruction is what visitors can see today.
In the hustle and bustle of Hong Kong, Chi Lin Nunnery is an absolute haven. If it were up to us, the Chi Lin Nunnery would win an award for the quietest place in Hong Kong.
Spend some time strolling around the peaceful garden, observing some of the finest elements of Asian architecture. After you are done admiring the religious statues such as Guan Yin (the Goddess of Mercy) and the Sakayumi Buddha, make sure you check out the Nan Lian Garden.
This ancient Chinese classical garden is also modeled after the Tang dynasty and covers an area of 35,000 square meters (380,000 sq ft). The most iconic feature of Nan Lian Garden is the serene Blue Pond and the immaculate Pavilion of Absolute Perfection. Don't hesitate to spend as long as you want in this peaceful garden, as you are here in Hong Kong for vacation anyways.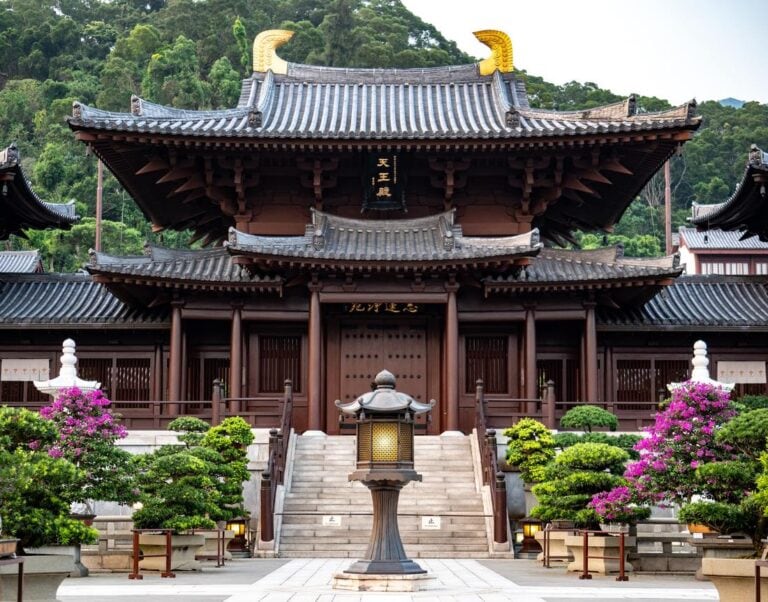 Explore Mong Kok
Now that you have seen the quietest place in Hong Kong, it is time to see the busiest place – Mong Kok in Kowloon. With a name that translates into "Busy Corner" in Cantonese, get ready to unlearn the idea of personal space.
The dynamic of Mong Kok is very interesting. As one of the oldest neighborhoods in Hong Kong, you will see plenty of dilapidated buildings, many of which have aged stains and an unappealing appearance. On the other hand, because of how popular Mong Kok is, developers have built Hong Kong's biggest mall in the area. The Langham Place is a 15-story-high mall home to a cinema, numerous restaurants, and many high-end international brands.
Just a few blocks away from the luxurious megamall is Ladies' Market, a place known for its counterfeits and cheap knock-offs. Like everywhere in Southeast Asia, you must bargain if you want to purchase something. The street-side vendors and stall owners will tell you the products are real, but they are 100 percent counterfeit.
The same shirt that you saw a few blocks away in Langham place for $1000 Hong Kong Dollars is now 50, how funny is that.
Besides the numerous markets around Mong Kok, this area is known for its delicious and local street food. As you stroll down the busy street, chances are, you might stumble on them, either with your eyes or with your nose. That is because the smell of stinky tofu can travel down the street. Rumors have it its smell can resurrect a dead person!
Besides stinky tofu, there are plenty of unique and quirky Hong Kong street foods to choose from. The adventurous can try some of the more exotic ones such as the locals-favorite fried pig intestines or grilled squid tentacles. For the less adventurous, go for the egg waffles or fish balls.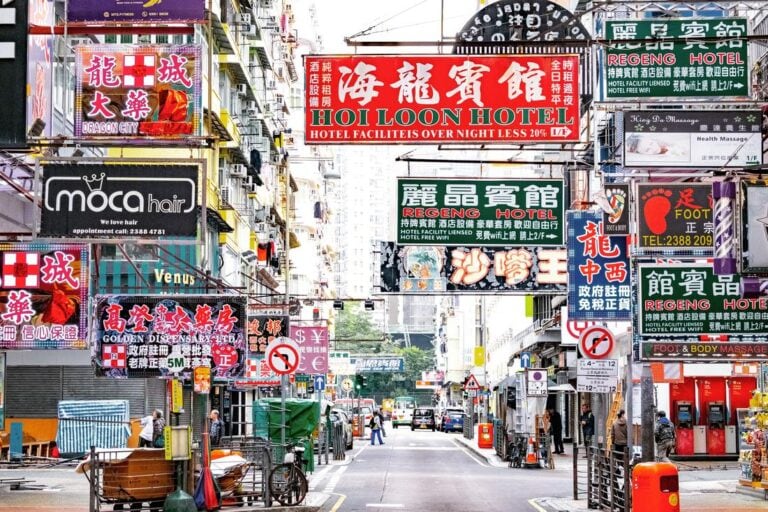 Victoria Peak
After seeing Hong Kong on the ground, it is time to see Hong Kong from above. Take the Peak Tram and head up Victoria Peak to admire its postcard-worthy views. If you have ever picked up a travel magazine that features Hong Kong, chances are, you might already be familiar with the view from Victoria Peak.
Once you arrive at Victoria Peak, there are multiple viewpoints to take in the jaw-dropping views. If you are feeling tired after a day of exploring, then head over to the Victoria's Peak Lion's Pavilion. It is less than a 5-minute walk from where the Peak Tram drops you off. The historical Pavilion contrasts with the skyscrapers in the background. It is quite a unique location to take in the views of Hong Kong.
There is another viewpoint called Lugard Road Lookout. That viewpoint is the more popular Victoria Peak viewpoint for photographers as it offers stunning panoramic views. However, that requires a 15-minute walk from the Peak Tram.
If possible, we recommend catching the sunset at Victoria Peak. Otherwise, the night view here is still amazing, if not better. In fact, one of the best things to do in Hong Kong at night is to check out the night view at Victoria Peak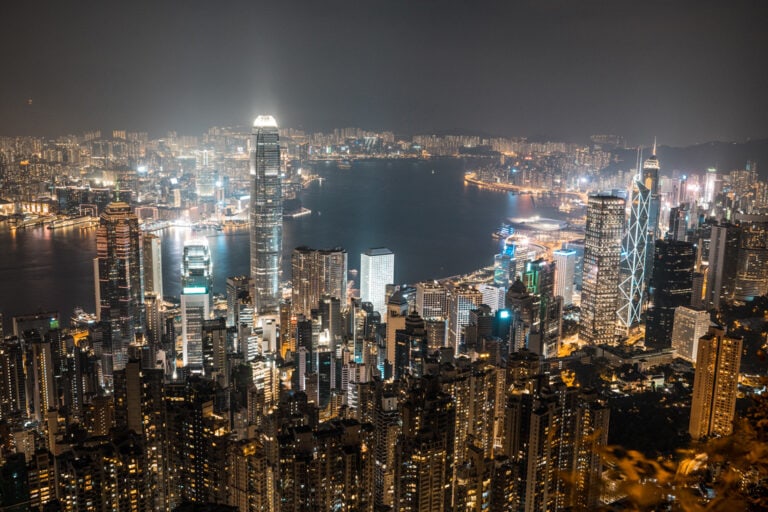 Hong Kong Itinerary Day 2: Cape D'Aguilar, Aqua Luna & Victoria Harbour
Cape D'Aguilar
Day 1 of Hong Kong was spent visiting some of the attractions in the city. On day 2, you get to explore the lesser-known natural attractions in Hong Kong, namely Cape D'Aguilar, home to the only Marine Reserve in Hong Kong. Located on the southeastern tip of Hong Kong Island, the cape is known for its dramatic waves and scenic coastline. From there, you can see many of Hong Kong's Outlying Islands.
If you are an avid photographer, then Cape D'Aguilar is truly your paradise. Besides the cape itself, there are many picturesque caves in the area. The two you mustn't miss are the crab cave and the Thunder Cave. Both of these through caves connect the land to the sea so be careful when the waves come around.
Don't forget to wear semi-activewear because Cape D'Aguilar is a small hike. It's is one-hundred-percent worth the effort!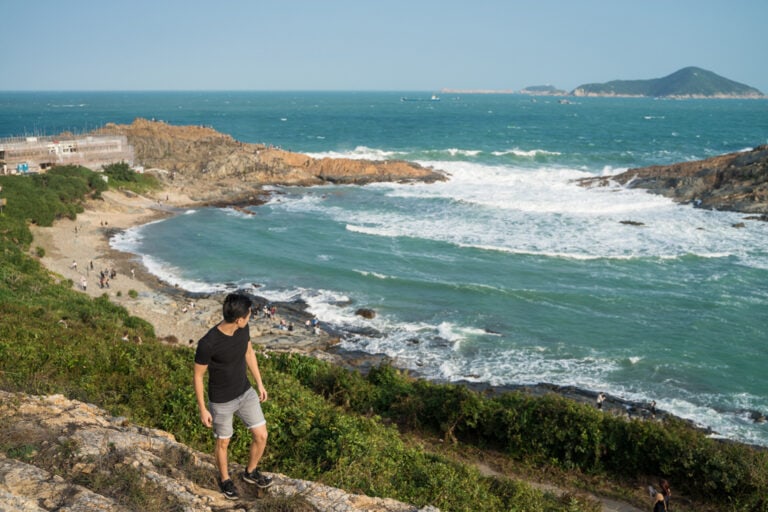 Avenue of Stars, Aqua Luna & Victoria Harbour
After an adventurous morning and afternoon at Cape D'Aguilar, head over to the famed Avenue of Stars in Tsim Sha Tsui. Hong Kong's Avenue of Stars is a promenade featuring handprints and plaques of Hong Kong's most prominent film stars.
If you have been to Los Angeles' Walk of Fame, it is similar to that but with handprints instead of stars. However, the main biggest difference between Avenue of Stars and the Hollywood Walk of Fame is the Avenue of Stars overlooks the picturesque Victoria Harbour, a body of water that separates Hong Kong Island and Kowloon.
The Avenue of Stars offers unparalleled views of the dramatic skyline of Hong Kong. From across the harbor, visitors can see the skyscrapers that define the heart of modern Hong Kong. Strolling around Avenue of Stars is fun and eye-opening, but let's take your adventure up a notch by boarding the Aqua Luna, a traditional red-sail Chinese junk boat that offers a unique experience by sailing around the Victoria Harbour.
Designed to offer a glimpse of Hong Kong's heritage, the Aqua Luna features ornate wooden chairs and tables that resemble historical Chinese aesthetics. On the second floor of the boat is a lounge area where guests can relax in one of the lounge beds and admire the 360-degree views as the boat sails around the scenic harbor. Anytime is a good time to board the Aqua Luna, but we recommend doing it during sunset or the Symphony of Lights, the world's largest permanent light and sound show that occurs at 8 PM daily.
It is important to reserve this tour before or you might run the chance of not having the time slot you desire, especially during the peak travel season. If you do happen to miss the time slot for the Symphony of Lights, you can watch the light show from the Tsim Sha Tsui Promenade, which is adjacent to the Avenue of Stars and where you disembark the Aqua Luna. Not only will you see the lights shining from the skyscrapers across the harbor here, but you can also hear the complementary music that makes this a must on any HK itinerary.
After the Symphony of Lights or the Aqua Luna tour, explore the K11 Musea. It is a luxurious shopping mall that features ornate and artistic designs. Walking in it is almost like walking into a museum.
Hong Kong Itinerary: Day 3: Lantau Island Day Trip & LKF
Lantau Island Day Trip
The last day of your Hong Kong itinerary will be spent exploring Lantau, an island known for its pristine beaches, challenging hikes, old fishing villages, and Ngong Ping. Because of its remoteness, many travelers opt to take a Lantau tour when visiting but it is 100% doable on your own.
Take the MTR (Mass Transit Railway) to Tung Chung MTR Station, where you will catch the Ngong Ping 360 cable car to Ngong Ping. Though it is also possible to take the bus from Tung Chung to Ngong Ping, it is only probable for travelers with a longer stay in Hong Kong as the journey takes so long.
Keep in mind that the Ngong Ping 360 cable car starts running at 10 AM. We recommend arriving right on the dot as exploring Lantau takes quite a bit of time, mainly due to the time it takes to reach each attraction.
The Ngong Ping 360 cable car offers incredible panoramic views of Lantau Island, which compared to the hustle and bustle of Kowloon or Hong Kong Island, is pretty much the wilderness. After the 25-minute cable car, you will be dropped off at Ngong Ping, a 15-hectare land home to the Tian Tan Buddha, Po Lin Monastery, and the charming Ngong Ping Village.
Start your visit to Ngong Ping by exploring the Ngong Ping Village, a culturally-themed village designed to harmonize with the scenic nature of Ngong Ping. Sample local snacks, check out the local souvenir shops and engage in unique interactive attractions. After you are done exploring this Chinese traditional village, head over to the nearby Tian Tan Buddha.
The Tian Tan Buddha is also known as The Big Buddha and that name just cannot be more fitting. In fact, the Tian Tan Buddha is the world's second-largest outdoor seated bronze Buddha statue. From the ground level, visitors can ascend 268 steps to reach the base of the 34-meter-tall statue. At this elevation, you can get a glimpse of the lushness that Lantau is known for.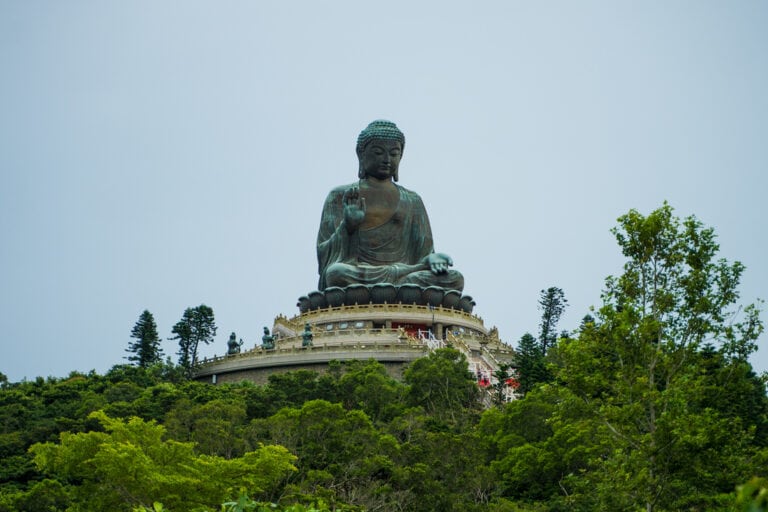 Adjacent to the Tian Tan Buddha is the century-old Po Lin Monastery, another must-see place in Ngong Ping. This Buddhist Monastery was founded in 1906 by three monks, who originally named the place "The Big Hut". It wasn't until 1924 that the monastery was renamed to the current name "Po Lin Monastery."
The Po Lin Monastery complex houses a variety of different buildings. The main temple houses three bronze statues of the Buddha and they symbolize the past, present, and future selves of Buddha.
One building you mustn't miss is the Grand Hall of Ten Thousand Buddhas. Constructed in 2014, this complex exemplifies the architectural elegance of the Song dynasty, and yes, there are ten thousand Buddha statues inside.
Visitors can experience a little piece of a Buddhist life through the Buddhist vegetarian restaurant on-site. This restaurant serves the typical food a Buddhist would eat.
After you are done exploring the Po Lin Monastery, it is time to leave and head off to your net destination on Lantau: Tai O. There is only one way to get to Tai O from Ngong Ping, and that is taking bus No.21.
Tai O is a fishing village located in the southwestern part of Lantau Island. Known as the Venice of Hong Kong, Tai O is home to traditional stilt houses built over the waterway. Though many of them are dilapidated, some even abandoned, they do offer a unique charm.
Tai O was once a booming fishing village, Tai O is currently struggling to survive off fishing. While many residents are fishermen, it is an occupation that cannot sustain living in Hong Kong. Combined with the difficult access, many residents have moved inland, leaving Tai O's glory as something to reminisce. Tai O is mostly survived off of tourism nowadays.
There are several things you must do when visiting Tai O. One of them is to try the various street food around town. Tai O is known for its mega-sized fish balls that will fill you up. Don't forget to stroll around town and check out the dried seafood. Along with shrimp paste, they are the most popular souvenirs from Tai O.
Visitors will also find many boat tours to see the Chinese white dolphins, otherwise known as the pink dolphins. These marine animals inhabit the sea around Tai O and visitors can often get a glimpse of them on a boat tour.
After your visit to Tai O, it is time to head back to civilization. Head back to your accommodation in Hong Kong, freshen up and grab some dinner. Your last night in Hong Kong will be spent exploring the hottest nightlife in Hong Kong at Lan Kwai Fong (LKF).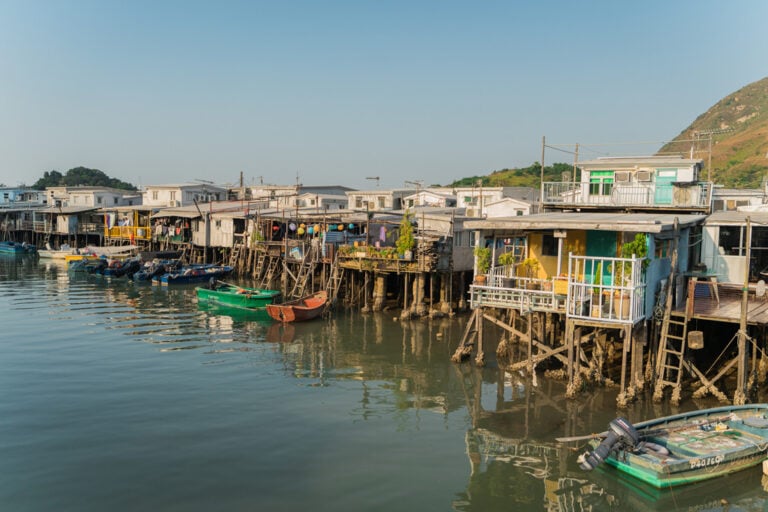 Lan Kwai Fong (LKF)
LKF is a small L-shaped cobblestone street lined with some of the best clubs and bars in Hong Kong. Located near Central, LKF is usually packed with ex-pats, all ready to mingle and have a night of fun.
While a night in LKF is always a good night, it does come with a high price. Because of the big ex-pat scene there, prices are usually much higher than the typical bars or clubs in Hong Kong. Nevertheless, even if you don't plan on drinking, it is fun to see all the things happening there.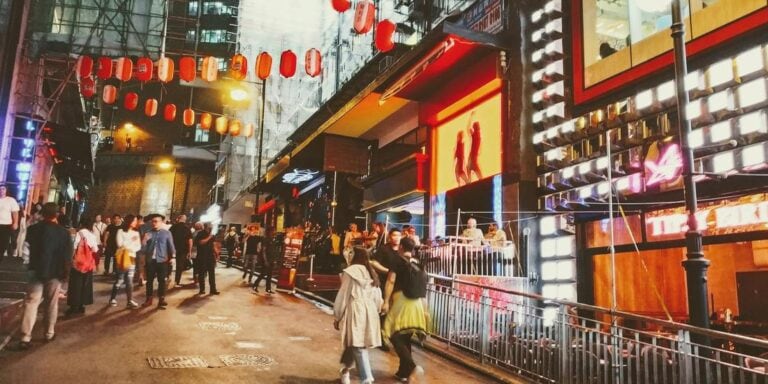 Best Areas To Stay In Hong Kong
Due to the convenient public transportation of Hong Kong, there are only a few areas that a tourist should not stay in – Lantau Island or New Territories. These two areas (especially Lantau) would require you to travel very far to most of the attractions in Hong Kong. Therefore, we advise against staying in those two areas.
If you want to be stay near the heart of Hong Kong, there are a few neighborhoods that are ideal – Mong Kok, Tsim Sha Tsui, or Central. Those three neighborhoods are bustling 24 hours a day 7 days a week, allowing tourists to jump straight into the action. Those areas are also well-connected, so tourists will have no difficulty getting anywhere in Hong Kong.
The general rule of thumb is the further you are away from those three neighborhoods, the quieter it gets – though there really isn't anywhere exactly "quiet" in Hong Kong.
That concludes our 3-day Hong Kong itinerary. We hope you have found the essential information to plan your 3-day adventure in Hong Kong!