Have you been always dreaming of having an amazing work abroad experience that will allow you to explore the world, get to know a foreign culture, meet locals and learn a new language while still making a decent amount of money? If yes, you are in the right place because there are some people who actually made this dream come true. They all can be your true inspiration to pack your bags and travel overseas.
Now sit back and relax because you are just about to read about the best work abroad experiences across the world from the most adventurous and experienced travel bloggers that have truly changed their lives afterwards!
#1 TEACHING ENGLISH IN CHINA
Agness of eTramping
I moved to China right after I graduated from the university in 2011, where I did my TEFL course and taught English for over 2 years. I started working at the public high school in Huayuan and then tried my luck in a kindergarten located in Dongguan, where I surprisingly had more fun messing around with my little monsters and dancing like crazy every single day. It was one of the best experiences in my life as I grew personally and professionally. During this time I dug into Chinese culture and traditions, got familiar with local food and places as well as I managed to learn some basic Chinese! And did I mention that I managed to save a lot of money for my travels?!
Check out this job abroad bulletin for current positions teaching English if you'd like to do what I did.
#2 WORKING AS A BARTENDER
Jeremy of Travel Freak
For five years, I traveled the world as a cocktail bartender. I started with zero experience as a barback at a nightclub in Australia, and climbed the ladder until I was working in award-winning speakeasy cocktail bars in New York City. I've worked all over the world, from New Zealand to Beijing, and have found bartending to be one of the best, if not the best, travel jobs around! Whether you want to work in hostel bars for free accommodation, or you want to earn upwards of $5,000 per month on your travels, bartending is not only a great way to support yourself, but a fantastic way to get to know a city inside and out. Plus the perks around town couldn't be better—you'll often get free food and drinks while you're working and even when you're not! You'll never find a job if you're just traveling through a city for a couple of weeks, but if you plan to stick around for a couple months, working as a bartender on your travels might be the answer.
#3 OWN BUSINESS AND ONLINE MARKETING
Matt and Anna, creatives behind Hostelgeeks
Before starting Hostelgeeks.com, I have been working for 5 years in an international booking agency for budget accommodations. I have been responsible for online marketing, and it was indeed a great job to dive into the world of online travels. Anna loves languages, and studied hotel management. She has been working for an international fashion brand, and then started Hostelgeeks. Together we decided to take the next step in our professional career. We decided to start hostelgeeks as a network of high-end hostels all around the world. The goal is to show travelers the one fabulous, outstanding hostel they should stay at to have a great hostel experience.
#4 WAITER / KITCHEN PORTER
Piotr of Photler.com
My Own American Story… From Waiter To Travel Photographer. Before I went to the U.S. I did a lot of research (I mean A LOT – it's not easy to get a job there!) on sites like CareerBuilder, Craigslist, Careers, Monster, as well as internships for students, like JobTrack. Finally, I found the hotel in Girdwood, Alaska. The hospitality industry is easier to get in for foreigners.
I can't say working as a waiter was a life-changing experience, but it surely helped me to be more open-minded and less judgmental for people. It also prepared my legs for long wandering. Working in The Alyeska Hotel for 2 months I had one goal – to save all the money and travel as much as I could. And I did! Earned about $6K I was able to travel the U.S. for a month – I obviously wandered in Alaska, but also in New York City, Washington DC, Boston, Chicago and even Hawaii. Sleeping in hostels, dining out, I was independent thanks to rented car. One word to describe this experience – unforgettable. I came back to the U.S. a month ago, this time with my wife – to make new memories.
#5 TEACHING ENGLISH IN PAKISTAN
Tim of Urban Duniya
I've been teaching English in Australia for almost ten years now, and in Pakistan for just over three. I love my life in Pakistan, and I love how teaching English as a second language allows me to continue my blogging and traveling lifestyle as I split my time between Asia and Australia. Most of my students in Pakistan are locals, although I've taught Iraqi, Palestinian, Afghani, Somali, Iranian, Kyrgyz and Korean students here too! I've met some great friends from my teaching experience – both students and teachers. Working in a foreign country gives you a completely new insight into the 'real' version of that country – so much so, that I now call Pakistan home.
#6 A HALF YEAR TRAINEESHIP IN INDIA
Paulina of My Travel Stock
A school of life, an incredible adventure, an eye opener – that's what my working abroad experience was like. The first weeks in India were like a constant effort to gasp for air in an ocean of people, rickshaws and misunderstandings. But once I gave in to this overwhelming culture, my life in Jaipur became extraordinary. The job itself, a traineeship in the marketing department of a top-notch hotel, was challenging and amusing at the same time. On my first day I've been approached by a few concerned staff members, who all assumed I was a hotel guest, who got lost. On my second day I caused smirks in the staff cafeteria when I approached my meal with a fork and a knife (I only used my fingers afterwards). But more seriously – I was truly impressed by the employees' dedication to their work and the high standards of services strictly followed and respected by everyone. The less amusing part was the 9 hour work day and the 6 day working week, which I had to adjust to. With just Sundays off, the time for excursions and explorations was limited. However, I caught up with that while traveling India for a month at the end of my stay. This particular working abroad experience was arguably one of the greatest turning points in my life. Once back home, friends and family kept telling me how much I've changed for the better. How much more outgoing, open-minded and confident I became. I guess this proofs that when an opportunity to work abroad comes up, you shouldn't think twice, but grab the chance to grow – both, professionally and personally.
Hannah & Adam of Getting Stamped
My wife Hannah and I have been traveling nonstop since 2013 and along the way our one year trip around the world turned into a two years…and then three years! In order to make our dream of being digital nomads happen we had to setup jobs where we could work anywhere in the world. I started my web design business One 8 Web in 2015 and have been designing websites abroad ever since. Now I call the world my office, all I need is internet and I can do my job anywhere in the world and I am my own boss. I have found it challenging in countries with limited or no wifi like Cuba but for the most part working abroad is so much better than my old corporate America job.
#8 HOTEL FRONT DESK IN SINGAPORE
Dave of Travel Dave UK
Working in a modern city such as Singapore was a great way to experience long-term travel and earn money in the process. It will allow you time to fully emerge yourself into the local culture as your be staying longer term. You might as well get a working holiday Visa and work in Singapore compared to a hotel back home, it's more exciting and feeds your travel bug. In Singapore, it was a perfect location for me to use as a base and fly around South East Asia with budget airlines. Working on a hotel front desk also gave me great hospitality and guest service skills which can be used all around the world. What I liked most about working in a hotel was the day to day interaction with guests and helping them with travel advice on what to do. Singapore is often a destination that's visited for a few days, having the time to explore Singapore more in-depth was a wonderful experience that I'll never forget.
#9 WORKING AS AN AU PAIR IN FRANCE
Ashley of Ashley Abroad
After college, I worked abroad as an au pair in France for almost a year. I had an absolutely incredible time, learned French, and made lifelong friends. The downsides? Sometimes living with the family was difficult, as I didn't have a lot of privacy. But overall I really enjoyed my experience and would recommend it highly.
#10 DODGING DANGER IN YEMEN
Dave of Baldpacker
I began working for an oil company in Yemen over a decade ago and the experience has irreversibly changed my life for the better. Due to the danger and hardships of living in Yemen, the job was on a "fly-in fly-out" rotational basis, meaning I'd fly in and work for 5 weeks (12+ hours a day, every day) and then receive 5 weeks off to recover. I used my 5 weeks off to visit over 100 countries while still saving money towards an early retirement. Of course, these benefits did not come without great risk and I was forced to live in compounds and travel to and from work in armored vehicle convoys. In 2008, my apartment complex was mortared by Al-Qaeda and in 2015 I was in Sana'a during the Houthi occupation which has developed into a prolonged war. Despite the dangers and difficulties, working in Yemen allowed me to learn about Yemeni history, culture, and Islam while also getting to know many Yemenis on a personal level. Overall, working in Yemen was an amazing experience!
#11 WORKING ON GLACIOLOGICAL PROJECTS
Paul of A Luxury Travel Blog
In the mid-1990s, I spent time just above the Arctic Circle in West Greenland, working on glaciological projects as a postgraduate student. On my first visit, I worked on a fluvioglacial processes research project which enabled me to fund the travel needed for my own PhD research on basal ice. The experiences were certainly interesting, if a little hair-raising at times! Sitting on a dinghy in a fast flowing meltwater stream is not to be underestimated, nor is working inside a natural ice cave beneath a glacier whilst the sun beats down on the ice above. Despite the risks, it is a time I look back on very fondly, and was an amazing opportunity for me to follow my love of travel.
#12 SLINGING PISCO SOURS AT A HOSTEL IN PERU
Ayngelina of Bacon is magic!
When I arrived at a hostel in Cusco I was told they were looking for people to man the bar in exchange for free room and board along with a nice discount on bar drinks. I was feeling tired from traveling and thought the idea of sticking in one place for a few weeks would be great. It was fascinating to be on the other side and see people come and go, especially in a bucket list city like Cusco where people were all heading to Machu Picchu. It was fun to work at the bar, save a bit of money and also made me a more considerate guest in hostels. I highly recommend it.
#13 WORKING WITH TRAVELSMITH IN RIO
Dave and Deb of the Planet D
We've been location independent for the past 7-years and have been lucky enough to go on assignment for many brands and destinations. One of the coolest work abroad experiences we've had recently was when we flew to Rio with TravelSmith to cover behind the scenes footage of their 2016 summer catalogue shoot. An entire crew was sent with models from L.A. to capture footage of TravelSmith clothing and gear in the magnificent Rio setting. Our job was two-fold. We went as travel bloggers, photographers and videographers to capture all the things to do and see in Rio that we shared with our followers and on the TravelSmith blog, but we also went along to show what it's like to photograph a fashion shoot. We shadowed the crew and made a video explaining what a location fashion shoot was like. It was an amazing learning experience and a wonderful way to see Rio de Janeiro. It was very exciting because it happened during the months leading up to the Olympics so the energy and vibe of the city was filled with excitement.
#14 WORKING ON BOATS
Nora of The Professional Hobo
A few years ago, I spent almost three months living on boats in the Caribbean, and working a few different jobs. In some cases I wasn't paid, but rather received free room and board in trade for being an extra set of helping hands. In other cases I not only received free room and board, but also some cash in trade for my services; for example, I helped a captain out by playing hostess to some charter guests. I prepared all the meals, cleaned up, and generally ensured the captain's guests were cared for. I was amazed at how many opportunities there are to live and work on boats, and how small the nautical community is. Once you're on one boat, it's easy to meet other nautically inclined folk and move from boat to boat and job to job.
#15 TEACHING ENGLISH IN SOUTH KOREA
Drew of Drew Binsky
Immediately after I graduated University, I moved to a small village outside of Seoul, Korea to teach English. I ended up living there for 18 months, and I had an incredible experience! Throughout my time in Korea, I trained to be a black belt in Taekwondo, I visited 20+ new countries in Asia and I fell in love with Asian culture. My salary from teaching English was very generous, including free accommodation and a 4 week paid vacation. I highly recommend this job to anyone looking to fund their travels!
#16 WORKING AS ENGLISH TEACHERS IN SOUTH KOREA
Brian & Noelle of Wandering On
In order to continue to travel full-time, we have worked at a number of different jobs over the years. Construction, waiting tables, freelance writing, and travel blogging have all been a part of the journey for us, but teaching English in South Korea was our biggest employment opportunity abroad. Living in Korea for a total of three and a half years, we experienced living and working in a small city, a larger metropolitan, we taught in private schools, public schools and taught adults. During our time in Iksan, we also taught in rural schools, which showed us a totally different side to life in Korea. Working in a foreign country gives you a great opportunity to meet locals, find out about their culture and learn all about the country you call home for a brief while. You are introduced to new foods, elements of culture you might not otherwise experience and you have a unique opportunity to learn about how life 'really is' where you are visiting. Taking the time to have real authentic experiences with local people through work is incredibly rewarding. We loved being immersed in a world so different to our own, having new experiences every day, traveling all over South Korea and using it as a base to explore Asia. There are certainly times when it can be challenging but the positives far outweigh the negatives. We loved living and working in Korea and Korea will always hold a special place in our hearts; our Asian home.
#17 NOT YOUR NORMAL ENGLISH TEACHING ASSIGNMENT
Wandering Earl
When I first heard about teaching English in Thailand, I didn't think it was for me at all. Working for a school or language institute, getting in front of large groups of students in a classroom setting and not really knowing enough of the grammar rules to feel confident about teaching, were all a turnoff. So instead, after some brainstorming, a friend and I got creative. We bought some paper and markers and posted signs all over the main university in ChiangMai advertising our services – "Native English Speakers Ready to Teach Conversational English". Within a week, we had received dozens of calls and we suddenly had 2 – 3 classes scheduled per day, with a few students in each. We didn't have books, so we focused on the actual conversation. We didn't have a classroom, so we taught in the park or at a cafe. And it worked out perfectly for everyone as we earned money teaching and the students had a unique and useful educational experience.
#18 TEACHING ENGLISH AT A HAGWON
Audrey of That Backpacker
The first job I ever had overseas was teaching English at a hagwon in South Korea. A hagwon is a private after-school academy, so the hours are a bit different from a regular teaching job. I worked from 1:30 p.m. to 9:30 p.m. teaching English to 6-12-year-olds across a spectrum of levels. Aside from teaching, my job also included conducting placement tests, grading assignments, and finding supplementary activities that would complement the lessons. The nice thing about working at a hagwon was that all of the teaching material was readily available and I had textbooks to follow, so I wasn't planning entire lessons from scratch. The downside was very little holiday time in comparison to teachers working in public schools, but that kind of balanced itself with a slightly higher salary. If you're considering teaching English overseas, I would definitely recommend getting your TESOL or CELTA training before you arrive. This isn't mandatory, but it'll help you immensely as a first-time teacher, plus it'll also make you a more desirable candidate when schools are sifting through applications.
#19 HAVING FUN (TEACHING) AT ENGLISH CAMPS
Mark of Migrationology
After traveling around Southeast Asia for about 6 months, I ran out of money. But I knew I didn't want to return to the United States to get a job, so through a mutual friend, I signed up to teach at some English camps. The English camps were very low key, fun, and friendly. Basically about 5 – 10 teachers (depending on the camp size), would jump in a van, go to a school somewhere in Thailand, and play organizes games, run around, sing songs, chit chat, and just have a lot of fun… all while speaking English of course! Although pay for teaching at English camps in Thailand is not as good as at a full-time job at a school, what I really enjoyed about it was how laid back it was and also it was an opportunity to learn about Thai culture while earning some income.
#20 WORKING AT A PIZZA PLACE IN AUSTRALIA
Jessica of Jessie On A Journey
When I was studying abroad in Sydney, Australia I was immediately taken aback by how expensive it was. I needed a job badly if I was going to make it through the semester. As luck would have it the local pizza place that all the students loved to go needed someone to answer phones. I got the job, and it was more rewarding than just the $20/hour I was making. I got to live like a local in terms of actually living and working in a place, make friends with locals (and not just my study abroad peers) and learn a lot of interesting tidbits about Aussie culture.
What was always funny to me was how Americans and Aussies both speak English, but it can be so different! Many locals would come in in "thongs" (flip flops), ask for a pizza topped with aubergine (eggplant) and request extra serviettes(napkins) on the side. Such a great experience!
#21 WORKING FOR WORLD PEACE
Leyla of Women on the Road
Well, perhaps not quite world peace, but in my most recent incarnation, I worked for the United Nations system in Geneva as a public health advocate – mostly in the areas of sexual and reproductive health and HIV/AIDS. Much of my work involved speaking in public to make the case for human rights issues such as gender equality, access to medicines and health services, freedom from discrimination and ending violence against women. I retired a year ago and since then have been writing and blogging full-time, often about solo travel, but occasionally about the issues that brought me into the UN in the first place.
#22 PICKING GRAPES IN THE TASMANIAN COUNTRYSIDE
Eloise and Stuart of Am I Nearly There Yet?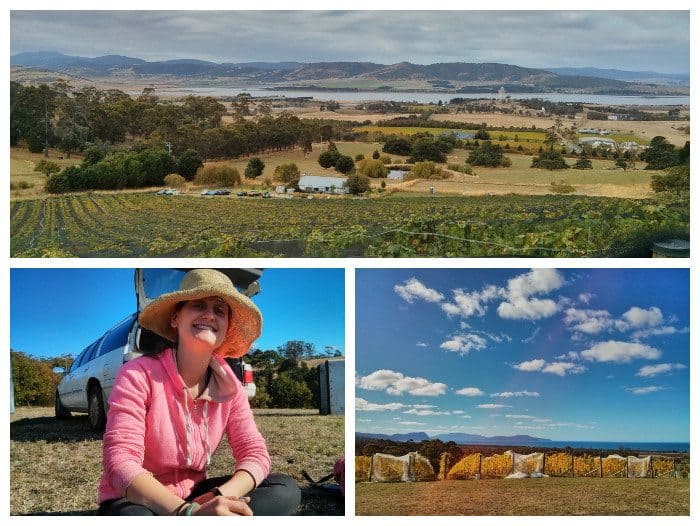 Manual labour and general farm work get a bad rep most of the time – but grape picking in Tasmania has easily been one of our favorite travel memories. As part of the Australian working holiday visa, if you want to extend it a further year, you need to complete 3 months of 'seasonal work' – basically something agricultural, somewhere remote! We chose to head to Tasmania for the autumn wine grape picking season, make a few bucks, learn about wine, and hopefully sink a few glasses of the good stuff! It was tough work at times, but we were rewarded with some of the most jaw-dropping scenery we've seen. Sloping green hills, coastal winds, stunning valleys – all the essentials for a good Tasmanian wine! We made friends for life, drunk some of the best wine on the planet, and earned some good dollar too!
Are you now planning to work overseas?
Pin It For Later