Porto is one of the most stunning cities in Portugal, or even in Europe. It's nothing surprising that it yearly attracts so many tourists. Whether you travel on a budget or want to experience some luxury, Porto is a perfect place.
Starting with breathtaking views, through amazing food, to unique architecture and various choices of accommodation: Porto has it all.
Porto on a Budget
Porto is a perfect city for all people who travel on a budget. It has great spots that you can see for free, offer tasty food at a low price, and have great accommodation that is cheap, but also unique and of good quality.
Budget Accommodation in Porto
To start off, Porto has a lot to offer when it comes to budget accommodation. While you will be given a few recommendations in this section, you can also browse the map below to find more options yourself. While the search bar will bring you to any location in Porto where you can use the filters to view different experiences, the icon on the bottom right will show you a heat map of areas with shopping and the best nightlife.
If you're looking for the lowest price, Pilar Hostel is a great choice. It is located near Casa da Música, which is a bit further away from the city center than other choices. However, you can have a nice long walk, or if you have little time you can catch the metro to the center that leaves from the metro station nearby. It's also a perfect location if you want to see the ocean. You can get there in 30 minutes by foot or catch one of the buses heading towards Foz.
This clean and sunny hostel is located near Rua Santa Catarina, which is a perfect spot to start your Porto adventure. You can chill in a spacious common area or get some sun in the garden that this hostel offers for its guests. You can pick from a private room with a shared or private bathroom, or pick a bed in a six-person room for as little as 9 euro.
If you are staying in Porto with your friends and looking for a really cheap option, check out this spot. The location is not great, and you will have to take the metro or bus to get to the city center, but you can also walk to the ocean in 20-30 minutes. You can stay in this place for 38 euro for three people.
Get Great Food at a Low Price
Portugal is famous for its food. Moreover, each region and each city have its own dish that they are especially proud of. In Porto, you have to check out the Francesinha (a unique "sandwich" made of bread, a lot of various types of meats, covered with cheese, egg, and a rich beer sauce; also available in a vegan version), and Tripas à Moda do Porto (a stew made of intestines).
If you visit Porto on a budget, avoid touristy areas, and instead of going to restaurants, pick cafés. Typical Portuguese cafés offer a dish-of-the-day at a great price. For 5-7 euro, you can get a set including soup, main dish, drink, and espresso coffee. Many cafés prepare typical Portuguese dishes, so you will have a chance to try this unique cuisine without spending a fortune.
Free Attractions in Porto
Porto is one of those cities that can be visited for free and still take your breath away. As Portugal wasn't involved in the Second World War, Porto was not destroyed like many other European cities. You can walk around medieval streets and enjoy the hustle and bustle of the amazing city. Some of the best places that you can see totally for free include:
You can get a guided tour of the most important parts of the city for free, check it out here.
Luís I Bridge
This beautiful structure is an emblematic point in Porto. Built between 1881 and 1886, this metal bridge was designed by Théophile Seyrig, a student of Gustav Eiffel. The bridge has two levels: the upper part is 172 meters high. Both levels connect Porto with Vila Nova de Gaia, where Port wine is stored.
In the summer, you can meet young boys here jumping into the Douro river from the lower consignation. Be sure that you walk through Luís I on both consignations. The experience is very different and unique. It's also one of the best places to see the Porto Ribeira: one of the oldest parts of Porto assigned on the UNESCO list, where colorful buildings reflecting in the waters of the Douro create a beautiful view.
Azulejos
One of the most famous aspects of Portuguese architecture are Azulejos: colorful tiles that decorate buildings. You can admire them all over the city, without spending a cent. Walk around and always keep your head up because each building has an interesting façade. Be sure to not miss São Bento Station, A Pérola do Bolhão, Capela das Almas, or Igreja do Carmo. You can also visit the Banco de Materiais, where you can see a bank of beautiful tiles that are used to renovate buildings.
The Best View Points
Porto has a few amazing viewpoints that give you a unique angle on the city. They are great spots to see a sunset, cherish spectacular buildings, or even chill out with a cold drink on a hot day.
You can check out:
Jardim do Morro,
Virtudes,
Vitória Viewpoint,
Serra do Pilar.
If you're travelling on a budget, you can also check out the Jardim do Palácio de Cristal. This beautiful park with peacocks wandering around it is free to visit. You can enjoy nature and at the same time see Porto from another interesting angle. Close to there, you can wander to see the Botanical Garden, or an interesting old cemetery, Agramonte.
Mid-Range Budget
If you are looking for a private apartment or a room, the best offers you can find are on VRBO. There are a countless amount of places that offer middle-price-range accommodation.
This place is going to change the way you think about hostels. Located in the unique São Bento Train station, it offers two types of accommodation: shared and private rooms.
Moreover, a unique vibe is increased by vintage furniture and a stunning view of São Bento Train station. In the Hostel, you can also admire modern art pieces that decorate the walls.
If you are looking for a place with a view at an affordable price, Hotel Miradouro is a perfect choice. Moreover, you can enjoy a genuine interior design from the 60s. The location on Santa Catarina makes it a perfect spot to discover more local areas, but it also not too far away from the main attractions of Porto.
Great Attractions
Next to the free attractions, Porto offers even more for some extra cash. If you have some spare money, be sure to visit Palácio da Bolsa, an old-stock market palace. It has a stunning interior worth visiting.
Right next to this place, the gothic church of Saint Francis is located. The interior can be overwhelming with all the gold alters, but it's definitely worth seeing. This church also has huge underground catacombs that you can also visit.
While in Porto, you have to taste their emblematic wine. You can do it in almost every café and restaurant, but if you want to know a bit more about wine production, head to Vila Nova de Gaia and pick one of many Caves (the wine cellars). You can pick from various options of the tours, so you can find something for yourself.
Porto is famous for the old trams that can take you for a fun ride around the city. If you want to experience this, you have to pick from 3 lines: 1, 18, and 22. The latter two are circulating around the city, while number 1 can take you from Igreja do São Francisco to the beautiful Foz district, where the Douro river enters the Ocean.
Some of the other attractions that you might want to enjoy are:
Admiring the stunning interior of Livraria Lello,
Visiting the Sé Cathedral,
See Porto from Clérigos Tower,
Funicular dos Guindais.
Immerse in Luxury
If you are looking for a unique escape where you can immerse yourself in luxury, Porto can be a good choice for you. You can pick from various 5-star and beautiful boutique hotels, eat in Michelin star restaurants, and easily avoid crowds by choosing a unique attraction.
The Best Hotels in Porto
If you are looking for a great hotel with the best view, The Yeatman Hotel is your best choice. Located in Vila Nova de Gaia, it gives you a chance to admire a spectacular view of the UNESCO World Heritage Ribeira and the Douro River. Enjoy this view from outdoor infinity pools or simply relax in one of the stunning rooms. The Yeatman offers a great wine choice and two Michelin Star restaurants.
Located just 3 kilometers from Porto, Pestana Palace is a unique place to stay. Beautiful Baroque architecture with 10,000 square meters of garden, with a stunning view of the Douro River, is a perfect place to stay.
A unique location, high-rated services, and spa give this hotel the title of one of "The Leading Hotels of the World".
If you want to stay in the heart of Porto, the Monumental Palace should be on your list. You can relax in one of the unique rooms or immerse yourself in reading in the stunning hotel library. The wonderful spa and great cuisine are at the reach of a hand, as well as all the stunning attractions of Porto. This place, with its rich history, is located on Avenida dos Aliados: one of the most recognizable spots in the city, just a few steps from Ribeira, São Bento, Igreja dos Clérigos, and more.
Unique Attractions
Next to the tourist spots, stunning architecture, and great culture, Porto can offer some unique attractions:
To see Porto and the stunning Douro Valley from above, pick one of the helicopter tours. You can decide on the time you want to spend in the air and admire one of the most beautiful cities in Europe from above.
Take a Boat Up the Douro River
Hop on a boat and head up the Douro River to see slopes full of vineyards and taste the best Port wine.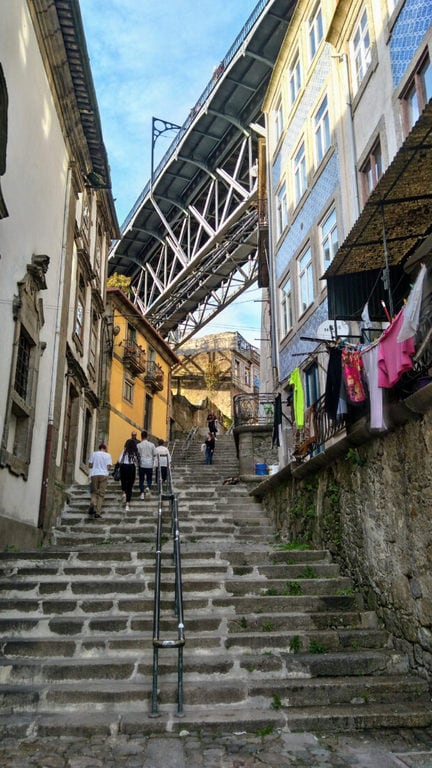 Best High-end Restaurants and Unique Cafés
Some of the best high-end restaurants in Porto include:
Elemento, with traditional Portuguese cuisine,
Euskalduna Studio, with modern cuisine,
O Paparico, with modern Portuguese cuisine.
While Majestic Café is one of the most recognizable cafés in Porto, it's always packed with tourists. If you want to enjoy a good coffee in a calmer, yet unique interior, choose Café Guarany. Located on Avenida dos Aliados, it was founded in 1933 and was the place where the local artistic community was meeting. Decorated in an art nouveau style, it's a perfect place to immerse in culture while eating delicious food.
Porto Stays for Digital Nomads
Porto is considered a great place for digital nomads. You can cherish great weather, unique city vibes, and enjoy ocean life here. But within it, you have an expanding digital nomad community, great co-working spaces, and fast internet.
The Best Accommodation for Digital Nomads in Porto
As a digital nomad, you will most probably search for the best VRBO accommodation for your stay. While traveling to Porto, be sure to check out the project Communa Garage.
This midterm residence offers you much more than just a cozy stay. The stunning interior is going to make you feel inspired. You can also connect with other digital nomads and locals there. Networking can happen in spacious common areas or during various events and workshops that the owners of this spot organize.
Moreover, the place is located in one of the best districts in Porto. Bonfim is an artistic area with various cultural events. It's close to the downtown, but protects you from the touristy crowds. In this place, you can also get great food, chill in various parks, and catch the metro from the station nearby, whenever you need.
Co-working Spaces
If you work as a digital nomad, you are going to be excited about the amount of various co-working spaces. Some of them are:
Selina Cowork,
Office Lab,
Cowork – Building Connections,
Porto i/o Seaside.
Moreover, Porto has a few nice cafés with good internet where you can hide from the world and do what you have to do while sipping an excellent coffee and eating a Pastel de Nata (custard tart).
Be sure to check out these places:
Moustache coffee house,
Duas da Letra,
Negra,
Mesa 325,
Combi Coffee.
Advantages of Being a Digital Nomad in Porto
Proximity to Other Cities
As a person who loves to travel, you are going to be excited to hear that you can reach many stunning places by public transport. Porto is a little bit above the middle of the western side of the Iberian Peninsula. That makes it a perfect spot to visit the South and North of Portugal, and also Spain, especially Galicia.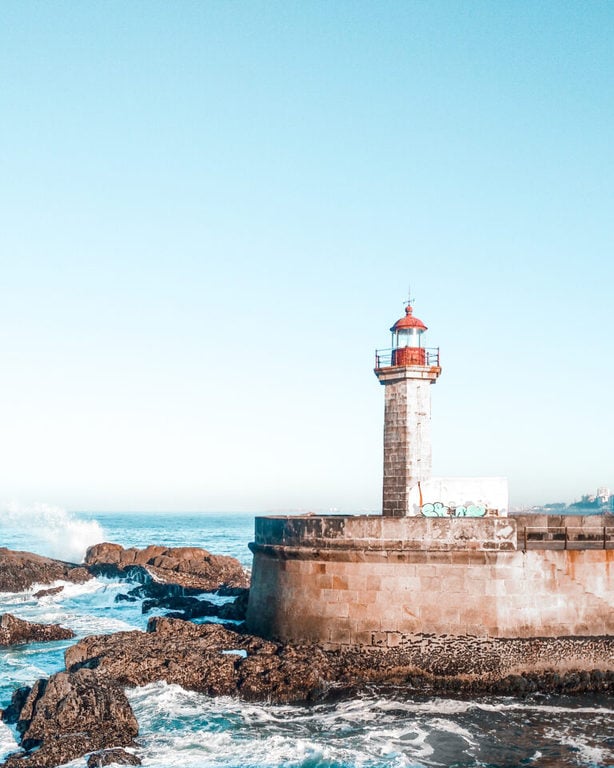 The Internet seems to be working great here. Most of the cafés have Wi-Fi access, and it's a standard to have an Internet connection in a rented apartment.
Once you find a good place to stay which is not too far from the center, you can get almost anywhere on foot. Porto is very compact, so you can forget about public transport. However, if you do need it, Porto is connected with the most important points in the metropolitan area by the metro.
Porto For Everyone
Porto is a place where everyone can find something for themselves. Whether you travel low-cost, have a limited budget, work as a digital nomad, or money isn't an objection for you, Porto has a lot to offer. One thing is for sure, this stunning place will stay in your memory for a very long time, thanks to its culture, beautiful views, and cordial people that are going to welcome you into the city.
Have you ever been to Porto? What was your impression? Let me know!