Not many foreigners have heard of Ninh Binh. This is the pitty actually as it offers a stunning scenery, relaxing boat riding, extraordinary pagodas surrounded by Vietnamese villages.
Ninh Binh is a is a small city located in the Red River Delta of northern Vietnam, in my opinion, much better than Halong Bay (less crowdy, more peaceful and relaxing with more inspiring scenery). This is a place you can hide in when trying to get some more local experience, Vietnamese hospitality and chill out.
You can get get to Ninh Binh from Hanoi in just 2 hours in a van.
The place is mostly famous for its Tam Coc boat riding with breath-taking scenery and picturesque pagodas.
Boat riding
The boat riding is very cheap. You pay VND30.000 per ticket and VND80.000 for the boat (the boat can carry from 2 up to 4 people). Before you get into the boat, make sure you buy your ticket in the ticket office. There are few locals trying to chase you on your way to Tam Coc trying to sell you the fake tickets, often more expensive.
If you share the boat fee with someone it is super cheap. The boat ride lasts about 2 hours. Lonely Planet says that drink vendors can get on your nerves, but if you go there early morning you are not distracted by anyone, you can enjoy the scenery in peace and there is no rush like in Ha Long Bay.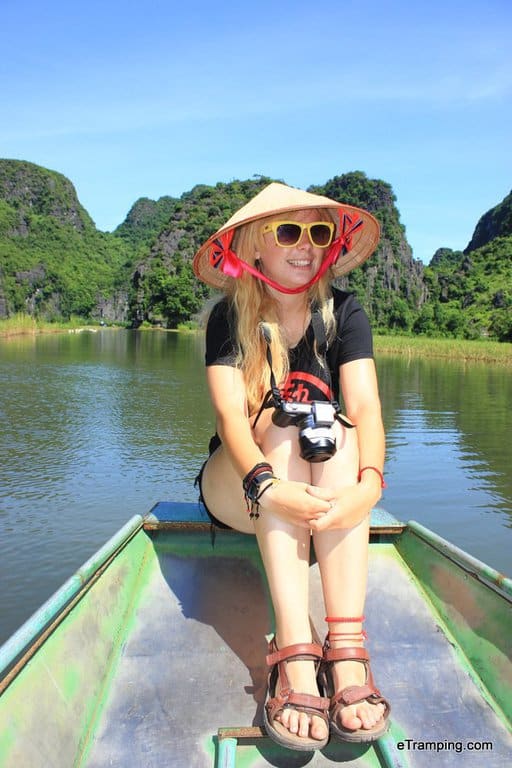 What I liked the most about Tam Coc is the fact that Locals are very friendly, the weather was hot (take your hiking hat or an umbrella) and the scenery is very beautiful!
The tips are much appreciated once you finish the ride. Although boat rawer will remind you of it, you don't have to tip them – they are already paid for their job. Look at some photos we have taken during our boat ride. There are simply stunning.
It's blue and green everywhere, you go under the caves (there are 3 of them in total), see some ducks and enjoy the fresh air.
On your way you will meet some locals working very hard. Some of them sell fruits, sweets and some souvenirs (hats, plastic toys, bags, etc.) and some working in the field.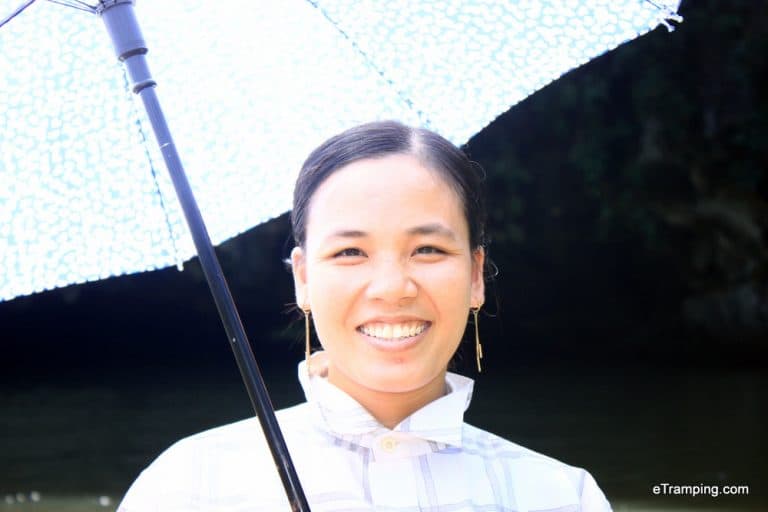 The best time to go for a boat ride is between 7am and 8 am. It's not that sunny, there are only a few people around so you can have a great time. After 10 am all tourists come along and take the boats so it's hard to get a photo without anyone in it. We enjoyed the ride with two guys we met a night before on the road in Ninh Binh city. We quickly became friends and travelled for one day together. The guys were from Czech Republic, Petr and Jimmy.
Me and guys having a breakfast together. We all took our bikes, Me and Cez our own bikes and the guys used rental bikes. The boats are located 6 km from the city centre so there was not much cycling done this day ;).
The guys had a great sense of humor and lots of stories to tell us, so funny!
That's me ready for adventure!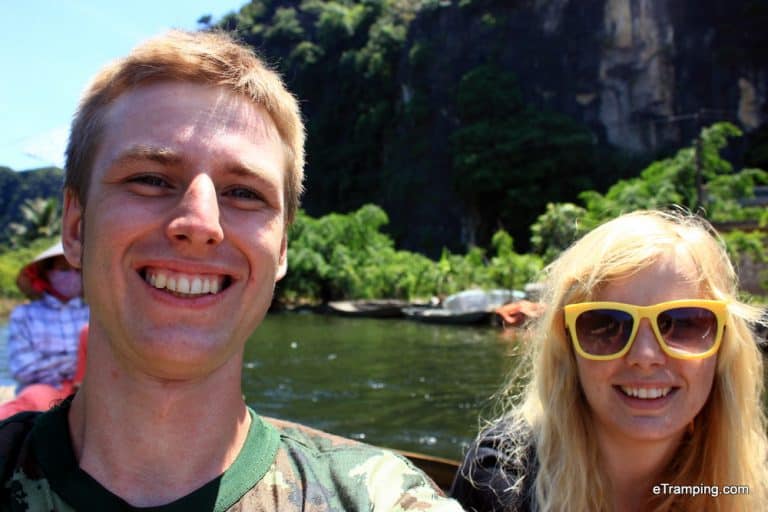 We had a blast !!!!!
Visiting Bich Dong Pagoda
Right after the boat ride we cycled 1 km to see the 15th century Bich Dong Pagoda. The place the Pagoda was built was chosen by two Buddhist monks who admired the beauty of this location.
This pagoda is located in the mountains so you need to climb up (watch out- the stones are very hot!) to get there. There are some bats inside the grotto and nice Buddha statues.
Exploring Ninh Binh was a great adventure and unforgettable time. There are more photos in "Stunning Ninh Binh, part 1 and 2".