Are you a beer lover? If so, you are in the right place now! We asked travel bloggers to share their beer experience with us and compiled 3 lists, which you can find here and on 15 Beer Experiences From Around The World, Part 1 and 15 Beer Experiences From Around The World, Part 3.
We came up with some nice lager recommendations so get yourself ready for a  journey around world in search of great aroma and best taste of local beers.
1. Myanmar Lager Beer.
Myanmar Lager Beer is a American Lager style beer brewed by Myanmar Brewery and Distillery in Mingaladon Township, Myanmar. Taste: Light, smooth, refreshing beer perfect after a day of temple touring in Myanmar. Price: 640mL bottle = 1500 kyat (US$1.50) / On tap = 600 kyat (US$0.60). Where I had it: Yangon.
Kilee is from Vancouver, British Columbia and has only really started traveling since she met her boyfriend, Glen, three years ago. She is a budget traveler out of necessity since when saving for a big trip. Follow her journey on her blog.
2. Petra Beer  from Jordan.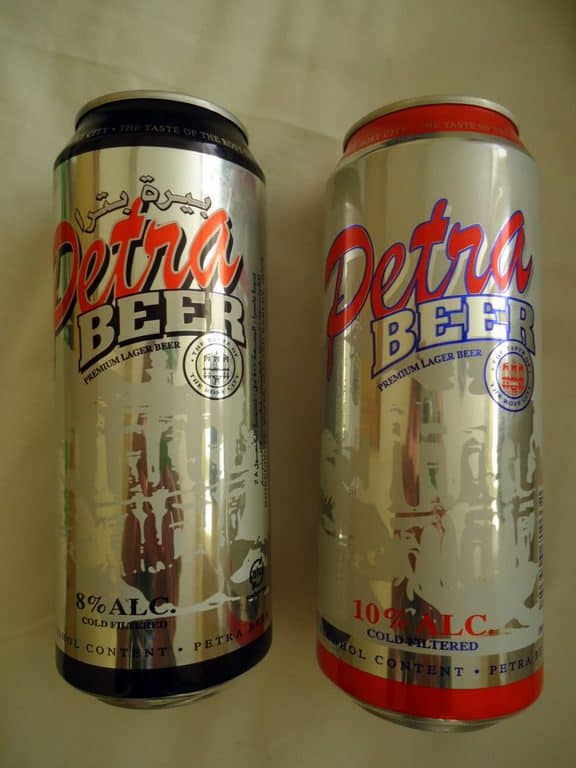 While my favourite beer is Guinness, one of the joys of travel is trying different beers on my journeys. I've had over 1000 different types spanning about 90 countries and I'm going to share one of my favourite beer experiences with you. In the city of Aqaba in Jordan, at sunset I sipped the locally made "Petra Beer". This is a special beer as it's brewed in Jordan, it's named after a UNESCO World Heritage Site (Petra), it's available on Duty Free and best of all it's 10% proof alcohol!! It cost me 1.5 Jordanian Dinars, which is around $1.50 US Dollars. The beer is strong (at 10% you guessed that) and full of zest. Sipping it slowly watching the sun sink from my balcony while I simultaneously viewed Egypt, Israel and Jordan was an amazing moment. There are two different kinds of Petra Beer – one is 8% and one is 10%. If life ever takes you to Jordan, be sure to try Petra beer!!
Jonny Blair runs the travel blog Don't Stop Living where he tells his stories from traveling to over 90 countries across all 7 continents. His passions are travel, beer and football. Jonny is on Twitter, Facebook, YouTube and Linked In.
3. Lighthouse Lager in Belize.
I recently discovered Lighthouse Lager on a recent trip to Belize this past December.
This light and refreshing beer reminded me of drinking a Heineken in the summer months back home. At only around 4 Belize dollars (or $2 US) it's definitely a steal at any beach bar. Lighthouse is a pale lager beer with a floral aroma brewed by Belize Brewing Company, located in Belize City.
My husband and I first discovered Longboard Lager while on a catamaran heading towards the Na Pali coast in Hawaii. The smooth taste (and low cost- around $3 US) makes it absolutely delicious, even on a rocky boat!
Longboard Island Lager is a delicate lager beer, with a slightly spicy aroma with some subtle hints of citrus, brewed by the Kona Brewing Company. Plus- the can is just gorgeous in my opinion! No wonder they call it "Liquid Aloha"!
Jessica is the creator and lead writer at A Passion and A Passport. She is attempting to travel the world as much as possible to control her wanderlust, all while holding a full-time job and starting her career. She is not a long-term traveler; she simply travels over long weekends and breaks from work. Her goal is to show others that travel is possible without being on a RTW trip, and cheaply at that as well! She hopes to inspire others to get up and explore, whether it be in their own backyard or 15,000 miles away. You can also follow her on Facebook, Twitter and Pinterest.
4. Grapefruit Radler, Slovenia.
While traveling round Europe this summer, it was hard not to notice everyone was drinking this Radler stuff. Radler is a mixture of 1/2 beer, and 1/2 fruity soda. It comes in a variety of flavours including orange, lemon, and my favourite – grapefruit. Alright, it's a little girly, and at just 2-2.5%, it won't knock your socks off, but it's lovely and refreshing in the summer sun. Found in all countries from Germany down to Macedonia, it became my beverage of choice during my time in Europe, and I'm not at all ashamed to say that I had it for breakfast on more than one occasion. Cost: approx. $2
 Anastasia is a Yorkshire lass, medic, and adventure nut who's studied and worked abroad, and independently travelled to over 30 countries. Now a medical student in the UK, she is out to prove that combining a life of medicine and travel is (hopefully) possible. You can follow her journey via her blog, Gallivant Girl. You can also follow along on Facebook, Twitter, or Instagram.
5. Stella in Temple Bar in Moscow.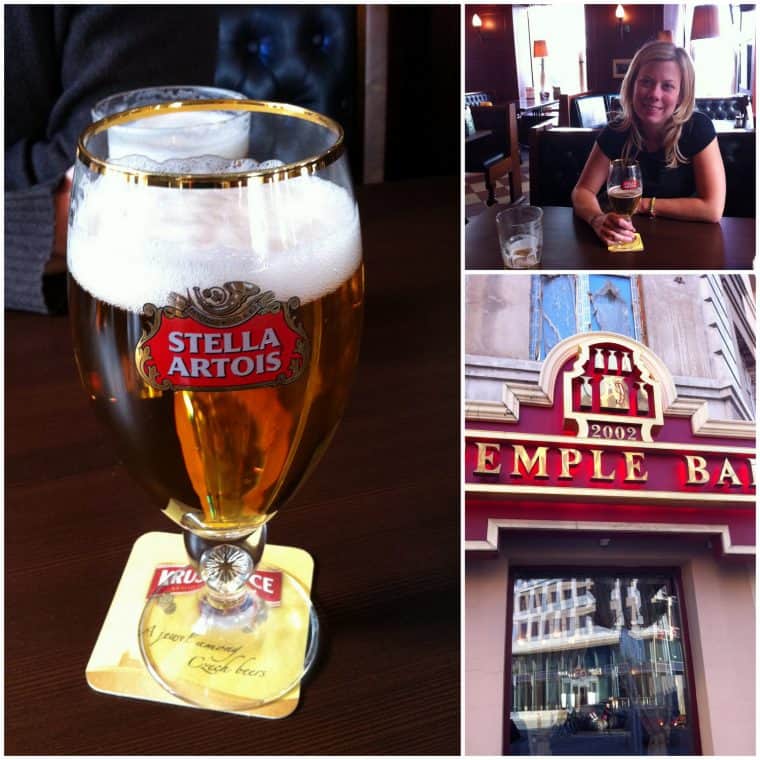 After traveling 12 hours to reach Moscow and finally getting through customs, I was in need of food and drink – aka an adult beverage. We set out in search of a restaurant the hotel had suggested but quickly retreated into a nearby restaurant to escape the winter wind and cold Moscow streets. The Temple Bar was probably the perfect spot for our first Moscow dining experience, think picture menus and pointing to order. Pointing to a Stella Artois was first on agenda. It was the freshest, coldest and most wonderful beer I can remember having and I've had a lot of beers in my life. Perhaps it's the fact that this Stella didn't have to travel across the ocean for me to enjoy or perhaps it was simply celebrating our arrival to Moscow. Either way, it was the perfect drink to kick off the trip.
Elaine Schoch is a recovering corporate climber. She began writing Carpe Travel after leaving the corporate world to try to gain a better balance in life. Her writings at Carpe Travel focus on balancing life and work with her passions – traveling (with kids) and discovering new wines from regions around the world. She's married to "The Husband" and has two little Princesses. You'd think her traveling days would have slowed down with two kids in tow, on the contrary, Elaine is determined to show them the world. The Princesses have already become two very well travelled little people who are earning miles and status before the ripe age of five years old. You can find Elaine's travel tales, musings and tips on Carpe Travel or follow her on Facebook, Twitter and Instagram.
6. Pilsen Beer, Peru.
What better place to enjoy the local beer of a country than at the most iconic place in the country? This is why I chose Pilsen and this shot of fellow travelers enjoying a beer and victory at the completion of our four day Inca Trail hike last year. Yep that's me, the odd one out with the green can of Pilsen. I can tell you I didn't choose this beer for its taste, in fact the Cusqueña that the other guys are drinking is much better but the store ran out. Both beers will set you back about $1.10 US.
Ardun shares his adventures through his blog, photography and his latest travel memoir "Boon Dockers".
7. Kirin beer, Japan.
While it's not actually my favourite beer and it's quite popular worldwide, sampling a frosty pint of Kirin is a must when traveling to Japan. After a full day of temple exploring and sightseeing in Kyoto, we stumbled upon this fantastic hole-in-the-wall restaurant specializing in Yakitori and deep fried goodies. We visited during happy hour, so the beer was cheap and plentiful.
Cam and Nicole Wears are the duo behind TravelingCanucks, an award winning Canadian travel blog. Having travelled to over 65 countries & territories together in the past 7 years, their life journey has changed since welcoming their baby boy in late 2011. They now write about family travel and share baby travel tips they learn along the way. You can follow them on Twitter and Facebook.
8. Beer from Iceland.
In my opinion, one of the best things about traveling is trying the local beers. When I think back on all the brews I've sampled (in responsible amounts of course…) there are many that stand out for different reasons. And though taste and price are certainly the main factors when choosing a beer at home, my memories of the 'best' beers I've had while traveling are dominated by the atmosphere and setting that made them stand out. It's for this reason that I want to highlight 'Viking Beer' in Iceland. Though alcoholic beer was banned in Iceland until fairly recently (1989), you'd never know it with locals and visitors alike hopping from spot to spot along Laugavegur and drinking along the way. The Viking Beer, a lager, was going down almost too easily for me while we were there visiting. I'd say it's best after a day of exploring volcanic formations, geysers and hot springs, and when you want to observe the local frivolity!
Ewan is an advocate of enjoying life through traveling and enjoying the local brew.  He and his partner in crime Emily are the pair behind whatareyouandewandoing.  At the start of 2014 they left behind the lives they knew in Canada and set out on a year long journey.  Currently they are exploring Mexico, soaking up sun, sand, Spanish lessons and the local food and drink. Read about their adventures on their blog, or follow along on Instagram or Twitter. 
9. Barbar from Amsterdam.
I first discovered this ale in a little canalside bar called De Beiaard, in the Leidseplein area of Amsterdam, a bar which specialised in Belgian beers. Barbar is a pale ale flavoured with honey and is traditionally served in 33cl bottles with a swing top cap, designed to emphasise the strength and ancient character of the beer. Despite its strength (it's 8%!), Barbar has a really smooth flavour, and despite the fact that it's flavoured with honey, it's well-balanced and not too sweet. The honey is more of a subtle undertone, rather than dominating the taste and aroma of the beer. Moreover, it wasn't scarily expensive either, from my recollection. I also believe that part of its appeal for me is that it's quite a difficult beer to track down; a rare species in the realm of alcoholic beverages from around the world. In fact, there is also a dark version, Barbar Bok – which I stumbled upon years later in a bar in Bergamo, Italy – that seems to be more readily available than its blond cousin, and as dark beers go, it's a pretty darn good one too!
My name is Kiara Gallop, creator of Gallop around the Globe, a travel blog containing inspirational travel stories, beautiful photographs, and informative travel tips, advice and reviews. I have an English Literature degree under my belt, and an enormous thirst for everything travel. With the exception of a 6-month solo trip around South East Asia (funded with redundancy money from a previous job), I have not yet figured out a way to be able to afford to travel long-term, so I generally fit my travels around a full-time job. I love to get off the beaten track, immerse myself in local culture, sample local food and experience local live music. I have recently been made redundant from my second job, which although unlucky, has opened up another window of opportunity for me for long-term travel. So this April I set off for South America, and I'm excited to see where these next adventures will take me :-) You can join me on my travels through any of the following media channels: Facebook, Twitter and Pinterest.
10. Columbus, Amsterdam.
Our favorite spot for a good beer with friends in Amsterdam stands next to a windmill and used to be a bath house. The Brouwerij 't IJ displays 7 organic beers in its catalogue, but we usually go with the Columbus, an amber-colored slice of heaven which starts with a sweet citrus taste, develops into a caramel swirl suffused with spices and leaves you with a slightly bitter aftertaste. Packing a 9% punch, the Columbus is a burly beer perfectly suited to slow sipping. However, if the sun is shining warm it can be quite difficult not to overindulge. Hence, there have been occasions when we have stumbled out of the Brouwerij 't IJ in mid-afternoon not really remembering where we parked our bikes and ready to take an early nap. We always drink it on-tap, although at 2,90 Euro a glass it's not the cheapest beer at the Brouwerij 't IJ. But why be stingy when the setting is so pleasant and the beer so lusciously golden?
Following many zany adventures while based in Amsterdam, FW and Elle finally decided to embark on a long-term travel extravaganza and began a ridiculously slow journey across the Americas. Wanting to document a few travel tales and tips, they created Lunaguava, hoping to entice others to go out and explore our extraordinary world. Follow the ragamuffin trail on Facebook, Twitter and Pinterest.
11.  La Pêcheresse, Belgium.
Belgium is renowned for its strong beers and… well, I won't pretend I don't like strong beers like our Trappist beers which we are proud of. But today ladies and gentlemen, fellow beer addicts from all over the world, let me introduce to you the sweet and soft La Pêcheresse. La Pêcheresse » is a peach gueuze and one of the most refreshing beers you can find. When you take a sip of it, it's like you're biting in a peach. If you seek lightness and refreshment, guys, this is what you're looking for. You'll find this beer practically everywhere in Beergium from pubs to night shops. My advice is to get it on tap when you can. Fresh and perfectly cold. I'm drinking one in Liège as I'm writing this. It costs €2 and it's definitely worth it.
Karl Delandsheere is a freelance web designer, photographer and blogger based in Belgium. Karl publishes Hobography a blog about travel and photography and provides photography material for Yummy-Planet a blog about food culture. Connect with him on Facebook and Twitter.
12. Yebisu, Japan.
If there's one thing I didn't like about living in Japan, it was that the beer selection consisted mainly of overpriced, boring lagers. I was saved from a year of bad beer when I discovered Yebisu Black, which almost compensated for all the other lackluster Japanese brands. Yebisu Black is a dark lager, so it's not as heavy as a stout like Guinness, but it's just as flavourful. It's creamy and slightly bitter, with an almost coffee-like flavour and a sweet aftertaste. A can costs 265 Yen (about $2.50). I tried it for the first time in this weird little Japanese-Mexican restaurant in Hida-Takayama. The food was forgettable, but we kept going back to this restaurant because it was one of the few places where we could find this awesome beer.
Jessica Dawdy has been slowly working and volunteering her way through Europe and Asia with her partner, Brent, since September 2011. They've done everything from managing a bed and breakfast in Wales to performing radio advertisements in rural Japan. Catch up with their stories on her blog, Ways of Wanderers, where she provides travel inspiration and advice for anyone who dreams of having an adventure. You can also find her on Twitter and Facebook.
13. Corsendonk Christmas Ale from Belgium.
As an avid beer lover, I am constantly on the lookout for good beer. I've had my fair share of good beers, but the Corsendonk Christmas Ale is hands down the best beer I have had while traveling. The Ale is a big, brown, Belgian strong ale that is smooth and malty, with a bit of fruity sweetness to it, but also with a nice warming spiciness to it, which I like in winter ales. I was able to enjoy a glass recently while visiting the Au Bon Vieux Temps pub in Brussels, Belgium. A 330 ml glass cost 4 euro – a bargain for a beer of this quality. Cheers!
Brian Patton is a beer-loving traveler, whose one-man search for the Sasquatch has taken him all around the world. When not on the trails, Brian can normally be found seeking out local brews in local pubs. You can follow his travels at wanderingsasquatch.com and find him on facebook or twitter.
14.  Taiwanese beer.
While in Taiwan we've been introduced to a very special alcohol beverage. Somehow it's more luring for girls than guys. Taiwan Beer has only 2,8% of alc. and almost twice as much (5%) fresh fruit juice. It's light and tasty and you can't say it's unhealthy! One of Ana's top 5 drinks from Asia. We had it in Hualien with friends – mango taste as well as pineapple. There are two new flavours for us to try when we're back in Taiwan – orange and grapes, all from the same series with natural juice. Price ranges from 37 to 40 NT$ (1.2-1.3 USD).
Recently married couple in early 30s, Ana and Arek are friends for over a decade. Both keen travelers with great interest in different cultures. And with no interest in joining the rat race! This is why 2 years ago they sold their Warsaw flat, quitted cool jobs in advertising and started their life journey. They travel around Asia and Australia, do work & cultural exchange, Couchsurfing and some sightseeing on the way, with no deadlines. Honeymooning for over 15 months already, together they face the world of unknown and feel really lucky doing it. Follow their epic journeys across the world on their blog.
15. Scottish beer.
After finishing a street art tour in East London, our beer loving guide recommended we stop into the nearby BrewDog pub. After scanning their beer list, Tactical Nuclear Penguin stood out for its absurdly high percentage of alcohol: 32%! For comparison, common lagers like Budweiser and Heineken are only 4-5%.
BrewDog prides themselves on pushing the boundaries of beer, and they set out to brew the strongest beer in the world. Alcohol levels this high are not possible from conventional brewing, so they decided to concentrate one of their regular strong beers by freezing in sub-zero industrial freezers. After freezing, they were able to remove the water (as ice), leaving a thick, concentrated liquid that is more like a hard liquor than a beer. Tactical Nuclear Penguin beer was the strongest beer in the world when it was released in 2010. It has since been surpassed by a few other brewers. The current record for strongest beer in the world is a 67.5% ABV barleywine crafted by Scottish brewer Brewmeister.
Because Tactical Nuclear Penguin is extremely concentrated (and expensive!), it was served in a tiny 25mL pour at a cost of 6 British pounds. It was thick and viscous with no head and extremely heavy "legs." It was hard to taste or smell anything beyond the strong alcohol, though the syrupy texture and bitter sweetness reminded me of molasses.
Extremely high alcohol beers like TNP strike me as more of a novelty than something people would actually want to drink, but it was certainly one of my most memorable craft beer experiences!
Cassie Kifer writes about travel, food, and photography at Ever in Transit. She lives in the San Francisco Bay Area, where she spends her time plotting her next journey and eating adventurously. Follow her on Twitter or Facebook.