If you've ever seen Anthony Bourdain's dive into Hong Kong in his culinary travelogue series Parts Unknown, you will know by now that Hong Kong is an incredibly eclectic place to explore. It's a constantly evolving city that not only has a wonderfully diverse range of food to experience but also a rich and vibrant culture ready to be experienced. 
For those of you looking to create an itinerary for a trip to Hong Kong in 2023, this guide sheds some light on some of the best tourist attractions and cultural experiences for you to explore.
From exciting festivals to iconic landmarks, let's plan and build your dream holiday. Check out 11 of the best activity ideas to explore in Hong Kong, as well as our best tips on transportation, local cuisine, and affordable accommodations.
11 Best Activities to Explore in Hong Kong
1. Peak Tram
Operating since 1888, the Peak Tram in Hong Kong is one of the oldest funicular railways in the world. It transports passengers from Central up to Victoria Peak, rising about 1300 feet above sea level and giving you amazing views of some of the city's most iconic landmarks along the way.
This ride is hugely popular with tourists and locals alike. The University of Hong Kong also noted that passengers riding uphill on the Peak Tram typically experience what is called "The Peak Tram Illusion," which makes the buildings appear more tilted towards the ground than they actually are. Perhaps you will experience this illusion for yourself!
2. Ocean Park
Ocean Park is the second largest theme park in Hong Kong after Hong Kong Disneyland. Since being revitalised with a HK$ 5.5 billion development plan, it has expanded greatly and now features over 80 attractions and rides.
Visitors will first arrive at the Waterfront, which houses the marine life exhibits Aqua City and Whiskers Harbour. Here, you might get to see some adorable otters and king penguins.
Because it's located on a hill overlooking the South China Sea, you can use the cable car to see the scenery around the park. Alternatively, you can use the Ocean Express train, which simulates being underwater in a submarine, to get to the Summit where all the big water rides like the Rapids are.
3. Star Ferry
The Star Ferry in Hong Kong has been operating since 1880. Getting on their bottle green boat is one of the most iconic experiences to be had while you're in the city.
On the ferry, you'll get a gorgeous view of Victoria Harbour when crossing from Tsim Sha Tsui to Central. If you head over to the starboard side around 8 PM, you'll get a unique perspective of the Symphony of Lights.
4. Luxury Shopping Spots
Known as the "city of mall," Hong Kong is one of the best places to shop in East Asia.  The city is home to some of the most famous shopping spots in the world, from bustling markets and street stalls to luxury malls and designer boutiques.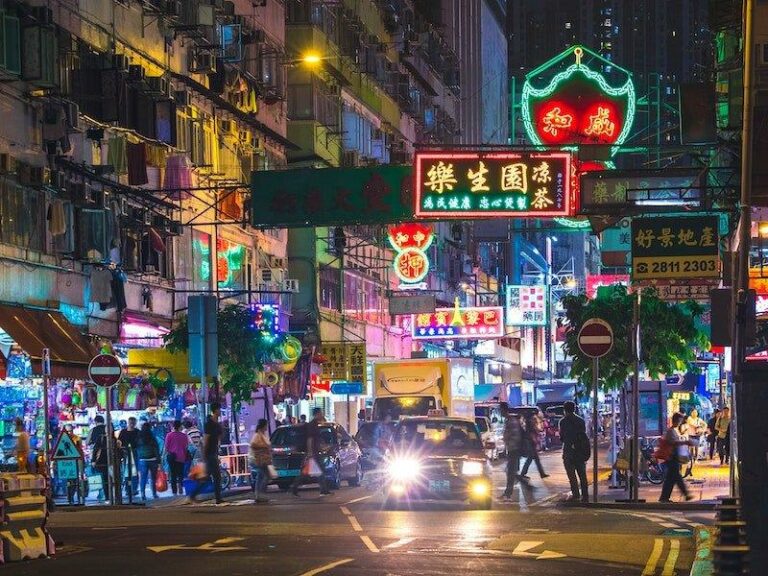 The main shopping hot spots are found in Central, Causeway Bay, North Point, Admiralty, Tsim Sha Tsui, Mong Kok, Jordan, and Yau Ma Tei.
If you're looking for the most exclusive luxury mall, this one in Central is called the Landmark, which is where you'll find the most expensive brands.
5. Temple Street Night Market
Temple Street Night Market is one of the most famous night markets around, where you can find high-quality goods at bargain prices.
Every night, the 600m long street transforms into a bustling market with vendors selling all sorts of things you can take back home like electronics, clothing, and jade jewellery. You'll find an array of antiques, local and pirated goods, street food, and even fortune tellers there.
There is also a chance you may also be able to listen to Cantonese Opera while you're there, which isn't too far from the street.  
6. Ladies Market
Interested in visiting another night market? Ladies Market is located on Tung Choi Street in Mong Kok, not too far away from Temple Street Night Market and the Jade Market.
Like the other markets mentioned, you can find unique cheap items at the Ladies Market that make perfect souvenirs for your loved ones. Please note that there is a bargaining culture in this market, so you're encouraged to try to bargain to get a good deal on any items you like.
7. Local Hawker Stalls
Although there are far fewer stalls than there have been in previous decades due to strict new policies and limits enforced by the government, local hawker stalls are still one of the best ways to experience authentic local cuisine.
Many of the license holders are now in their 60s, and with no new licenses being issued, it's a dying trade that new visitors will only have a short period of time to experience for themselves.
You will find many of these hawker stalls set up on the side of the street, offering delicious affordable dishes tucked around the busy districts of Mong Kok, Sham Shi Po, and Kwun Tong. Hawker stalls offer everything from noodles and dumplings to traditional cooked dishes with a twist. A visit to a local hawker stall is sure to be an unforgettable experience that will tantalise your taste buds!
8. Dim Sum & Tea Houses
Dim Sum & Tea Houses are an important part of Hong Kong's cultural and culinary heritage. In Cantonese, Dim Sum will most likely be called Yum Cha.
Locals will usually have Yum Cha between or around breakfast and lunch. The dishes are either fried, steamed, or made sweet, and a typical menu will offer a wide variety of small bite-sized dishes that include steamed buns, dumplings, and rice noodle rolls.
The most popular dishes you should try are the har gow (shrimp dumplings), siu mai (pork and shrimp dumplings), and char siu bao (barbecued pork buns). Yum Cha is typically considered a social gathering place for families or friends, so this should be checked out if you want a local experience.
9. Hiking in Hong Kong's Country Parks
If you want a short break from the bustling city, Hiking in Hong Kong's Country Parks is a great activity for lovers of the outdoors. There are over 40 parks in Hong Kong, each of which features easy strolls along well-marked trails to challenging climbs up steep hills.
The most famous and popular national park with a hiking trail is the Hong Kong Global Geopark of China. This park covers an area of 50 square kilometers and is known for its hexagonal rock columns, sea caves, sea stacks, and volcanic rocks. It is also home to some rare and endangered flora and fauna that you normally would not be able to see otherwise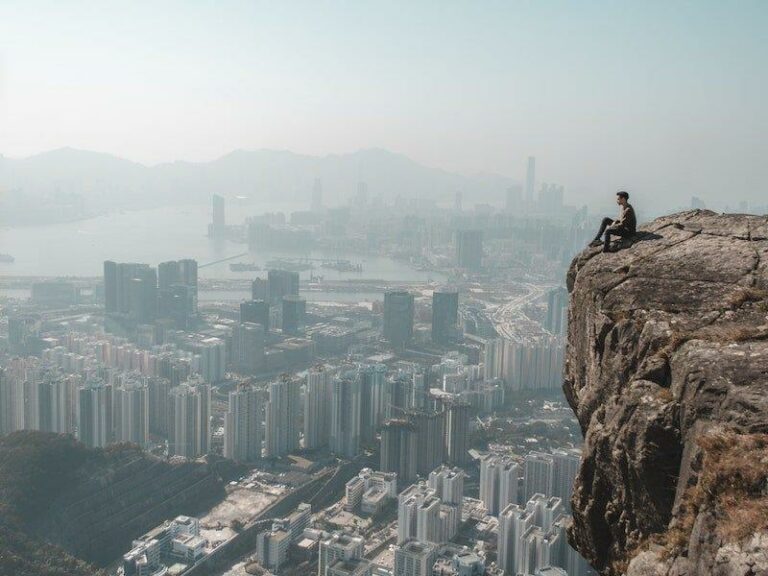 10. Symphony of Lights Show
The Symphony of Lights Show in Hong Kong is an award-winning sound and light show which runs every night at 8 pm.
This light show has been a signature of Hong Kong since starting in 2004, with over 40 buildings on both sides of Victoria Harbour being illuminated by colored lights and lasers during the show.
For the best view, you should head to the Tsim Sha Tsui waterfront outside the Hong Kong Cultural Centre.
11. Po Lin Monastery
The Po Lin Monastery was founded by three monks visiting Lantau from the mainland in 1906, and is one of the most important sites of Buddhism in the region.
There are three bronze statues of the Buddha found within the monastery, but you will also find the larger Tian Tan Buddha statue (aka "the Big Buddha") close to the site. It is a more scenic destination for those wanting to see a little more nature and Buddhist architecture.
Since it is located on Lantau Islands, you can opt for a short or long hike through the mountain and forests with a beautiful backdrop of the coastal scenery.
Transportation Tips
Hong Kong's transport system is very efficient, so you won't have much trouble getting around the city. The MTR subway system is the backbone of the city, with its lines connecting all major districts and attractions. You should be able to navigate to almost any location in the city using the MTR's 12 lines. Buses and mini-buses also run throughout the day and night on a comprehensive network of routes.
Tramways are also an iconic part of Hong Kong's transportation network; they're relatively affordable and you can sometimes get some good views taking these too.
If you want to check out the other islands, the Ferries will connect you to the different islands.
In case you are struggling with public transport, taxis can also be found throughout Hong Kong 24/7 and are metered and relatively affordable. Ride-hailing services such as Uber also operate in Hong Kong, providing an alternative for visitors who are struggling with some language barriers.
Eating Local Cuisine
The local cuisine of Hong Kong is a unique blend of Cantonese, British, and other Asian influences. Visitors are spoilt for choice when it comes to food. If you aren't satisfied with the budget experience of the street food stalls, you could head over to the more expensive Michelin-starred restaurants.
One staple dish in Hong Kong you need to try is roasted goose or duck. The crispy skin and tender meat make this dish unforgettable, and it's hard to find this replicated to the same degree in your own city.
Other popular dishes include congee (rice porridge), sweet and sour pork, and egg tarts for dessert. For those who are a bit more adventurous, snake soup may be an offering at some restaurants.
While you are in Hong Kong, you may want to explore the restaurants that Bourdain had originally tried out in his culinary series. Some of these include Lau Sum Kee Noodles, Sun Hing Restaurant, and Leaf Dessert. Do note, some of the restaurants have since closed and you might want to double-check that they are still operating before traveling to them.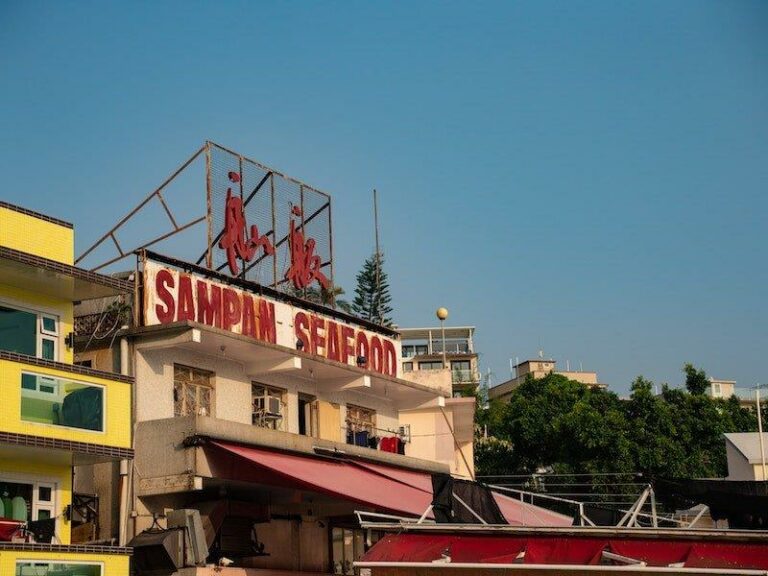 Finding Affordable Accommodation
Hong Kong offers a range of accommodation options that will cater to almost all budgets.
If you are planning to stay in Hong Kong on a budget you should go for a hostel. Some of these can go as low as 12 or 15 dollars a night. However, if you are intending to stay in Hong Kong for more than a week, you'll likely be more comfortable in a medium-priced hotel.
Hostels in Hong Kong offer clean dormitory-style rooms with shared bathrooms and communal areas such as kitchens and lounges. However, more active visitors may find hostels harder to rest in.
If you want to indulge in luxury, Hong Kong has some of the most expensive five-star hotels in the world. The rooms are far more spacious, and you have much better views of the city skyline. Some also have other amenities such as swimming pools, spas, fitness centres, and fine dining restaurants.
Another option is a guesthouse or homestay. These types of accommodations offer a unique opportunity to live with locals and are a much better way to immerse yourself in the local culture. Guesthouses typically are on the smaller side, but make up for it with personalized service from local hosts who can give you better tips on where to go and what to see.
Conclusion: Enjoy Hong Kong!
Clearly, there are lots of fun things to enjoy in Hong Kong. While you're there, make sure you get to experience Hong Kong to the fullest, with both local culinary adventures and typical tourist spots. We hope this guide gives you plenty of ideas to explore while you visit this amazing city.