London has the red double-decker bus, New York the yellow taxi, and the Philippines has the Jeepney.
I have never heard of "jeepney" before, but once I travelled to the Philippines, I had to add this word to my travel vocabulary list. In today's post, I want to introduce this extremely interesting vehicle and transport to you and I hope you will have a chance to have a ride on one some day.
Best way to experience the Jeepney ride, of course, is to go to the Philippines! Here's a handy Philippines Travel Itinerary for you.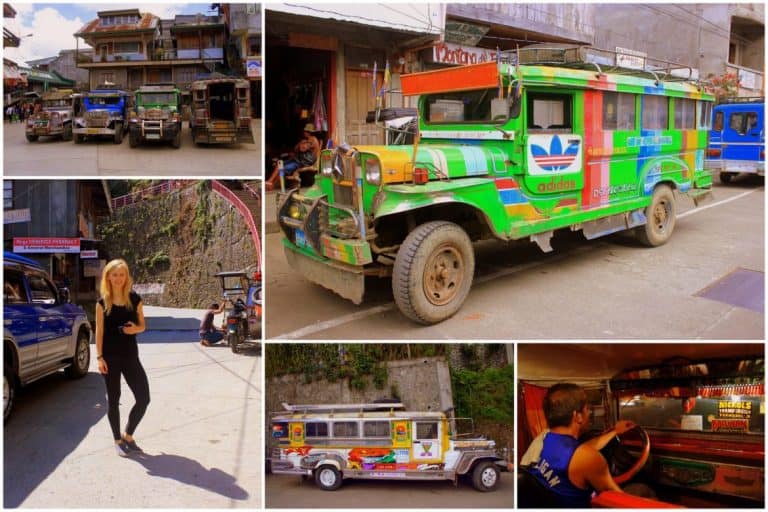 You can experience the magic of Jeepneys first-hand with a Jeepney Tour from Manila.
What is Jeepney?
Jeepney is the Philippines' most popular mean of public transport, extremely cheap and pretty comfortable, used by most of the locals. It is also known as Jeeps and in Filipino you would call it Dyipne or Dyip.
Because of its open rear door design, picking up and dropping off is easy for both passengers and drivers, although there's quite a lot of shuffling inside.
Each vehicle represents the multi-cultural history of the Philippines.
As one of first makers of Jeepneys, Ed Sarao says: "There is bit of Spanish, Mexican traits there; how they incorporate vivid colors, fiesta-like feelings. There is a little of the Americans because it evolved from the Jeep. There is a little Japan because of the Japanese engine. But it was built by Filipino hands."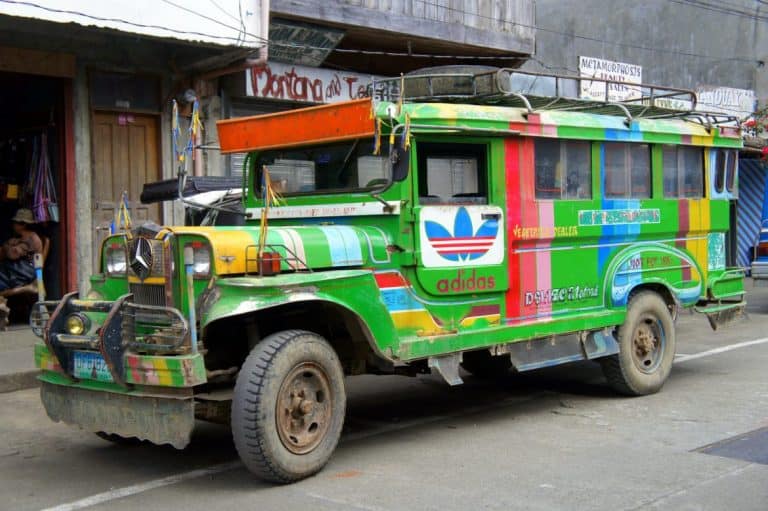 The bulk of Jeepneys are built from second-hand Japanese trucks, originally intended for cargo. It is devoid of passenger comforts. Depending on length, it can load from 18 to 30 passengers, the drivers are usually waiting for a full load before going their way, but that may differ depending on the route (drivers know best what's the most profitable way for them).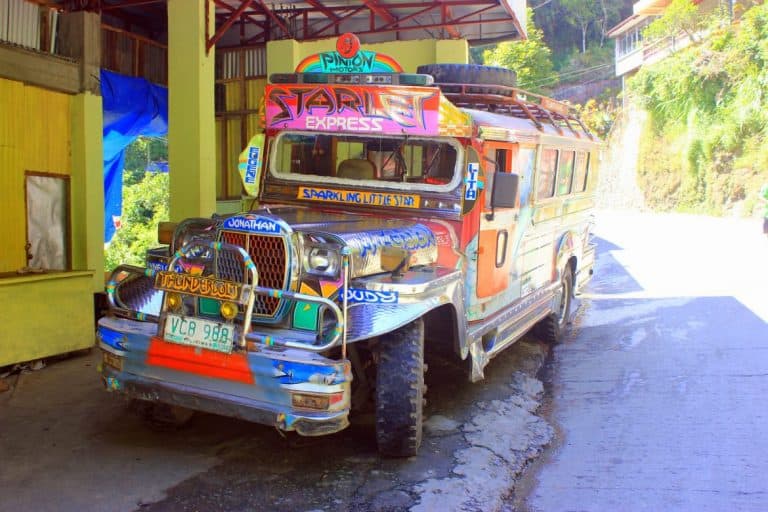 What is so special about Jeepneys?
They all qualify as "art-on-wheels"! Probably no two jeepneys are alike. The jeepney art is impressive and it is a combination of artwork applied by airbrush and sticker artists.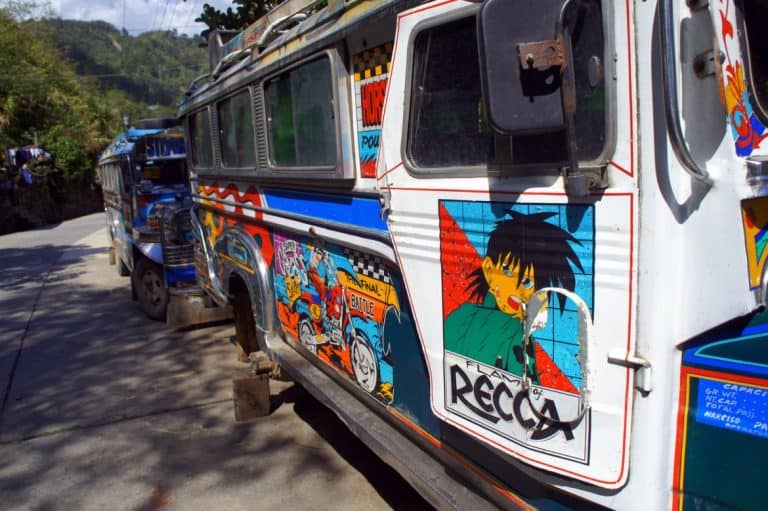 Many jeepneys concentrate the art on the front, insanely cramming the hood area with accessories, the sides with empty galvanized expanses or scatterings of ads and small art. Some are gleamingly and colorfully wrapped with accessories and airbrushed or stickered art. The main art theme are religious symbols.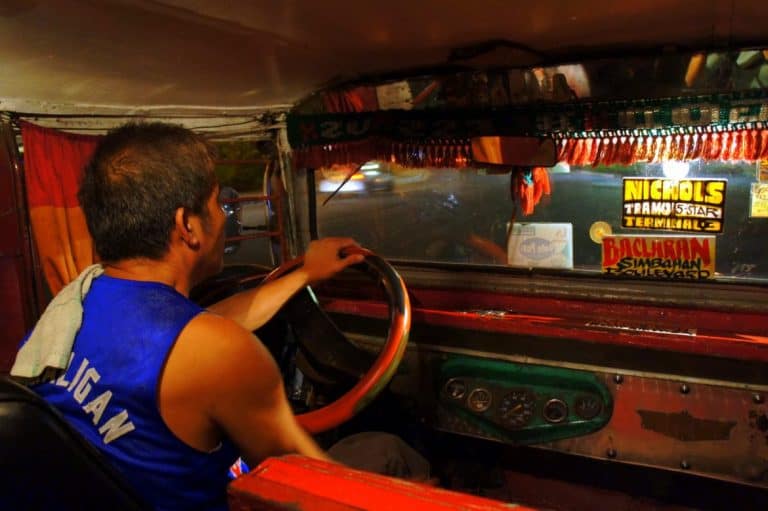 Where can you find Jeepneys?
The answer is EVERYWHERE in the Philippines! During the day they go on fixed routes, picking up passengers from designated stops. There are roughly 50,000 Jeepneys roaring around Manila on any given day so there is no way you won't spot at least 1 when strolling down the streets or even through the tumbling hills of Corderilla.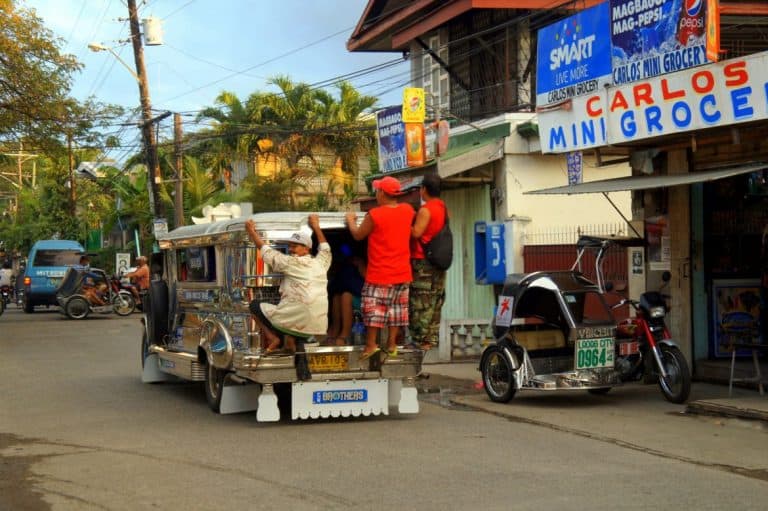 How Much is the Jeepney Ride?
Getting around may cost as little as 8 pesos which is $0.20. However, different routes / distances/ cities may have different prices. For an average Filipino, jeepneys are the cheapest way to get from one place to another, without walking.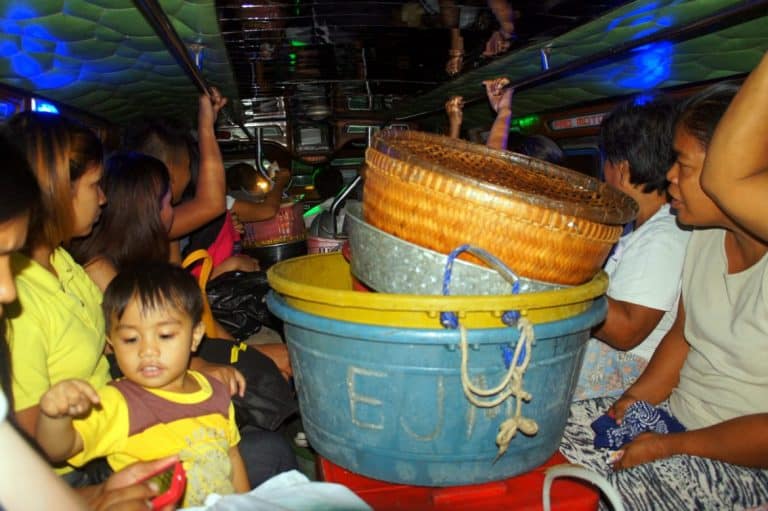 For budget travelers, jeepneys are one of the best and most comfortable transport options, especially if you travel in a group. Drivers normally speak English (like most of the Filipinos) so you can easily get to your destination for a few cents.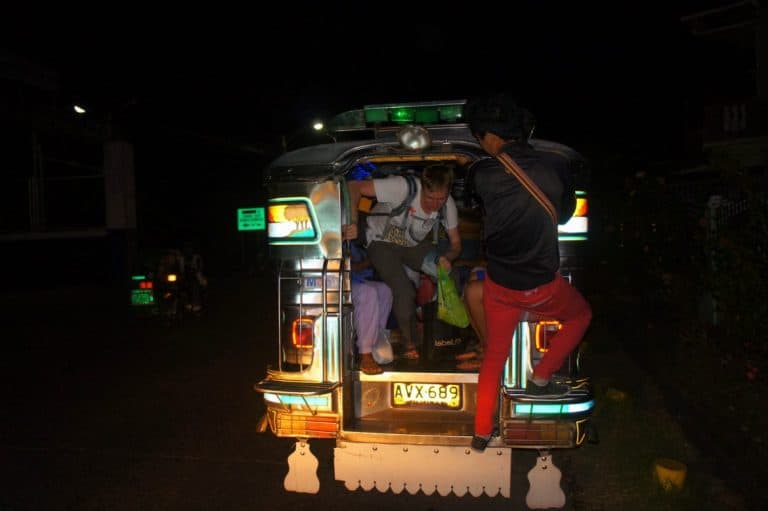 What it's Like to Ride in a Jeepney?
Pros of Jeepney:
Picking up and dropping off is easy for both passengers and drivers, they can stop anywhere unlike buses. You can catch one from nearly any place you are at.
It's a good opportunity to talk to some locals and get to know people.
Less likely you'll get ripped off (the prices are normally fixed) unlike some buses and most taxis.
There is plenty of space inside to sit down and unfold your legs (unless it's fully packed).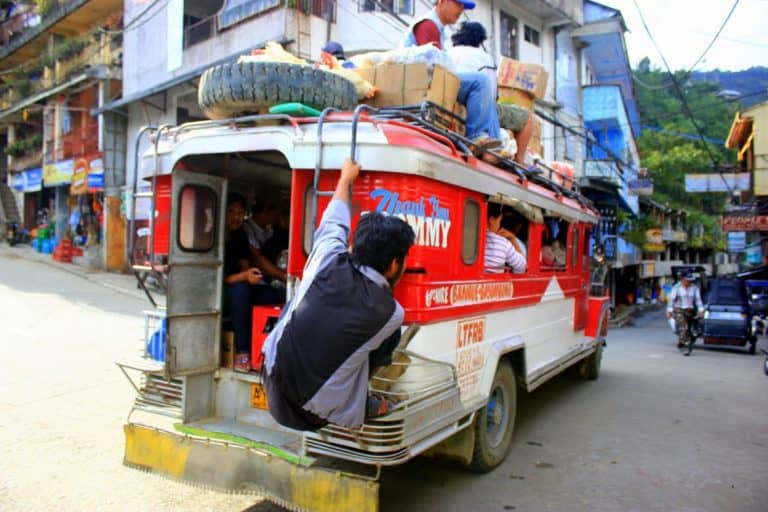 Cons of Jeepney:
There is no air-conditioning.
Not much will protect you from the elements (imagine a ride in the rain).
It's not very safe (no seat belts and drivers drive like crazy).
Most of the jeepneys are overloaded with passengers so you might end up squeezed feeling like being in a can of sardines (shoulder-unto-armpit, back-unto-chest, shoulder-unto-shoulder, elbow-unto-hipbone).
Sometimes, your wheeled backpack will ride on the roof instead of next to you,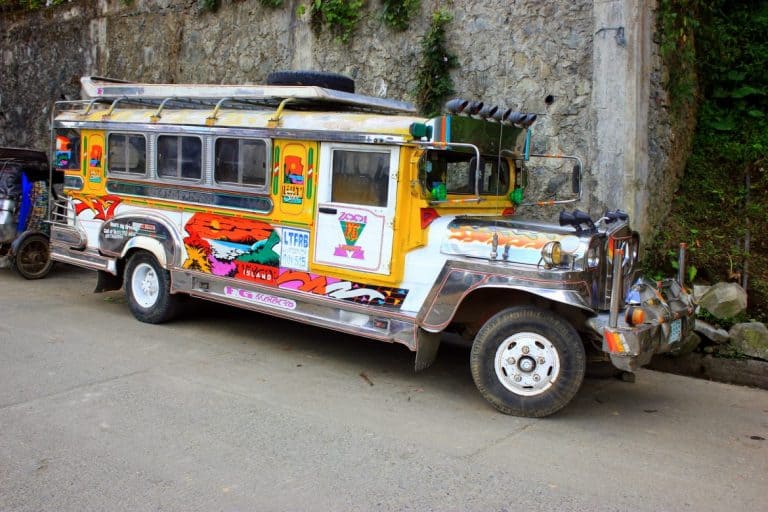 Our experience with Jeepneys
We took our first jeepney right after we arrived at Manila airport. We caught it just outside the airport to get to the bus station from where we were going to Pagudpud. It was easy to get in and cheap, pretty shaky ride, but safe and we enjoyed it. The driver didn't talk much, but he knew the place we were heading to so he dropped us off just in front of the bus station. We paid 8 pesos each. There were only 5 other passengers with us. It was fun! Afterwards, we had at least one ride in every city we've been to.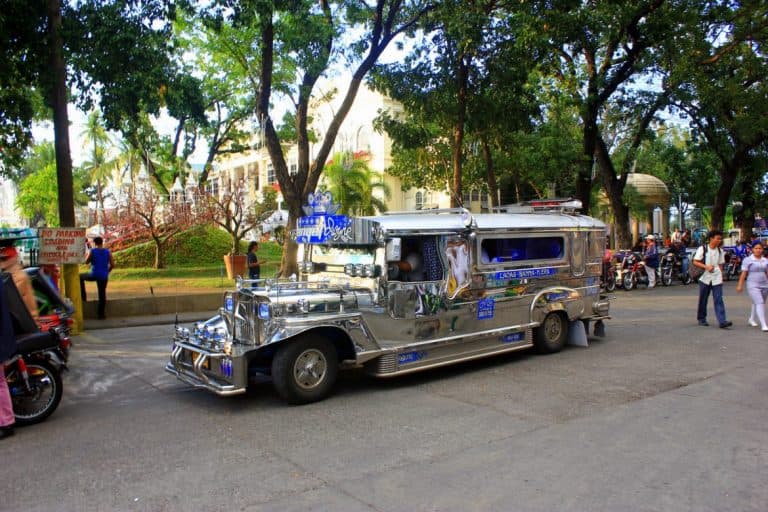 Have you ever had a jeepney ride? If so, how was it?