Nha Trang and surrounding it islands
It all started slow when I arrived in Nha Trang, a little touristy coastal town, at a local bus station around six o'clock in the morning. The usual hassle of getting ticket to Da Nang at a local price was easier this time, thanks to my new Vietnamese friend I met on the coach from Hanoi. Taking advantage of no plans for the day and lack of information about this town, taking our time we went for a sip of delicious Vietnamese coffee. We had a nice chat about everything and nothing, I thought "that's gonna be a good day". That's when I overturned a coffee table, together with some full and empty glasses, while putting my backpack on. A good sign…
Local bus took me to Nha Trang's high street, paralleled to the beach, just opposite travel agent. Went in to check local attractions, only to find out about a day trip to 4 nearby islands, for 8 dollars, leaving in less than 30 minutes. How to find a cheap stay in a town you don't know within 10 minutes, so it leaves you some time to check in, change, pack for the day and come back to the travel agent? QUICK. First hotel (I did not have time to look for hostels, although I'd love to) $30, second one $15, third one $15, fourth…
"wait my friend" – I hear the guy from the 3rd hotel – "Why not our hotel? Good, cheap, you like"
"Too expensive" – I said
"$10 for you. Come friend, come"
"$8 is my maximum" – I replied
He said "no, it's too cheap" and as I was walking away again, he stopped me to say it's ok for one night. Sorted. Quickly done what I had to do and was back in the agent's office within the time. Hungry, but eager to see what they have planned for us. A small pick up van packed with colorfully dressed holiday makers from Australia, Russia and France picked me up. All the way they spoke about their parties in Vietnam and booze, and they looked like they were abusing it already.
A boat with seatings easily convertable into table, necessary for the meal included later, was evenly rocking in the bay. Quick jump in and we're on. Feeling like a proper tourist located myself in a place where I could take some photos and a Polish couple sat next to me. How random :)
Firstly we visited Tri Nguyen aquarium situated on Bong Nguyen island. It's rather small and I didn't think there was anything extraordinary you couldn't see anywhere else. However, it's hard to tell without walking in. The fact that 80% of the people I came with did not bother to go and stayed at the bar was somewhat overwhelming. It was $2.5 for entry, but I'm sure they have spent more on alcohol in that bar. The best thing in there was the few stories high tower, great for photos.
Next we have approached in a boat, and seen, a floating village where people went around their everyday life, thus we didn't come closer to disturb them. By the second island, it was a time for snorkelling. Some could and did dive, but at extra cost and in pretty shallow waters. For me the view from the surface with my head dipping into the water was more than enough. Great fun, especially taking into account that it was January and doing the same thing in europe would be rather difficult and much colder.
The third island was a place where the travel company organised a lunch/refreshment. Starving for few hours without a breakfast, it was just what I was dreaming about at the time. Few bites of everything that was on offer did a great job in making me, and probably others, happy. What's next? Exactly the thing most of the tourists on the boat wanted, alcohol-soaked party in the water! Two yachts were perpendicularly joined together and a crew member jumped in between them to serve drinks and pineapple. It was free, all you had to do was jump in the water. So I did… from the roof! I have a video of this, but am unable to upload it in China (you should be thankful, you probably don't want to see a fatty splashing the water around. "Once seen cannot be unseen"). Laud music, party atmosphere and drinking in the water (unacceptable in the western world due to health and safety regulations) made the time fly faster and by the time I got back on the deck I was sun-burned.
The last island was just too much. They were charging for stepping off the boat on to the little beach. All we could do there was sunbathing and drinking, and neither I nor my Polish friends wanted do to it. So we've stayed on, taking some pictures and having a chat. They've been to some amazing places and where traveling to Saigon later, so we had a lot to talk about.
Tet (Vietnamese New Year) celebrations
Back in Nha Trang, it was a full-on last minute preparation for Tet falling on 23rd January 2012. That's exactly when I arrived in there, so this night I could watch celebrations. All great, but because of night in a bus, rush in the morning, all day on the boat and a sun-burn, I have caught some kind of a cold. Feeling unwell, I still didn't want to miss it, so after a shower and a chat with my father on skype I went around the place.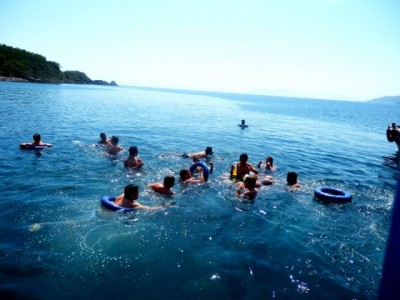 I left my camera at home because both batteries were flat. Shame, as I was seating on the pavement kerb I have witnessed something I would have filmed if I had a camera with me. It could have actually earned me a lot of viewers and subscribers on youtube. Imagine a road busy with motorbikes. And when I say busy, I mean Vietnam-busy. A guy gets to the middle of this busy road and starts to walk in the same direction as the traffic. Just as if he was asking to be hit. And so it happened after a minute or so. He painfully dropped on the asphalt and back to his feet while the person who hit him was probably inventing some new swearwords out loud in Vietnamese.
When it comes to Tet, I'm ashamed to say but there's only three things I have noticed.
It's extremely important for Vietnamese. All families get together, they have 9 days national holiday to do it, and people are celebrating long time before and after it (as you could see in my Da Nang note). On the day, streets are full of people and they are all sticking together in smaller and bigger groups (families and friends).
It's somewhat funny to see big dragons (with few people hidden in it's body) zigzagging on the balconies and through people's homes. It's all doubled with a loud music from a open-roof delivery truck below, sometimes people are playing some loud instruments.
It's extremely loud. Mostly due to the "dragon performances" and fireworks. I had a headache, which wasn't eased by the sound and their volume coming to my ears.
I had to leave the following day, going to Hanoi through Da Nang again, but that's something I will tell you about in the next note.
What's your experience with Nha Trang or Tet? Tell me in comments.