As you may remember from our social media updates, we spent Christmas in magnificent Minsk city, Belarus. The aim of this visit was to stay at a hostel where we could meet people, explore the city with other travelers and enjoy this special time with people who have the passion for travels.
When selecting the accommodation, we bumped into Trinity Hostel that turned out to be a nice, cozy place. We stayed here for 4 nights whilst we were exploring the city and found it to be one of the best hostels we've ever stayed in. The staff were friendly, the rooms were nice and clean, and the hostel was located conveniently. Here's our review. 
Room Booking and Check-in
Pretty standard procedure for a hostel here. We booked before arriving and picked this one because it seemed to have good reviews. Little did we know how good this place was until we actually arrived. From the first moment, the staff were incredibly attentive and enjoyable to be around. Tanya, Kasia, and Veronica helped us a lot with everything. Check-in was a doddle and afterward, all three were open for a chat.
Overall, no problems here. Just make sure to be friendly to the staff, even if there are any problems. They want things to be as seamless as possible for you, and they will try their hardest to make your time there as relaxed as possible.
The Room
We stayed in a standard hostel room, which, if you don't know already, isn't all that much to phone home about. However, it was a good room, clean and decent. But still your standard hostel room. The beds were nice and they were great to lay back and fall asleep on at the end of the day. The noise level here also wasn't too bad. Some hostel rooms end up being subject to loud noises from the front of the building or other areas around it, but at the Trinity Hostel it was quiet and we really didn't need earplugs.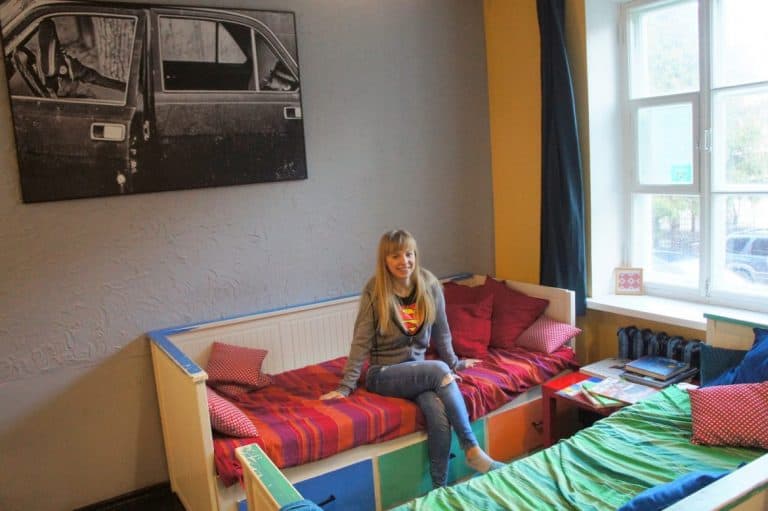 We spent most of our time in the main room whilst we were here. Apart from the incredible staff (which we'll get to later), the main room was a good place to meet new people and sort out what our plan for the rest of the day was. The kitchen was great and really convenient – especially if you are traveling on a budget and want to make some of your own meals. We made some food before we headed out to Minsk for the day whilst we were there.
The design of the hostel itself was also pretty cool. It looked pretty "hipster" with its aged front door and bright colors. It certainly wasn't the standard kind of decoration you would see – yet the standard hostel wall art was still present, which we liked a lot. It's surprising how much art can really affect you.
The Hostel Atmosphere
The Hostel's Atmosphere was probably the best part of the place. We had obviously visited during a strange time of the year – Christmas – so there weren't all that many travelers around. Those that were seemed to mainly be from South America, but they managed to bring the festive spirit with them. We all got together to eat cake, listen to Spanish Christmas Songs, and cracks jokes. I think Cez and I haven't laughed that much in a long time.
Because it was Christmas, the atmosphere was very Christmassy. There was even a Christmas tree to greet us as soon as we entered the lobby, and a series of Christmas decorations as well. There are large signs saying no alcohol or drugs on the premises. That actually turned out to be a good thing and the staff were more than bubbly enough to make everyone come alive!
The Staff members of Tanya, Kasia and Veronica were very possibly a large part of what made the atmosphere so great. All three of them were world travelers themselves, so they knew what it's like to stay in new places with strangers. We managed to have some proper travel conversations with them and Veronica even went for a run with me in the evening! That way I wasn't going to get lost!
Benefits
Probably the biggest benefit of staying here was that we were given a map of the town with a number of bars, cafes, and restaurants which would offer discounts. We actually managed to get a free drink at My Dear Kebab because of it. During our whole stay, we also used the map to figure out how to get around the city and where we were going. A pretty good benefit overall.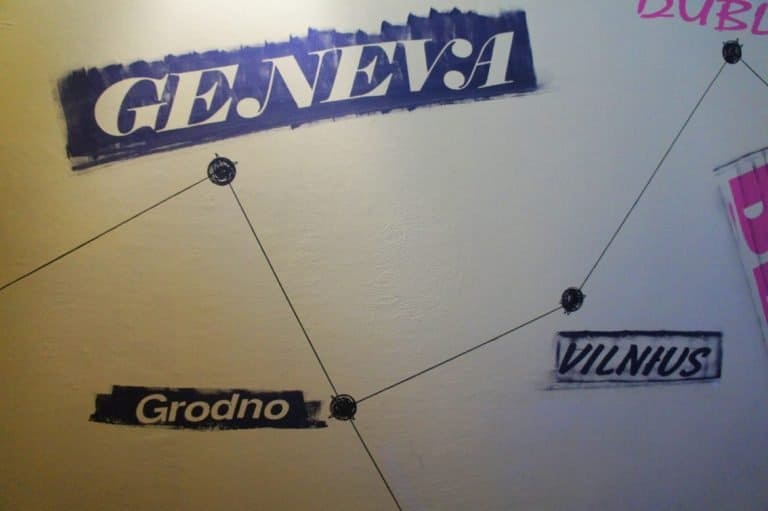 Nearby Attractions
Trinity Hostel is conveniently located in the oldest part of the city. It's really easy to access and we managed to walk from the bus station from the airport. Every sightseeing spot we really wanted to see was nearby too. Some of those great attractions included.
Victory Park
Just a short walk from the hostel, the park is one of the city's best public spaces. Great for anyone looking to go for a walk (or a run), and home to the Great Patriotic War Museum.
National Art Museum of the Republic of Belarus
The National Art Museum of the Republic of Belarus, located to the south of Trinity Hostel. Open between 11 am and 7 pm, this museum is home to some of the city's best national works out art. From old Russian works to some more modern Belarusian pieces, this is definitely worth the walk.
Vierchni Horad
The city's historic area and just a short 10-minute walk from the Trinity Hostel. You'll find several of the city's historic buildings here, perfectly summing up the architectural history of the area. It's a great place to wander around and explore every nook and cranny. Also, so great restaurants!
Independence Street
One of the city's most famous streets, this is where you'll find the Lenin monument and several other landmarks. A 15-minute walk from the Trinity hostel, it's worth visiting if you haven't seen it. Make sure to stow your camera though, pictures of the monument itself are not allowed.
Conclusion
For anyone planning on heading to Minsk in the future, we highly recommend staying at Trinity Hostel. The place is cozy, friendly and convenient. In fact, we couldn't imagine a better place to stay in when you're in a strange city.
What Do You Think Makes a Great Hostel?