Imagine being able to see the Vatican City as it was meant to be seen. No longer being stuffed in with masses of people, each of them squeezing past each other and looking for a piece of artwork they heard about, whilst holding a thin guidebook in their hands. Imagine being able to experience an exclusive and – dare I say it – secret side to the Vatican City. Almost like The Da Vinci Code, but without all the overly complicated plot devices and murder.
Well, that's what we did. In continuing my trip with my mom to visit three religious sites across Europe, we went on an exclusive tour of the Vatican City, through its museums, the Sistine Chapel, and more.
Keep reading to find out how it went and how you can give it a go yourself.
An Exclusive Experience
When it came to visiting the Vatican City, we wanted something special. With the religious theme of our trip, I knew that my mom was going to be looking forward to this place the most. I didn't want us to be spending the whole day stuck in queues and waiting for access to certain places. I also didn't want my mom to end up feeling disappointed by the time the sunset.
Enter Unique Tours Factory.
What Makes Unique Tours Factory, Unique?
It wasn't just the promise of skipping the lines which made me choose the Unique Tour Factory, it was also the promise of a complete overview of the Vatican's history. Some reviewers of the tour we had seen, were so alone that the tour guide (his name is Carlo) was able to give them a complete history of the paintings whilst they were in the Sistine Chapel.
Imagine that, being all but alone in the Sistine Chapel…
Unique Tours Factory offers an exclusive 4-hour walking tour through the Vatican, along with detailed history and facts about the place. Needless to say, my mother was impressed – and so was I.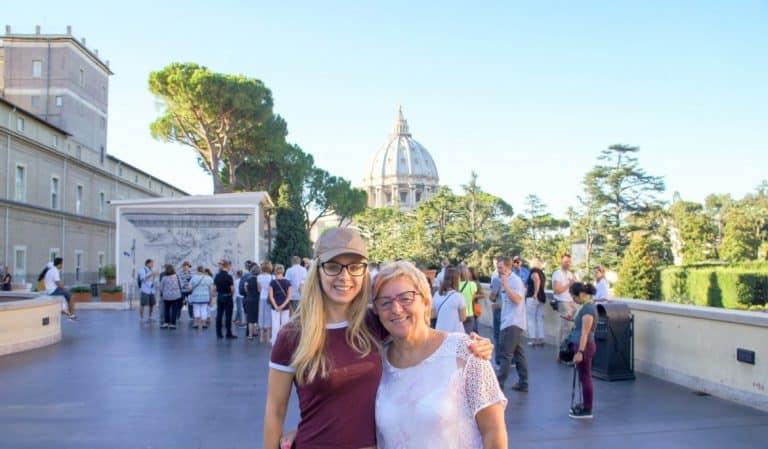 We were going to be able to look at Michelangelo's famous the Last Judgement, along with several other beautiful works of art in an exclusive environment.
Where to Meet
After having booked the tour, we were told to meet our guide Carlo at 7:15 am in front of Cafe Vaticano. We arrived here 45 minutes early. Note: Don't be late as the timing is pretty strict. If you were late, you might miss the special entrance time and with that special entrance time, comes all the perks of missing the crowds!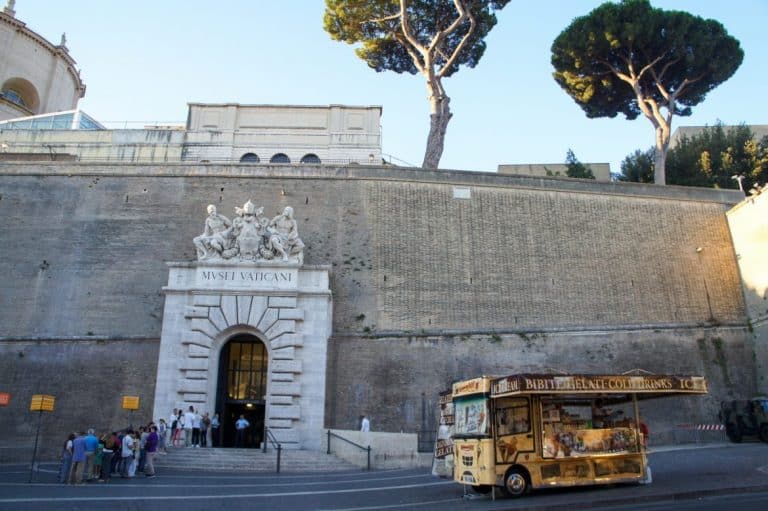 The meeting spot is near to the Vatican Museums/Sistine Chapel entrance. You can tell a taxi driver this and he'll know where to go. Once you're here, you should see a big white archway with the words Musei Vaticani (a little bit of Italian for you there, what do you think it means?). From here, over the road, you'll find a beautiful little coffee shop with a sign saying Cafe Vaticano out the front. This is the place where you'll be meeting your guide, Carlo. At least, this is where we met him.
The BistroBar
It's still pretty early to be waiting around in the morning – especially if you're very early like we were. Luckily, we managed to find a nice little cozy joint called the BistroBar.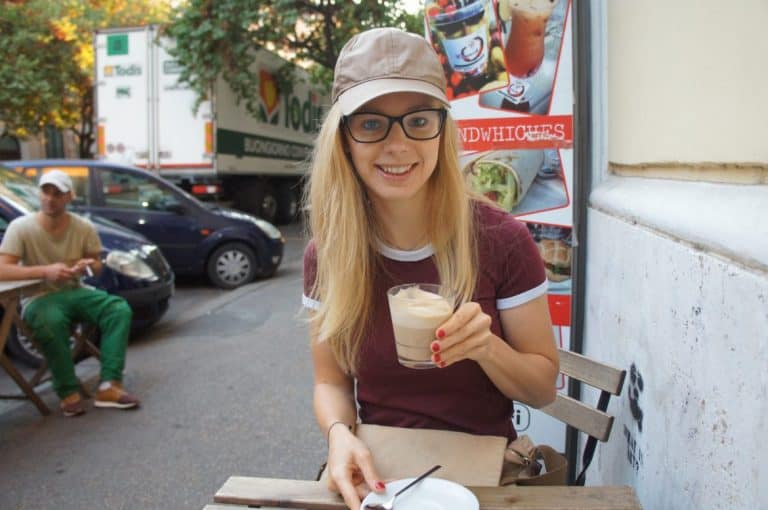 Still being a little sleep, mom had a double espresso shot along with a double shot of whiskey and some sugar. I'm pretty sure it woke her up almost straight away (it would have blown my socks off). I went for something a little less intense and just had a nice cup of Latte. It was lovely.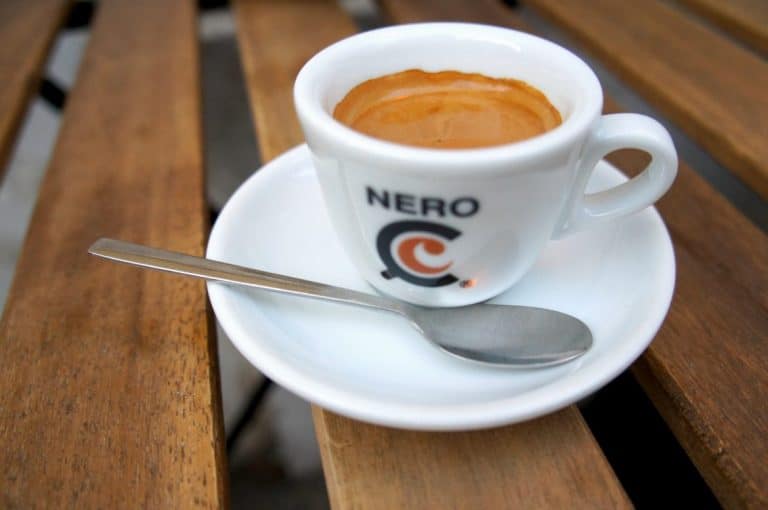 If you end up arriving early to the tour yourself (or are just an early riser), we recommend this place entirely. Whilst you may be meant to meet at Cafe Vaticano, BistroBar is comparatively cheaper and you'll probably see a lot of negative reviews for Cafe Vaticano online. Just because it looks cute, doesn't mean it's actually that great. In BistroBar, I gave my Latte a 4 out of 5, whilst my mom gave her cafe corretto a 4.5 (might have had something to do with the copious amount of whiskey). Of course, I would give my mom's coffee a 5 out of 5, although I don't know how much of it I would be able to finish.
What to See
The Vatican Museums
The obvious starting point was the Vatican Museums. Just over the road from Cafe Vaticano, Carlo immediately took us here. These have often been dubbed as being the greatest art galleries in the world. There's so much to see and find out within the Vatican Museums' walls that it would be impossible to cover it all in one day. The Raphael Rooms, Michelangelo's frescoes, and much, much more.
The Vatican Museums are usually incredibly busy. In fact, there are more than a few reviews from those who have visited them saying about how there wasn't enough room to actually see anything, or enjoy it. Luckily, being with Carlo on the Unique Tours Factory, we managed to get a reasonable level of peace and quiet whilst we looked through the different works of art.
With there being so much to see, Carlo made sure to ask us what we wanted to see. This way, we were shown and told only the interesting stories, facts, and anecdotes that were in our scope of interest.
There wasn't too much about (what we think is) dull art history and techniques.
Sistine Chapel
Once we had finished with the Vatican Museums, we headed to the Sistine Chapel. The first point of order, you're not allowed to take pictures here! That's right, despite being one of the world's most iconic images, tourists cannot come in and take pictures of Michelangelo's frescos. Why? Because in the 1980s the Sistine Chapel was restored by a company known as the Nippon Television Network Corporation of Japan. The Nippon Television Network Corporation's bid may have been the lowest, but with the low price tag came exclusive rights to images from the Sistine Chapel. Needless to say, whilst that contract was in effect, they didn't want any professional photographers coming in and taking that away from them.
These days, that contract has now ended. However, despite the end of the contract, flash photography can be damaging to the artwork. The photography ban has continued to this day and looks to show no sign of stopping. So don't expect to be able to take any pictures.
Another thing about the Sistine Chapel is that you can't speak. Before we entered, Carlo explained everything we would need to know about the Sistine Chapel. So, we had to remain silent as we looked at the beauty of the room and the artwork. Once we finished and had left, all our additional questions (by this time they were quite literally bubbling over in my head) were answered by Carlo.
Papa Mobile of John Paul the II
In case you don't know what the Papamobile of Jan Pole the II is, it's the vehicle in which Pope John Paul II was in when an assassination attempt was carried out on his life in 1981. This vehicle can now be seen inside of the Vatican Museums.
Both my mom and I were really interested in seeing that and it was arguably one of the most memorable moments of the tour. We highly recommend stopping by to see this important part of Vatican history.
An Incredible Tour Guide – Carlo
Carlo was an incredible tour guide – definitely one of the best I have ever encountered. He was friendly and relaxed and made sure to answer any questions which I had (or my mother) about everything. He can speak English, Italian, and Spanish. Of course, for my mom, I had to translate into Polish so that she could understand. However, Carlo made sure that everything was being translated correctly and that we both understood whatever was being said. He even made sure to take pictures of us together at all the best spots so we had memories to cherish once we got home (and show everyone else).
I actually felt like I made good friends with Carlo during the tour. I ended up finding a lot of things out about him – he was very happy to share everything we were interested in. He even told us about his latest travel experience around Southeast Asia with his daughter. She also has a travel blog (I highly recommend checking out), which I remember feeling like I couldn't wait to read once I got home.
Overall, I can't help but recommend the tour to anyone else who wants to see the Vatican City. There really aren't enough words to say how incredibly real, honest, vivid, authentic, and candid our experience was. It wasn't a typical, run of the mill, tour experience. It was something special. Something which neither of us will probably ever forget.