Las Vegas, It's on nearly every traveler's bucket list. The strip is one of the brightest places on earth and has something for everyone to enjoy. With world-class food, shopping, gambling and people watching it are somewhere you can get stuck for hours (or days) on end. But what about your like me and you need something to really get your adrenaline pumping? Lucky for you Las Vegas is a place where you can literally do anything. I went to Las Vegas expecting to be overwhelmed with casinos, slot machines and all you can eat buffets but left wanting to come back to experience more of the activities us adrenaline junkies crave so much.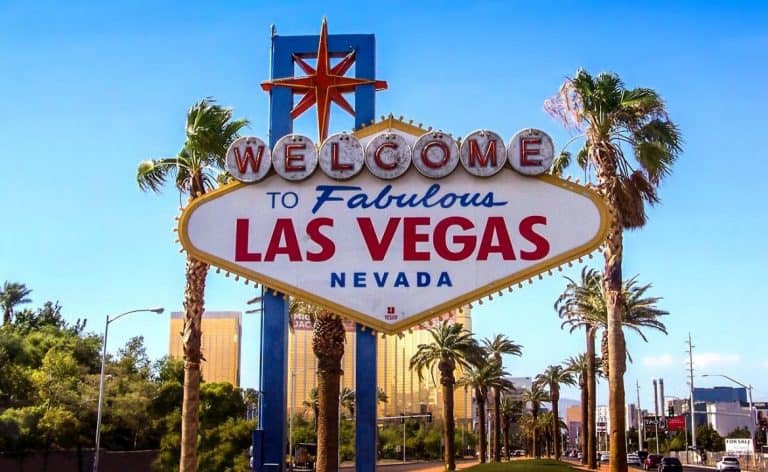 Exotic Car Driving
If you are anything like me driving a Lamborghini Aventador around a race track is a dream. Spending the morning at Exotics Racing at the famous Las Vegas Speedway was incredible. They have a selection of over 50 highly powered (and price tagged) exotic cars to choose from. After a short track brief, you are given the keys to your selected car and let loose on the track with your instructor for 5 laps of high octane, adrenaline pumping fun. If driving your own exotic car is not enough for you, you can also take a ride with one of the speedways resident professional drifters as they take you (and up to 2 mates) for a wild ride you will never forget. Exotics Racing also offers a pickup service from your hotel on the strip.
Price: Prices start at $199 (USD) for 5 laps

Time: Allow 1.5 hours depending on how busy they are

Tip: Bring extra money! After the first 5 laps, you will want more!

Adrenaline level: 8/10
Skydiving
Feel the urge to jump out of a perfectly good airplane? This is the main reason why I went to Vegas. I had heard that you can jump out of an airplane looking over the Grand Canyon. We booked a skydive with Paragon Skydives and after getting picked up from our hotel on the strip in the wee hours of the morning we were taken out to the hanger. This was the most adrenaline pumping activity I have done to date. After hurtling to the ground at terminal velocity, my shoot opened and I was able to see the most stunning view of the Grand Canyon. I had seen the Grand Canyon from the ground before but from this perspective was really something special. You can also see Los Angeles in the far distance which is another fantastic perk.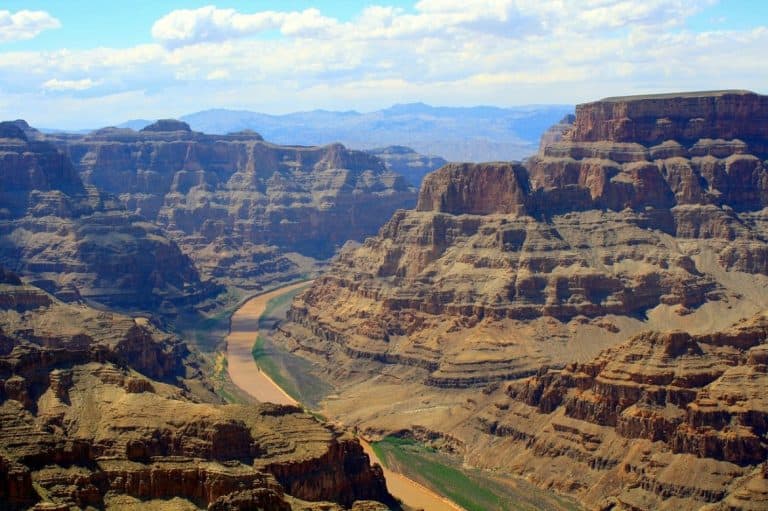 Price: Prices start at $299 (USD)

Time: 3 hours should cover it but set aside a half day to be sure

Tip: It is well worth paying extra to get the whole experience documented professionally by the in-house filmer/ photographer

Adrenaline level: 9/10
Machine Gun Experience
Following skydiving our adrenaline was pumping, we needed more! After getting dropped off at our hotel from skydiving we phoned one of the many gun ranges in Las Vegas to book in for an afternoon of shooting. For many of us from outside the US we have not had any experience with guns before, so getting the opportunity to shoot machine guns was a real treat. There are many different packages to go for ranging from handguns all the way up to AK47 assault rifles. Which obviously we just had to go for.
Price: Packages start at $80 (USD)

Time: Set aside 1.5 hours between pickup and drop off for 1 shooting package

Tip: Set aside the whole morning/ afternoon, once you shoot one gun you will want to shoot them all!

Adrenaline level: 8/10
Indoor Skydiving
After skydiving once I really needed to get my fix again. I was put on to Las Vegas Indoor Skydiving. No planes or parachutes required here! This was a really cool experience. A 1,000 horsepower fan suspends you in the air while blasting 120 mph winds at you, giving you the feeling of free falling. You can dive, flip, spin and roll yourself until your heart's content. It is an amazing feeling and even better without the need to have an instructor strapped to your back like conventional skydiving! Las Vegas Indoor Skydiving is just off the strip, so after just a short cab ride you are there ready to go.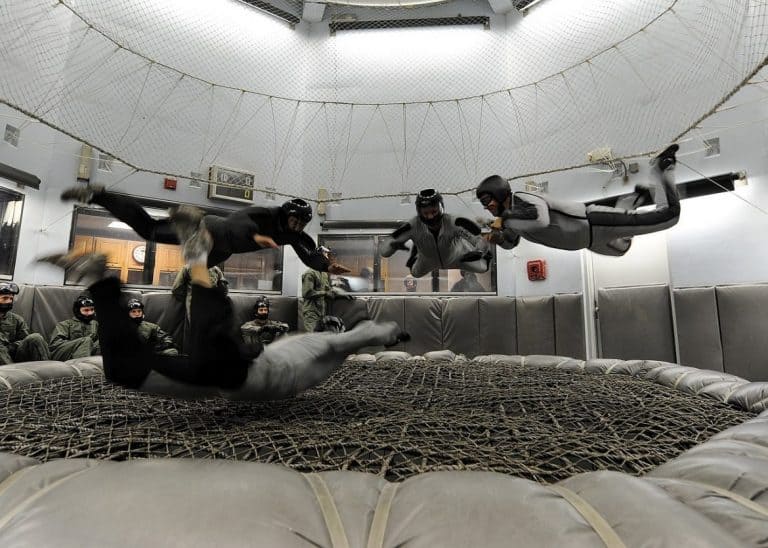 Price: Prices start at $75 (USD) per person

Time: Allow 1 hour for the basic package

Tip: Don't eat beforehand!

Adrenaline level: 7/10
Las Vegas Flyboarding
At this stage I had felt like I had done everything that Las Vegas had to offer, boy was I wrong. We headed off to Las Vegas Water Sports, where they offer an activity that I didn't even know existed, Flyboarding! Flyboarding is like a mix between a jetpack and a hoverboard. Once strapped into the flyboard you are able to propel yourself up to 15 meters into the sky or 2.5 meters below the water level. This gives you the freedom to fly like Superman, swim like a dolphin and hover like some sort of UFO. This experience was really cool and surprisingly not too hard. The hoverboard is really stable and within a couple of minutes, you are able to send yourself in whichever direction you please.
Price: Prices start at $99 (USD)

Time: Allow 30 minutes from arriving for the 15-minute experience

Tip: Bring your GoPro camera! You will get some awesome footage!

Adrenaline level: 7/10
Sky Combat Ace
Have you always wanted to see how it would feel like to be a fighter pilot? This one is for the true adrenaline junkies. Sky Combat Ace offers an amazing range of 10 different experiences from scenic flights all the way to battle your mates while flying the plane yourself! We headed out to Sky combat Ace with one thing in mind. We wanted to get the full-on adrenaline junkies experience. This one did not let us down. We went for the 'Top Gun' experience, this experience includes the plane looping, rolling, stalling, spinning and even hitting 8x the force of gravity. They even let you fly the plane yourself.
This was something that I was very hesitant about, however after the briefing and the reassurance from the pilot that he had secondary controls if anything did go wrong we were off. My favorite part about this flight aside from actually being able to take over the controls was the pilot taking us on a series of 'Torque Rolls', this nearly made me lose my lunch and was a very very strange but awesome feeling!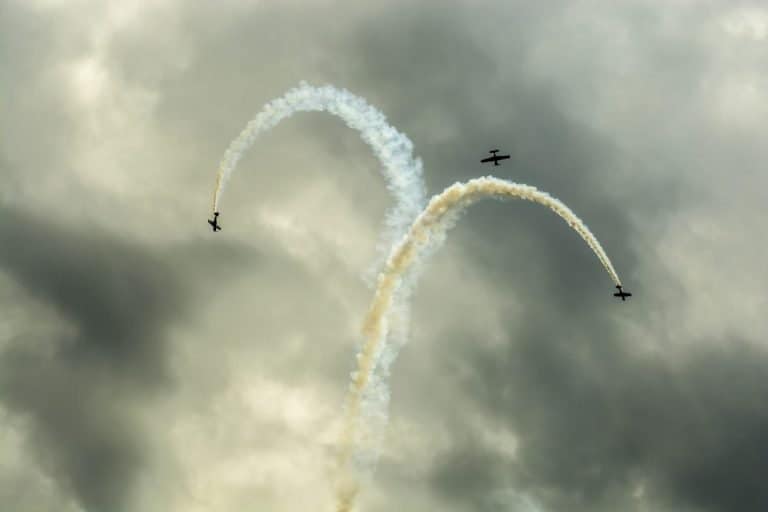 Price: Prices start $249 (USD)

Time: The Top Gun experience is 2.5 hours door to door from your Las Vegas hotel

Tip: Unfortunately you cannot take your own camera onboard because of flight regulations, however, videos can be purchased from the Sky Combat Ace. Also, do not believe the myth that you should never fly on a full stomach, you are less likely to suffer from any sickness if you arrive at something in your belly

Adrenaline level: 9/10
Snowboarding / Skiing
Believe it or not, just 50 miles off the Vegas Strip you can ski/snowboard! Lee Canyon offers a huge 445 acres of accessible terrain serviced by 3 lifts. We went up one beautiful bluebird morning and got some awesome powder runs in the West Bowl and then hit one of their two terrain parks in the afternoon. It was an amazing day and to this day still one of the best powder mornings I have ever had. The resort was surprisingly empty considering how close it is to Las Vegas. We didn't even have to wait in line once!
Price: Day passes start at $42 (USD)

Time: Full day

Tip: Make sure you plan your day around the weather! The last thing you want to do is head up when it is snowing and windy! It is also worth driving up to Lee Canyon with your own transport, if the weather packs in (or you get stuck having too much fun) you don't want to rely on the shuttle services back into Las Vegas

Adrenaline level: 7/10
New York, New York Roller Coaster
An adrenaline junkies guide to Las Vegas would not be complete without mentioning the roller coaster at New York, New York Casino. If you are cruising along the strip it is something that you will definitely see. It's hard to miss. It was the first roller coaster I had ever been on, and with its max speed of 67 MPH and jaw-dropping 144-foot drop was a real eye-opener! We only bought one ride but had to go back to buy the all-day pass to ride again and again and again!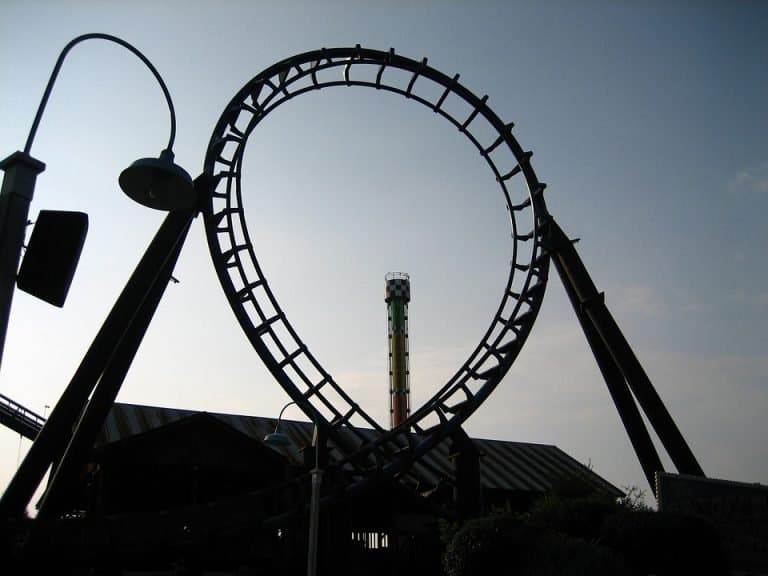 Price: $15 (USD) per ride or $26 (USD) for an all-day pass

Time: 2 minutes 45 seconds

Tip: Go on at night time for an amazing view of the Las Vegas Strip. Buy the all day pass! Once you go on this once you will not want to stop! Towards the end of the ride, they have a camera which takes a photo of every ride that you can purchase, with your all day pass you can ride a couple of times and you can see where the camera is located and pose for an incredible photo!

Adrenaline level: 6/10
Tips for Las Vegas
Las Vegas is a city like no other. It is a place where you can get anything at the push of a button. It is a big, loud, overwhelming and bright. Moreover, it is very easy to lose your bearings here and end up. Here are a few tricks and tips for winning in Vegas your first time.
Don't buy drinks at the casino bar – if you are playing slots, live table games or video games drinks are on the house! Wait until a waitress approaches you and order a drink. Casinos offer free drinks in an effort to keep you playing longer, make the most of this one!

Take gambling lessons – For most people heading to Vegas, it will be the first time betting, playing table games and slots. With all the lights and sounds everywhere it can get very overwhelming. Do yourself a favor and learn from the best to make your time in Vegas profitable!

Join Players Clubs – Even if you are not planning on gambling a lot or even spending much on gambling joining players clubs I well worth it, most clubs will offer a sign-up bonus. So basically they will give you free money to gamble with to join their club! A great way to dabble in the fun without it hurting your pocket!

Don't eat at dinner time – If you are like me you don't like busy areas, especially when it comes to eating. Dinner time at Las Vegas buffets is insane, hordes of people all trying to stuff their faces with the freshest plate that has just come out. Just relax, have a late dinner. Most Vegas casinos have 24-hour buffets so you can avoid the crowds.

Everything is further away than you think – Because everything on the Vegas strip is so big nothing looks very far away on the map, do yourself a favor and jump in a cab when you are changing casino or heading to a different location. It will save you a long walk and discomfort (especially if you are there in summer)
Have you had an adrenaline pumping filled trip to Las Vegas? Comment below on your favorite activities, we would love to hear about your experience and anything that we need to go back and do!
Remember, this is Las Vegas. Chances are you will only visit once in your lifetime. Anything is possible here and you will be overwhelmed with different things to see, do, experience and try. Be open to everything. You know how the famous saying goes 'What happens in Vegas stays in Vegas.'
---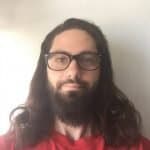 About the author: Jay is a New Zealander who discovered the joys of food, travel and exploring in 2010 after deciding a traditional office job just wasn't working out. Fast forward 7 years and 25 odd countries later. Jay finds himself living in Thailand with his partner Brittnay after finishing a 3-year stint in Europe. Together we love to document our house sitting adventures and help others learn how to become a house sitter. Find out where will Jay & Britt will end up next by following them at The Travelling House Sitters or on Instagram @thetravellinghousesitters.