In extremely cold temperatures, tents mainly exist to block wind, rain, and snow. Wind removes the air that is warmed by your body heat, replacing it with cold air. This means that the best tent for extremely cold temperatures is the one that lets through the least amount of wind. Quite often extreme cold weather is accompanied by extreme winds – such as in a blizzard. Here we explore the best tent to withstand extreme winds and in terms of both material and shape.
Similarly, you will often feel much colder when it rains or in increased humidity. Air that is more humid loses its ability to act as insulation as water is conductive and will more easily retain the cold. This means that a tent that can protect you from the rain but also provide a good level of circulation of air to let breathe moisture out is the best. In this article, we put together a list of tents that we think will allow you to best navigate both the wind and rain in your camping journey. We tell you what we like and don't like about each tent so you can a bang for your buck.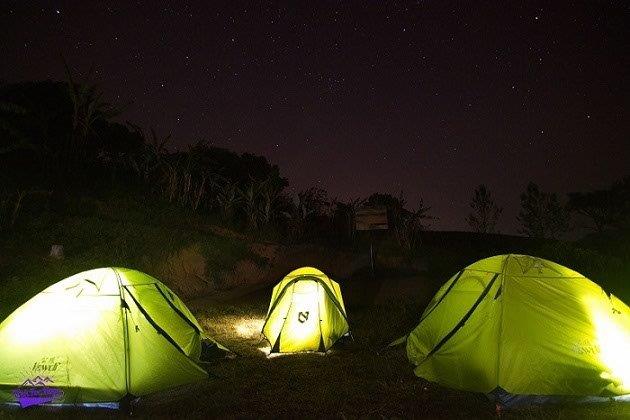 What are the Best Extreme Cold Weather Tents?
We have compiled for you the top 8 Best Extreme Cold Weather Tents in 2023. In this article we go through the products that we have used ourselves, checked what other users thought about them and we ranked them accordingly.
With years of experience with tents for extreme cold weather and having used several extreme cold weather tents you can trust our review.
Moreover, you can scroll to the end of this review to see our mini buying guide as well as the answers to some of the frequently asked questions about extreme cold weather tents.
Specs
Price: 💲💲 (fewer 💲 = cheaper)
Weight: 7.65 pounds (3.47 kg)
Size: 82.7 x 55.1 x 45.3 inches (210 x 140 x 115 cm)
Size: 2 Persons
Material: Outer Tent Fly – PU 3000 mm, and excellent UV protectionTent Floor Sheet – PU 5000 mm Oxford fabric + seam taped, waterproof
Waterproof: Yes
Instant: No
Tent Type / Shape: Dome
Some of the highlight features of the Geertop 2 Person Tent is its self-standing L-shaped aluminium poles which facilitates set-up, a built-in snow skirt that adds an extra layer of protection, and its attention to detail with its built-in lantern hooks and inner storage pockets. With its double doors and mesh windows, this tent is also built to promote ventilation and reduce condensation. At only 3.47 pounds, the GEERTOP 2 Person Tent is one of the more lightweight ones that feature in this list. However, there are some customer reviews that says that the dry bag/stuff sack tears easily. At such an affordable pricepoint, it is quite rare not to find faults in the quality but at least the faults are not in the tent itself but the dry bag instead, which one can easily replace.
Pros
Built-in lantern hooks and storage pockets.
Has two large mesh ventilation windows Waterproof, tearproof and windproof.
Dual doors allow for easy access
Cons
Dry bag/stuff sack has been known to tear easily.
Instructions to set up the tent in non-English language but the set up is intuitive enough to forego instructions.
Specs
Price: 💲 (fewer 💲 = cheaper)
Weight: 5.95 pounds (2.7 kg)
Size: 83.8 x 59.8NaN inches (212.9 x 151.9NaN cm)
Size: 2 Persons
Material: 100% Polyester
Waterproof: Yes
Falling comfortably under the less than $200 price bracket, the Moon Lence Camping tent is a steal for budget-conscious adventurers. Comprised of 100% polyester and fortified with 190T PU material, it excels in offering 1000mm water-resistance and UV protection. The 15-minute setup facilitated by its 2 shock cord connecting poles is as user-friendly as it gets. What's more, we found its lightweight iron pegs and guy lines to deliver remarkable stability even on windy nights.
On the flip side, ventilation is optimized with two windows, ground vents, and a substantial mesh section—all rounded off by a detachable rainfly for controlling moisture. We also appreciated the internal mesh pockets for keeping essentials at hand, and the ceiling hook serves as a perfect spot for hanging a lantern, elevating your camping ambiance. However, being a 2-person tent, space could be a bit cramped if you're planning to stash a lot of gear inside. Overall, Moon Lence has produced a compact, feature-rich tent that offers a lot of bang for your buck.
Pros
Large for two people,
easily compactible,
Strong iron legs,
wind- and UV-resistant,
Waterproof material,
Nice ventilation
Cons
No tent footprint,
zipper may get stuck
Specs
Price: 💲💲💲 (fewer 💲 = cheaper)
Size: 150 x 102 x 53.5 inches (381 x 259.1 x 135.9 cm)
Size: 6 Persons
Material: 190T Polyester
Waterproof: 3000 MM
Instant: Yes
Tent Type / Shape: Tunnel
The Ayamaya brand is relatively new in the outdoors gear market, and this pop-up tent is getting some positive reviews from people who've bought it. This tent is an affordable option for small groups and features an instant setup design with double-layer construction. While it has a low profile tunnel shape where the center height is about four feet, I like that it has two access doors on either side of its short ends, which helps with movement in and out of the tent.
Additionally, the tent features a covered vestibule area that you can use for your gear or as a comfortable sleeping area for your pets. However, the interior space is not enough to accommodate six people, but it may take up three or four campers comfortably. The tent's double layer structure helps to keep the tent dry in wet weather and improves the overall airflow while stakes hold it down to withstand windy conditions.
Pros
Pre-assembled design is easy to set up, Double-layer provides ideal conditions comfort and livability,
Excellent ventilation with double doors, mesh windows, and rear vent,
Comes with a multi-use covered vestibule
Cons
Takedown is not as straightforward as setting up, Leaks through the window panels in sustained rainfall
Specs
Price: 💲💲 (fewer 💲 = cheaper)
Weight: 8.75 pounds (3.97 kg)
Size: 82.8 x 70.8 x 51.6 inches (210.3 x 179.8 x 131.1 cm)
Size: 4 Persons
Material: Fly: poly 210T 3500mm water resistance, Fire retardant/CPAI-84Mesh: Poly mesh 50*50 B3; Floor: poly oxford 300D 4000mm water resistance, Fire retardant/CPAI-84; Anti freezing & deep cold proofing below-25c; Ultraviolet Protection Factor 45+;
Waterproof: Yes
Instant: No
Tent Type / Shape: Dome
When it comes to details and design, the CAMPPAL Professional 3-4 Person 4 Season Mountain Tent leads the pack. It has a gearloft and 4 mesh pockets built into the tent to allow for easy storage and retrieval of valuable items. It also has a front flap that can be extended parallel to the ground and anchored with your own hiking poles to create a cosy vestibule area that provides respite under the harsh weather conditions of the outdoors. However, the number of pax per tent estimation is not as accurate as it varies depending on the average size of the campers. Do try to estimate the size of the tent using the tent size measurements provided before purchase.
Pros
Has a gearloft inside to put your lightweight valuables
4 mesh pockets sewn on the insides
Waterproof and windproof.
Front vestibule area can be easily set up using the front door flap
Cons
The advertised 4 person usage is applicable only if you're of a smaller stature.
The weight made it harder to carry by one person over a long course of hiking.
Specs
Price: 💲💲💲💲 (fewer 💲 = cheaper)
Size: 82.7 x 49.2 x 41.3 inches (210.1 x 125 x 104.9 cm)
Size: 2 Persons
Material: Inner tent made with anti-scratch 20D nylon mesh, comfortable & breathableRainfly made by 20D rip-stop nylon and silicone coated features PU4000mm water-resistant & UV 50+ sun protection guarantee
Waterproof: Yes
Instant: No
Tent Type / Shape: Dome
The Naturehike Cloud-Up Backpacking Tent is the only tent in the list that they uses 20D nylon material for their tent structure. It is stronger, more durable and lightweight as compared to the typical nylon material. Besides that, it has all the basic qualities that a camper can ask for in a affordable tent. The advertised size of 2-3 person is again subjective and might not be applicabe if you're of a bigger build so be sure to take note of the dimensions before purchase to avoid any unpleasant surprises.
Pros
Waterproof and windproof.
Suitable for use in all four seasons.
Made with 20D Nylon which is purportedly stronger than conventional nylon.
Vents on the sides for promoting ventilation and reducing condensation.
Cons
The advertised 2 person usage is applicable only if you're of a smaller stature or if you don't mind the lack of personal space.
The tent stakes are not as durable as compared to the rest.
Specs
Price: 💲💲💲💲 (fewer 💲 = cheaper)
Weight: 9.15 pounds (4.15 kg)
Size: 94.4 x 82.6 x 53 inches (239.8 x 209.8 x 134.6 cm)
Material: Polyester,Nylon,Aluminum.
Waterproof: Yes
Instant: Yes
Tent Type / Shape: Dome
Anyone on the hunt for a durable and affordable tent will benefit from GeerTop's four-season tent. Its lightweight form makes it easy to carry, while the simple setup allows for a smooth camping experience. The tent is a good try for those whose backpacking adventures lead them to versatile areas. But, if you plan to keep your gear inside the tent, it will only comfortably house two people. Even without the equipment, at maximum, only three people will fit. The tent can withstand harsh winds and pouring rain- ideal for when the sunny forecast went completely wrong. The snow skirt feature makes sure the tent is well suited for the winter and fall seasons. However, the tent might get too hot for some in the summers. Of course, you could always open one of the two mesh windows to let in the fresh air. Overall, the tent is dependable for small families and backpacking purposes in any season and weather condition. The bright yellow color stands out, which can prove helpful in an emergency.
Pros
The tent is lightweight- ideal for backpacking,
Can withstand the four seasons,
Quick setup,
Durable.
Cons
Gets too warm for summer season,
Can only comfortably fit two persons.
Specs
Price: 💲💲💲 (fewer 💲 = cheaper)
Size: 150 x 102 x 53.5 inches (381 x 259.1 x 135.9 cm)
Size: 6 Persons
Material: 190T Polyester
Waterproof: 4000 MM
Instant: Yes
Tent Type / Shape: Tunnel
This Hui LingYang 6-person pop-up tent is an excellent choice for families on short summer camping trips due to its double-layer design. Generally, pop-up tents are versatile to use as temporary shades in places like the beach or park because they are lightweight and easy to set up. However, this tent may not make the best beach tent because it features a tunnel shape with a single door on its short end.
Additionally, most users note that the space would be uncomfortable and stuffy for six campers. In comparison, the Abco Sports tent has a door on its long end that makes it easier to sit inside away from the sun while on a picnic.
The Hui LingLang model features a 190T polyester construction with a hydrostatic rating of 4000mm, but it is not sturdy for heavy wind and rain. Furthermore, the tent fabric is not UV protected, so it may get hot inside it if you pitch it in direct sun. However, it has large mesh windows for ventilation, plus hooded rear vents and ground vents keep the air flowing at night to prevent humidity. I also like that it features an enclosed vestibule that gives you a separate space for your backpacks and shoes, while the internal mesh pockets are ideal for keeping your phone nearby while you sleep.
Pros
The pre-assembled structure allows instant set up,
Has an excellent ventilation system keeps the tent comfortable,
Features an enclosed vestibule for your shoes and backpacks,
Double-layer construction for improved weatherproofing
Cons
Not ideal for heavy wind and rainy conditions,
It can only accommodate four campers
Specs
Price: 💲 (fewer 💲 = cheaper)
Size: 88.6 x 53.1 x 43.3 inches (225 x 134.9 x 110 cm)
Size: 2 Persons
Material: 75D 190T Polyester
Waterproof: 5000 MM
Instant: No
Tent Type / Shape: Dome
This Forceatt 2-person tent is smaller than the Bisinna model and may be cramped for two campers for comfort, while the 3-person model may be more accommodating. However, it makes an excellent choice for solo campers, and it features good-quality and robust construction for its price point. The tent comes with a full-coverage rainfly that features 75D polyester and a PU-5000mm waterproofing rating. Some campers have noted that the tent comes with a funky smell when new, but it dispels when you air it out in the sun.
The tent offers decent ventilation with the two D-shaped doors and the mesh fabric that makes up most of the inner tent. I also like that you can use the rainfly separately as a canopy while at the park or beach and the inner tent for stargazing on warm nights. It is a lightweight tent for backpacking and performs well in heavy rain and wind conditions.
Pros
Sturdy and robust construction with quick assembly and takedown,
Generous ventilation makes it comfortable in warm weather,
High-quality rainfly offers decent protection in inclement weather,
Features two-way SBS waterproof zippers on the doors
Cons
The tent comes with a fishy odor when new,
Tent stakes are light and bend easily
Verdict
To summarize, we have gone through dozens of extreme cold weather tents and decided that 8 are worth your consideration. Out of these, the absolute Best Extreme Cold Weather Tents is GEERTOP 2 Person Tent for Camping 4 Season Waterproof which we highly recommend as our overall best.
If money is not an issue, you can consider Moon Lence Camping Tent as this is our Premium Pick.
Otherwise, there's no shame in spending prudently, Ayamaya Pop Up Tents with Vestibule for 4-6 Person is the Budget Option.
Our other reviews you may find useful in your research:
What You Should Know Before Buying extreme cold weather tents
Water, Wind and Snow Resistance
We've learned from experience that tents with certain design features offer better comfort and resilience in variable conditions. A dome shape prevents snow accumulation, while an extended rainfly offers an added layer of rain protection. Durability and stability are further ensured by robust poles and stakes, wrapped in water-resistant fabrics.
Ventilation & Heat Resistance
From our experience, we've realized that the mesh composition of a tent's body plays a pivotal role, especially when opting for a multi-season tent. The sweltering heat demands a design rich in mesh windows to maintain a refreshing air circulation. While positioning your tent away from direct sunlight and adjusting the rainfly aids in this, it's also evident to us that the waterproof nature of many rainflies can restrict airflow, causing unwelcome condensation. What's our shared solution? Seek tents equipped with interior roof vents. With the protective layer of a rainfly, the tent achieves the perfect balance of airflow and rain defense.
Durability
Your tent fabric's denier rating, visible in the tent's description, is crucial when considering durability. Lower denier ratings hint at lighter and potentially less resilient materials. This denier rating is also linked to the weight of the tent, so you should be careful to balance weight and durability. We've been impressed by premium tents that feature silicone coatings, which strengthens durability while still retaining lightness. It's worth noting that tents with low denier ratings can be prone to floor tears. To fortify and add comfort, we often deploy a footprint beneath our tents.
Pole and Stakes
For backpacking tents, you'll want poles made of strong yet lightweight materials like aluminum or optic fiber to make pitching easier and more durable. Stakes are equally important for anchoring your tent, and they come in various materials such as metal, plastic, or wood. They can be fastened directly to the tent material or connected through ropes, giving you a few options to secure it properly.
Zips
Without zippers, you won't be very protected in your tent. Most tents use coil or tooth zips, but these can vary by quality. We recommend finding a zipper that is strong, flexible, and water-resistant for the most protection.
Tent seasonality rating
Finding a tent with the right seasonality rating can really make or break your trip. This will tell you how well your tent will hold up in certain conditions. For hot and dry climates, a tent with a 1-2 season rating will serve you well. A 3-season tent is more versatile, fit for both dry and wet temperate areas, but it's not specialized for either. If you camp throughout the year, a 4-season tent will be up for the challenge, except during very hot periods. Extreme adventurers should look for 5-season tents, although these are generally overkill for most camping scenarios.
Setting up a tent in the bad weather
Setting up a tent in bad weather sometimes feels like the end of the world. If you are wet, you are probably cold as well and just want to be somewhere warm and snug. hence the idea of setting up a tent in the wind and rain can be daunting.
When setting up a tent in the rain, the key is to keep your tent dry in your bag for as long as possible until it is ready to be put up. This means you need a backpack with a waterproof lining, and which can fit the tent at the top of your pack for easy access.
Another thing to consider is if you are going to hang up your wet clothes within your tent for them to dry. If you are going to hang up wet clothes it is important to do so in a tent with multiple compartments, specifically one which people are not sleeping within. This is because any water that evaporates from your clothes as it dries will stay within that tent. There would likely already be lots of condensation from your breathing and it is not good to make the issue worse by adding moisture from wet clothes.
When it is raining there is the extra sense of pressure from where the longer you take to put the tent up the wetter you are getting. Hence, speed and simplicity are some of the most important factors you want to consider when deciding what tent to put up.
You might also consider getting a tent with a large rainfly so that you can get your outer layer on quickly and then set up the rest of the tent sheltered by the rainfly.
Questions and Answers About extreme cold weather tents
How do you survive a blizzard in a tent?
If you are in a blizzard it is best to always keep your buddies close. Sharing a sleeping bag with someone else will help you radiate heat between you. Ideally, it is best to do this skin-to-skin, as direct body contact will transfer heat the quickest. Clothes can resist the transfer of heat and wet clothes will use up your energy since the body is trying to evaporate the damp, this will make you feel cold in the same way that sweating will cool you down.
If you are in the blizzard alone, or you are on the outside of a huddle in the same way that penguins might be on the outside of a huddle, then it is best to wear clothes so long as your clothes are dry (and not sweaty). Warm clothes help trap and store your body heat. A balaclava head warmer made of cloth is good at achieving these purposes as it can cover close to the skin areas such as the neck and face which heat might otherwise escape through. You lose a lot of heat through your head so it is a good idea to wear a thick woolly heat onto the balaclava.
Handwarmer and hot water bottles are also a good way to keep you warm. Having something warm near your crotch will heat your blood as it circulates your whole body – including your extremities.
Extra sleeping mats separating you from the ground, especially if they are reflective, will result in a warmer and comfier night. Extra quilts, sleeping bags, or sleeping bag liners would be good to have as well.
Make sure you stay hydrated and well-fed. Keeping yourself warm is taking lots of energy, you need to recharge by eating and drinking lots. Drinking a lot will make you need to pee a lot too. It is better not to hold it in if possible. Your body uses energy to heat what's in your bladder, using energy makes you cold. If you can pee inside the tent without having to go outside this is the way. You sometimes see people in movies cuddling their bottles of pee. If you ensure that the bottle is secure – you don't want to be spilling pee (not just because it stinks but because it is wet), you can use your pee bottle as a mini hot water bottle.
As much as you may not want to, you should at least partially vent out your tent. It is better to have a small supply of cold air coming into your tent and the moisture from your breath and kit coming out than to keep in all the moisture and find it frozen in the morning. A way around letting in cold air would be to get a double-wall tent.
Finally, the shape of the tent will have a large effect on your survival in a blizzard. High winds are a major part of what makes a blizzard so formidable. Wind can make whatever is already cold weather biting. The blizzard wind will be felt through a tent without sufficient wind resistance – worse still if your tent is not secured enough, it might blow away the moment you get out to pee. Having a tent with not only good anchorage and strong guy ropes but also shaped in a way to minimize wind resistance, and therefore strain on the securing lines could prove vital in surviving a blizzard. If not a geodesic tent then something as similar to such a design and as low down as possible.
What temperature can a tent withstand?
In extremely cold temperatures tents mainly exist to block wind and snow. A tent's job is not designed to help one stay completely warm but definitely a good block between you and the harsh conditions outside. In this way, there is no such thing as too cold a camping condition if you have prepared enough gear to camp with.
You should, however, not camp in temperatures significantly (10 degrees Celsius) colder than you have previously encountered.
Depending on what Ultraviolet Protection Factor (UPF) standard a tent's protection falls into good (15 to 24), very good (25 to 39), and excellent (40 to 50+) a tent will last a longer or shorter time. As a tent is exposed to UV radiation, the tent losses its waterproofing becomes lighter and becomes more prone to getting ripped.
How do you safely heat a tent?
If you're trying to heat your tent in the winter, you can create an igloo effect by covering the tent with a layer of snow. You should also do your best to stay dry and keep the interior dry. If you have the space available, use a portable space heater in a safe spot inside.