Weekend travel is one of the best ways to explore a new city without it costing a fortune or forcing you to take many days off! That's why I often recommend just taking a Friday off and going on a new adventure over the weekend! In this guide to San Francisco, I will be sharing some of my favorite places to go in San Francisco and things to do if you are there only for a couple of days.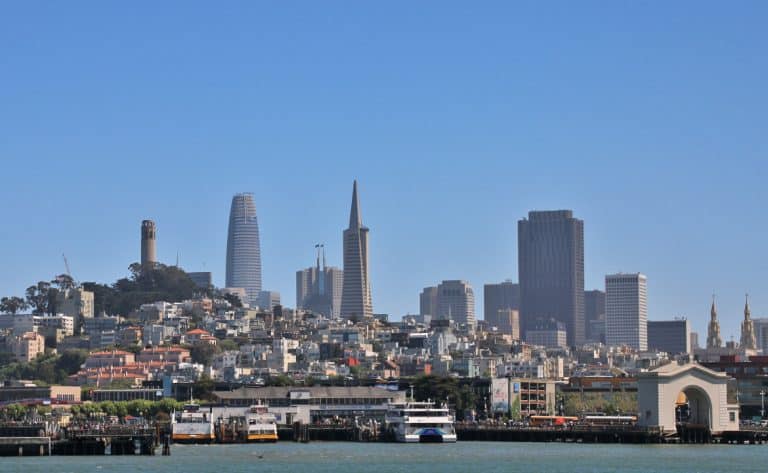 San Francisco – Best Time to Go
San Francisco is an amazing city to visit during the weekend – there is always something happening. I would recommend visiting San Francisco after the Labor Day weekend through September and October. Summers in San Francisco are cool and foggy, but in September, the skies clear and the weather becomes perfect for exploring the city. Most of the tourists leave to go home and locals head to the beach, which you can do as well!
Last time, we visited San Francisco in May, the weather was perfect the entire time – in the mid 70s during the day and in the 50s at night. But just remember, summer months have the most crowds, the weather is unpredictable and the hotel prices are higher than the rest of the year, so I would go in Spring or Fall!
Best Hotel Locations
So you decided that you would like to go to San Francisco in September, now you need to start looking for affordable hotels in the area.
Some of my favorite neighborhoods for a hotel stay in San Francisco are on Lombard Street near the Marina District and around Union Square. Those areas can be pretty touristy, but they are affordable and are in walking distance from most places you will see on this guide. The map below can help you find the right accommodation based on your location preference.
Note: Be aware of where you are in San Francisco. Some neighborhoods are more dangerous than others. For example, Tenderloin, located right in the heart of the city, on Hyde Street between Turk and O'Farrell Streets, can be a little more dangerous to walk around in. Do your research before you go and make sure to use a navigator instead of just wandering around.
Friday – Arriving Mid-Afternoon in San Francisco
Getting from San Francisco Airport
Although there are plenty of ways to get downtown, I'll give you my suggestions and some advice on the easiest and fastest ways.
Driving From San Francisco Airport (about 30 minutes)
Whether you are driving your own car or picking up a rental car, driving is the easiest way to get to the city. However, if you are driving during rush hour, it can take up to 50 minutes.
Note: Parking in San Francisco can be hard to find and is pretty pricey. Use Parking Panda to compare and book parking spots at lots in San Francisco. Otherwise, I would recommend taking a Lyft or Uber instead of renting a car, since you won't need it to get around the city.
Uber or Lyft From San Francisco Airport (30 minutes)
Uber and Lyft are both founded in San Francisco, they are safe, reliable, popular and less expensive than taxis. So, if you don't know the area and are not planning on renting a car, just download one of those apps to get a ride to your hotel.
Taking BART From San Francisco Airport (45 minutes, about $9)
BART (Bay Area Rapid Transit) is the local San Francisco subway. It is also a great way to get from the airport to downtown. A quick train will take you from the airport to several stations in San Francisco. After the train departs from the airport, it takes about 30 minutes to the Powell Street station (Union Square).
When you arrive at SFO, you will have to take the AirTrain to get to the BART station. Once you've taken the AirTran, find the entrance to the SFO BART station. Tickets cost $8.65 per person. Note: children under the age of 4 ride for free!
Shuttles From SFO (up to 75 minutes, about $17)
There are a couple of shuttles going from the airport which you should also consider. SuperShuttle takes 6 – 7 passengers at a time and drops them off at each destination. It can be slower than Uber/Lyft, less convenient, and is more expensive if you are not alone. If you're only in San Francisco for a weekend, you would probably rather spend the time doing everything else on this guide than driving around with your luggage, but it can save you some money if you are alone! You can also use GO Airport Shuttle from SFO – a very similar service.
After Checking In
If you are just arriving on Friday and checking in, you can spend the rest of the evening exploring the area around your hotel. Go to the Union Square to enjoy the nightlife, have dinner at a nice restaurant or grab some drinks at a local bar. Feel the life of the city, people watch and rest before a big day of adventures of the next day. Or, I have another fun activity to start out your trip!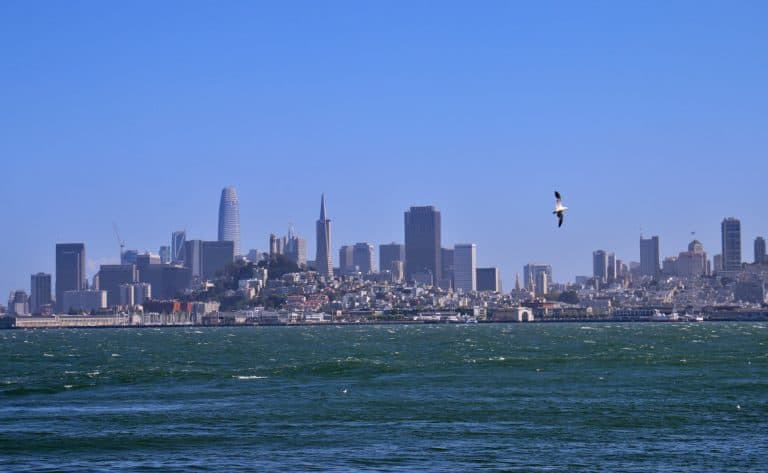 Dinner Downtown San Francisco
San Francisco offers a huge variety of restaurants! Some may say that when I go to San Francisco, I just go on a food tour! But, I found that food in San Francisco is surprisingly affordable compared to other places in the United States, but is a lot better quality. One of my favorite places to eat downtown San Francisco is Delarosa, a modern Italian cafe offering thin Roman-style pizzas and delightful cocktails. it's a little bit pricey, but so worth it!
Another fun place that's hidden away and truly appreciated by the locals is a Cocobang, a place for Korean fried chicken. It's not as fancy, but really cool! If you are looking for new experiences on this trip, this is a great start of your trip!
Another very unique experience in the heart of downtown San Francisco is visiting Local Edition, a swanky speakeasy with a 20's flair. It has a really cool atmosphere and serves arguably some of the best cocktails in town.
Friday Night at the de Young Museum
For a more artsy night out, visit the de Young Museum in Golden Gate Park on your first night in the city. Friday Nights at the de Young open up the museum after-hours for live music, dance and theater performances, film screenings, exhibition tours and more. And, the museum café even offers a full menu of themed cocktails. You can explore the permanent collection galleries, the observation tower, and a variety of programs at the de Young after hours for free! I would say it is the perfect start to a fun-filled weekend!
Saturday in San Francisco
Breakfast Downtown San Francisco
Start out around the Union Square and have a quick breakfast at one of the bakeries downtown. One of my favorite crepe places downtown is located just a couple of blocks away from the Union square is the Honey Honey Café and Crepery. They have a huge selection of breakfast and brunch food. I recommend their Mediterranean crepes and Nutella desserts!
A Trolley Ride to the Fisherman's Wharf
After a quick and energizing breakfast, hop on a trolley and go for a scenic ride to the final stop, San Francisco's Fisherman's Wharf, one of the most famous locations in the city.
You can explore unique museums, like the National Maritime Museum, or the Historic Hyde Street Pier, relax on sightseeing cruises to the Golden Gate Bridge or the Alcatraz, see the sea lions at the Pier 39 and have some chocolate at the Ghirardelli Square – all without leaving the Fisherman's Wharf! That's why if you go to San Francisco and even if you don't like big tourist destinations, you should still see the Fisherman's Wharf.
A Stroll at Pier 39
Spend an hour, strolling along the Pier 39, see the sea lions, numerous street performers, live music, shopping and more! There is always something going on at the Pier on a Saturday!
Aquarium of the Bay
Animal lovers won't want to miss this delightful aquarium with a specific focus on the marine life of the San Francisco Bay. Located at the front of Pier 39, the Aquarium of the Bay, gives you a chance to see more than 20,000 local sea creatures! Plus, they have daily animal feedings, naturalist presentations and behind-the-scenes tours that are perfect for a family visit.
Note: If you are interested in visiting a couple of museums while you are in San Francisco, taking a cruise under the Golden Gate Bridge (a must-do experience), and using public transport, I would recommend getting a San Francisco CityPASS. It's a package that can save you about $30 on your trip per person and even more so if you have kids! We used San Francisco CityPASS on our recent trip to San Francisco, read my full review of the savings here!
The Sea Lion Center at Pier 39
Seeing the "Sea Lebrities" camping out near the PIER 39 is a very unique experience! I never expected to see them in such a warm climate in the wild in the middle of the city, but they seem to enjoy all of the attention! The sea lions started taking over the docks shortly after the 1989 Loma Prieta earthquake (very recent!) At first there were only 10 but due to a bigl herring supply and welcoming environment, the population grew to more than 300 very quickly. During the winter months you can see up to 900 sea lions, but during the summer months, many of them migrate south for breeding.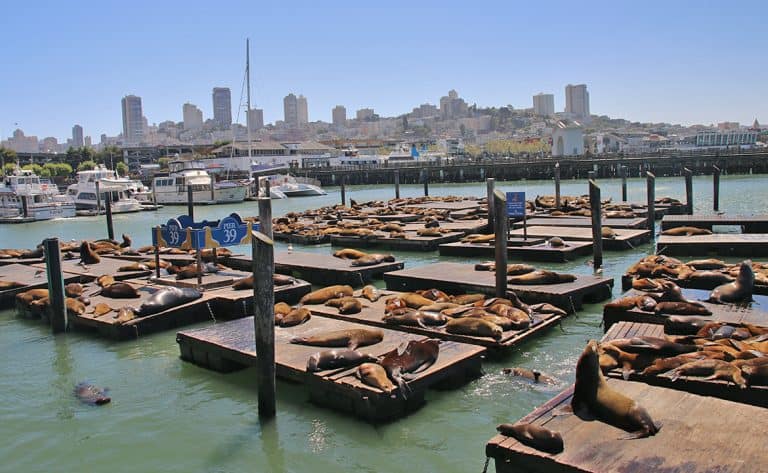 Famous Clam Chowder for Lunch
Boudin At the Wharf
Established in 1849, the Boudin Bakery is the home of the famous sourdough bread bowls.Before you have lunch, you can watch the bakers craft batches of bread by hand through the window or even take a tour! There is a huge variety of soups in bread bowls, sandwiches and even sourdough pizzas, but I recommend the clam chowder. While you are enjoying your meal, you will see that the fresh bread is delivered right over the heads of the customers in little baskets!
Clam Chowder at the Wharf Market
If you keep going from Pier 39 past the Boudin Bakery, you will arrive at the Wharf market. Here you will find even more sea-food: crab and lobster sandwiches, shrimp po-boys, and, of course, clam chowder in sourdough bowls. Just look out for the seagulls stealing your food!
The Ghirardelli Square
Now that you had some lunch, it's time for dessert! Just a short walk away from the Wharf Market is the Ghirardelli Square and if you love chocolate, this is the place for you! Stop for frappuccinos, sundaes, or indulge in the variety of desserts and get some tasty souvenirs for your friends at home! Any better souvenir than chocolate? And if you don't feel like walking all the way to the Ghirardelli Square, just take a short ride on one of the bikes or scooters that you see around town!
Cruise under the Golden Gate Bridge
Another thing that's included in CityPASS is a cruise in the bay! It is definitely worth it and you get to see the Alcatraz and the Golden Gate Bridge from the ship!
Note: One of the tips I learned about San Francisco is that , while it may not feel like it, you can get very sunburnt in just a few hours under the San Francisco sun. Always apply sunscreen – telling you from my own experience!
Sunset at the Golden Gate Bridge
Visit the Presidio Park
The Presidio park is huge, but also a must-visit destination even if you are in San Francisco only for a couple of days! A really cool spot to see is the Andy Goldsworthy's Wood Line right in the middle of the park. It's a 1,200-ft. winding line of eucalyptus trunks put together in a path, a very fun place for a stroll and a unique sight! You also shouldn't miss the Lyon Street Steps, a famous staircase with a great view of the Palace of Fine Arts.
And of course you will want to see the Palace Of Fine Arts – it's as amazing on the outside as it is on the inside. Just spending some time in the evening to enjoy the architecture and the fountains in the area is worth it! Check what do they have in the program for the evening and maybe you will want to spend the rest of the evening enjoying the performing arts! Or, you can head to the Crissy Field beach and watch the sunset over the Golden Gate Bridge.
Dinner at the Cow Hollow
Stick around nearby and grab dinner at Cow Hollow! This is a very cool neighborhood, filled with locals! The most popular area is the Union Street, it has a wide selection of nice eateries. Some of my favorites are Roam Artisan Burgers, Gamine, and Flores. But it is a lot of fun just walking in the neighborhood, being adventurous and trying the first place that looks good! You can easily spend the rest of your Saturday evening in this neighborhood!
Sunday Morning in San Francisco
Start Your Sunday Off with Good Coffee and Pastries
Isn't that what you want on a sunday morning? Head to Saint Frank Coffee, a minimalist neighborhood coffeehouse, this place has a great mission, fun atmosphere and delicious coffee!
See the Lombard Street at the Russian Hill
This area with amazing views of the bay is known for the Lombard street, one of the crookedest streets in the world. It's a fun experience to see it for yourself, take a walk and beat the crowd of tourists by getting there early! After you are done, check out San Francisco Art Institute with a rooftop. It's a really unique experience especially if you are already in the neighborhood to see the Lombard street.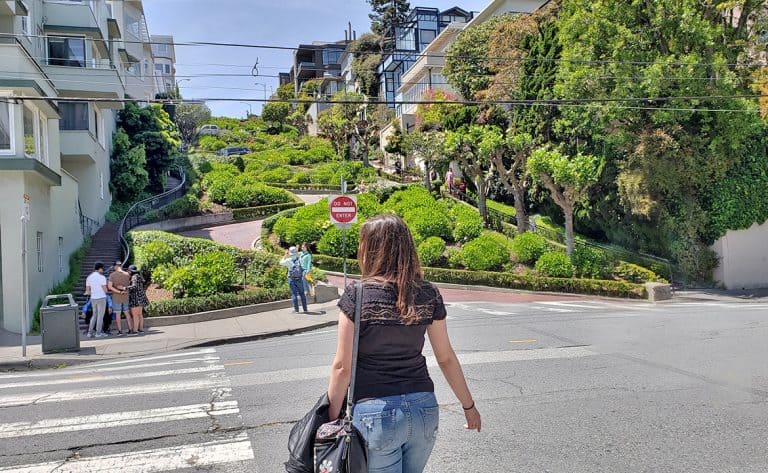 Have Lunch in Chinatown
This is a must. Walk the streets of Chinatown, shop (or window shop) the souvenir shops and stop at Chong Qing Xiao Mian for lunch. Now, this is an amazing authentic Chinese restaurant, with very affordable and large Chinese dishes. Be careful, as many of the plates are spicy without any menu warning. But, you can also try lots of pickled meats and vegetables vegetables. It has a cute and cozy atmosphere, great service and pickled mustard pork belly as their signature, we came back for lunch several times!
Sunday Afternoon in San Francisco
There is still so much to see and do in San Francisco, but not much time left! Now, you can choose what you enjoy the most.
Best San Francisco Museums
Science Museums
If you are travelling with family, I recommend visiting the Exploratorium or the California Academy of Sciences. You can easily spend the rest of the day there! California Academy of Sciences features an aquarium and a four-story rain forest, home to flying tropical butterflies! If you are thinking between the two, I would recommend the Academy, plus it is located in a beautiful spot of the Golden Gate Park!
San Francisco Museum of Modern Art
The San Francisco Museum of Modern Art holds an internationally-recognized collection of modern and contemporary art, and was the first museum on the West Coast devoted to the 20th-century. Among other world-renowned artists, you will find artwork by Andy Warhol, Frida Kahlo, Louise Bourgeois, Georges Braque and others.
Check out Famous Spots in San Francisco if you Have More Time
It's great if you have more time to spend in this beautiful city – you can pick and choose places from this guide or find even more amazing San Francisco ideas below! Hope you enjoy your trip to the city by the bay!
Enjoy the view from the Coit Tower
At the top of the Filbert Street steps, this San Francisco landmark offers you a 360 degree view of the city. In addition to the city itself, you will see the Golden Gate Bridge, Alcatraz, and the rest of the bay, making this the perfect spot to finish a romantic night!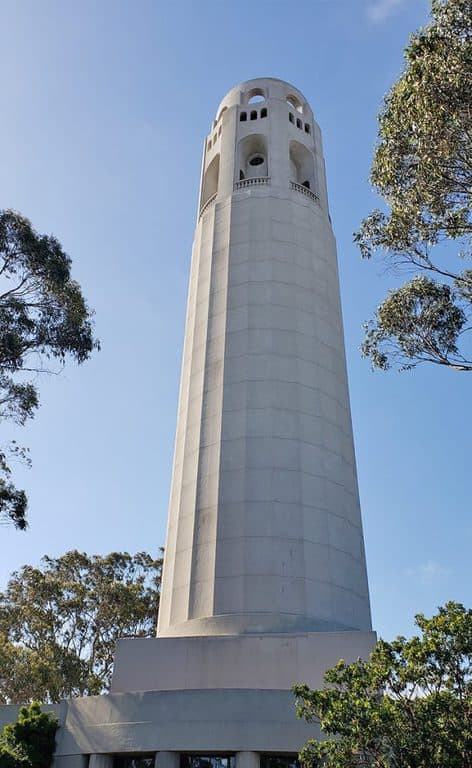 See and hear the Wave Organ
The sounds of music that are activated by waves and the views of the Golden Gate Bridge – yes, do it if you have time. Be aware though, the best time to hear it is during the high tide. Look up the best time when you go and enjoy the unique music – it is never the same twice!
Go Hiking to the Land's End
Probably one of the best hikes in San Francisco is the beautiful Lands End Trail. There are many miles of trails with amazing views! While still being in the city, you feel completely alone as you will not find many tourists here. Read a full review of the trail here, this hike is a great way to spend an afternoon and even a little challenging if you are not a regular hiker!
Have you been to San Francisco? What are your favorite places to go and things to do while you are there?