The Mediterranean Sea is famous throughout the world for the clear blue waters that make it one of the most beautiful places on earth. These beautiful waters also make the Mediterranean Sea a great site for water sports!
If you're someone who likes adventure and wants to explore the Mediterranean with a cruise or other water activity, here are some great destinations for water sports in the Mediterranean Sea.
1. Gozo, Malta
One of the most popular places for water sports in the Mediterranean Sea is Gozo. This small island is located near Malta and is known in particular for kitesurfing, which combines aspects of surfing with the thrill of using the wind's energy to accelerate and pull off stunts in the air.
Gozo tends to be a good choice for kitesurfing as the region is known for its safe, shallow waters and strong winds from the northwest. In fact, Gozo is so windy that it is even the home of the annual International Kite & Wind Festival. Its beaches are also large, flat, and sandy, which makes it the perfect setting to practice your skills with less risk of injury.
2. Santorini, Greece
Santorini is a great place for water sports enthusiasts to try their hand at windsurfing. Similar to kitesurfing, windsurfing combines elements of sailing and surfing but has slightly different equipment. Luckily, you can find many windsurfing shops and trainers in Greece throughout the summer ready to help you try out this new activity.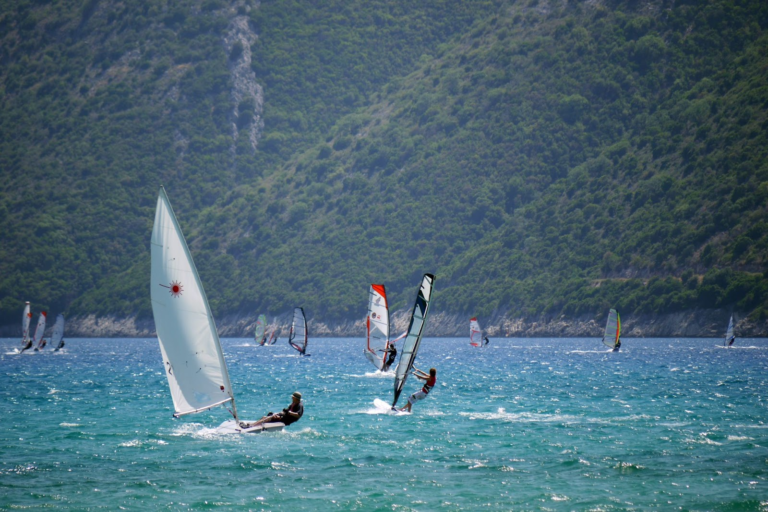 The Mediterranean's flat waters combined with Greece's consistent winds make it a perfect combination for both new and experienced windsurfers. Plus, Santorini is home to an international airport, which makes it easily accessible to travelers worldwide. 
3. Grotta del Nereo
If you love to dive, Grotta del Nereo is for you. Located in Sardinia, the second-largest island in the Mediterranean, Grotta del Nereo is the largest underwater cave in the Mediterranean. This captivating cave intrigues divers from all over the world to come and experience a one-of-a-kind dive exploring the shimmering waters of the Mediterranean.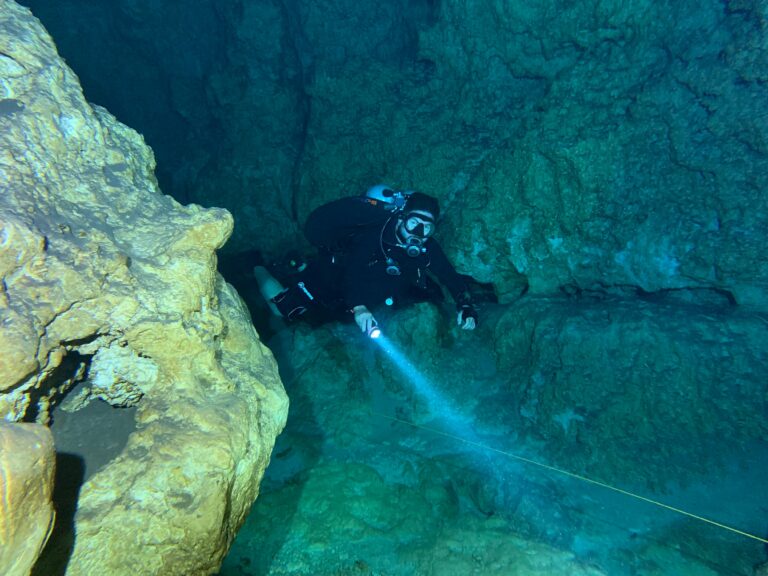 Grotta del Nereo is over 300 meters in length and has two main entrances for divers to access the cave. Once inside, the cave is filled with colorful arches, tunnels, and airways for divers to explore. You may also see different types of wildlife that spend their time in the cave, including lobsters, groupers, and moray eels. 
4. Croatia
Visitors to Croatia may find themselves kayaking before they know it! Croatia borders the northern portion of the Mediterranean Sea, more commonly called the Adriatic Sea. The Adriatic Sea's stunning beauty makes it a popular region for those wanting to try sea kayaking for the first time.  
Even though sea kayaking may sound more intimidating than kayaking in a lake or river, the calm waves of the Mediterranean make it the perfect spot to give sea kayaking a try.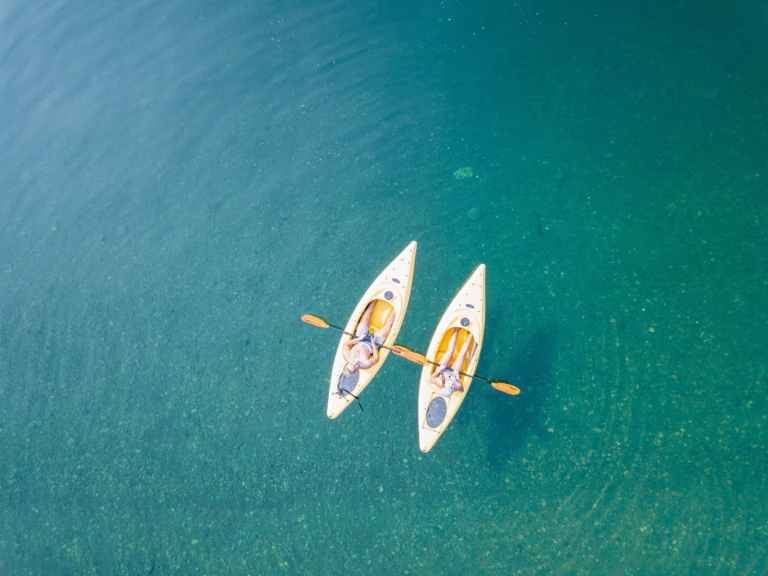 Many experienced kayakers come to Croatia to attempt more extreme ocean kayaking challenges, such as kayaking all the way from Croatia to Italy. Though this trip isn't for the faint of heart, it is an exhilarating experience for those skilled enough in kayaking to succeed.
Adventurers kayaking off the coast of Croatia will enjoy the sight of the horizon as they paddle. If you're lucky, you may even see some wild dolphins while you're at it
5. Sardinia, Italy
If you're looking for a more laid-back water sports experience while enjoying your time in the Mediterranean, then paddleboarding in Italy should be on your bucket list. Sardinia has a ton of paddleboarding tours and experiences ready for locals and tourists alike to enjoy a sunny day on the water.
One of the most popular reasons people enjoy paddleboarding off the coast of Italy is due to the bottlenose dolphins that live there. Many paddleboarders have been lucky enough to witness dolphins swimming, jumping, and playing while they paddle to their destination. 
There are also many caves around Sorrento and Capri, which adds an extra element of exploration to your paddleboard adventure. With so many natural wonders to explore, it's hard to get bored paddleboarding in this part of the Mediterranean.
6. Marseille, France
Marseille is located on a part of the Mediterranean called the Gulf of Lions. Throughout the gulf are several beaches, coves, and bays that are perfect for a variety of water sports such as windsurfing and jet skiing.
Because the landscape is so diverse, Marseille boasts many water sports enthusiasts, as it is windy enough for sports like kitesurfing but serene and beautiful enough to enjoy sports like paddleboarding. Plus, Marseille has a large population of sailors and has previously hosted some international sailing competitions including the Marseille One Design regatta. 
From its rocky cliffs to clear blue waters, Marseille is an excellent destination for any water sports lover. 
7. Barcelona, Spain
Finally, sailors may enjoy taking a trip to Barcelona, Spain to enjoy their many sailing activities throughout the year. Similar to all of the other wind-based water sports that people enjoy throughout the Mediterranean, sailing is extremely popular in Barcelona. The calm waters and cool breeze provide a perfect environment for even the newest of sailors to enjoy coasting the waves.
There are many sailing schools and charter companies throughout the coast of Spain for locals and visitors alike to learn more about how to sail successfully. Spain's love for sailing has resulted in it becoming the host of many sailing-related competitions year-round, including the Barcelona International Sailing Regatta and the Barcelona World Race.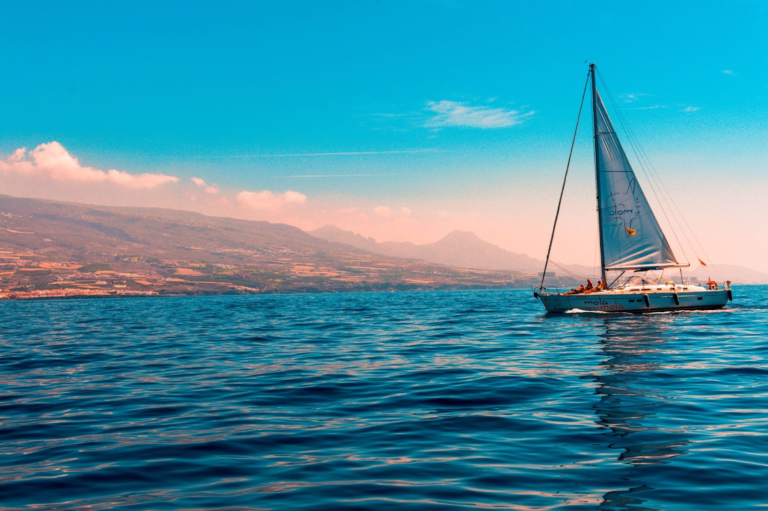 If you're a sailor with a competitive streak, you've definitely got to take a trip to Barcelona.
Best Time of Year to Visit the Mediterranean
Though the Mediterranean is beautiful year-round, you may be wondering which time of year is best to visit to enjoy water sports. Generally, the warmer summer months are best for visiting the Mediterranean for water sports.
During the summer, the Mediterranean offers a multitude of reasons to visit beyond water sports, including pristine beaches, sunbathing, delicious cuisine, and captivating culture.
Between June and September tends to be the most popular time for beachgoers, but this also means the region is more crowded. Because of this, you may want to pursue specific activities at specific times of the year. 
For example, spring (April to June) and fall (September to November) are popular times of year for kitesurfers to find themselves on the sea due to stronger winds. For scuba divers, water visibility is also clearer during these seasons, which makes it easier to see and enjoy your dive. Plus, the water is warm without the temperatures being uncomfortably hot. 
Ultimately, you should consider which part of the Mediterranean you plan to visit and what your water sports goals are, as this can help you determine which time of year is best for you to travel there.
Conclusion
There are tons of water sports activities to partake in during your trip to the Mediterranean.  Be sure to consider the time of year you wish to travel during before planning your water sports adventure. 
Though any time of year can be an enjoyable experience, the summertime is the best time to explore the cool waves. Between paddleboarding in Italy and kayaking in Croatia, you'll have plenty of options to enjoy some fun on the water on your next trip abroad.