There are three types of accommodation in the Maldives. The first is the exorbitantly expensive, but hugely popular resorts – which you'd need to re-mortgage your house if you were planning on staying there for a greater length of time.
Then you have the liveboards more famously known as 'safari boats', which are floating hotels ranging from 5 to 10 rooms that you sleep and eat on for weeks. They are very popular among visitors who are coming purely for diving or surfing. But for our Maldivian experience, we chose the third option – guesthouses. And our guesthouse of choice was Canopus Retreats, Thulusdhoo Island.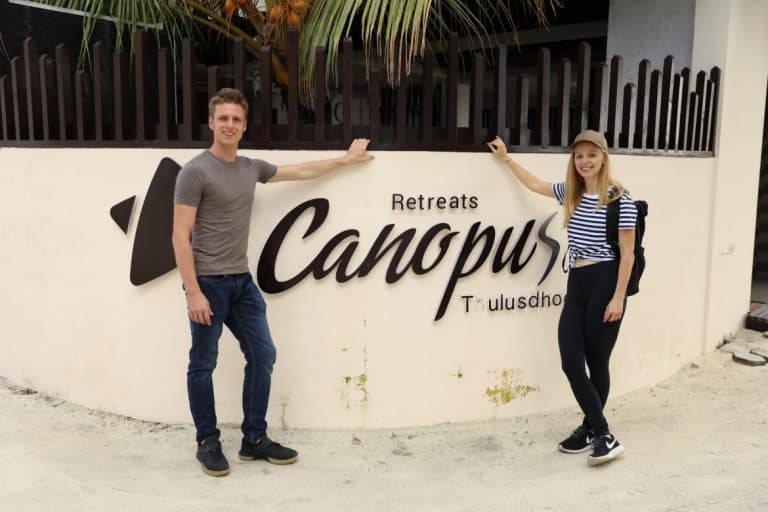 Accommodation in the Maldives
Guest houses have been recently green-lit by the Maldivian government to open up local tourism where the islanders can run tourist accommodation and operate it without leaving their island. This also opens up the market to adventure travelers and backpackers who want to experience and enjoy island life without spending a fortune on resort stays. As you can imagine, we are quite thankful for this.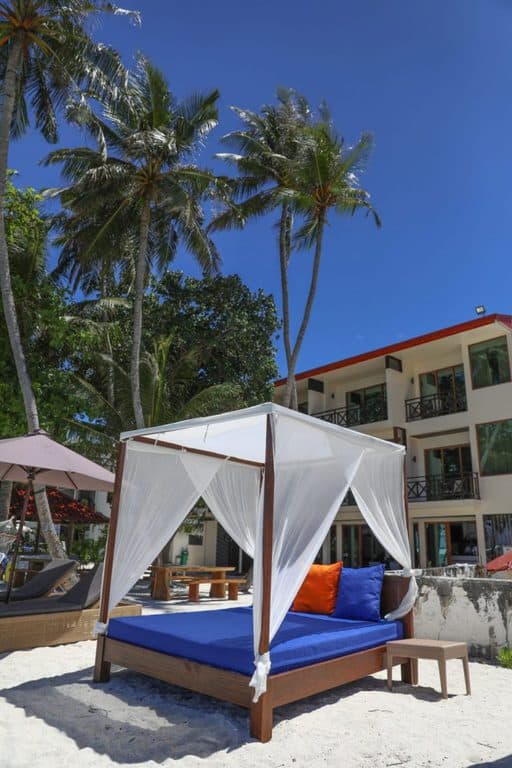 Opening as recently as 2015, the Canopus Retreats guesthouse is located on the most prime beach front location of Thulusdhoo island which is overlooking the famous Cokes surf break.
The views are simply stunning, especially as every Ocean View room has it's own private balcony overlooking the sea. The sounds of wave breaking against the beach can be heard from the room and it is one of the most soothing sounds you can hear. You can fall asleep to the sound of the waves crashing on the beach. Unless that's a sound you don't like, but we doubt you would go for a vacation by the beach if that was the case.
Welcome
Upon arrival in Malé – the largest island and capital of the Maldives, we were greeted by Maaif, one of the staff of Canopus Retreats who picked us up at the airport and took us to our new home for the duration of our stay here. We were then introduced to Afrah, the owner of the property, and we were struck by the hospitality already – as even though he was very busy, he took the time to ensure we were comfortable and getting everything we needed.
He was really attentive, friendly and interesting – as he himself had travelled a great deal. It was, therefore, very easy conversing with him. And when your guesthouse has a lovely owner, you're going to get lovely staff too – and we met all of them upon arrival.
They went an extra mile to ensure our stay was as memorable as it was and were extremely warm and welcoming. We settled in with ease.
Facilities and Food
The guesthouse is a brand new building with most of the facilities we needed during our stay – so you really want for nothing.
On the ground floor is a restaurant, which makes delicious meals and its location enabled us to meet with and hang out with other guests.
They serve healthy salads with grilled meat/fish and some smoothies – but then, what else would you expect from being in a tropical island paradise.
We ate some really fantastic meals here (inside and outside the dining room) – and they were really healthy too.
Rooms
Throughout the building, there are 7 Ocean View Rooms, 5 Standard Rooms, and they are simply immaculate. There's a talk of a Spa opening soon, so you can get even more relaxation out of our stay!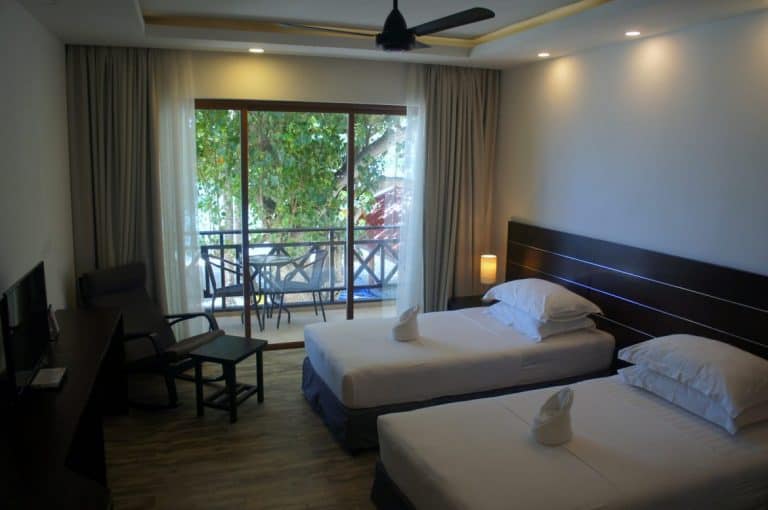 Everything is clean and tidy, with modern bedrooms and bathrooms that'll make you feel like you're at a spa retreat.
The beds are soft and comfortable – and you're going to need to get a good night's sleep here because of all the activities you can do during the day.
But more on the activities below and in the next article!
Safety First
They have all the usual suspects when it comes to facilities. Hot showers, Wi-Fi, towels, air-con, complimentary water – you name it. They also supply you with a room safe, so you can keep all your small valuables under lock.
Although we doubt anyone would try to steal anything – with only two boats a day returning to the capital. Besides that – it's a very friendly place, and everyone knows everyone else. We certainly felt that it was a very safe place to stay, but it's nice to have the option to secure your belongings.
Photo Shoot
During our stay on the island, Afrah and his team helped us arrange a photo shoot. Recently we've been working super hard in the gym and on our fitness, so we really wanted to get some great shots for our fitness travel writing, and blog profile pictures.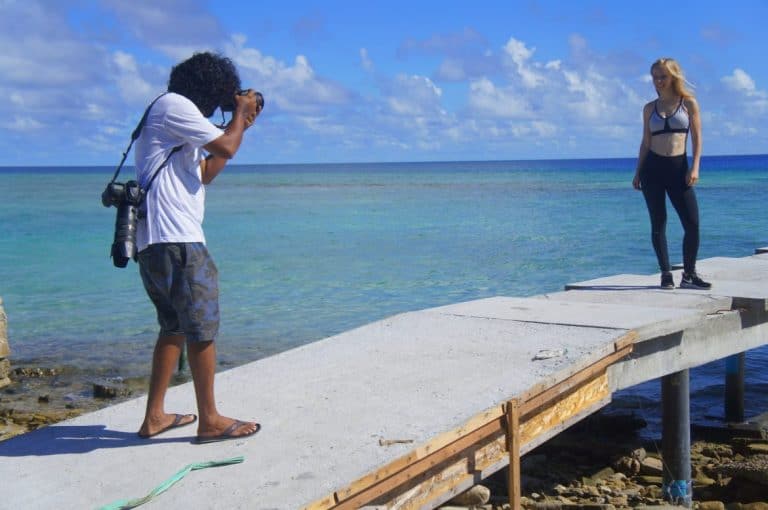 And where better to do the shoot than with the spectacular backdrop of the Maldives?! We had an incredible – but very tiring – day of shooting, visiting many locations around the island as we did so. It lasted a full 24-hours, and we shot maybe 1500 pictures. We've got a lot of material to play with, and we're very grateful to Afrah for assisting.
Activities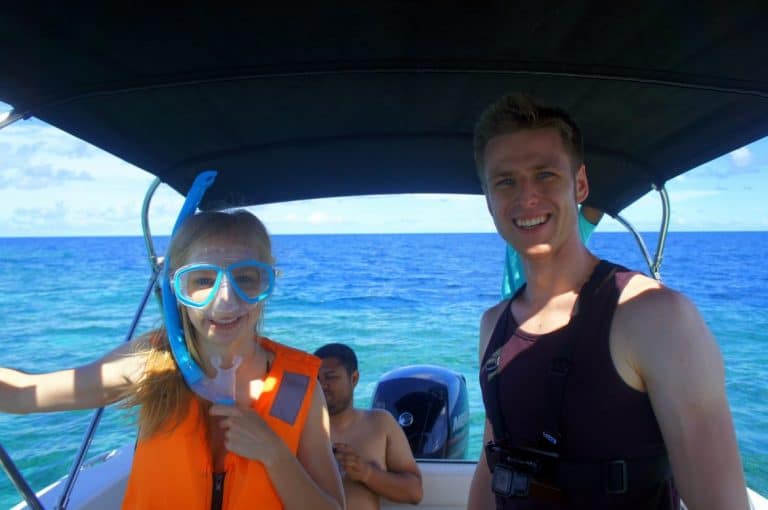 Throughout the length of our island captivity, we did a number of fun and interesting activities. Snorkeling and Jet skiing were the most memorable experiences, but our time sea-kayaking, unfortunately, had to be cut short because a thunderstorm rolled in – and we had to flee from the dramatic lightning.
Not a good idea to be caught out on the sea in a kayak when that kind of storm hits! But there was still plenty to keep us occupied at the accommodation – so it didn't ruin anything. We'll cover our activity experiences in a post very soon – but quite simply it was a ridiculous amount of fun.
There are diving excursions, snorkelling, finishing, surfing, island hopping, dolphin cruises and even submarine rides.
Beach barbeques are offered too, and they're perfect for meeting other travelers. The guesthouse really puts on a good show and we wish we could stay forever. Maybe if we did, Agness might finally see a dolphin!