Having your first camping trip with your partner as a couple is exciting. After all, it's a fun way to bond and get closer together while exploring and immersing in the great outdoors!
But, we also know how overwhelming it can get when you think about everything that you have to pack and prepare in advance. Lydia (my wife) and I are experienced outdoor enthusiasts and campers gone on several such camping trips like these to Slovenia, Bulgaria and more, and we know how easy it is to forget something important that could make a huge difference in the trip.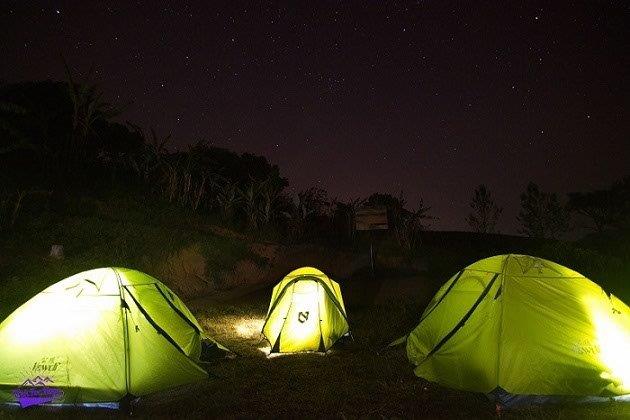 To camp in the wild with your partner successfully, you'll need a good idea of what kind of trip you want (romantic/luxurious/simple etc.), proper planning, and most importantly, teamwork.
This packing checklist for camping as a couple will help you keep things organized as you pack for two. Whether you're an outdoor enthusiast or couldn't pitch a tent to save your life, this guide will list out everything we know you'll need for a successful (and romantic) trip.
Checklist
Your camping checklist is a vital item to help you avoid forgetting the necessities that you need on your camping trips. This checklist gives specifics for each stage in the packing process, which helps to keep things organized.
Note: Make sure you take weather changes into consideration and pack tents that protect you.
Also, we strongly recommend that you not overpack on your camping trip. The more gear you have to lug around, the more stressful and exhausting the trip may become. Only focus on the necessities and spending quality time with your partner.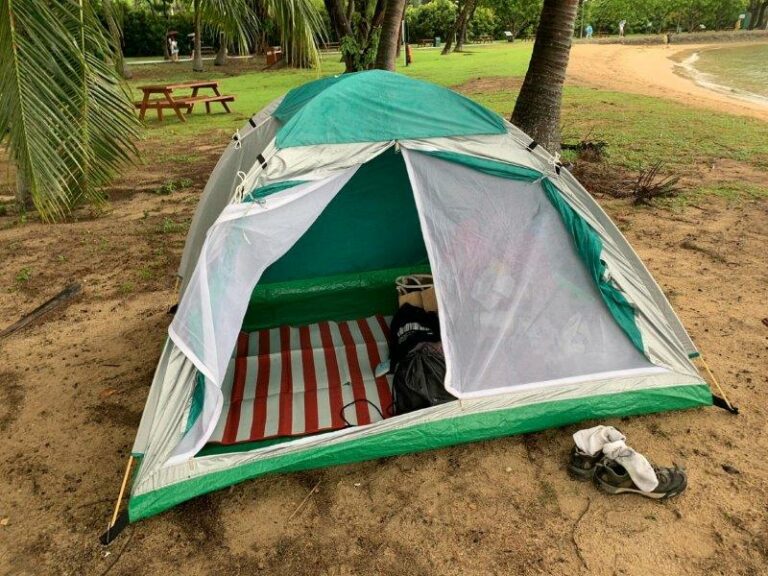 Sleep Necessities
A 2-Man Tent (40-60 sq. ft.)
2 Sleeping bags
1 Groundsheet
2 Inflatable Pillows
2 Sleeping Bags/ Blankets
Clothing and Footwear
Bags for dirty and clean clothes
Fitting nightwear
Sweaters and hoodies
Snow protection (Boots, coats, jackets, gloves, scarves)
Sun protection (Sunglasses, hats)
Water shoes and socks
Swimming gear (swimsuit, towels)
Rain Jackets
Toiletries
Deodorant
First aid kit
2 Toothbrushes and 1 toothpaste
Baby wipes
Hand sanitizer and hand soap
Perfume
Body sprays
Haircare and bodycare (Shampoo, conditioner, soap, shower gel, lotions)
Skincare kit (Facewash, moisturizer, SPF, chapsticks)
Sunscreen
Contact lenses/reading glasses
Razors
Contraceptives
Medication
Toilet paper
Pads
Body and face towels (2 body towels and 2 face towels)
Cooking and Eating
1 camping table
2 camping chairs
Hydration packs
A cooking pot, a pan, and a kettle
1 camping stove, fuel, firewood, firelighters
Cooking utensils (2 wooden spoons, forks, knives, cutting board, bowls)
Garbage Bags
HDPE Containers (Food containers, water bottles)
Dishwashing items (1 bucket, 2 scrubbers, tea towels, and a detergent)
Paper towel and foil
Plates, mugs, and water cups (It is advised to avoid packing glass so polycarbonate items are useful)
Protein bars
Cereal or oats
Canned foods (tuna, jam, milk)
Eggs (must take egg holders too)
Crackers and nuts
Marshmallows (for epic campfires)
Coffee and tea bags
Wine (for nightly romantic dinners under the stars).
Entertainment
Music player
Camera
Card games
Notebook/Diary
Musical instrument
Books
Laptop (It is better to avoid using electronics during camping with your partner, but laptops are helpful for movie nights).
Essentials
Phone and laptop charger
Ropes
Whistle
Duct tape
Pocket knife
Scissors
Watch
Bear spray
Mosquito net
Tent pole and a hammer
Flashlights
Headlamps
Spare batteries
Lanterns
Defense keychain
Useful Camping Tips for Couples
Now that you are packed and prepared to leave, the real adventure begins. From our experience, one of the best ways to determine a partner's compatibility is through traveling together. If you want our advice for having the finest romantic camping trip, keep reading.
Plan and Pack Carefully
Make sure to discuss and align on the packing checklist to avoid arguing about who brought what on vacation. Taking separate suitcases may help with this, or you can split two sides of the same suitcase to save space and still know who's side is whose.
Avoid overpacking. Less is better, but also don't neglect to bring the things you definitely need.
Enjoy Cooking Together
Cooking together is quite enjoyable. Share a meal and the food preparation process. The main focus of couples camping is quality time together.
High Density Polyethylene (HDPE) food containers keep your food fresh and prevent food poisoning and insects looking for food at night. Plus, they are healthy, durable and preserve food just fine in harsh temperatures. 
Plan Ahead
Arrive during the day to make setting up and getting organized easier.
If you are camping in a van, make sure to take extra fuel. You never know when you may get lost or stuck somewhere and need extra gas to navigate back. Also, you can check the online maps and camp near a gas station so if anything happens, you won't have trouble finding the nearest gas station.
Make sure you are prepared for the weather by checking the forecast!
Avoid Using Electronics
Connect with less gadget usage. Try to focus on each other instead of your social media accounts. You can post about your trips on your social media later on. Don't forget that your partner should come before Instagram or Facebook.
Be Romantic
A wonderful way to start the day is with a nice hot breakfast or at a romantic location close to your camp.
On your camping trip, do something fun and interactive to show your partner how much they mean to you. This could include a night of stargazing with a bottle of wine, or playing a boardgame together.
Keep it Clean and Environment-Friendly
Make sure you always clean up after yourself and keep the environment in tact.
Being in nature means that you should respect it by not using items that contain toxic chemicals to the environment, such as bleach. So make sure you use eco-friendly products.
You should also make sure you always put out the fire pit before you sleep and clear all the trash so that it doesn't pollute the surroundings and put wildlife in the risk of consuming it.
For other tips on keeping the environment clean while you camp, check out our beginner guide to boondocking and freedom camping. This can help you remember the basic rules of consideration when spending time out in nature.
Be Safe
Keep your self-defense tools hidden under your sleeping bags for easy access in case you encounter a wild animal or an intruder. In case of accidental injury, keep your First Aid kit nearby.
Also, never keep your lighters or matches near the fire.
10 Fun Couple Activities for Camping
There are many wonderful romantic camping activities available. The majority of them involve traditional camp activities like hiking, stargazing, swimming, or fishing. You can also have fun playing games, having meaningful conversations, or sharing ghost stories.
But maybe you're thinking about how to make camping romantic and joyful. How can you transform a rough wilderness adventure into a very romantic camping experience? Here are our top ideas:
Photo Scavenger Hunt: Make a list of things to find and spend the day together finding them and taking photos of them.
Wine and a campfire: Make it a date night.
Cook together: Work together to create a delicious meal that you'll share.
Watch the sunset and sunrise: Take a look at how beautiful Mother Nature is.
Swim together: On a hot summer day, go for a swim together to stay active and energetic. Make sure you apply plenty of sunscreen with high SPF to avoid burns.
Stargazing: Bring a telescope or simply lay back on a blanket and relax. Have some nice conversations while you're observing.
Sing and play music: Music is always a great way to bring people together, and dancing in nature can be quite fun.
Picnic: Take your food to a gorgeous spot near your setup and enjoy a romantic picnic together. You might even enjoy bird watching, something we enjoy as a couple.
Board games or card games: Take a few small, lightweight games with you to have fun while you're enjoying the outdoors.
Conclusion
Camping as a couple is supposed to be fun. This trip is a gateway from reality where you and your partner get to have fun, get intimate, and fall even more in love! So, don't worry if you forget something or if anything goes wrong, a solution can be found even in misadventures..
To be safe, make sure you carefully follow the checklists and immediately pack whatever is needed so you don't forget about it. Make sure to also include laughter, love, and quality time on your checklist for a perfect camping trip. Who knows, in future, you might even have kids and go camping with them.