Vancouver is well known for its party scene and Vancouverites are well known to be up for it! There's something for everyone when it comes to the city's best nightspots, from world-class music venues to craft beer houses, burlesque shows and everything in between. You can find something to keep you entertained until the small hours of the morning.
But if that kind of thing isn't your bag and you're still something of a night owl, what else is there to do in this bustling seaport metropolis? Surely there's an alternative to dancing the night away, singing badly at Karaoke or throwing sixes on the tables? Well, luckily there is, and you've come to the right place to find it. Here are some of the best alternative things you can do in Vancouver when it's passed Agness' bedtime!
Stroll Down Granville Street
Alright, so this might not strictly be something alternative to do on a night in Vancouver, but Granville Street is still worth a visit even when you're not drinking or dancing and you're visiting Canada on a small budget. This would be the nightspot hotspot of the city so to speak, a sort of mini Las Vegas strip. This is where many of Vancouver's younger crowd will come out to play.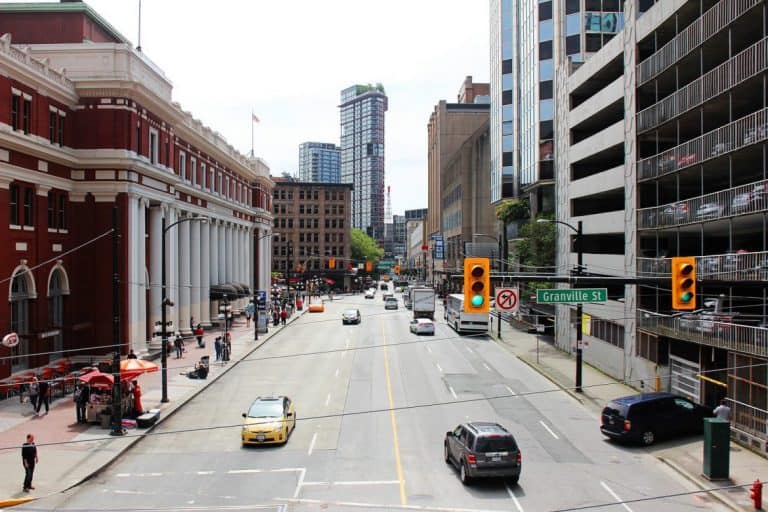 There's an abundance of pubs, clubs and other interesting venues to enjoy, so let's just get this one out of the way. It's a lot of fun if insomnia has taken hold and you just want to people watch, but there are some tasty craft brew venues if you're really tempted to take a tipple. Ditto for Gastown, the city's oldest neighbourhood – for more people-watching delight.
Late-Night Skiing
Canada is known for its ski and snowboard facilities, including the world-famous Whistler-Blackcomb resort a few hours north of Vancouver. But the city itself has some excellent runs only a short drive from the centre. And with the floodlights on until 10 pm through the season, you can have a lot of fun enjoying the powder and taking in a unique night-time view of the city.
Grouse Mountain is well worth a trip even if you're not practiced on the slopes, as it does provide a wonderful panorama of Vancouver, which is especially beautiful on a crystal-clear evening. So, put on your scarfs and gloves and take a loved one!
Escape!
If you've been living under a rock, you'll probably not be aware that escape rooms have become all the rage. They're popping up all over the world, and that's no exception in Vancouver. They're proving extremely popular as an alternative source of entertainment to getting lubricated on a night out – and you're generally not allowed to participate if you've had a skinfull, so it's a wholesome pastime all the family can enjoy!
For those not in the know, escape rooms are a team building game where you and your friends attempt to literally escape a locked room in the allocated time limit. If you fail, you're never seen again! No, just joking, but it is a lot of fun to beat the time and escape with your mates for a morale-boosting experience. Vancouver has loads of them, but Locked Canada is up there with the best and they're open until midnight too!
Go Canucks!
You'll be mad not to at least try and see a game of Canada's national sport when you're in Vancouver, as they live for it over there. This fast-paced sport of ice hockey is a must if you're visiting the city, and you can get all the thrills and spills of the game at the Rogers Arena, the stadium that the Vancouver Canucks call home. However, tickets can often be a little on the pricey side, but there are alternatives to the big boys on the block. Vancouver has a number of other rinks where you can watch and even participate in the sport, so check with local listings if you don't fancy paying around 65 bucks for a brief.
See Some New Theater
Vancouver has a blossoming arts scene and theater practitioners from all over the world regularly come to make their mark during international conferences and festivals. As such, the talent that is on offer is extensive. So, instead of going to see a film, why not try taking in some of the freshest and most cutting-edge theater in the world?
Added to that, a visit to Granville Island is a must when you're in the city as this old shopping district has some fabulous art and culture-based entertainment that will keep everyone happy. Ballet is also a popular choice and a wonderfully alternative way to spend an evening in the city.
Laugh Your Head Off
A short hop, skip and a jump from seeing a play, you also may or may not know that improvisational comedy is a pretty big deal in Vancouver. It's known as Theater Sports, and some of the world best improv comedians have either hailed from the city or performed here. The likes of the late, great Robin Williams was a regular, and Whose Line is it Anyway alumni Colin Mochrie and Ryan Stiles used to tread the boards here before becoming famous.
As such, you just might catch the next big thing in any number of improv theaters or comedy venues around the city, and if you're lucky, sometimes a household name can drop in if they're shooting a movie locally. Vancouver is a massive Hollywood filming location after all!
Go to Bed
This is only a slice of what Vancouver offers the creatures of the night among us, but there are even more things to see and do during the day. So sometimes, it's just better to go to bed. You can always go out tomorrow night again!
Do you have a favourite night-spot in Vancouver? Let us know about it!