At first, the thought of overnight camping with kids may seem intimidating, but we say it's definitely worth the try!
In fact, we've found that taking your kids camping can be really enjoyable, even though it does require some advance planning and preparation. All you really need is some forward planning, the appropriate tools, and an optimistic attitude!
We made this guide to show you how to unwind, take pleasure in spending time with your loved ones, and create some wonderful camping memories with your kids.
Below, we'll share more about what you to pack to take your kids on a successful camping trip based on our own experience.
Checklist
very family camps in a unique way. There are many types of camping sites with varying degrees of facilities and amenities to try out; especially if you and your family are traveling in a caravan.
The options often range from tent camping, trailer camping, RV camping, to hiring cabins. Choose the items that will work best for the kind of camping you intend to do with your kids from this list.
The essentials of what to pack for a camping trip with kids are highlighted in this list of family camping gear. You can easily pack for camping with all of your necessities.
Sleeping
2 camping tents – the bigger tent for the family, the better and more comfortable it is.
Air mattress/Sleeping pads, depending on your family members ( don't forget the pump)
Sleeping bags
Inflatable Camping pillows
Bed sheets
Blankets
Clothing and Footwear
Make sure you don't over pack, and only pack things you and your kids will need.
Jackets
Sweaters and hoodies
Running shoes
Raincoats
Water shoes
Flipflops
Socks, scarves, and gloves
Swimsuits (for summer time)
Pajamas
Hats
Underwear
Toiletries
2 kits of Shampoo, conditioner, shower gels (for both adults and children, preferably eco-friendly products)
2 Toothpastes and the family's toothbrushes
2 Deodorants (make sure they are safe for kids before use)
2 Body sprays
Perfumes
Sunscreen
Skincare kit (face wash, moisturizers, SPF, lip balm)
Towels (body and face towels. Separately.)
Baby wipes
Diapers (for babies)
Pads
Toilet paper
Hand soap and hand sanitizer
Painkillers
Kitchen and Food
1 camp table and chairs (Depending on how many members in your family. Also, make sure you pack suitable and light camp chairs to avoid overpacking).
1 camp stove, lighters, and matches
1 BBQ (if desired)
2 Pots, 2 frying pans, and a kettle
Plates, bowls, and cups
Cooking and paring knives (make sure they are safe for kids use)
Spoons and forks
1 Tea towel
Paper towel
HDPE plastic bottles and containers
Dish Soap, 2 buckets, and scrubbers
1 cutting board
1 kitchen foil
Garbage bags
Coffee/Tea
Sugar, salt, spices
Protein bars
Cereal
Snacks
Crackers and nuts
Jams/Chocolate spread
Water and Juice
Canned foods (tuna, beans)
Entertainment
Books or magazines
Diary
Beach toys
Camera
Glow sticks
Hunting binoculars
Fishing gear (must include license!)
Bikes and helmets (if desired)
Cards and games
Kids' favorite toys
Essentials
Phone and laptop chargers
Sunglasses
Lanterns
Fly swatter
Laundry detergent (travel size)
Ax
Duct tape
Ropes
First aid kit
Candles
Spare batteries
Flashlight
Bear spray (Parental usage only!)
Pocket knife (Parental usage one!)
Dry food (for any friendly pet on sight)
Tips
In order to have a dreamy camping trip with your kids, make sure you keep these tips in mind that'll save you energy, time, and money.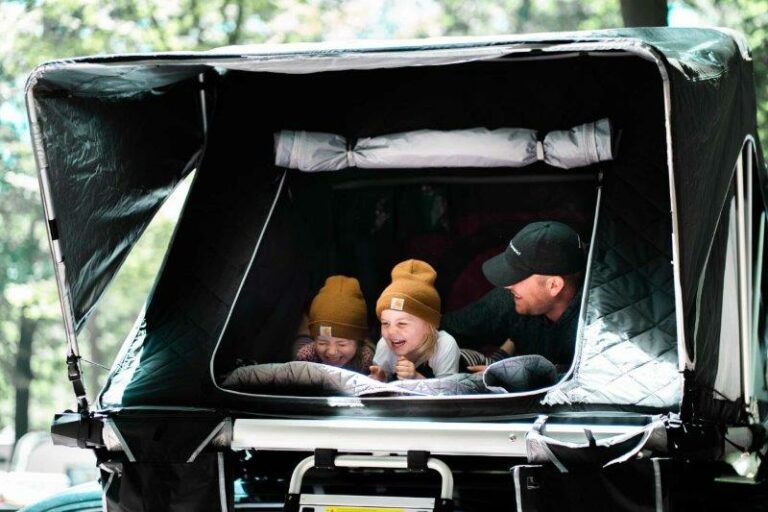 Plan ahead
Particularly in state and national parks, campsites fill up rapidly. Ideally, you should make reservations months in advance.
Practise camping
Make a trial run. First, consider pitching a tent in the backyard of your house As you consider the items you'll require on a full-blown trip, make notes on what you think you'll need.
Save your money
Consider tent rental or borrowing. Numerous public parks offer programs where you can borrow camping gear instead of buying everything, especially if you don't always camp.
Don't overpack
Most families overpack when traveling, and that's the same case during camping trips. Knowing that you can reuse clothing allows you to leave the "just in case" pieces at home.
You can wash the dirty ones instead on your camping trip and your kids could help you doing so! Make sure you keep their hands moisturized after playing with detergent.
Consider weather changes
Make sure you pack for all weather conditions. Even though it may be hot throughout the day, the evenings may be cool.
Pack an extra layer or some fleece pullovers or leggings for the evening. Be sure to have rain gear as well. You never know when it rains.
Have fun with your kids
While it's still light out, unpack and make your tent. Get the children involved with a task, such as gathering kindling. First, set up the tent. Next, start the fire straight away if you're going to be cooking over it.
Particularly while raising young children, maintain your regular routine as much as possible. To ensure a restful night's sleep, stick to the same bedtime routine and nap schedule. Bedtime stories are helpful too.
Be safe
Make sure you keep lighters, matches, chemicals, pocket knives, and bear sprays away from children.
It is better to camp in a place near gas stations in case an emergency happens, so do check your maps before you plan everything!
Family-friendly camping activities
As we have mentioned, camping is a simple and low-stress vacation plan for your entire family—no flights, no car rentals, and no crowds—whether you're going to a nearby campsite or taking a road trip to a new location.

The advantages of camping extend far beyond financial ones. According to studies, spending so much time online is bad for kids, and exposure to nature fosters environmental awareness in kids as well as stress management, boredom, and restlessness reduction.
Below, we'll share some of our favorite family-friendly activities to do with your kids during camping trips.
Build a campfire: Marshmallows, crackers, and campfire stories seem like the suitable idea for a perfect night with your kids.
Take hikes: Make hiking fun by singing and teaching your kids stuff about nature.
Stargaze at night: teach your kids about stars and planets.
Play card games: Old School games such as cards, Monopoly, or Scrabble are the perfect alternatives for digital devices.
Quiz your kids with Trivia: It's better for kids to learn and have fun at the same time. You can make a list of general knowledge questions and ask your kids. Rewards are also nice!
Cook together: Teaching your kids easy recipes in nature is so fun.
Go for a swim: If it's summertime and the weather is lovely, nothing stops you from swimming with your kids.
Conclusion
Having some time off electronic devices and surrounding your kids with a natural environment and fresh air should be on every family' bucket list.
Sometimes we are so invested in our digital lives that we completely forget about our children's needs, and ours as well. Camping with your kids is an important activity that helps you kids develop a sense of adventure and responsibility.