You can now download this article as an app and get an offline map so you can go and see these places yourself.
Nepal from above
One of the most magnificent must-see landmarks of Nepal is obviously Mount Everest – the highest peak in the world, which is 8848 m.

Apart from it there are also 8 peaks in Nepal which stand above 8000 m high among the 14 all over the world. If you are planning to travel to Nepal, but for some reasons you are not able to go trekking or climbing any mountains, but you still would like to see Mount Everest along with other peaks, the Everest Flight Experience could be a great idea.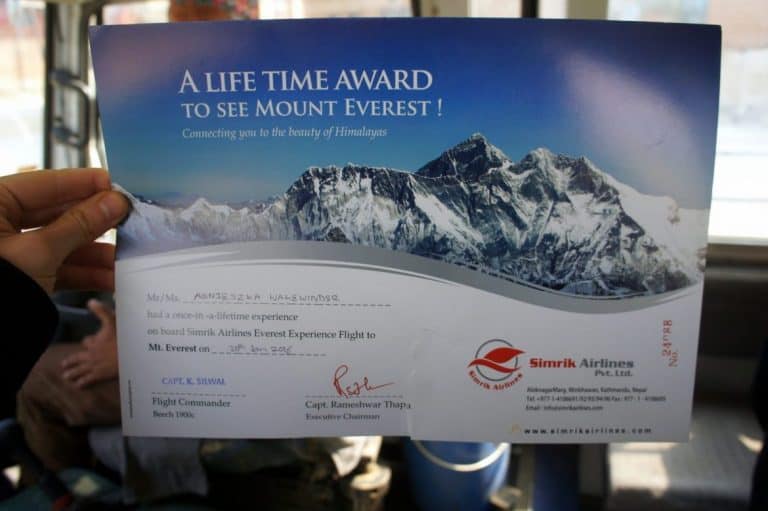 What is the Everest Flight Experience?
The Everest Flight Experience is one of must take tours of the majestic Himalayas. It is an hour of breathtaking scenic beauty of the Mighty Mountains and a sparkling clear journey across such world's highest peaks as Mt. Everest, Kanchenjunga, Lhoste, Makalu, Cho Oyu.
During the flight you will enjoy a chain of snow capped peaks as you fly above the clouds, over glaciers and lakes, rivers and gorges from your private individual window. You can also see the aerial view of the Kathmandu valley and the landscapes of Nepal.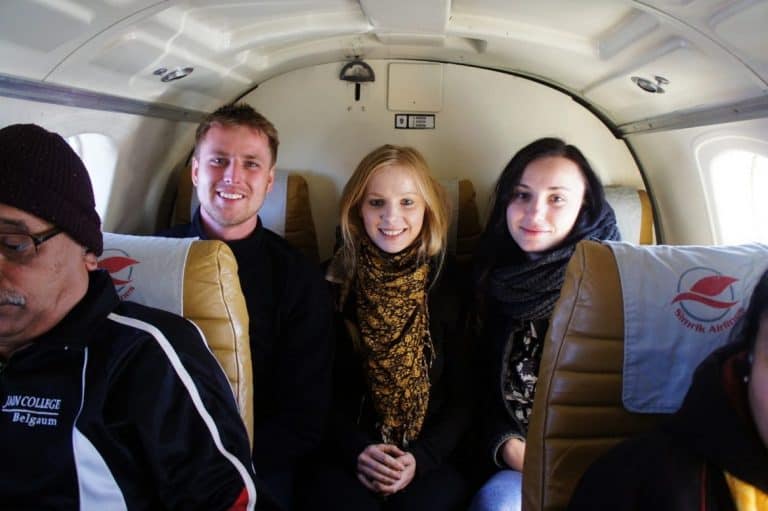 What airlines should you fly with?
There are 3 airlines that are operating Everest Experience trip: Buddha Air, Yeti Airlines and Simrik Air. After visiting each office at Kathmandu airport and negotiating prices with all of them, we decided to go with Simrik Air that offered us by far the best deal.
Note: Buddha Air refused to negotiate prices and we were quoted $240 per person. Yeti Airlines agreed on a discount and let us fly for $224 per person. Simrik Air offered a package deal of $280 for two people (one person having a private window and one sitting a bit further in the back, which was not a big deal for us. In the end we could both sit together at the back having a clear view of mountains for the duration of the flight).
Where/when does it start and finish?
One hour Everest flight takes off from Kathmandu airport every day. You can easily get there by hired motorbike or taxi from Thamel (prices available here) and it takes around 20 minutes to get to the airport.
Note: If you are going there by motorbike during winter/autumn season, please make sure you wear warm clothes and gloves as it's freezing in the morning.
You should be at Kathmandu airport at around 6:00 am as boarding takes place at 6:45 am. Unfortunately we were very unlucky with the weather (it was extremely foggy that day) and our flight was over 3 hour delayed. We spent a lot of time at the airport waiting for new updates while sipping on coffee, chatting and listening to music.
Important: If you can't go to see the Everest, or if you go and can't see it, because of the weather then you will get a refund or get your flight rebooked for another date. It's a Mountain view flight, so if you can't see it, you don't pay. We were waiting with one girl who had come few days earlier and couldn't see the Everest due to foggy weather and she had her flight rebooked and was flying with us. It was her last day in Nepal, so she was lucky to see the highest mountain, but she was not worried that she would lose money, because that's the policy for all airlines running this show.
Note: there is a small cafeteria after you go through security check where you can buy sweets, snacks and hot/cold drinks. The prices are extremely high, up to 10 times higher than local prices in the city, but you will be served a proper coffee, really fresh and delicious.
After a while you will be given your boarding passes and a bus will take you to the aircraft, which can accommodate approximately 16 persons.
What does the flight look like?
Just after leaving Kathmandu airport within 5 minutes the ranges start.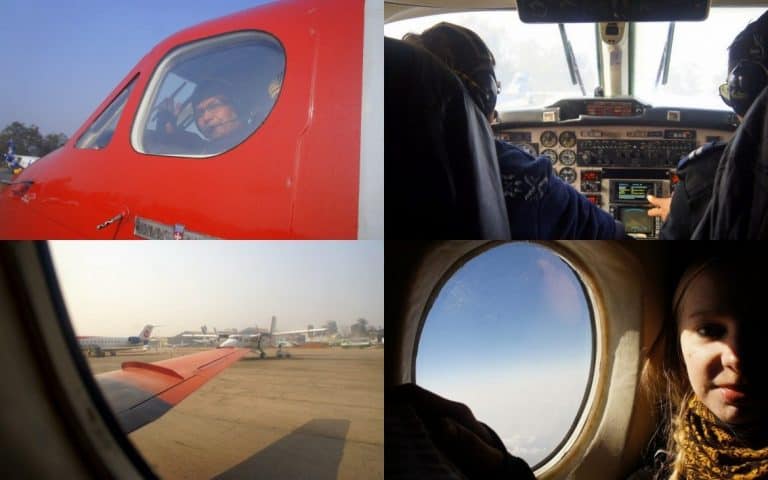 There will be a clear sky with some sunshine so you can see the breath-taking view properly. You will be given a map highlighting some of the other peaks you're likely to see on the trip, including Ama Dablam, Lhotse, Cho Oyu, as well as other 7,000+ and 8,000+ peaks. The air hostess will give you detailed descriptions of each peak that you will be crossing. Our hostess attended each person separately and invited us to in the cockpit. The pilot and the co-pilot allowed us to take pictures from the cockpit.
How much does the flight cost?
The flight costs between $175 and $260 per person. You can negotiate prices (as we did) directly with the airlines or book it through the agency (more expensive). We found one place where the price was even $175 per person.
Note: most of package deals offer drop-off and pick up at Kathmandu's domestic airport (within Kathmandu city only), private car and driver and 1-hour Everest mountain flight. Things to be excluded are domestic airport tax (NPR 200 per person), insurance (not needed), personal expenses such as food and souvenirs and tips. You can pay by credit card at the airport in one of selected airlines offices.
What should you keep in mind when taking pictures?
The weather in Nepal is very unpredictable. It could rain and be foggy, although in the morning it's usually good. Don't be too concerned by low clouds as you'll be far above them, as well pretty much all of the peaks.
Camera speed: try to shoot with the very short lens opening time to reduce the blur.
Airplane windows: there will be some dirt, as well as some reflections. Dirt, however, is nothing so bad that Photoshop won't fix quickly. For reflections, a circular polariser is highly recommended.
Bluish cast: all of your photos will have a blue cast to them, due to the type of window coating that is used on the planes. Try to use photoshop again to fix it.
Is it worth it?
If in Nepal and unable to trek into the Himalayas then the easiest way to see the Mighty Himalayas including Mount Everest is by taking the one hour flight. It is unforgettable experience in your life and this 1 hour journey through the Himalayas is amazing and awesome.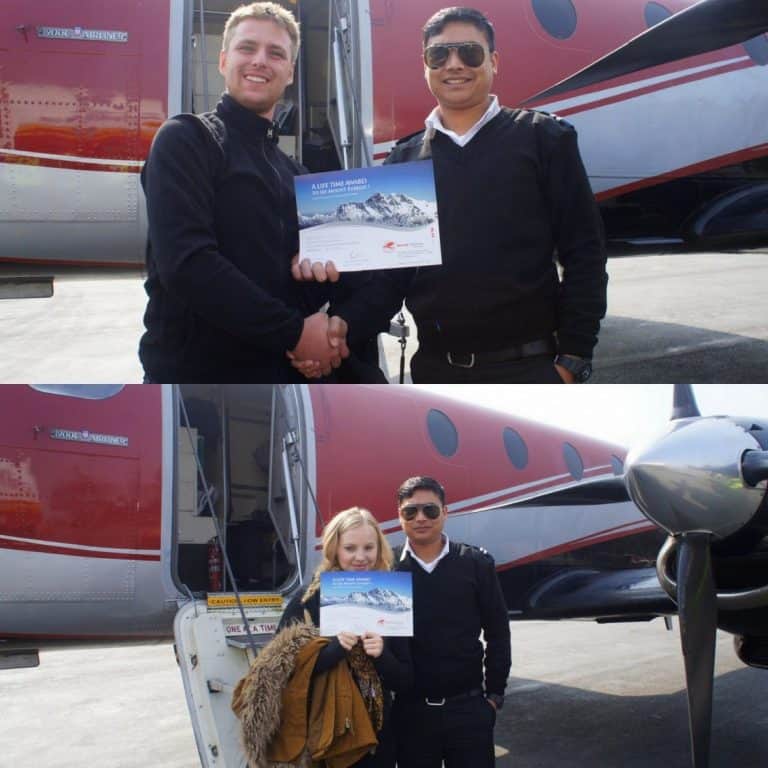 Is the Everest Flight Experience something you would like to do in Nepal? Is it worth the money in your opinion?