What makes a perfect airport for a budget traveler?
To me, it must have:
fast and free Wi-Fi connection;
a cozy corner where you can sit down and work or have a nap;
socket to plug in your laptop and other electronic devices;
free water;
affordable coffee;
air-conditioning or heater depending on the weather outside.
Am I asking here for too much? Maybe… because so far I could not find my perfect airport. One of my favorite though is Moscow Domodedovo Airport, but a bottle of water or a cup of coffee costs the Earth!
In today's post I would like to share with you my experience of staying at Singapore Changi Airport (SIN), most precisely my love and hate relationship with this place. We stayed there for a few hours when flying to Jakarta (Indonesia) in February 2014. There were things I could not stand here and things that I absolutely loved, so here we go…
The Bad
#1 Locked electricity sockets
In Singapore, electrical sockets in public areas are locked "to prevent any misuse which may affect airport operations". That was a real disaster for us because we could not charge neither our phones, mp3 players nor laptops. We checked out all of the sockets around and could not find even one unlocked. What was definitely the biggest disappointment.
#2 Poor Wi-Fi connection
There was only one place where we could access a good and free Internet and it was McDonald's restaurant. There is a computer spot where everyone could surf the Internet for 15 minutes without buying anything. Elsewhere we had to buy a coffee or cake to to get the password (Starbucks or Costa).
#3 No seats around
It was hard for us to find a sitting spot. No benches, no seats, nothing. Of course I am not mentioning restaurants or coffee shops here. I mean a public seat at the airport. The only one place we could sit on was the floor or stars, but you can't do it for too long. This place is way too posh so after 10 minutes a member of staff would ask you to stand up.
The Good
#1 Easy to get around
There are lots of sign boards in the airport that getting lost in it is nearly impossible (although it is a huge airport). Besides, there are lots of information centres with helpful staff, to provide assistance to travelers in any possible ways.
#2 You will never get bored here
SIN is famous for its live performances. There is a live band, piano playing and other performances. During festive seasons, for example, during the Chinese New Year, there will be stage performances on Chinese culture such as Chinese dance.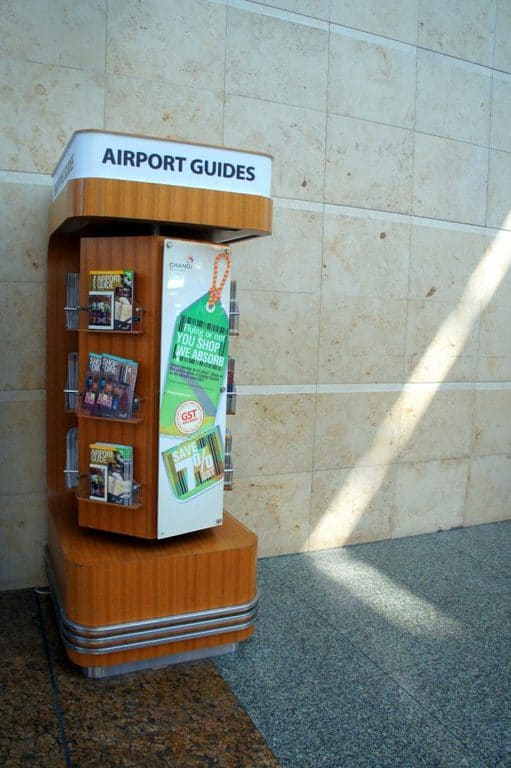 #3 It's enormous
The number of shops in Changi Airport is enormous. There is a wide selections of goods from cigarettes to alcohol and books to electronic goods. Although the prices will shock you, everyone can find something for themselves.
#4 Impressive design and sophisticated look
There are numerous indoor nature trails to visit and even more indoor gardens to adore. One of the most fascinating trails is The Butterfly Garden which is a two-storey home of 1,000 butterflies from all over South East Asia.
Moreover, there is also a beautiful human-made pool with huge colorful fish swimming in it. The pool is decorated with some greens, thus creating a relaxing mood as though you are relaxing near a lake with green scenery .
#5 Food you can die for
In my opinion, I have tried the best smoked salmon baguette in my life here. Seriously, SIN is an amazing place to try some Chinese or Indian food as well as some Western dishes. I was craving a big brown baguette with salmon and veggies and I got one there! It costed the Earth, but I will never forget its creamy and crunchy taste!
Here you can find various dining outlets ranging from fancy restaurants to fast food outlets and a food court. If you are looking for a fancy place to eat, you might want to taste the scrumptious offerings of Dian Xiao Er or enjoy the lively Thai-inspired atmosphere in ThaiExpress.
#6 First-class treatment
In Changi airport, customers are the top priority and you can see it and feel it. If you ever get lost here, the staff here will be more than happy to help you out. They are all well-equipped with iPads and able to communicate in up to 16 languages! Customers can provide valuable feedback through a computerised feedback system provided in several spots such as restrooms and customer service counters.
#7 Free drinking water
Everyone could drink some water when in the airport to keep themselves hydrated which is a big advantage of this place.
To sum up, SIN has not been my favorite airport. Nothing can compensate the poor Wi-Fi and lack of sockets, even the fancy restaurants, live performances or sophisticated design. We were forced to spend a lot of money to get what we would get for free at other airports…
What's your experience with SIN? What's your favorite airport and why?