Ubud Monkey Forest
The Ubud Monkey Forest is a nature reserve and temple complex in Ubud, Bali. If this is your first time in Bali, specifically Ubud, The Monkey Forest is a must see. Lush greenery and, as the name suggests, monkeys, roam the enclave of serenity. Sounds like paradise, huh? Sure it's peaceful, but after your second visit, it's really just the same old park. Nothing else, apart from our relatives, sets this park apart from others, and there's the risk of possibly traumatizing monkey attacks!
Be Aware of Crazy Monkeys!
Monkey forest is the right place to visit if you want to see the monkeys interact with each other and the humans. There are approximately 600 monkeys of different age, who spend their time eating bananas, sweet potatoes, swimming in the fountain, climbing the trees, playing, jumping around and just living their normal life in the free.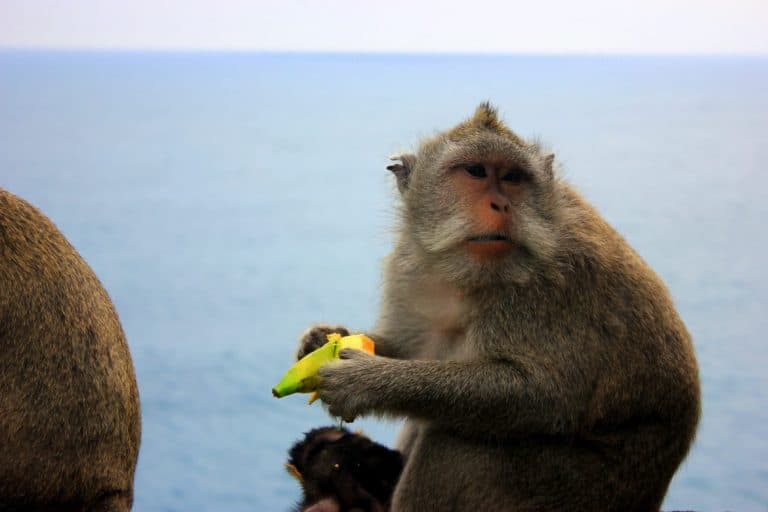 All of the monkeys might look adorable, especially those small ones. Don't be fool! The moment you buy those bananas from vendors to feed them, all the huge ones will gather around you. I threw the bananas on the floor because I saw a extremely huge one above the pillar aiming to jump onto me! A fellow traveler's glasses were nearly snatched by the little monkey, such a smart fellow!
One thing to remember when visiting this place is to be respectful of monkeys and their habitat, and they will generally treat you nicely. They are very smart, so keep your cameras, airings, necklaces, sunglasses, purses put away or tied tightly to you. We watched at least 10 of them snatch something from someone and run to the entrance to give it to the banana sellers as trade for a snack.
Luckily, there are few local guards in the forest, who make sure people do not cross the line by trying to touch the monkeys, but if you want a picture with a monkey sitting on your shoulders, they will also help you to make it in a safe way.
Would you ever trust these monkeys?