4 years
That's 208 weeks and 1460 days
This is how long I have known Cez for (back in 2012 – now it's much longer!)
10 months
That's 43 weeks and 304 days
This is how long I have been traveling with Cez for (once again, that's in 2012)
26
That's how old Cez is today (19 October 2012)
Yes, it's Cez's birthday today. I know he doesn't want people to remember it, but I didn't forget and I probably never will. Today's the day when it's time not only to say Happy Birthday Wishes:
Wish you all the best, more adventures on the road, more traffic on our website and more places crossed out on your bucket list!
But also to say Thank You:
Thanks for making me laugh, calling me a "peanut butter" monster and being so patient with me when taking photos. Thanks for traveling with me, looking after me when I'm sick on the road and saying "Chin up!" when we run out of money but we still want to travel.
Since today is Cez's birthday, I thought it would fit to share 10 things I have learnt from him, during our travels in Asia, to show other people that there's nothing better than sharing your emotions, observations and fears with your best friends.
#1 Impossible's nothing
Cez keeps telling me that if I really want to do something, I can do it. Nobody and nothing can stop me. Thanks to that, I started feeling more confident and believing in myself. We managed to travel under $25 in Hong Kong which is considered one of the most expensive cities in the world and cycle the full length of Vietnam in 54 days.
#2 You can do any job you want in your life
Cez's a very flexible guy when it comes to changing his job or work preferences. One day he can be a butcher in UK and the week after he is a teacher in China. He quickly adjusts to work and living environment. He taught me that I don't necessary need to stick to one job, I can do other things I always wanted to do and develop myself in various fields. Look at me now… I am a blogger and a web designer now!
#3 Money's never a problem even if you have $400 in the pocket and want to travel the world
When we run out of money, Cez never panics. "Not to worry. We'll figure it out"- he says and the day after we work on some projects we get paid for. He came to Asia 10 months ago with 400 bucks and did not starve, so he proved his point.
#4 Select your friends carefully
When it comes to friendship, I care more about quality than quantity. Cez has taught me that I shouldn't trust all people. Especially when traveling and being a girl. I don't know how, but he knows things are going to happen before they do. Thanks to this and his advice I didn't get in trouble although the trouble was coming my way several times.
#5 Haggle hard
If someone asked me who the inventor of bargaining is, I would say CEZ. He is a master of haggling and negotiations. I'm still too soft and can't haggle hard, but I am learning! If not for Cez, it couldn't be possible to travel full length of Vietnam spending around $8 a day per person.
#6 Less is more
I used to take two suitcases full of clothes and cosmetics for one week holiday. Although he started his journey well overpacked, he soon learned the ways and started to teach me. Now, all we need is no more than 5 kg each, however long we are going for! I also apply this rule in my personal life.
#7 If you can count, count on yourself
I've learnt that people sometimes fail to help you, actually quite a lot. It's very disappointing but it teaches a lot. Cez didn't get much support from anyone to get to where he is now and strongly believes that the only one person you should rely on is yourself. He says people are more likely to use you rather than help you. Sad, but true.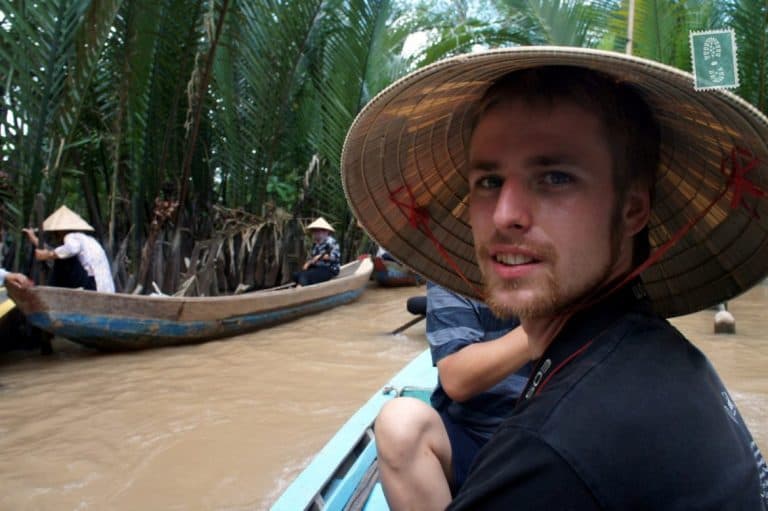 #8 Changing mind is not a bad thing
It seems that Cez has changed his ways several times. To many it looks as though he can't stick to one, but it's all about doing what you want at that particular time and not getting stuck. I always kept jobs I was doing even after I stopped enjoying them. He has changed that in me and now I see there's no obligation or advantage of doing this. New things are exciting and I do things better when I enjoy them.
#9 Never make plans
Cez says that he doesn't like to make plans because he doesn't want to make God laugh. Things change in life and making plans is silly. Why bother? It's better to live the life than plan it.
#10 Traveling with a companion's awesome
I have travelled on my own, but I never felt as happy and safe as I have been traveling with Cez. Adventures with a companion are by far the most enjoyable!
To sum up, it's hard to describe in words how awesome the past 10 months have been with Cez, a I truly can't wait for new adventures starting in 2013.
South America- Get Ready to Rumble!